It's not berry season without strawberry shortcake! This classic recipe from Laura at A Beautiful Plate is dressed up with lemon whipped cream, made from Harry & David's lemon curd. Dig in!
There's nothing quite like the arrival of fresh summer strawberries! Ripened in the field, hand-picked, and bursting with flavor, Harry & David Strawberries are the best of the best.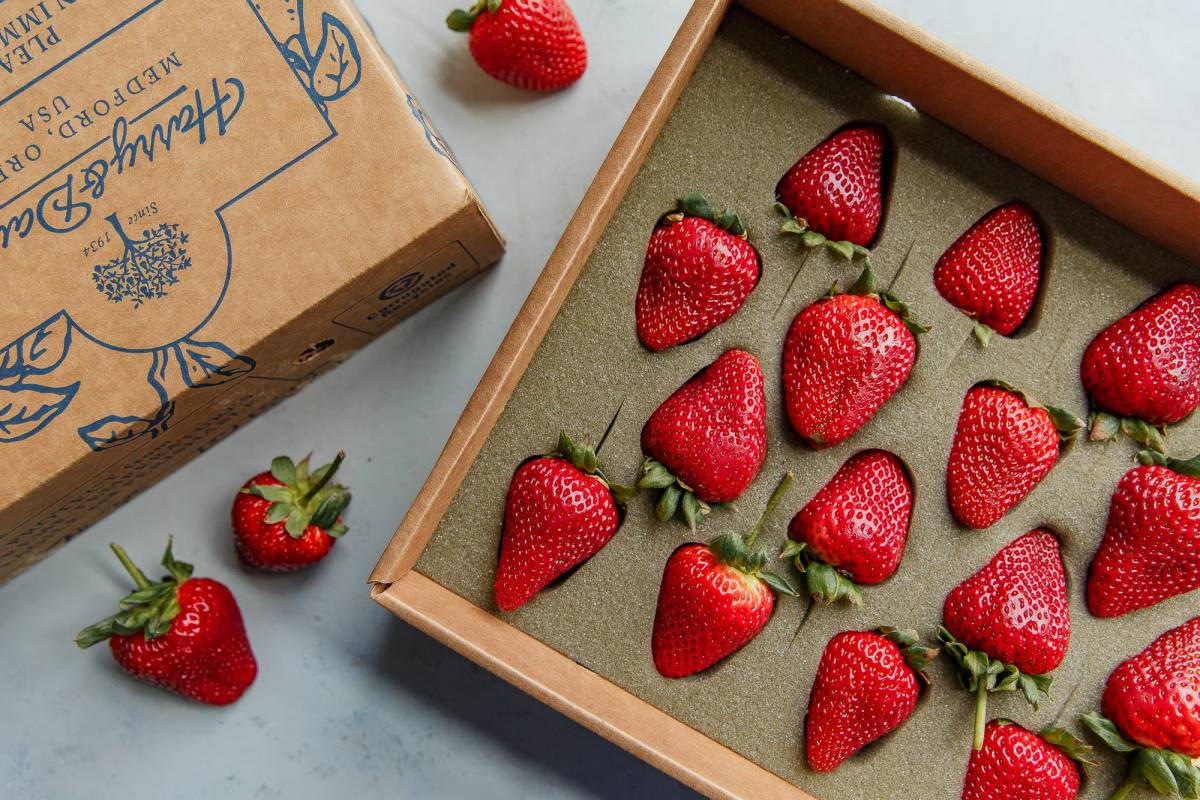 While I love to savor these delicious berries on their own, one of my favorite ways to showcase their natural sweetness is to pair them with homemade shortcakes and whipped cream. Strawberry shortcake is one of my favorite desserts, particularly for summer entertaining. They are so simple to throw together! The ingredients can be prepared ahead of time, and they can be assembled in mere minutes. You can also try this delicious strawberries in a variety of smoothies, salads, and beverages.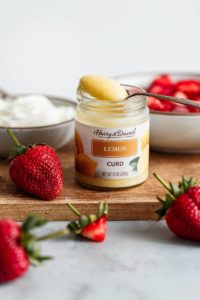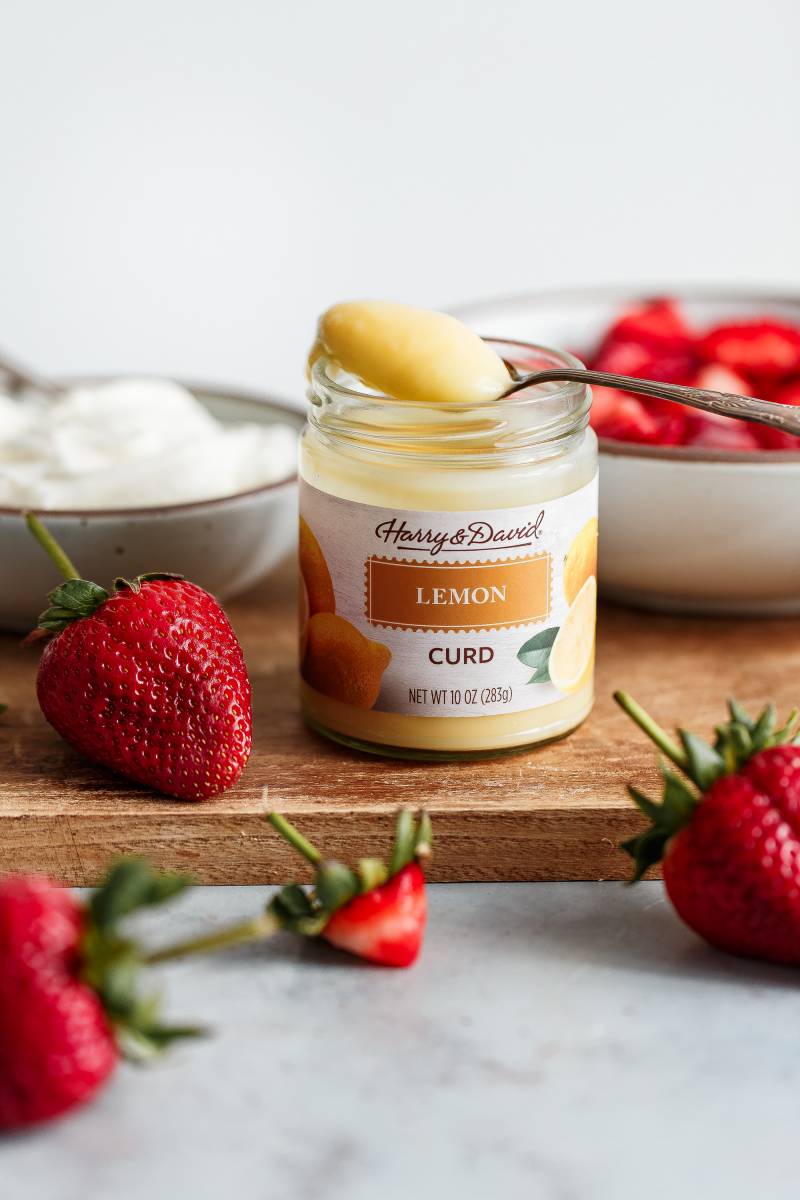 Chopped strawberries are tossed with a small amount of sugar, and allowed to macerate together. This simple preparation concentrates the flavor of the strawberries, and produces a lovely syrup that soaks into every bite of this dessert. The shortcakes are lightly sweetened and buttery, yet light in texture thanks to the addition of tangy buttermilk.
I also wanted to give this classic dessert a little twist. So, we're swapping out the regular cream filling with a lemon curd whipped cream! This whipped cream is a simple combination of lightly sweetened whipped cream and Harry & David Lemon Curd for maximum ease. I love the brightness and hint of acidity that the tart lemon curd lends to this dish. Enjoy!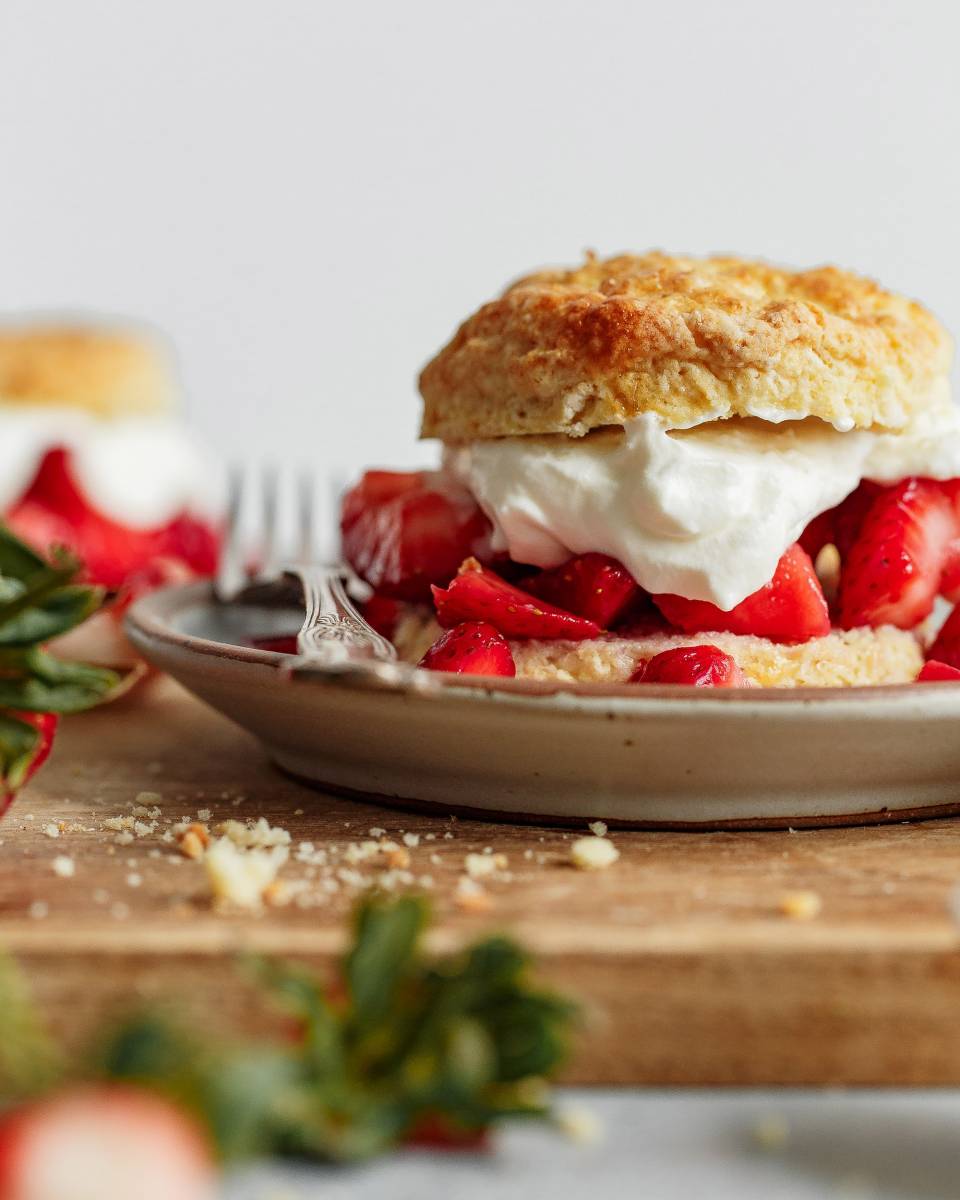 Strawberry Shortcake with Lemon Curd Whipped Cream
Ingredients:
For the Strawberries:
1

lb

Harry & David® Giant Strawberries

(stemmed, hulled, quartered, and chopped)

3

tablespoons

granulated sugar

pinch

kosher salt
For the Egg Wash:
1

large

egg

1

teaspoon

Whole milk
For the Shortcakes:
2

cups

all-purpose flour

¼

cup

granulated sugar

4

teaspoons

baking powder

½

teaspoon

baking soda

½

teaspoon

kosher salt

6

tablespoons

unsalted butter

(cold, cut into 1/2-inch cubes)

¾

cup

Buttermilk

(cold)

1

large

egg

demerara sugar

(for sprinkling)
For the Lemon Curd Whipped Cream:
⅔

cup

heavy cream

(chilled )

¼

cup

Harry & David Lemon Curd
Instructions:
Preheat the oven to 450 degrees Fahrenheit with a rack in the center position. Line a half sheet pan with parchment paper and set aside.
Prepare the strawberries:
Combine the chopped strawberries, sugar, and pinch of salt in a medium bowl. Toss to combine and allow to macerate while you prepare the shortcakes.
Make the egg wash:
In a small bowl, whisk together the egg and teaspoon of milk. Set aside.
Prepare the shortcakes:
In a large mixing bowl, whisk together the flour, sugar, baking powder, baking soda, and salt.

Add the cold butter pieces and toss in the flour mixture.

Using a pastry cutter or fork, cut the butter into the flour until the mixture resembles coarse meal and there are larger pea-sized chunks of butter throughout.

It is important for the butter to remain extremely cold throughout the process. If warms too much, transfer the entire bowl to a freezer for 5 to 10 minutes to chill.

In a measuring cup, whisk together the buttermilk and egg. Create a well in the center of the dry ingredients and add the buttermilk mixture.

Using a wooden spoon, stir the wet ingredients into the flour mixture until it just comes together and the flour has just absorbed. It will be shaggy.

Transfer the dough and any dry remaining bits to a lightly floured countertop.

Knead the dough until it comes together, dusting the dough lightly with flour as necessary to prevent it from sticking to your hands or the countertop. Press the dough into a disc that is roughly 3/4-inch thick.

Fold the dough over itself 2 to 3 times, this will help create layers. Use a 2.5-inch biscuit cutter (dipped in flour to prevent sticking) to cut out 6 shortcakes.

Do not twist the cutter as you cut the dough, as this will prevent them from rising evenly.

Press the remaining scraps together to cut out another 1 to 2 biscuits.

Transfer the scones evenly on the lined sheet pan, setting apart by several inches.

Lightly brush the tops of the scones with egg wash and sprinkle with demerara sugar.

Bake at 450 degrees for 10 to 15 minutes, or until tall and golden brown.

Transfer to a wire rack to cool as you prepare the lemon curd whipped cream.
Prepare the lemon curd whipped cream:
Place the chilled heavy cream in a large, deep mixing bowl. Using a hand-held mixer, stand mixer with whisk attachment, or whisk, whip the cream until it holds soft peaks. Fold in the lemon curd (feel free to add more to taste).
Assemble:
Using a serrated knife, split the shortcakes. Top the bottom half of the shortcake with a large spoonful of macerated strawberries with juices, then top with and lemon curd whipped cream, and the remaining shortcake half. Serve immediately.

Shortcakes are best served the day of baking, but can be baked up to a day ahead and reheated in a 350 Fahrenheit degree oven.

Strawberries can be prepped and refrigerated for up to 2 hours prior to serving.

Lemon curd whipped cream will hold for several hours in the fridge, whip and mix again if necessary just before assembly.