One thing you can count on during the summer is a lot of barbecues, picnics, and potlucks. But you don't want to be known as the one guest who always brings the same boring potato salad to every gathering. Instead of making a regular ol' bowtie pasta salad — a standard at these summer fetes — upgrade yours with fresh mango slices and a spicy mango dressing. You'll be the talk of the evening and this pasta salad will earn you a permanent invitation to all future events.
Bonus: This pasta salad is dairy free, so you can leave it out in the sun on a scorching summer day and not have to worry about it.
A perfectly ripe honey mango is exquisitely juicy, with a buttery texture. Native to Mexico and actually called "Ataulfo" after their grower Ataulfo Morales, these mangoes are terrific on their own, but they also make great additions to all kinds of sweet and savory dishes, such as this pasta salad.
The dish boasts a mix of colorful vegetables, including red pepper, zucchini, red onion, arugula, and, of course, mango. Feel free to add some sliced cucumbers or shredded red cabbage if you have those available. One great thing about pasta salad is there's no wrong way to make it; you can always customize yours to include whatever you like. Just remember the honey mango.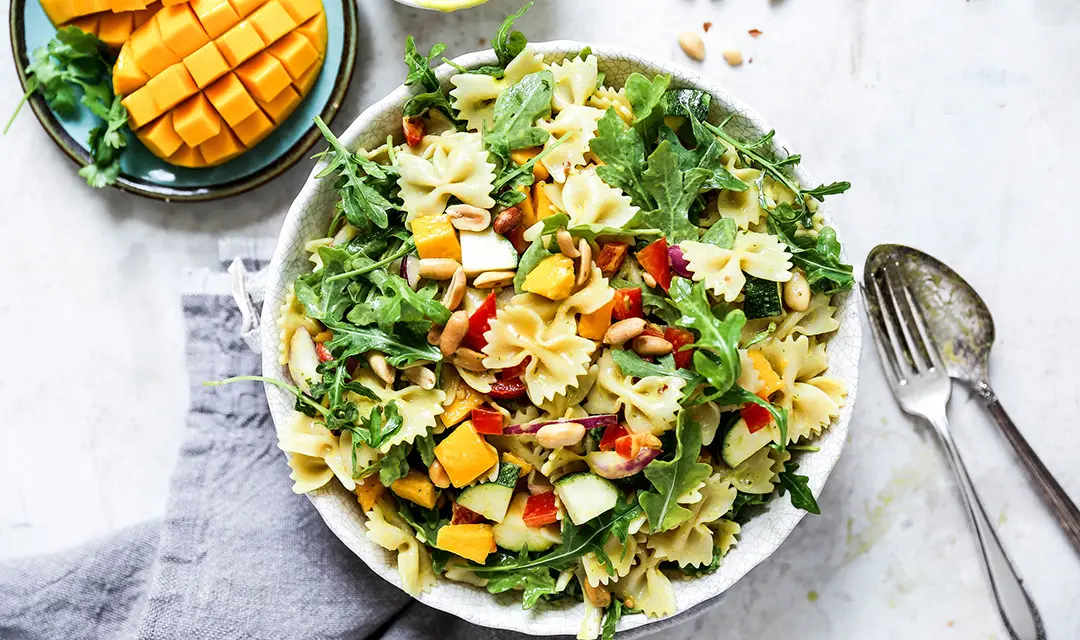 Sweet and Spicy Mango Pasta
Ingredients:
For the dressing
1

Harry & David® Honey Mango

(peeled, pitted, and chopped)

¼

cup

fresh cilantro

½

jalapeño pepper

(chopped)

1

garlic clove

(peeled)

¼-1/3

cup

extra-virgin olive oil

2

tablespoons

lime juice

2

tablespoons

apple cider vinegar

2

tablespoons

agave nectar

½

teaspoon

salt
Instructions:
For the dressing
Add all the ingredients to your blender and pulse on high until smooth and creamy.

Transfer the dressing to a clean resealable container and place in your refrigerator until you're ready to use it.
For the pasta salad
Cook the pasta according to the package instructions so that it's al dente. Drain.

Toss the drained pasta in a large bowl. Pour the olive oil on the pasta and let the it cool to room temperature.

Add the mangoes, red pepper, zucchini, red onion, and peanuts.

Pour about half the dressing into the bowl and toss until the ingredients are well combined and evenly coated with the dressing.

Taste and add more dressing as needed to suit your taste. Add the arugula and toss gently to combine. Serve and enjoy immediately.
Notes:
This recipe is completely dairy free, which makes it perfect for outdoor gatherings and time in the sun. Make this recipe gluten free by substituting your favorite gluten-free pasta.
If you want to prepare this pasta salad in advance (up to one day), simply leave out the arugula and store the dressed pasta salad in your refrigerator until you're ready to serve it. Then, incorporate the arugula just before serving.
---