How Disaster Led to Sharing and Rebuilding focuses on how the Almeda Drive Fire forever changed the small towns in Southern Oregon's Rogue Valley and the Harry & David family. Through sharing resources and interviews with residents and first responders, we're dedicated to helping those affected by the wildfire that destroyed over 2,000 homes in our local community.

[embedyt] https://www.youtube.com/watch?v=9a287QtF44o[/embedyt]
The Almeda Drive Fire was the perfect storm. The combination of dry conditions, gusting winds, and a lack of resources turned the Sept. 8, 2020 brushfire into an inferno. The fire quickly overpowered firefighters. Erratic 40-plus-mile-per-hour winds created spot fires faster than the small 50-person crew could contain them, and eventually the crew ran out of water. They simply couldn't contain the fire.
Local authorities issued a mandatory evacuation, forcing residents to scramble and grab whatever they could from their homes. Our entire Harry & David campus, at the edge of the fire zone in Medford, was evacuated, too, though many employees couldn't go home if they lived to the south because all the roads were closed. Some went to evacuation camps, drove to another county, or evacuated to the coast. Many sought refuge at friends' homes outside the evacuation zone.
Before the fire, many described the Southern Oregon community as one in which residents kept to themselves. The swift and overwhelming devastation of the fire quickly spurred residents to band together, though, sharing available resources like food and housing as well as providing emotional support. These new bonds were instrumental in overcoming the natural disaster and beginning the process of rebuilding.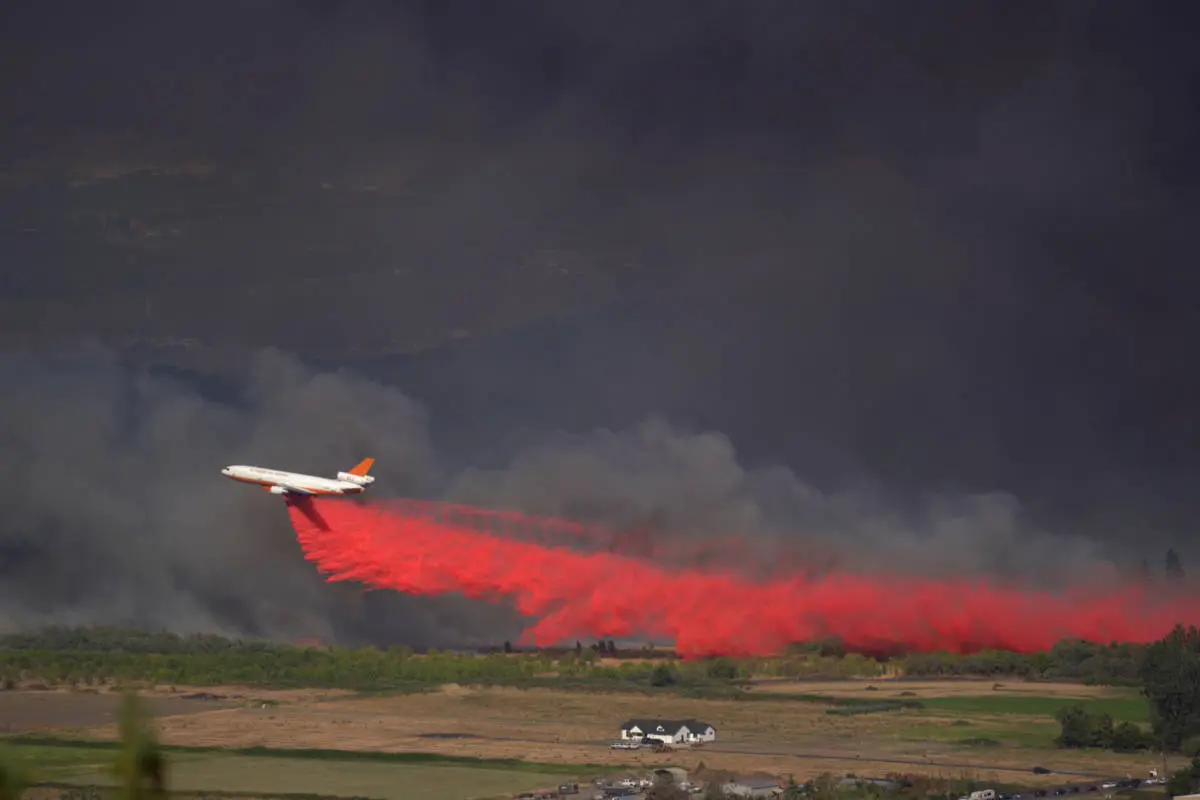 Gimme Shelter
For one Harry & David employee, finding shelter was daunting. Shanda Hurst lives in Phoenix, just four minutes from the Harry & David campus, and when she drove home to grab necessities, she was met with a dark plume.
"When I pulled into my house, there was black smoke hovering," Shanda recalled. She only had time to grab her dogs. She and her boyfriend, Brian Westerberg, first drove to Central Point, but were told the next day to evacuate due to an entirely different fire. The couple had camping gear in their car so they went to camp on the river. They had to evacuate that area the next morning, too. They finally found shelter in Ashland at Brian's parents' house, but for a couple of weeks they lived with no power or fresh water.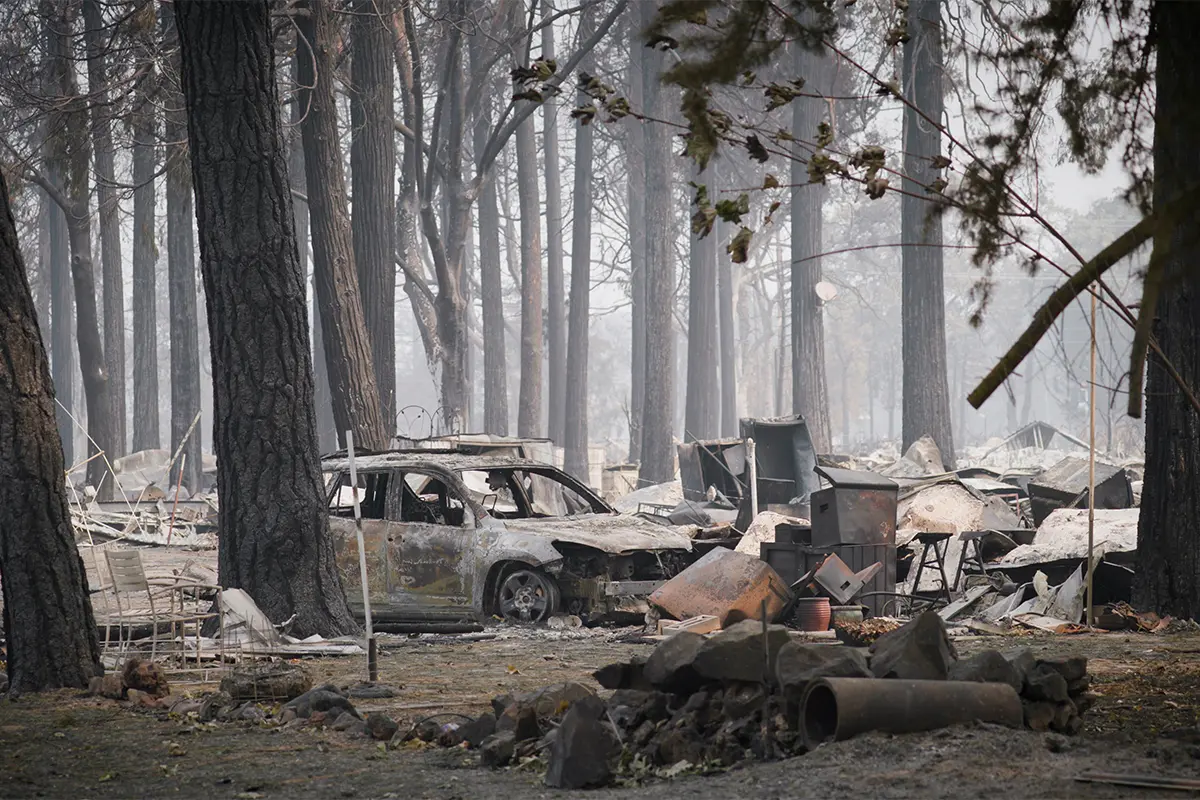 The Smoke Begins to Settle
When the dust began to settle, the center of the Rogue Valley resembled a war zone. Entire neighborhoods were leveled. Businesses were lost, cars were charred, and parks are no more. Aerial views showed the fire's wrath, which spared very little in its path. Remains of twisted metal appliances, bed frames, and parts of chimneys were often the only items left among the rubble. With many businesses destroyed, many suddenly lost their jobs along with those irreplaceable memories in baby photos and wedding videos. In addition to the physical destruction, the water and air were toxic.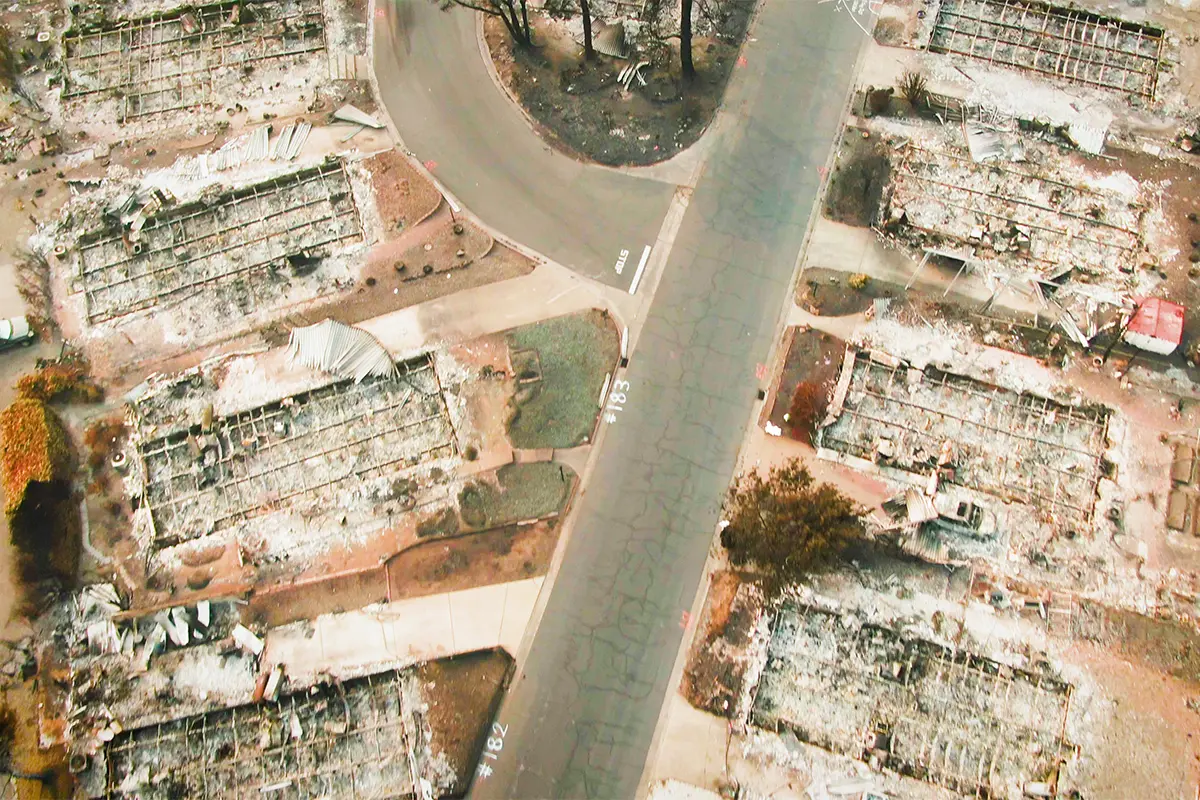 It wasn't until a week later, when the fire was declared 100% contained, that roads started reopening and residents could return for the first time to see if their houses had survived. Shanda was one of the lucky ones. Not only was her house still standing, it also went unscathed. The other side of her street, though, was leveled. "How in the world is my house not even impacted?" she wondered. "How is this even possible?"

Seeing her house juxtaposed against the destruction felt "weird" for Shanda. "I couldn't go in. I sat on the front porch and cried." She started counseling to discuss her survivor's guilt. "For a couple of weeks, I was emotional. I didn't understand why my house made it."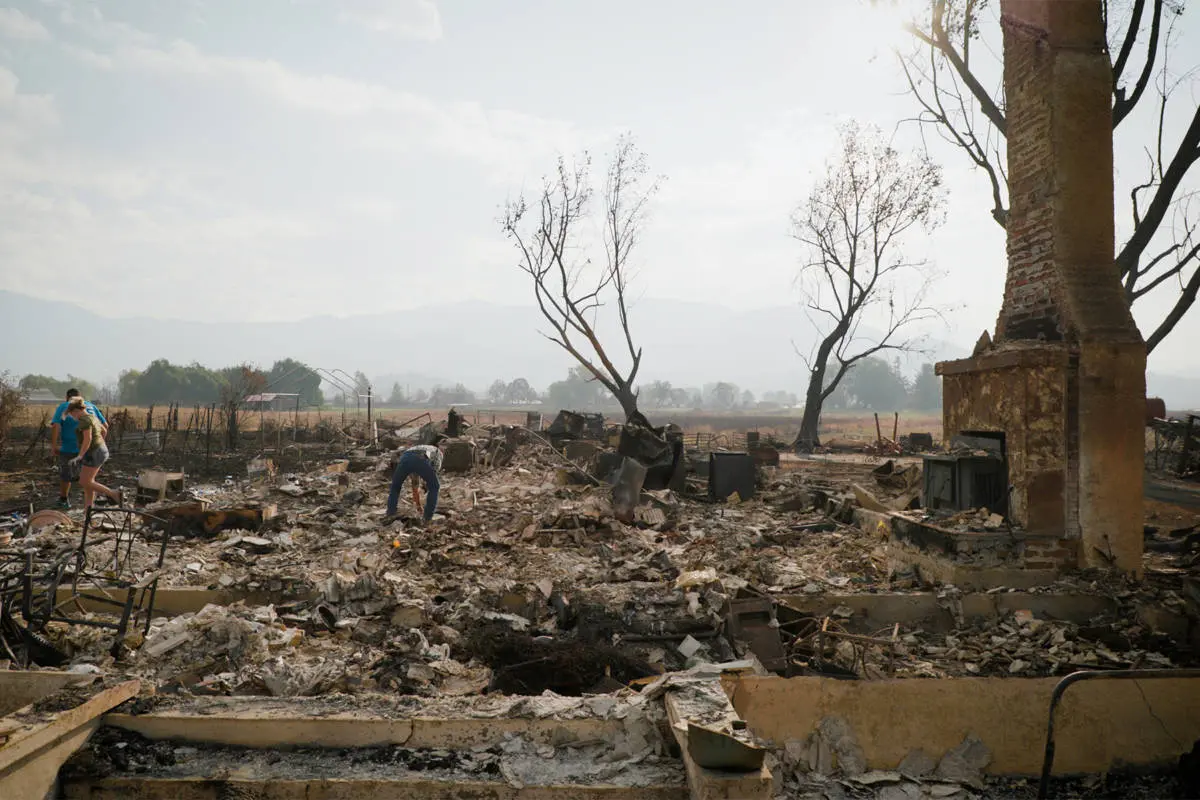 Shanda has since witnessed her neighbors return just to sift through the rubble, even for the remains of their pets. "People just want something to hold on to, they want that hope."

All for One, One for All
Despite their individualism, the local community soon rallied to offer that hope. A local gym organized volunteer groups to deliver bottled water by bicycle to those in the fire zone multiple times a day. Those whose homes had survived donated blankets to the elderly who had been evacuated from a local retirement home. Though over 100 of our employees lost their homes, our Medford campus narrowly escaped the destruction, and we knew immediately we wanted to be a part of the relief efforts, too.



The day after the fire, we created a capital campaign to raise $1 million that will go toward rebuilding the lives of our neighbors. Besides donations, though, we knew we could give back in a special way by doing what we're best at: making gift baskets. We gathered food, water, towels, and toiletries to create relief baskets that could, at the very least, deliver a smile to victims' faces. We can't change that people lost their homes, but we hoped it would give reassurance that more help is yet to come.
In the final installment of our three-part series on the Almeda Drive Fire, we'll look more at how the community came together to support each other and explore how the Rogue Valley begins to rebuild.
To support victims of the Almeda Fire, you can donate to the Teresa McCormick Center. A nonprofit located in Medford, Oregon, they're committed to assisting and providing resources for all those affected by the wildfires.