The apple, especially when baked in pies, may be the most American of fruits, but something about the cherry continues to pop its way into our collective psyche.
It tops our cocktails and desserts. We name songs after it. We use the word "cherry" to describe a car's condition. And we love the fruit's sweetness — a flavor we infuse into everything from soft drinks to lip balm. For the sake of most of this article, we will turn our attention to the natural fruit that we can eat.
Starting…now!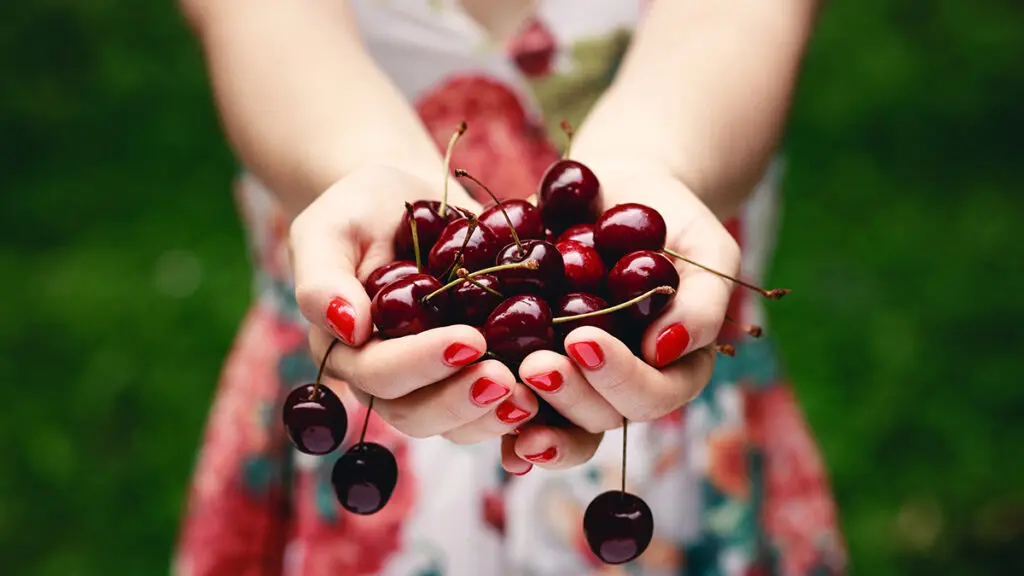 What kind of fruit is the cherry?
The cherry is a fleshy drupe (a stone fruit, like a peach) — squishy on the outside with a hard pit inside.
What is its scientific name?
Coming from the genus prunus, the sweet cherry goes by Prunus avium, meaning "wild cherry." This species is also known as a sweet cherry, bird cherry, or gean. The sour variety is known as Prunus cerasus.
How did the cherry get its non-scientific name?
The English word "cherry" derives from the Latin cerasum, which refers to an ancient Greek region, Kerasous, from which cherries were first thought to have been exported to Europe.
How many cherry varieties are there?
Some 1,200 varieties of cherries exist worldwide, but you really only need to know the major ones. The Bing cherry is America's most popular type of sweet cherry; the Montmorency is the most popular sour cherry.
What about the cherries in a Shirley Temple?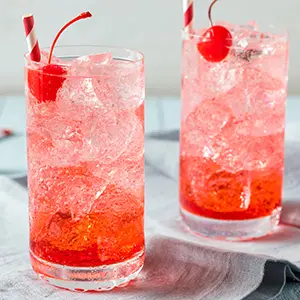 If you only know cherries as the vivid red orb topping your whiskey sour, Old Fashioned, or ice cream sundae, you need to get to the produce aisle more. These garnishes are basically Frankencherries — albeit, yummy ones.
Originating in Yugoslavia and northern Italy some 200 years ago, these are what's known as maraschino cherries, made from the sweet marasca cherry and soaked in maraschino liquor. Today's version is still made from real cherries, but over the course of over a month — during which it gets pitted — it is sweetened and dyed bright red. (Harry & David offers maraschino cherries dipped in dark Belgian chocolate and drizzled with thin ribbons of white chocolate.)
Compared to natural cherries (Harry & David offers a plump selection), maraschinos pack roughly three times the sugar and calories. Plus, the manufacturing process strips away their natural nutrients. Still, these are a treat. And it's fun tying the stems into knots.
Is tying a knot in a cherry stem an Olympic sport?
No, but it should be! (There are certainly some sports we can eliminate. What is the biathlon, anyway?) However, there is a world record for most cherry stems knotted using the tongue: Al Gliniecki of Gulf Breeze, Florida, tied 39 cherry stems into knots with his tongue in three minutes on Jan. 26, 1999.
How much do we love cherries?
We're big fans of cherries here in the United States. Americans eat an average of 2.6 pounds of them in various forms in just a short season. The U.S. is also the third-largest producer of the fruit. (In case you were interested, Turkey is both the largest producer and consumer of cherries in the world.)
Where do cherries grow?
On cherry trees — what a softball question!
You may then wonder: Where in the world do these cherry trees grow, the ones that supply our grocers with this sweet (or tart) bounty? Answer: Sweet cherries mostly come from Washington State, Oregon, and California, accounting for some 90% of cherries produced nationwide. Sour cherries hail mostly from Michigan (74%).
Why did a young George Washington chop down a cherry tree?
He didn't — that's a myth invented by an early biographer of our first president. But just to recap: Six-year-old George, newly gifted with a hatchet, supposedly chopped down his dad's cherry tree. Upon seeing the carnage, his father confronted him about it, to which the boy replied, "I cannot tell a lie. I did it with my hatchet." His father wound up more impressed with his son's honesty than his disregard for trees.
Why don't cherry blossom trees bear cherries?
We marvel at how you managed to look past the gorgeous, billowy, pastel pink (or white) blooms of spring to wonder where the actual cherries are. In fact, cherry blossom trees differ from cherry trees. Simply put, cherry trees are fruit trees; cherry blossom trees are flowering trees.
When are cherries in season?
While you can buy cherries at the supermarket year-round, the time to buy fresh ones at farmers markets is roughly from mid-May through mid-August.
"They're a taste of summer to me," notes Jane Hunts, merchandising manager for the Harry & David fruit division. "They show up just before Memorial Day and go almost to Labor Day. So, they're truly a summer fruit."
---
---
That time period is when Harry & David ships its mostly dark-red Bing and Lapins varieties, along with red-and-yellow colored Rainiers and Skylar Raes (the latter are only available from early June to early July). These cherries, which are handpicked — and rejected if they do not meet certain standards — show up at your front door perfectly ripe.
For a limited time in December, Harry & David also offers New Zealand cherries, in time for Christmas.
How do I choose the best cherries?
At the store, look for green, unbroken stems — brown ones hint that the cherry itself is rotting — and fruit that's saturated with color, and that's shiny, plump, dense, and wrinkle free. If you're actually picking them, look for stems that easily break from the tree.
How to store cherries
This is a farm-to-fridge fruit (or store to fridge). Keep them fresh by refrigerating them as soon as possible, spreading them out on a flat surface (use paper towels if you need to layer them). Do not wash until you're ready to eat them, since they absorb water easily.
How to ripen cherries
For the most part, cherries are finished when you buy them. You may be able to push them a bit further along by dropping them in a paper bag with an unripe banana or apple, folding the bag closed, and storing the fruit at room temperature until they're more ripe, then refrigerating, as per the instructions above.
Are cherries good for us?
You know it. Cherries are a superfood and are rich in antioxidants, fiber, minerals, and vitamins A, C, and K. They also have anti-inflammatory properties that may help combat gout, arthritis, diabetes, and cancer.
Can I eat a cherry pit?
No! Cherry pits contain trace amounts of amygdalin, a chemical compound that the body converts to the poison cyanide. However, you don't need to truly worry if you swallow the pit whole, as the chewing process is what triggers the chemical conversion. Still, chomp on enough of them, and the risk goes up. So just, don't.
When is National Cherry Month?
February. Still, consider celebrating the fruit July 1–8 at the National Cherry Festival in Traverse City, Michigan, aka the Cherry Capital of the World.
---
Our favorite cherry recipes
---
Power of Fruit
Learn more about nature's candy with our series on seasonal fruit.
---