Move over chocolate. Better luck next time mac 'n' cheese. When it comes to America's favorite food, pizza is an easy winner. According to the Harris Poll, pizza is the most popular comfort food in the country, easily surpassing ice cream, chips, hamburgers, steak, pasta, and tacos. No wonder, then, that it's also the most Instagrammed food on social media and one of the most commonly ordered via takeout and delivery as well!
When was pizza invented?
As ubiquitous as pizza is today, nobody really knows when it was created. Archaeologists estimate that humans began baking bread of various types as far back as 7,000 years ago. They also know that inventive bakers were soon adding ingredients, such as herbs and cheeses, to that bread to make it taste better, leading the way to early versions of focaccias and flatbreads. But they still weren't eating true pizza.
---


---
In the centuries that followed, Roman soldiers commonly ate matzo topped with cheese and olive oil, and German farmers noshed on what they called "zwiebelkuchen," an "onion cake" made from caramelized onions, bacon, and cream served on top of a crisp baked crust. But it wasn't until the Spanish brought tomatoes back to Europe from their trips to the Americas in the 16th century that pizza as we know it today — with its perfect pairing of crust, cheese, tomato sauce, and toppings — truly got its start.
How do you like your pie?
Modern pizzas have grown to include almost every kind of topping you can think of, from the essential (mozzarella and Parmesan) to the downright controversial (pineapple — you either love it or hate it). But which toppings truly reign supreme among pizza lovers today?
Here's a rundown of the top 10 most-ordered pizza toppings: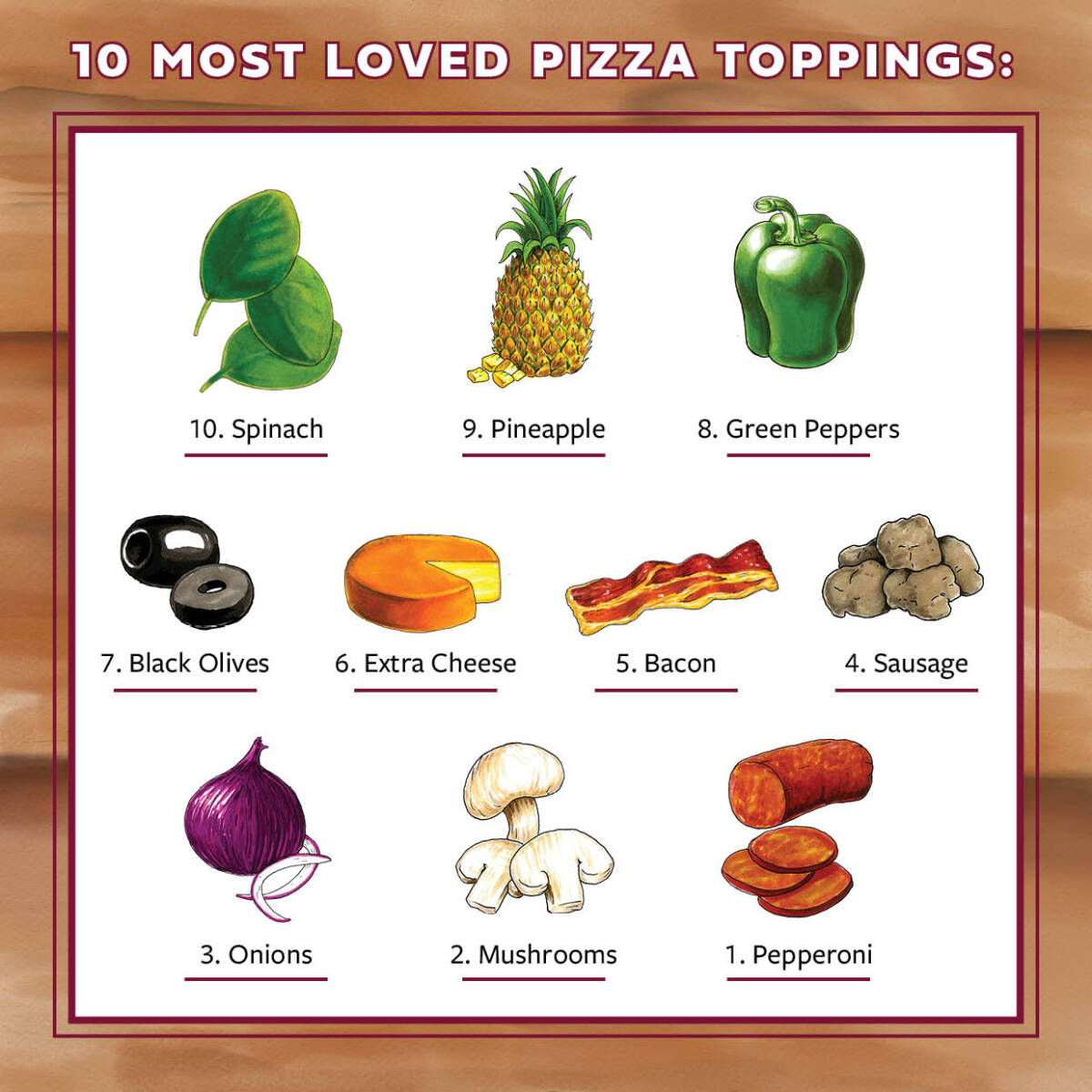 Types of pizza
Few foods are as versatile or come in as many varied shapes and flavor combinations as pizza. That's because virtually any savory combination of ingredients served on top of a piece of flattened bread dough technically counts as a piece of pizza.
No wonder, then, that you can find pizzas topped with almost anything, including baked potato, banana curry, peanut butter and jelly, bacon cheeseburger, and ramen.
But cut out the chef's menu specials, the weird and wacky late night creations dreamed up after a few too many, and whatever is tagged "pizza" on social media, and American pizza basically comes down to about six standard types.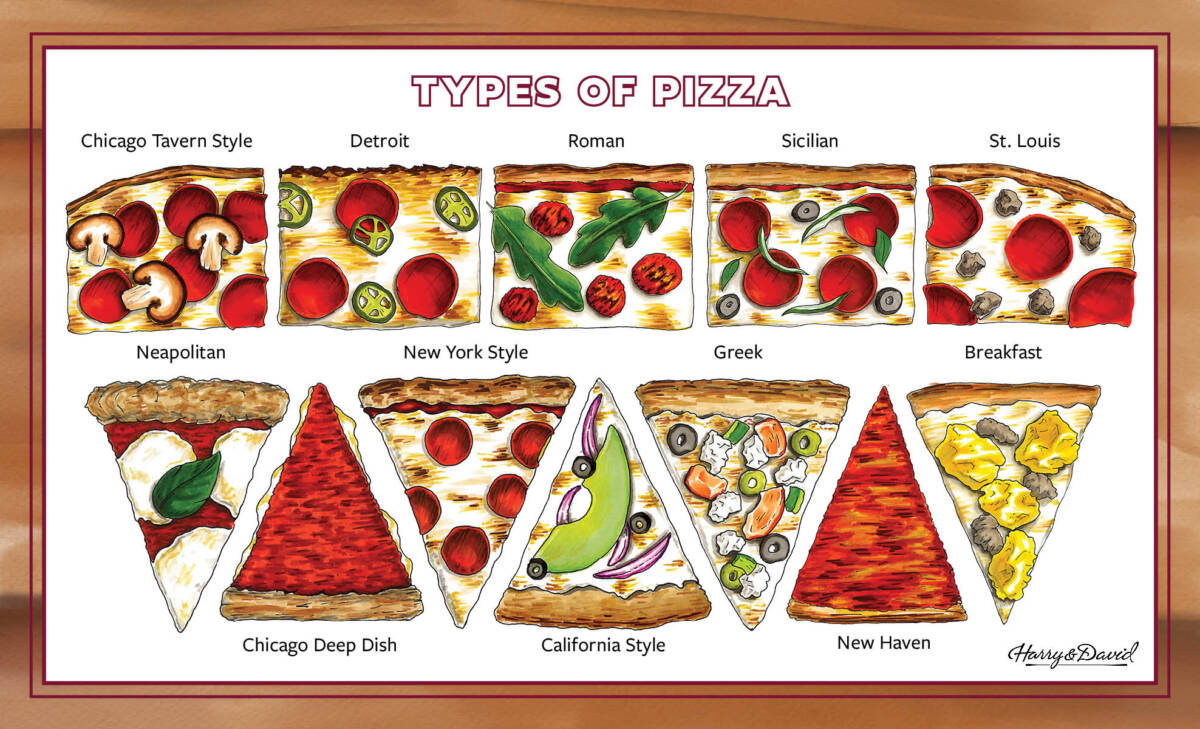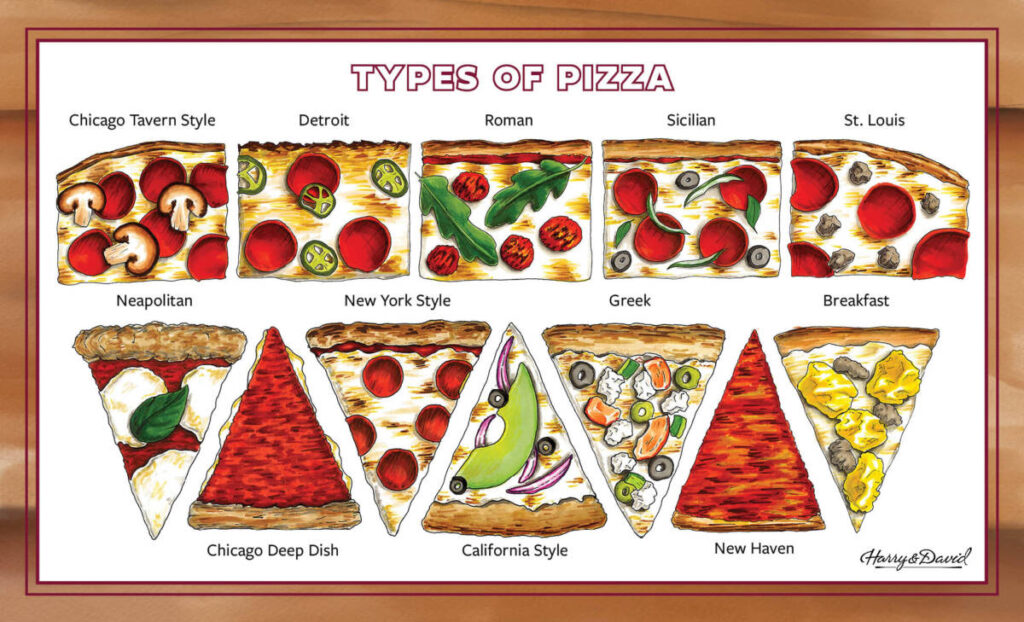 California-style pizza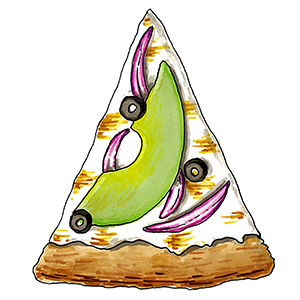 Made famous by a trio of acclaimed chefs — Alice Waters, Ed LaDou, and Wolfgang Puck — in the 1980s, California-style pizza combines thin, traditional New York-style pizza crust with the fresh ingredients and out-of-the-box thinking the Golden State is so known for. While California-style pizzas can have toppings ranging from potatoes to artichoke hearts to green salads to barbecue chicken, the unifying trait, and the quality that helps keep these very different types of pizzas lumped together, is that the ingredients are usually fresh, in season, and locally grown — the mantra of all California cuisine.
In other words, take any thin crust pizza, top it with an eclectic array of seasonal produce and gourmet ingredients, such as baby vegetables, goat cheese, and smoked salmon, and you've got an instant, and delicious, California-style pizza.
Chicago deep dish pizza vs. tavern-style pizza
Chicago likes rivalries. There's Cubs vs. White Sox. North Side vs. South Side. And, when it comes to pizza, deep dish vs. tavern-style pies. And just like those other Chicago favorites, the two dishes couldn't be more different.
Deep dish pizza fans tend to be drawn to the pie's decadent qualities: mounds of cheese, sausage, pepperoni, mushrooms, and sauce piled high on a thick, buttery, pastry-like crust, and cooked in a deep pan to hold in all those delectable juices and toppings.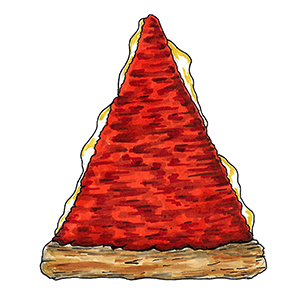 In contrast, tavern-style pizza is made by piling cheese, sauce, and toppings on a super thin, hand-rolled crust that's baked until cracker crisp. Unlike regular pizza, this tavern specialty treat is served up in haphazardly sized squares, perfect for snacking on while perched on a bar stool, drinking a Goose Island. Whichever style you prefer, there's no denying both are delicious.
For a taste of true Chicago deep dish pizza, check out Harry & David's complete line of Pizzeria Uno Deep Dish pizzas (available in sausage, cheese, pepperoni, and Spinoccoli® varieties). These were created by Pizzeria Uno founder Ike Sewell, the master pizza chef who first dreamed up the dish all the way back in 1943!
Greek-style pizza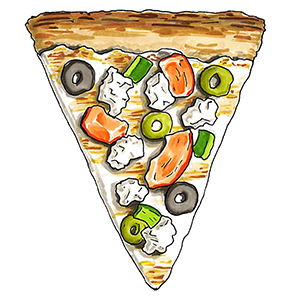 Despite the name, there's nothing truly "Greek" about Greek-style pizza. In fact, this type of pizza is actually the product of Greek immigrants who moved to New England, and the Boston area in particular, in the mid-1960s. That regionality is why it's also sometimes known as New England-style pizza.
Unlike most other types of pizza, the main distinguishing trait of Greek-style pizza isn't the bread it's made from or its toppings — it's olive oil! There's olive oil in the crust, olive oil in the pan…there's even sometimes olive oil drizzled on top of the pizza. There's so much olive oil in Greek-style pizza that the pizza crust almost fries in it as it cooks, leading to a super crispy, somewhat greasy version of what might otherwise be a standard slice of Neapolitan pizza.
Because of all that olive oil, Greek pizzas also have to be cooked differently, namely, in an electric oven over lower temperatures instead of in a super hot brick oven. This leaves the crust thicker and more doughy than most other pizzas — perfect for the pie's traditional toppings, which include Greek favorites like feta cheese, olives, sun-dried tomatoes, and roasted red peppers.
Neapolitan pizza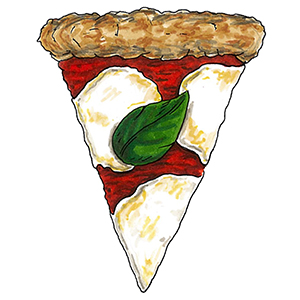 Over 4 million Italian citizens immigrated to the United States between 1880 and 1920. And, as these men and women settled into their new homes, many brought with them their favorite foods from the old country, including a beloved local favorite: Naples-style, or "Neapolitan," pizza.
Made from an extra fluffy dough that is kneaded from the center out and then topped with hand-crushed tomatoes, fresh mozzarella, and fragrant whole basil leaves, Neapolitan pizzas are typically cooked quickly over coals in ultra-hot wood fired ovens. The pizzas come out with a slightly charred yet crispy crust and a sometimes soggy center thanks to all the juice from those freshly cooked tomatoes.
The most famous version of Neapolitan pizza — the Margherita pizza — is said to have been created in 1889 by pizza maker Raffaele Esposito, who wanted to honor the Italian queen Margherita of Savoy with a dish sporting the colors (red, white, and green) on Italy's national flag. He made it with the combination of tomatoes, mozzarella, and basil still used on Margherita pizzas today.
New York-style pizza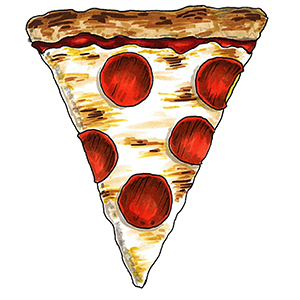 An early offshoot of those early 20th-century, Neapolitan-style pies, New York-style pizza (which is cooked in gas ovens instead of over hot coals) is the most common and most popular style of pizza in the country. The pies tend to be hand tossed, are usually larger than other pizzas, have a thinner crust, and are typically sold by the slice —at many places for only $1!
Master pizza maker and New Yorker Gennaro Lombardi, who is famous for opening (or maybe not) the first-ever American pizza shop, Lombardi's, in 1905, is generally credited with creating New York-style pizza as we know it today. While you can get a variety of toppings on a New York-style pizza, the traditional pie is very basic: fresh-crushed tomato sauce paired with lots of mozzarella cheese spread almost to the edge of the crust before baking. Because of the size of the slices, and the limited topping-free space to grab ahold of the pizza, most New Yorkers fold their pizza in half when they eat it for an easy, sometimes mess-free, on-the-go meal. Be sure to grab extra napkins…
Sicilian-style pizza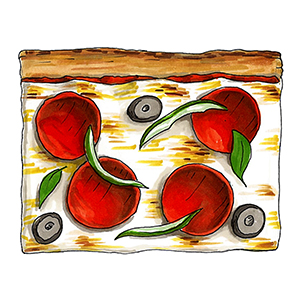 A distant cousin of the Neapolitan pizza, Sicilian-style pizza takes a different shape than most traditional pizza — specifically, it's square instead of circular. Made from a moist, spongy, focaccia-like dough, Sicilian-style pizza originated on Italy's largest Mediterranean island — just off the "toe" of the country's "boot" if you're looking at a map.
Modern Sicilian-style pizza — typically topped with tomatoes, strong cheeses, caramelized onions, and fresh herbs — is a twist on a dish known as "sfincione" (or "thick sponge") that became popular in the region in the mid-19th century. The biggest difference between the two savory treats? Sicilians typically enjoy their "sfincione" with anchovies, while we avoid those tiny, salty little fish at almost all costs!
Honorable mentions
While they may not be as popular as the types of pizza above, these regional and ingredient-specific standouts are all worthy of mention — as well as a place on any hungry diner's plate:
Similar to Chicago's tavern-style pizza, St. Louis pizza is served on a crisp, cracker-like crust. Made with a yeast-free dough that doesn't rise, the pizzas are typically topped with loads of oregano plus Provel, a St. Louis specialty that combines provolone, Swiss, and white cheddar cheeses.
A true lovechild of Sicilian pizza and deep dish pizza, Detroit-style pizza was born when local tavern owner Gus Guerra decided to try cooking a pie in a heavy-duty steel utility tray repurposed from one of the nearby auto plants. The resulting dish, which could be considered similar to a pizza cooked in an oil-coated, cast-iron skillet, pairs the flavors of soft, fluffy pizza crust with caramelized, slightly burnt cheese and toppings in one rich, savory bite.
Roman-style pizza is another knock-off of traditional Sicilian-style pizza, only the pizza is long and rectangular instead of round. Why the change? Perfected to meet the busy midday meal rush, Roman-style pizza isn't sold by the slice but "by the cut" or the meter. Perfect if you're in the mood for a two-inch (five centimeters, if you're in Rome) snack or famished and desperate for a nine- or 10-inch meal.
In some parts of Connecticut, pizza isn't done until it's really done — cooked to the point of being charred or almost burnt. That's New Haven-style pizza, an unique type of pie that hails from the home of Yale University. A traditional New Haven-style pizza is made with dough that's been allowed to sit and ferment for up to 24 hours and then cooked in a hot coal oven with no toppings aside from tomato sauce. If you want cheese, you'll need to ask for it. The locals call it "mootz."
Leftover pizza is a breakfast favorite for many, but if you want eggs with your pizza, you need a breakfast pizza. An increasingly popular dish at brunch spots, in particular, breakfast pizzas typically feature some combination of breakfast essentials, including bacon, sausage, cheese, and potatoes, all surrounded by a pillowy layer of freshly cooked eggs.
Pizza night essentials
Inspired to whip up your own pizza? It's not hard. Just pick up some pre-made dough or make your own — all you need is some bread flour (the gold standard is Tipo "00" flour), sugar, water, yeast, and salt. Then, pile on your favorite toppings. Or try a DIY pizza kit, which includes everything you need to make your own spectacular pie, including sauce, peppers, pepperoni, cheese, and pre-made crusts.
Three other pizza-making must haves:
A pizza board, for use when building your own pizza or letting a store-made pie defrost and come to room temperature.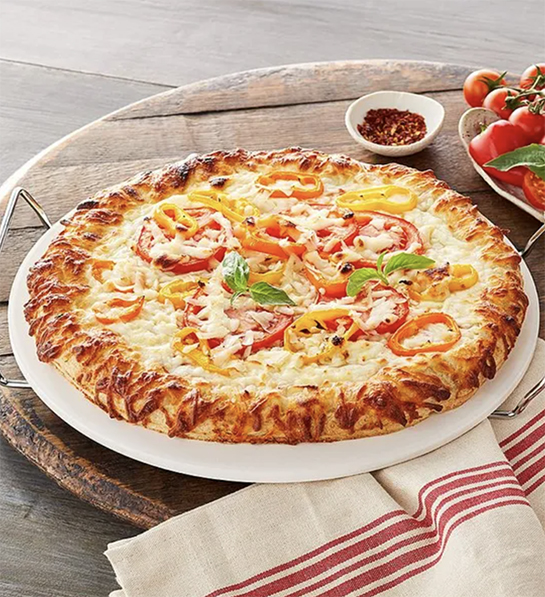 A pizza stone, perfect for helping keep pizza warm and giving you a sturdy place to cut it into slices.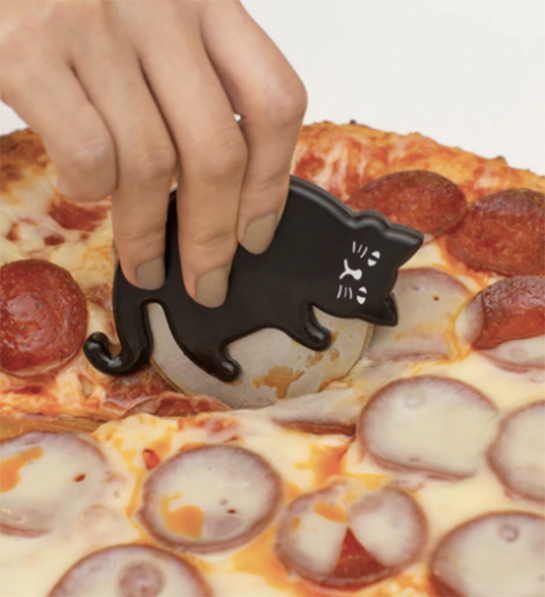 A pizza cutter, to cut your pie into exact slices.
Lastly, you will need wine to help wash it all down! For savory red pizzas topped with pepperoni or sausage, go for a pinot noir or merlot. For a creamy white-sauced pizza, full-bodied white wines, such as chardonnay, are a match made in culinary heaven.