With Easter and brunch season (think Mother's Day and Father's Day) fast approaching, I'm reminded of one of the simplest and most delicious dishes to feed a crowd: the quiche. (It also makes a perfect centerpiece to the table!)
A quiche is a simple dish. It's just an egg custard (eggs whisked with milk or heavy cream) baked in a flaky, buttery pie crust. It is entirely customizable, with additions such as meats, cheeses, seafood, vegetables, and herbs. A perfect quiche is fluffy, creamy, rich yet still light, with textural elements including sautéed vegetables or meats, such as bacon or ham.
So, how did this versatile crowd pleaser come into existence? Its origins stretch centuries in the past, and are rooted in a place that sounds like a location from Lord of the Rings. And when made just the right way, a quiche is precious….
Who's Lorraine?
Quiche is known as a classic dish of France, where it gained popularity, yet you might be surprised to learn it actually originated in Germany and dates back to the 1400s. Its name comes from the German word "kuchen," meaning cake or tart.
This dish was the local cuisine of the German kingdom of Lothringen, which the French took over in World War I. After obtaining the territory, they promptly gave the region a more fitting French moniker, Alsace-Lorraine. The French soon discovered this beloved and tasty dish, adding smoked bacon lardons to the egg custard and calling it "quiche Lorraine."
Quiche was originally prepared using bread dough for the crust housing a silky egg custard. The bread dough was eventually swapped for puff pastry or a flaky pie crust, resulting in a more delicate dish and giving us the brunch staple we all know and love today.
---

---
To be considered "Lorraine," a quiche must consist of eggs, heavy cream or crème fraiche, and lardons, thick, smoky bacon sliced into matchsticks. Some variations of Lorraine exist, such as quiche Alsacienne (see recipe below), which takes a quiche Lorraine and adds grated Gruyère cheese, and quiche Vosgienne, which also includes roasted onions. Quiche Florentine features spinach and Swiss cheese in addition to the eggs and cream.
Endless quiche possibilities
One reason this brunch star is so appealing is the countless variety of options you have when making it. Have some fun experimenting with seasonal produce, leftover meats (such as sausage or ham), and salmon or crab. Utilize soft cheeses and an array of grated cheeses, too, to give it even more tang and richness. Toss in some zesty herbs and smoky spices for added flair.
Another possibility, and immediate favorite, are mini quiches. For these, start with a standard egg custard and incorporate some different flavors, such as asparagus and ricotta with prosciutto, spinach and goat cheese, butternut squash with thyme and rosemary, or a classic combination of chorizo and cheddar. Mini versions of this dish are playful and appeal to the appetites of many guests.
Need more reasons why the quiche is a quintessential brunch dish? You can assemble its components ahead of time, saving you from last-minute preparation, and it is equally delicious when served at room temperature or cold, allowing you to mingle and enjoy your guests. With its ease of preparation, adaptability, and make-ahead nature, quiche is here to make your entertaining a whole lot simpler.
I recommend serving any quiche alongside breakfast breads, pastries, fruits, and crispy bacon. You now have a stunning brunch!
Our favorite quiches
For an even easier brunch set-up, check out the gorgeous gourmet quiches from Harry & David. They do the hard work for you, and you get to enjoy every last bite.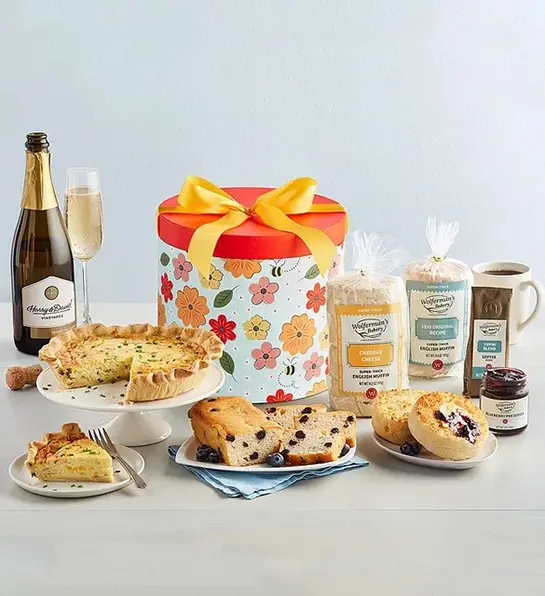 I am forever a lover of sweet, caramelized onions, and shamelessly add them to everything, especially eggs. This bundle includes a caramelized onion and triple cheese quiche that is incredible. It also comes with Wolferman's Bakery English muffins, blueberry preserves, a delicious blueberry loaf cake, coffee, and sparkling wine. Mimosas, anyone?
I love this bundle for any occasion requiring a special toast and gorgeous brunch spread. The gift box it arrives in is just as pretty as the array of goodies inside.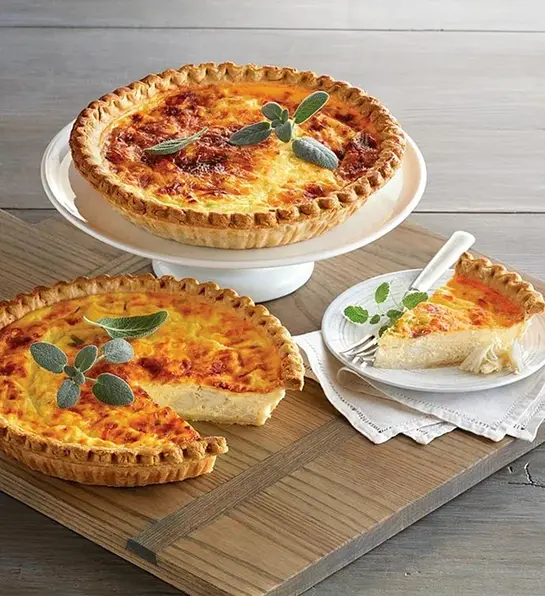 Growing up on the East Coast, I have always had a soft spot for crab as an ingredient. This quiche, with its delicate flavor profile, features lump crab, herbs, and Swiss cheese. It is a bit unexpected yet sure to delight everyone's taste buds.
Your springtime — or anytime — brunch needs this trifecta of apps. It has something sweet (lemon coconut cheesecakes) and some savory bites (assorted mini quiches and seasonal asparagus wrapped in flaky phyllo dough). The quiches are also made with phyllo dough, giving them a lighter texture than the traditional preparation with pie crust. These little nibbles will make your next brunch impressive yet effortless.
Want to make your own quiche? Try this classic version with Gruyère cheese.
Quiche Alsacienne
Ingredients:
4

strips thick bacon

(sliced into lardons (matchsticks))

1

recipe flaky pie dough

4

whole eggs

2

cups

heavy cream

¾

cup

shredded Gruyère cheese

½

teaspoon

salt

¼

teaspoon

nutmeg

¼

teaspoon

freshly cracked black pepper
Instructions:
For the quiche
In a medium skillet, cook the bacon until crispy. Place on a paper towel-lined plate to drain.

Preheat the oven to 375˚ Fahrenheit.

Roll the pie dough out on a lightly floured surface and line a 9-inch pie plate with the dough, building a rim. Place a piece of parchment paper inside the pie plate directly onto the dough and fill with pie weights or dry beans to line the bottom. Par bake the dough for 10 minutes.

Meanwhile, in a large bowl, whisk together the eggs, heavy cream, cheese, salt, nutmeg, and pepper. Add the bacon.

Reduce the oven to 350˚, remove the parchment from the pie dough, and pour the egg custard into the pie shell. Bake for 25-30 minutes until set. Serve warm or at room temperature.
For the pie crust
1 ¼ cups all-purpose flour

½ teaspoon kosher salt

1 stick unsalted cold butter, cut into cubes

2 ½ tablespoons ice water

In the bowl of a food processor, add the flour and salt. Quickly pulse to combine. Add the cubes of butter and slowly pulse until the mixture resembles small peas. Add the ice water 1 tablespoon at a time pulsing quickly, just until the dough comes together. You may not need all the ice water.

Turn the pie dough out onto a lightly floured surface and, with floured hands, gather it into a ball. Wrap the ball of dough in cling wrap and flatten slightly into a round disc. Refrigerate the dough at least 2 hours before using.