Birthdays are the holidays we own, a naturally special 24 hours for celebration with friends and family that's sure to warm the heart no matter the season. September babies, however, have a few exclusive birthday advantages that mere other-monthers don't get to enjoy. With the return of picture-perfect weather, the availability of rare seasonal culinary delights, and some special gift options, September is a great month to be celebrating your birthday.
September birthdays take the cakes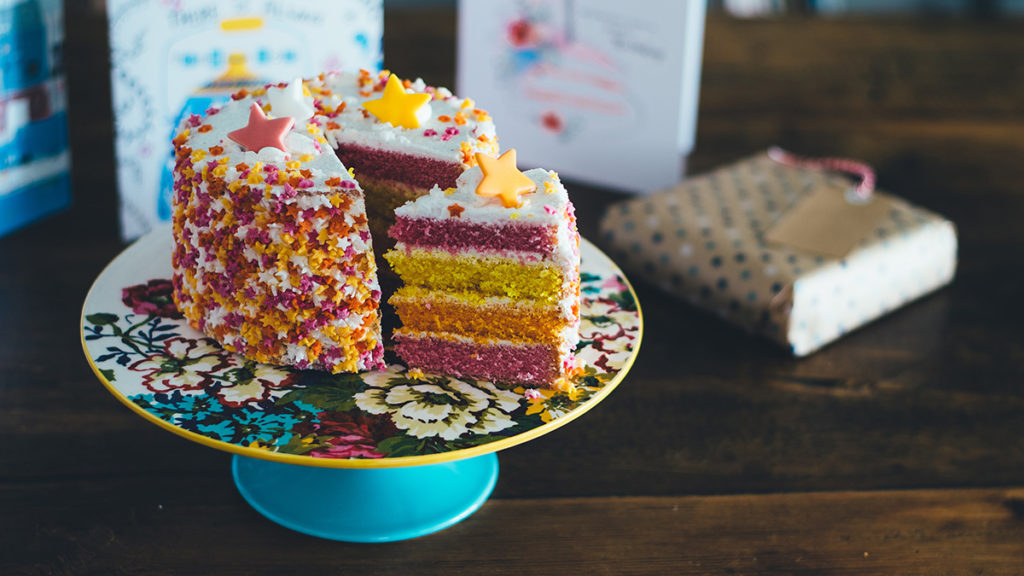 Seasonal harvests in September provide plenty of food and sweet options. September babies, you have your choice of a plain old birthday cake with white icing…or a fresh pumpkin cheesecake, a pecan pie, plus apple crisp and healthy alternatives like gluten-free pumpkin cake, cinnamon-baked pears, and apple chips. If you live near a rural area, you know that September farmer's markets and roadside stands offer amazing dessert options you won't find anywhere else. Take a drive and see what you can find, and maybe explore nature along the way — the changing leaves and mild days make for gorgeous birthday hikes.
There are plenty of party partners
September babies have a lot of company! According to Reader's Digest, nine out of 10 of the most common American birthdays occur in September. Turns out the 9th and the 19th are the most birthday-filled days of the year, with the nine days in between containing the other seven most common birthdays. That means there's a good chance you or your friends know other people born in September — and you could team up for a double or even triple birthday party.
September birthday babies get the best of two seasons
In much of North America, September is the only month when you can really enjoy the best of summer and fall — comfortably warm days and perfectly cool nights, with crisp air rather than high humidity. September is a perfect time to hold your birthday party outdoors to make the most of great grilling weather in the afternoon and ideal conditions for sitting around a fire after sunset. If a pool or hot tub is available, a night swim or relaxing soak can be the perfect way to wrap up your party. September's lower temperatures can also make it easier to drift off to sleep after a high-energy get-together.
National Beer Lover's Day
Sept. 7 marks National Beer Lover's Day, the vaunted holiday celebrated with specialty brews, beer-related food features, and fantastic deals in bars and restaurants across the country. Even if that's not your birthday, September is typically the month when craft breweries debut their most limited-edition seasonal beers, ciders, and mead varieties. Pumpkin porters, spiced ales, maple brown ales, and crisp dry ciders are fall favorites consistently released on or around National Beer Lover's Day.
September brings football season
This month marks the return of football — by far our nation's most popular sport, according to ratings — and birthday/big-game combo parties always make for great weekend celebrations. Baseball playoffs typically start in late September too. There's also a relaxing bonus — watching a game makes the party less stressful for the host, as people typically entertain themselves.
---

---
It's digital drop-off time
Many tech companies take advantage of back-to-school time by releasing new smartphones and laptops. That also drives down the price of older-model phones and computers, so keep an eye out for bargains in September — no matter the person's budget, you've got plenty of choices to suggest as a gift. ?
September blooms provide energy

The aster is a September birthday flower that represents a love so radiant it can blind snakes, keeping them out of gardens where the flower is planted, according to myth. Ancient Greeks burned aster leaves for spiritual protection, believing the scent could ward off evil phantoms, and Victorian culture considered the aster's thin, delicate petals to symbolize subtle allure and graceful attraction. Another September birth flower is the morning glory, a bloom that begins to open at dawn and closes by afternoon. It's short but sure life cycle is thought to represent the fleeting nature of young love. The flower is also said to provide its recipient with the strength to conquer adversity.
Pleasant and positive zodiac signs
Those born between Aug. 23 and Sept. 22 are Virgos, loyal and practical souls who revel in the presence of animals and nature. Virgos are known to constantly pursue personal health, preferring nourishing cuisine over quick-fix sweets and junk food, a good book rather than a night of TV. Libras, a highly cooperative and group-minded bunch, are born from Sept. 23 to Oct. 22. Their steady pursuit of social balance and equality mirrors their attraction to like-minded life partners, intellectual individuals who enjoy fine art and music.