The holidays are all about family, and nothing brings all the generations together like food! In Homespun Holidays we explore recipes perfect for new family traditions, shareable plates for your next holiday get-together, and small-batch desserts and sides for more intimate gatherings. Learn how to make wild rice salad flavored with Royal Riviera Pears, cranberries, and blue cheese in this recipe from Christina Lane of Dessert for Two. This dish is a great Thanksgiving side wherever you're celebrating!
When Thanksgiving rolls around where I live, it's often a warm day. As much as we wish it would be a crisp, cool day with freshly-fallen leaves crinkling on the ground, we just have to accept our sunny warm weather.
Since Thanksgiving is often eaten outside for us, my family has developed some great room-temperature side dishes to enjoy with turkey. This delicious, creamy wild rice salad is a favorite because the flavors are so seasonal! You don't need to live in a warm climate to enjoy this salad, though. It stores well, so with the busyness of Thanksgiving dinner prep, this is an easy dish to prepare ahead of time. Mix the salad, set it aside, then bring out when the hot dishes are ready!
Fall flavors in this wild rice salad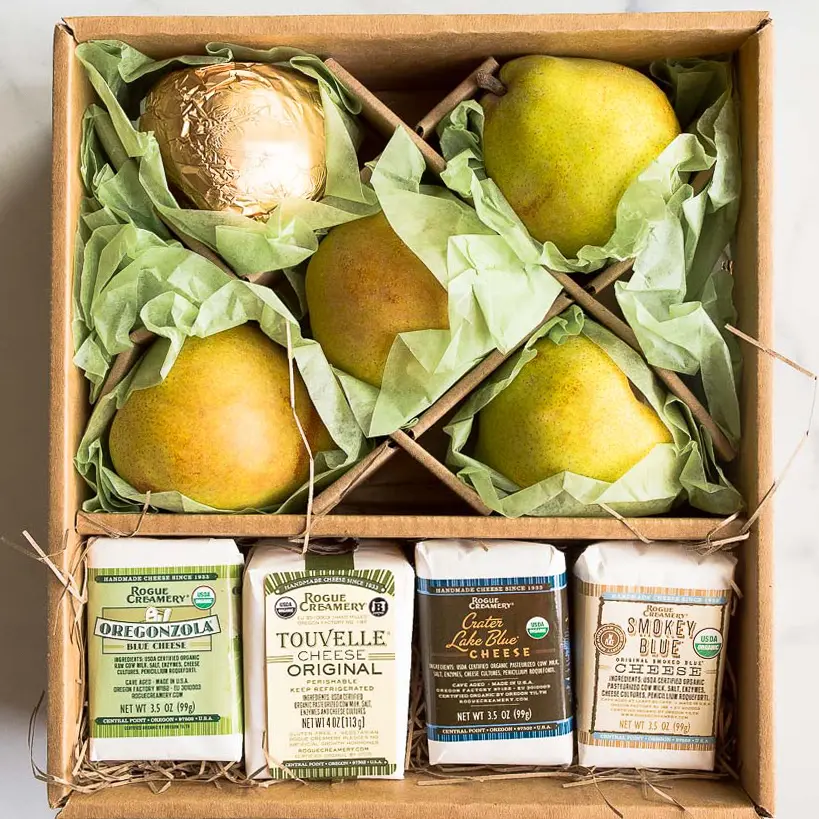 What makes this salad perfect for a fall meal is that it's full of fall flavors! The star of the show is Harry & David's Royal Riviera Pears. Not to play favorites on the Harry & David Fruit of the Month club, but the pears are a true bright spot! Their perfectly soft skin brings sweetness to this salad.

Sprinkling in some Oregonzola blue cheese is a step that can't be missed. The creamy, tart, and tangy cheese binds the rice together and makes the salad slightly creamy.
Dried cranberries are the next key ingredient, which are a classic fall flavor since they're harvested in the fall. The dried ones bring a nice tartness to the salad that complements the sweetness of the pears and creaminess of the cheese.
The finishing touches are toasted walnuts and maple syrup! Every salad needs a little crunch, and the walnuts bring it here. The creamy maple dressing adds another touch of sweetness. It's also great on any roasted vegetables you're serving on the side!
A scoop of this wild rice salad alongside thinly roasted turkey could make you think that traditional bread stuffing isn't necessary. The unexpected bonus for this side dish is that it's entirely gluten-free which makes it a potluck favorite! This recipe serves two, but it can easily be doubled (and doubled again!) to serve as many as you need at your holiday gathering.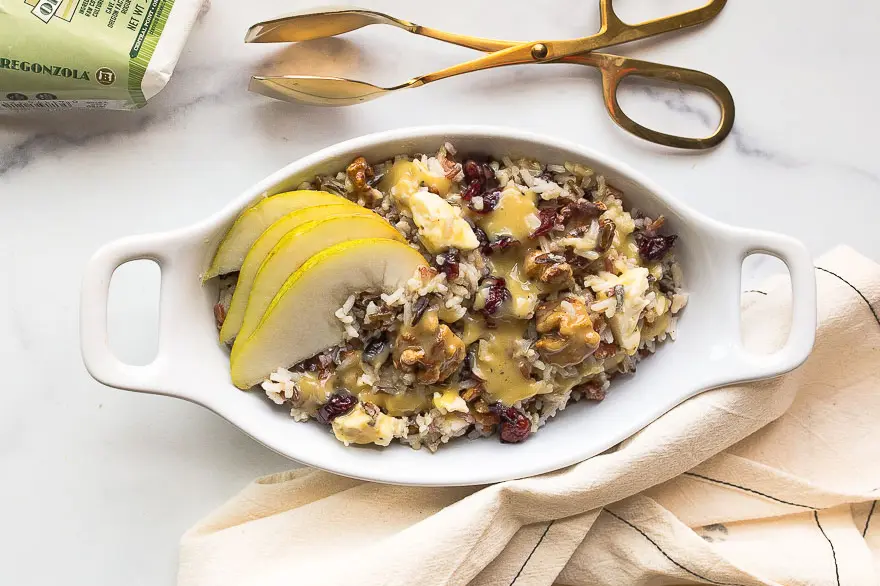 Wild Rice Salad
Ingredients:
For the Maple Dressing:
1

tablespoon

maple syrup

2

teaspoons

Dijon mustard

1

tablespoon

mayonnaise

2

tablespoons

Olive oil

¼

teaspoon

salt

¼

teaspoon

freshly ground black pepper
For the Rice Salad:
1 ¼

cup

water

1

tablespoon

unsalted butter

½

teaspoon

salt

1

cup

wild rice blend

3.5

ounces

crumbled blue cheese

¾

cup

dried cranberries

1

cup

walnut halves and pieces
Instructions:
First, make the maple dressing: Whisk together all ingredients and set aside until ready to serve.

Next, make the wild rice, because it needs to cool slightly before assembling the salad.

In a 2-quart saucepan with a tight-fitting lid, bring the water to a boil.

Add the butter, salt, and wild rice blend to the pot. Place the lid on the pan.

Lower the heat to medium, and set the timer for 16 minutes. Please note that some wild rice blends might have longer cooking times, so check your box for directions. My grains were perfectly tender in just 16 minutes.

Once the rice is done cooking, move it to a serving dish and toss it every 10 minutes to help it cool. It doesn't need to be totally cool before assembling the salad, but closer to room temperature.

To serve the salad, crumble the blue cheese with a fork into bite-size pieces, and toss it with the rice.

Add the cranberries and walnut pieces, and toss again.

Finally, slice the pears into 16-18 slices, and serve them on top of the salad, fanned out for presentation.

Store leftover salad in an airtight container. This recipe easily doubles to serve more.
---