Looking to make a birthday celebrated between December and March special? Whether your neck of the woods is set for a deep freeze or remains mild all year round, the winter season is a special time to gather together, get cozy with hot cocoa, and share some fun and games together — all fun things that make winter birthdays the best!
What makes a winter birthday special
Once you decide on a theme, sprinkle elements of it throughout the party. This makes your guests feel like they're on some unique journey.
Emily-Rachael Atunrase
Owner of Empress Luxury Events LLC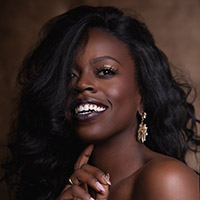 Between all the holidays packed into the season, the messy weather, and the frigid temps, winter can, at first glance, seem like a hard time to celebrate a birthday. But, explains party planner Emily-Rachael Atunrase, it's actually ideal. "My sister's birthday is in the winter, and I was just telling her how lucky she is, because 'tis the season, right?" Atunrase says. "During the winter, we're all used to traveling around, visiting friends and family, we've got the time off or we're bored, and we're looking for something fun to do. In winter, people are ready to party!"
As owner of Empress Luxury Events LLC in Philadelphia, Atunrase sees birthday parties happening both inside and out during the winter (weather dependent), with plenty of her clients transforming their homes into a winter wonderland. If you're ready to sleigh some winter birthday party planning, read on for fun ideas that make the most of what the season has to offer.
How to make a winter birthday special
Embracing a winter birthday with a seasonal theme is a great way to go, Atunrase says. A themed birthday party — no matter the season — allows you to get creative and leave a lasting impression on your guests. "Once you decide on a theme, you can sprinkle elements of it throughout the party," Atunrase says. "This makes your guests feel like they're on some unique journey; it keeps them engaged and looking to see how many times you incorporated that theme around the food, the place setting, the decor." Atunrase likes to set a birthday dinner table with a favor related to the theme, such as holiday ornaments or color-coordinated silver, blue, or white macarons.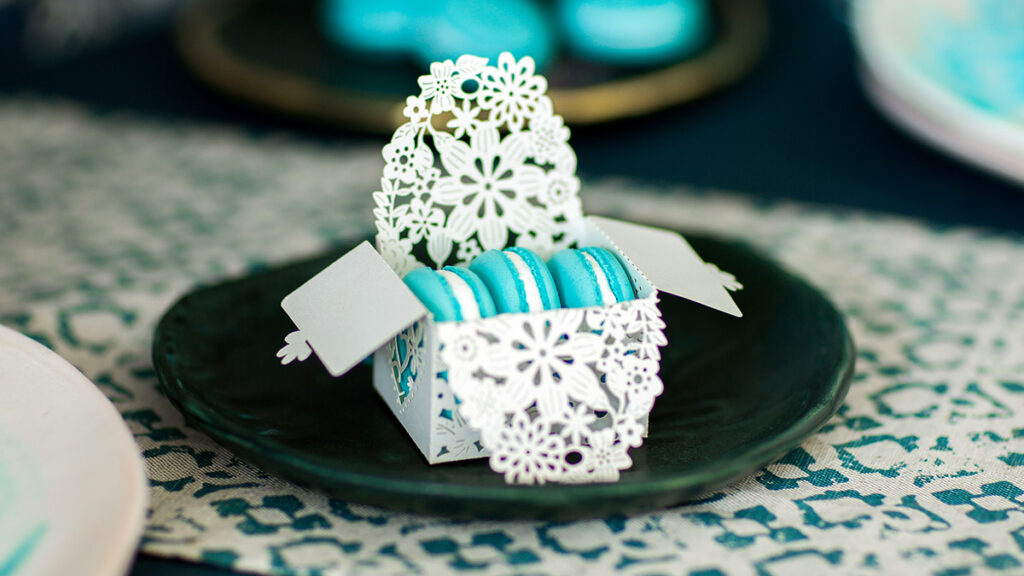 She also suggests an indoor/outdoor option for home parties. "Think of how lovely it would be to walk through twinkling lights on a chilly evening to get to a firepit or bonfire, sit around with cute little inscribed mugs filled with piping hot cocoa, and then head inside when it's time to eat." With fire pits, outdoor heaters, and inflatable tents becoming increasingly accessible, we have many more outdoor options for winter birthday parties than we did just a few years ago.
That said, you don't have to leave the warmth and comfort of home to have a memorable winter birthday — in fact, staying inside can be ideal. Atunrase recalls one client who booked an at-home massage for her husband's birthday. While he relaxed upstairs, Atunrase went into action creating the party below. "By the time he came down from his massage, his whole family was waiting for him," she says. "We brought in a hibachi chef, and then cleaned up at the end of the night." That sure beats battling the crowds and cold to stock up on birthday party supplies.
But if you don't want to hire a private chef to make the most of a winter birthday, there are still plenty of DIY ways to enjoy a chill-tastic winter birthday.
---

---
Kids winter birthday party ideas
These winter birthday party ideas will please the little ones while also providing entertainment for the adults.
Luau or beach party
If your crew is longing for summer fun, give everyone a respite from the cold by offering up a luau- or beach party-themed blowout. From serving fruity drinks and Oreo cookies shaped like flip flop and beach balls to putting out beach blankets and play sand, guests can fully indulge their summer vibes. You can even set up a station where kids can make leis with orchids (with adult supervision, of course). Ask guests to come dressed in Hawaiian shirts and beach gear, and you'll all be transported to warmer climes.
Lumberjack jamboree
Gather together all the plaid you can find and invite guests to wear their best denim and flannel. Add in plenty of burlap and evergreen decorations, serve flapjacks, and have fun by renting a Velcro ax throwing game. Don't forget to hand out faux burly beards for the perfect photo opp. There are even ways to make a fully plaid cake with just some extra red and black food coloring.
A warm frozen birthday experience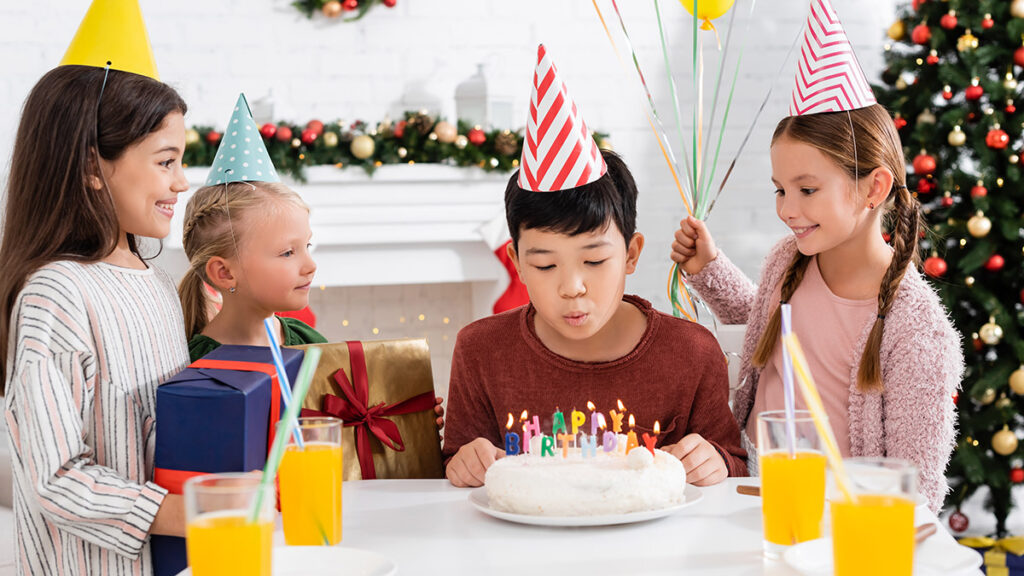 Skip the heaps of soggy clothes while still indulging in snowman making and igloo sculpting. Faux indoor snow is easy to make; just mix a half cup of hair conditioner with three cups of baking soda. Then, repurpose a Christmas tree and cover it with the "snow" and artificial flocking, adding evergreen garland to it as well. Incorporate plenty of snow-themed items, from icicle lights to snow-white balloon arches, Atunrase suggests. Keep with the theme by serving treats like crisped rice squares decorated with winter designs or offering a winter cooking decorating station.
Adult winter birthday party ideas
It's not just the kids who get to have fun with a wintertime birthday. Adults have plenty of ways to celebrate their birthday during the snowy season as well.
Winter wonderland
Embrace the beauty of winter with an opulent evening display featuring plenty of icicle lights and repurposed holiday decor. Atunrase says serving hearty, lavish dishes, like the kind you see in holiday movies, will get everyone in the mood. "Instead of a fruit cup, serve fruit tarts, or cobblers straight from the oven. Incorporate all those delicious scents like cinnamon, nutmeg, cardamon. Instead of regular cheesecake, for the winter, we're making persimmon fig goat cheesecake." The winter definitely gives us a chance to get a little more fancy with our desserts.
Paint and sip party
Winter gives us time to be more creative with crafts, so bringing together pals for some winter-inspired painting is a perfect way to spend a birthday. And sure, you could organize your own event, but why not leave things to the experts at PaintNite? They offer both in-person and virtual painting parties with tens of thousands of designs from which to choose.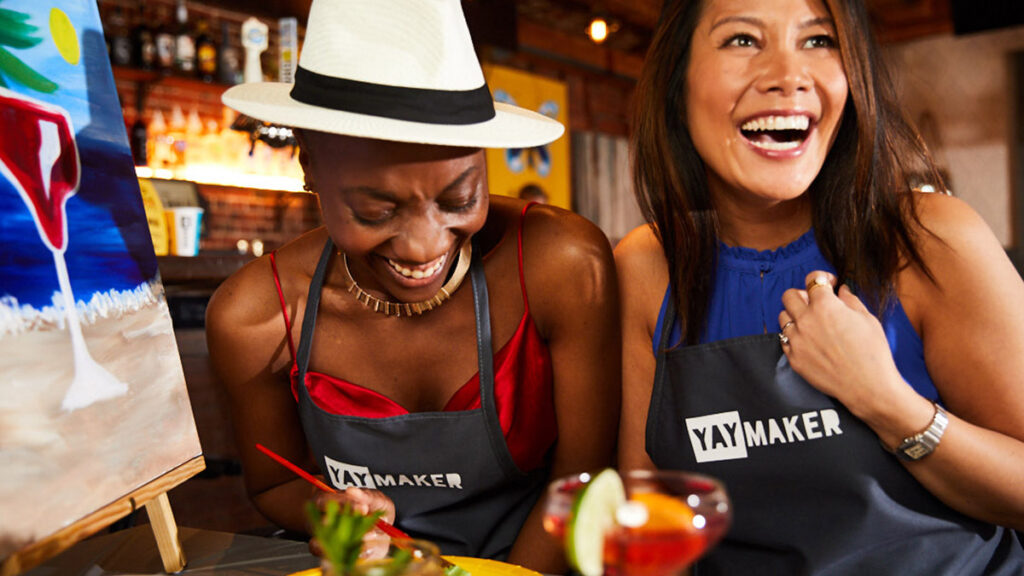 Want a different party craft beyond brushes and canvases? They've got that, too, with gardening, candle-making, and knitting options, just to name a few.
Cabin cozy
If the weather isn't too harsh, embrace the outdoors for some campfire fun. Gather 'round the firepit with sherpa-lined blankets — or make it a BYOB, aka Bring Your Own Blanket, party — and individual s'mores boards with all the fixins. Or, opt to stay inside and set up an indulgent hot chocolate bar, with a variety of mix-ins and garnishes for your steaming cups of cocoa. One way to create the right atmosphere, Atunrase suggests, is to have everyone wear matching sweaters or pajama sets. Offer fun group activities like board games, card games, or a scavenger hunt.
---
Winter Birthday Gift Ideas