All of us who work here have, at some point, taken the Harry & David tour. It's sort of a rite of passage. So when the visiting bloggers arrived for our 2013 Blogger Event, we knew we had to show them a bit of the behind-the-scenes magic.
Watching our basket packers in action is pretty impressive, especially during our busy holiday season. They work incredibly fast, packing an endless stream of gift baskets at lightning speed. And somehow everything the packers touch comes out perfect and beautiful. It's a mystery. Well, not really. They're professionals.
We decided to give the bloggers a chance to try their hand at packing our Roxy Ann Gift Baskets, with a little help and guidance, of course. A long table with a row of boxes was at the ready, full of all the good stuff that goes into these gourmet food gifts, like Royal Riviera® Pears and Moose Munch® Popcorn. Each blogger had a workstation ready and a professional nearby to help out. This task seemed a bit daunting for a few, but soon everyone was humming along and packing their baskets. Pros like Maria showed the bloggers how to make a nest in the filling, how to wrap up the gold pears that go in every box and how to carefully place items so that everything doesn't come tumbling down. I did witness a pile of tissues fall to the floor, but for the most part the bloggers kept their goodies safely on the table.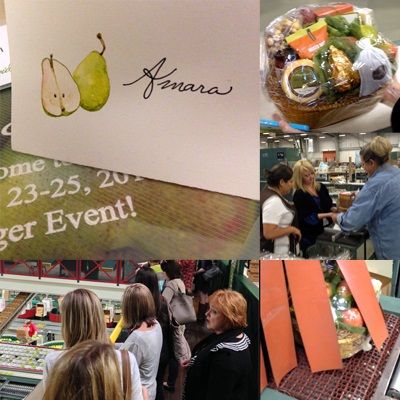 Once the bloggers got their baskets packed, they covered them in clear plastic to prepare for their trip down the conveyer belt, where the heat would seal everything in place. When they came out the other end, they were all ready to be topped off with a big, beautiful bow. Hugs and thank yous were exchanged, the basket packers helped the bloggers get their gift baskets into the shipping boxes and then everyone was on their way.
So far we've had five Blogger Events, and we'll definitely continue having them. They're a blast. Stay tuned for more highlights from the event.
What would you like to see if you visited the Harry & David campus?