Sandy Coughlin, our guest blogger from Reluctant Entertainer, shares how table centerpieces can liven up your home during the holidays.

When thinking ahead to the holiday season and setting my Thanksgiving table, I love the option of using a beautiful harvest wreath as a table centerpiece, with a few candles.
There's nothing like a fresh wreath to liven up holiday décor, with many options, such as displaying it at the front door, hanging it in your favorite room in the house, or using it as a lovely centerpiece in a sitting area or as a tabletop decoration for your Thanksgiving table.
When this beautiful Heirloom Wreath arrived at our front door, we opened the box, and the aroma filled the room with a mix of fresh rosemary, dried safflower and tansy, and dried orange slices.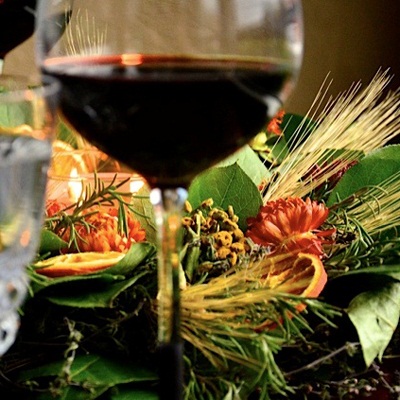 It truly was an aromatic experience, and it livened up the room with a feeling of harvest and joy.
Setting a Thanksgiving table can be a simple, classy, elegant, and homey experience when using this Heirloom Wreath. When you don't want a centerpiece to be too high, it's the perfect way to keep the tabletop low, at the perfect height, so guests can have intimate conversation around the table.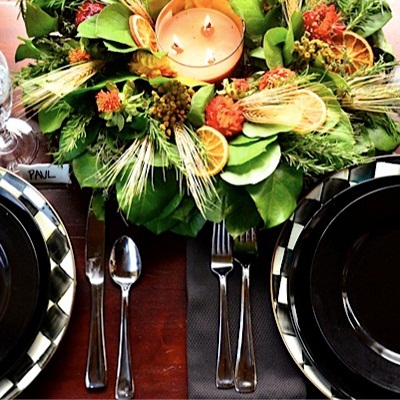 The goal of Thanksgiving, besides eating a lot of fabulous food, is to enjoy your guests and the season at hand and to give thanks for the bounty, health, and friendships in our lives.
When you use a wreath for your table, the scent alone will make your table come to life! The Heirloom Wreath can also be a perfect thank you gift, or a just because gift, to send over the holidays to friends and loved ones.
During Thanksgiving and into the Christmas season, every time I walk by and catch a scent, I'm reminded of the blessings in life.