I am so lucky to be living in the Pacific Northwest. Some of the reasons are the trees, rivers, local and homegrown foods at the Farmers' Markets, and plenty of hiking and camping, which our family enjoys. Did I mention the beauty?
The scenery and outdoors in the Pacific Northwest will take your breath away!
When our out-of-town guests come for dinner in my home, I always love making a no-fuss, easy appetizer platter so our guests can enjoy our favorite local food and wines. For me, sharing the Pacific Northwest artisan cuisine is a great to way to show off the area in which I've lived for 50 years and give our guests a "little taste of Oregon."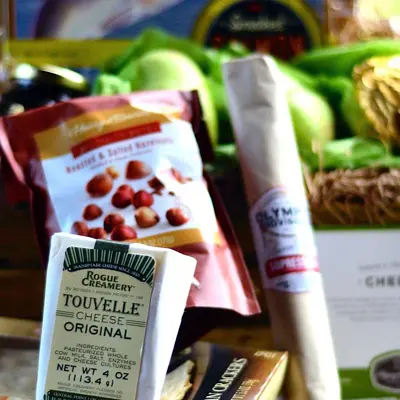 We've found that people love the Pacific Northwest and the culture of food and wine in our region. Because of that, I also love sending the Harry & David® Northwest Gift Basket as a thank you, a holiday gift, or a "thinking of you" gift. This gift basket is always an extra special treat to give or receive.
I've purchased the basket myself, because the food combinations create the most spectacular appetizer platter. Everything you need is right in the in the basket! All you have to do it slice, put it together, and serve for remarkable bites.
All it takes is a little creativity in arranging the foods, and there is no right or wrong way to make your own combination. In the basket I've paired these items, four different ways: Royal Riviera® Pears, Lemon Dill Salmon, Sopressata Salami, Rogue Creamery® TouVelle® Cheese, Oregon Whole Roasted and Salted Hazelnuts, La Panzanella Crackers, and Aloha from Oregon Marionberry Pepper Jelly.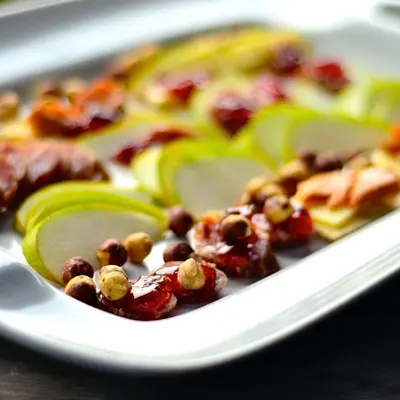 How to make a spectacular appetizer platter:
Obtain an oblong tray or platter.
Slice the food items—such as pears, salami, cheese—and lay crackers on the tray individually.
Create finger food pairings when you combine different bites of tastes and flavors. (e.g., add a piece of cheese and a tiny bit of jelly on top to a slice of pear, or a small amount of salmon with jelly on a cracker, or jelly on a slice of cheese with a hazelnut on top).
Set the appetizers out for guests to enjoy. Serve your favorite wine!
From basket to table.
Whether you are bringing the Northwest flavors to your distant friends or enjoying them in your own home, food and wine are what bring people together to create the best experiences in life.
Here are the mouthwatering items in the basket:
Approximately 3 Royal Riviera® Pears – chilled, sweet, fresh.
Lemon Dill Salmon – wild-caught sockeye salmon from Alaska.
Sopressata Salami – dry cured from Portland.
Rogue Creamery® TouVelle® Cheese – creamy and award-winning.
Oregon Whole Roasted and Salted Hazelnuts – toasted and fresh.
La Panzanella Crackers – crunchy and salty.
Aloha from Oregon Marionberry Pepper – sweet berries with jalapeño peppers.