We're excited to announce that we are now partnering with Gina Homolka of Skinnytaste to give away copies of her new cookbook, The Skinnytaste Cookbook: Light on Calories, Big on Flavor. She has also graciously shared a few of her other pear recipes with us, including this cranberry pear crumble recipe, and we're delighted to share them with you.
Royal Riviera® Pears are so sweet and juicy, you won't have to add too much sugar or honey to sweeten up this warm, delicious pear crumble recipe. Paired with seasonal tart cranberries and finished with an oat-nut topping, this crumble is the perfect excuse to turn on your oven on a cold winter night, whether you're having guests over or just need an excuse to make something sweet.
If you're like me and love the combination of warm desserts with cold toppings—a dab of fat-free frozen yogurt on top will totally hit the spot!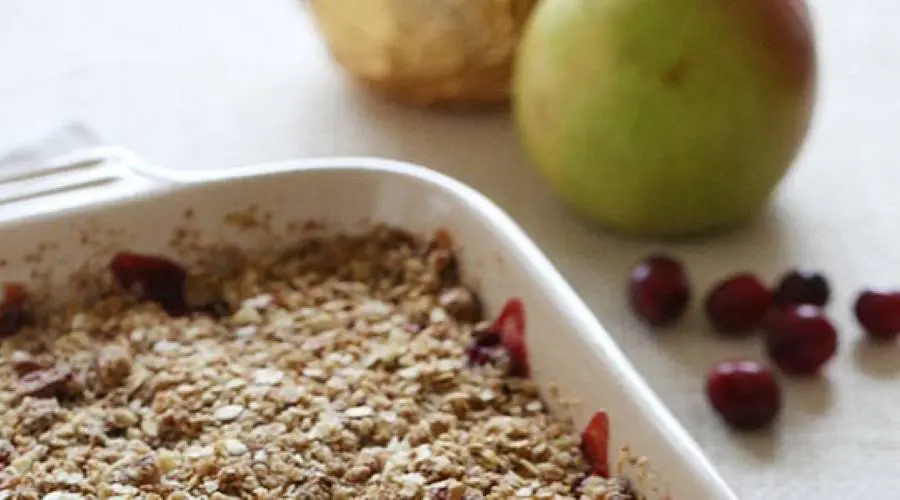 Cranberry Pear Crumble
Ingredients:
For crumble topping:
⅔

cup

uncooked quick oats

¼

cup

light brown sugar

(not packed)

½

Tbsp.

whole wheat flour

2

Tbsp.

coconut oil

(or oil of your choice)

¼

cup

chopped pecans

1

Tbsp.

ground flax seeds

¼

tsp.

salt
Instructions:
Preheat oven to 325°F.

Lightly spray a 9-inch-square baking dish with cooking spray.

Combine pears and cranberries in a large bowl, add the orange zest, honey, cornstarch and cinnamon and pour it into the baking dish.

In another bowl, combine the crumble topping ingredients and sprinkle evenly over the fruit.

Bake uncovered for about 60 minutes or until browned and bubbly. Serve warm.
---