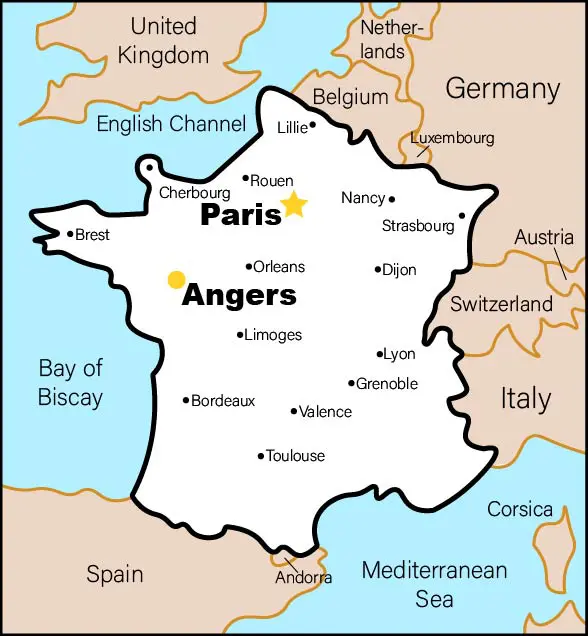 There are two types of people in this world: pear people and apple people. (Editor's note: Perhaps if you're a Harry & David customer, you'll take a bite of both!) But, surely, the residents of Angers, France, are pear, or poire, people. Why? Because this city, located about 180 miles southwest of Paris, is the birthplace of the Doyenné du Comice pear — of which our most prized Royal Riviera is a direct descendent. Considered the best pear in the world, this always-green, stout, and firm (but not crunchy) crop dates back to 1849, when, after being cultivated in the garden of Angers' Museum of Fine Arts, it first bore fruit.
Today, other varieties are pollinated from the Comice, too, such as the Angelise and Southern Oregon's Royal Riviera. The French Comice is harvested in early September, after about a five-month growth period. Given its complicated growing process — including trunks that grow on a slant, stems that proliferate quickly but don't germinate fruit until a year or two after sprouting, and unpredictable and variable yields — these pears are, not surprisingly, one of the best to eat cru, or raw. Still, you'll see them start to appear on the menus of seasonal French restaurants — and, certainly, in les marchés, or markets — in late fall and early winter, the same time when the Royal Riviera Pears ship across the United States.
While visiting an orchard isn't a pastime in France like it is in America, there's still plenty to see and do in the city of Angers itself. On y va! Here we go!
Stay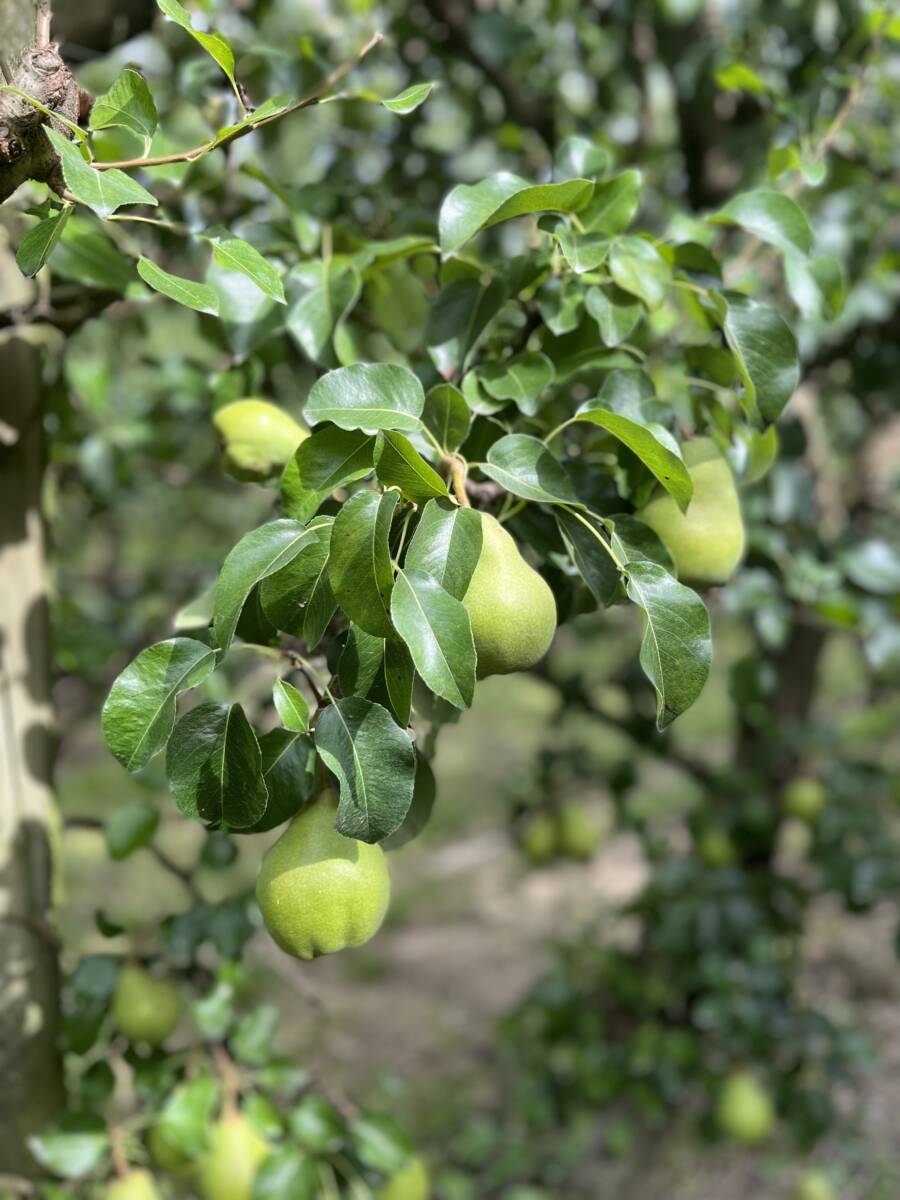 This 4-year-old, 13-room "maison" can only be described as trés charmant, with details such as parquet floors, feather-print wallpaper, and mirrored gallery walls. Located on one of the city's main arteries, and a five-minute walk from the botanical gardens, Jardin du Mail, and the start of the city's pedestrian streets, this hotel couldn't be more centrally located. Plus, it's home to one of the city's finest restaurants, Envol (see more below).
In 2018, two women opened this restored 16th-century house built by a butcher, and designated historical monument, in the center of the city. The so-called "birdhouse" comprises only five rooms, each with its own name ("Le Nid" aka the nest, "La Volière" aka the aviary, etc.), but all blend the old and the new: exposed beams and tomette tiles remain amongst the more modern design elements, such as geometric light fixtures and bohemian wall hangings. Some rooms have standing tubs, and toiletries are from local cosmetics brand Douces Angevines, which the French — and especially local "Angevines" (what the locals are called) — swear by.
Eat
Envol
Hopefully you're lucky enough to snag one of the nine tables on the courtyard terrace of this restaurant. Chef Philippe Coco has only been at the helm since 2021, but his gastronomic menu of dishes, such as spirulina topped sea bass, is quite memorable. Choose from a variety of tasting options — three, five, six, and eight courses for $45, $55, $66, and $76, respectively — served with flair and opulence, including focaccia hidden inside a mini box, and a dry ice bubble atop lobster with peaches and rosemary that "smokes" when popped. Their wine menu is heavy on the local options, such as crisp, dry chenins from Château de la Viaudière.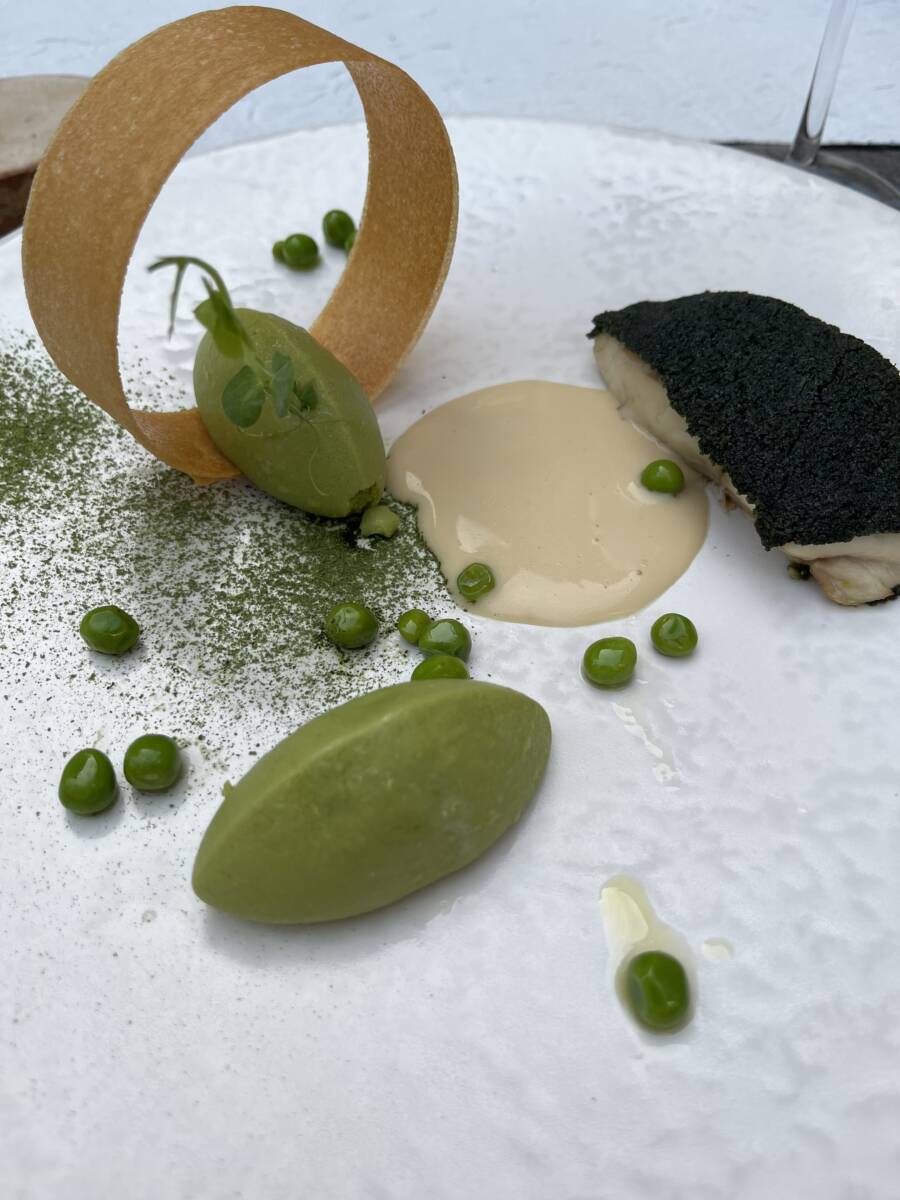 Named after the mustard-flavored egg sauce, this corner spot is much more than your local neighborhood bistro. The sunlit dining room features a giant mural and paintings from local street artist PMH Doodle, and the ardoise (blackboard) lists ever-changing seasonal dishes, such as a gazpacho with chorizo and octopus, or spelt with fava beans, peppers, feta, and mint. Dishes are reasonably priced, too — between $7 and $21. Since you're vacationing, there's no reason to skip dessert. Go for the financier-soaked red fruit soup — you'll want to lick the bowl clean — or the "trés trés citron," which can only be described as "very tart."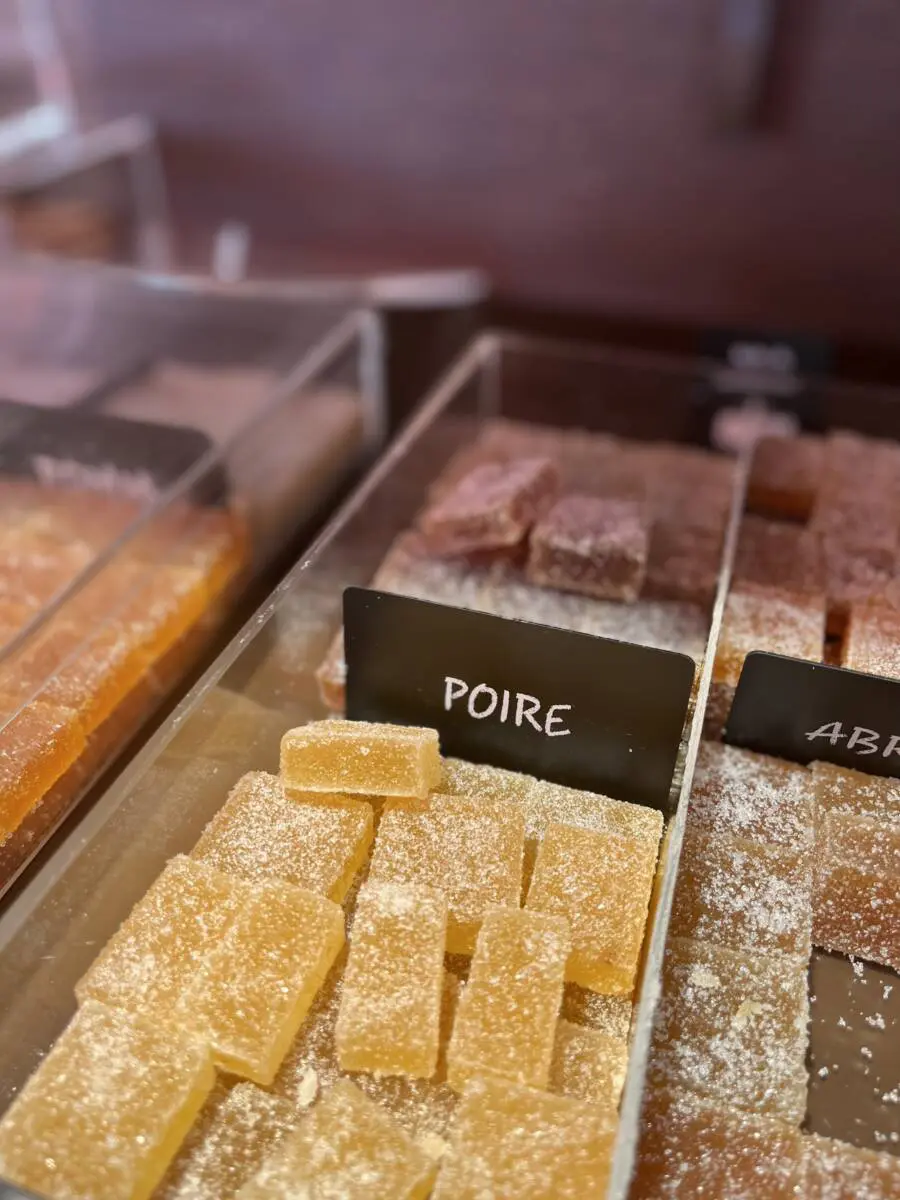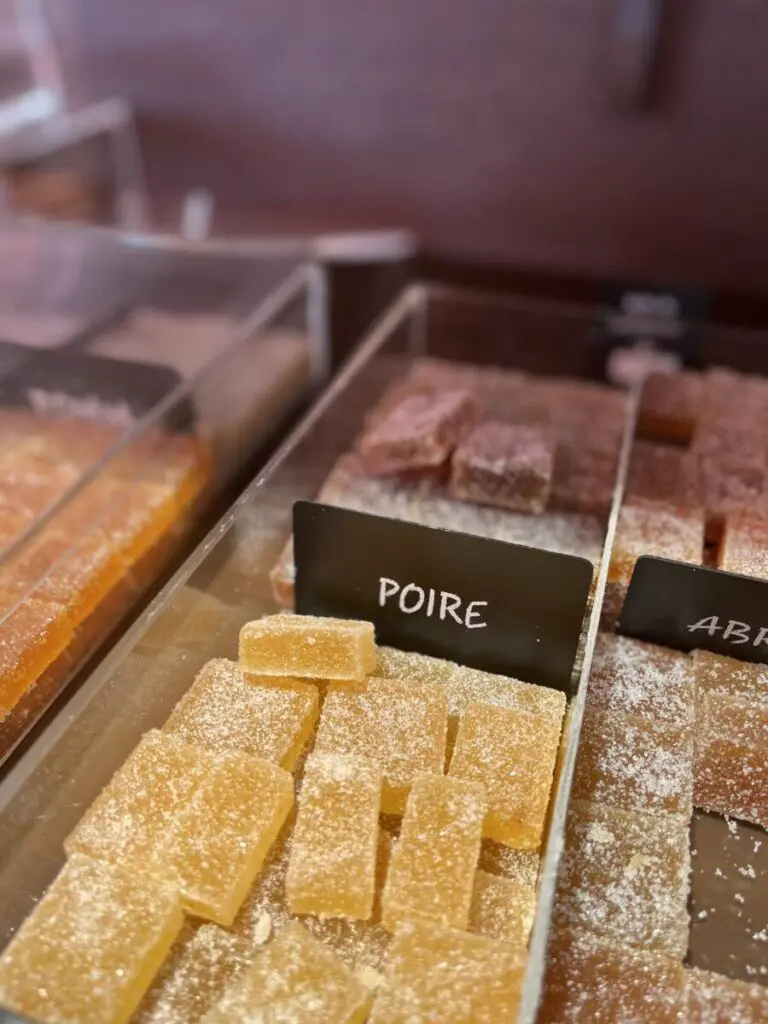 The 3-year-old location of this city favorite sits right in the heart of Angers, yet its classy dining room, with a giant skylight and outdoor deck enveloping a chestnut tree, makes it feel like a world way from the hubbub. Its daily formule, or prix fixe, is a superb deal — $30 for three courses at lunch and $40 at dinner — and features a menu of vegetable-focused dishes based on whatever's in season (expect pear desserts come fall). Come thirsty, too! The restaurant's selection of biodynamic wines from local producers is vast, and the staff is happy to suggest favorites and then let you sip and savor without rushing you out the door.
Award-winning female chocolatiers are few and far between in France; this family-run shop, despite its masculine-sounding name, boasts one of them, however. Anne-Françoise Benoit took over the business in 1997 from her father, who founded it in 1975, and was named one of France's 12 best chocolate makers in 2010. With additional shops in Angers and Paris, the original, located off pedestrian Rue Saint-Aubin, not only boasts her signature Caramandes (triangle-shaped slivers of dark chocolate covered in caramelized almonds) but also classic pâte des fruits, or jellies, in various flavors —including pear, of course!
Drink
Serious coffee aficionados, for whom a simple café au lait will not do, will love this specialty shop around the corner from Hotel 21 Foch. It serves new-wave options from Parisian roasters, such as KB and Lomi, prepared by a v60 and Chemex coffeemaker. Sit in front of the floor-to-ceiling window on a wooden stool or outside at a handful of tables, where you can also snack on the likes of homemade granola and fruit, as well as sweet and savory loafs or cinnamon buns.
---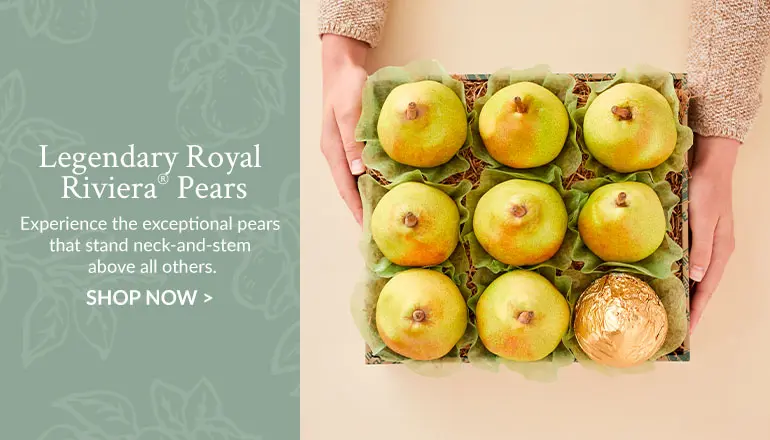 ---
Locals love this riverside café and bar on the other side of the Maine (the river, not the state…we're in France, remember?). Open between April and October, it's the perfect place to sit and stay awhile with a €5 glass of wine, tap beer, or an Apérol spritz while watching the river action, or the tourists scale the ramparts of the château across the way. While imbibing is the focus here, you can also order une planche — a charcuterie and cheese board — to snack on.
Do
Listed as one of the 22 classified heritage castles of the Loire Valley, this imposing chateâu, with 17 defensive towers just beside the Maine River, dates back to the 13th century and boasts not only impressive architecture but the largest medieval tapestry series in the world. Cross the drawbridge and enter a calming courtyard full of flowers, manicured trees, and even vineyards — but don't go far without the audio guide. It lends added perspective on your environs as you wander through the historical spots, including the royal residence with a dizzying spiral staircase and the single nave chapel with colorful stained glass windows.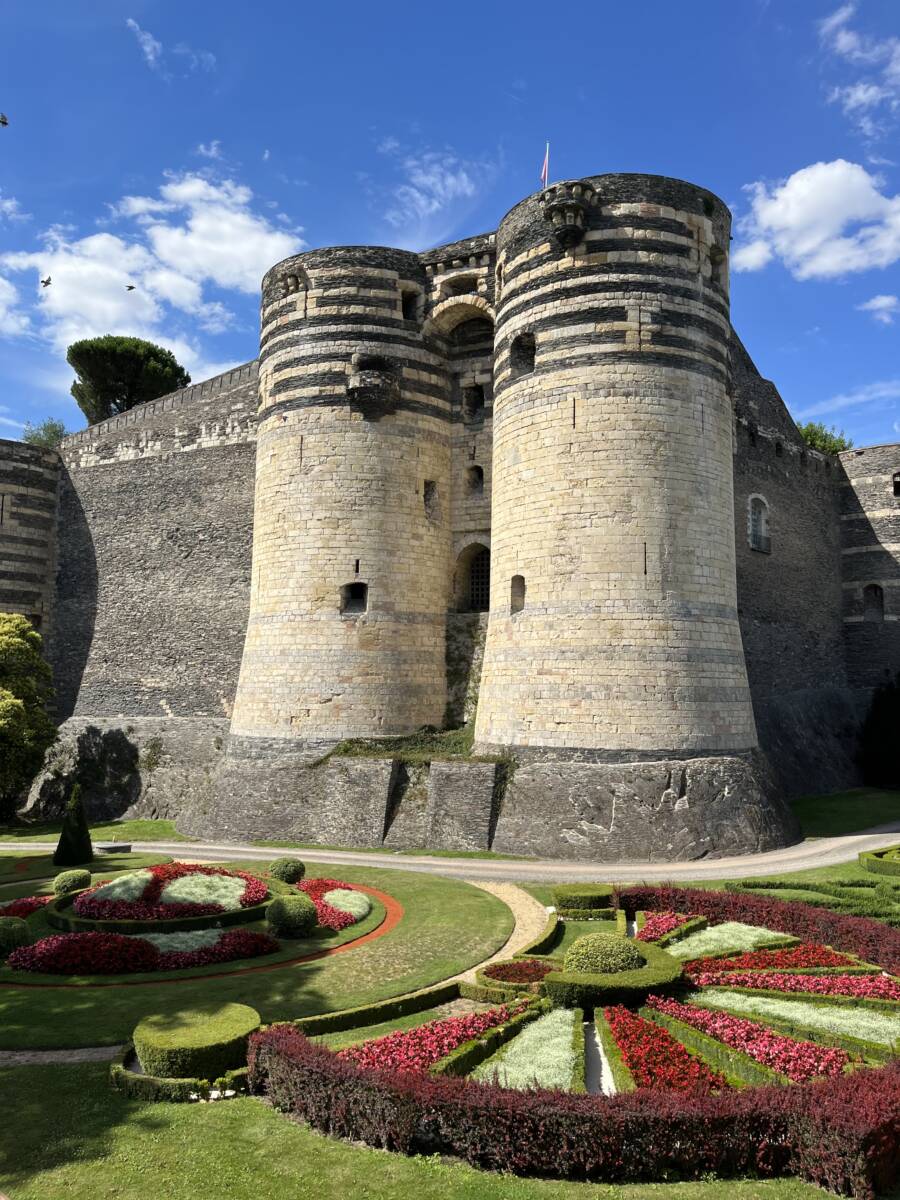 Le Pont de Verdun
Five bridges connect the right and left banks of the Maine River, which are also France's shortest. This bridge, however, was the city's oldest until it was reconstructed in the 19th century following the first World War. It's a beauty by day, with blooming flower baskets on each side and nearby viewing platforms from which to admire them, but even more spectacular at night, when the arches are lit up.
Le Jardin du Musée des Beaux-Arts
Today, some 173 years after first being planted, a plaque honors the humble poire in the garden of the fine arts museum. It's a lovely place to pause for a moment or, come summertime, see free concerts as part of the Tempo Rives music festival. It also provides quick access to Le Repaire Urbain, or RU, a new cultural venue that opened in 2020 dedicated to contemporary art.
On Wednesdays and Saturdays, this is where you'll find locals, chefs, and visitors alike, scouring the stalls for seasonal fruits and vegetables, as well as top-notch meat, fish, and cheese. Bring a panier, basket, or tote, and shop for whatever suits your fancy from 8 a.m. to 1 p.m.
Shop
This sustainably focused brand has two locations: an atelier, where items are made and art is displayed, and a boutique, where much of the goods (and more!) is sold. Either way, expect to find embroidered T-shirts, hoodies, and other textiles from founder Jérémy Patrault, whose specialty is screen printing, plus upcycled caps and socks featuring fun patterns like fish, naturally.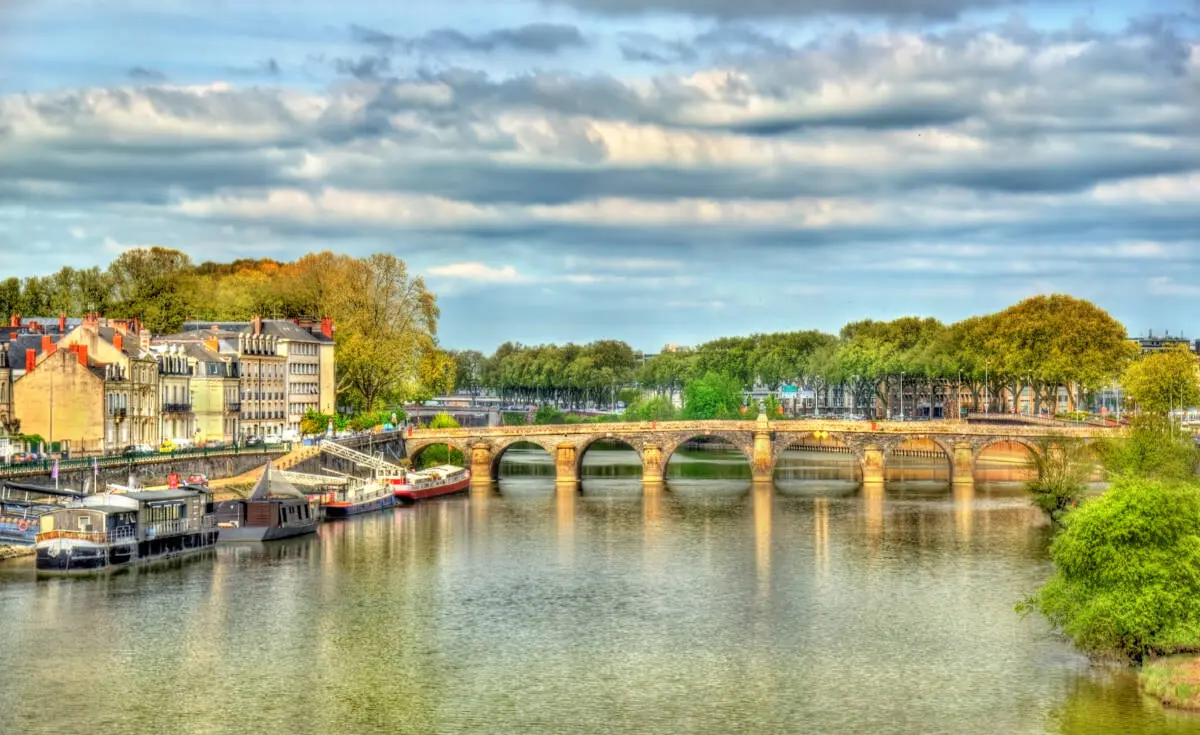 Everything is covetable in this home design and accessory store opened by two friends and former students of the Beaux Arts school in Paris. That includes a fancy French press and salt and pepper shakers from George Sowden for HAY, colorful, paisley patterned socks from Bonne Maison, and quirky ceramic animal jewelry from NACH. The well-curated shop only highlights independent designers and creators, especially those from France and Europe.
To book your trip to Angers, France, visit https://www.tourisme.destination-angers.com/