With a focus on fine meats and seafood and how to cook them, our series "A Cut Above" will guide you to become the ultimate grill master.
As far back as Antonia Lofaso can remember, cooking was mandatory in the Lofaso family home on Long Island, New York. No matter who arrived at their door — family, friends, even the cable guy — Antonia's mother would always make sure there was a plate in front of them.
"You know how they say that we don't grow up to be our mothers…It's not true," Antonia exclaims. "We are the spitting image of them day in and day out."
Antonia's mother was the primary caretaker and manager of the household while her father worked full-time, so much so that he often missed meals with his family. Finding time to sit down and share stories with her dad was both rare and precious.
"Every once in a while he would come home early from work and he would make rice and eggs and we would sit there and he would tell me something about his childhood that made me feel so connected," Antonia recalls. "Creating those moments through food is a real thing."
And for Antonia, that means nurturing others with cooking just like her mother. "It's my way of mothering," Antonia shares. "Everyone who works for me, they call me Mama Hen."
Sharing the knowledge
As with her own mother, Antonia started teaching daughter Xea the secrets of the kitchen at a very young age and it continues to be one of their most cherished activities to do together.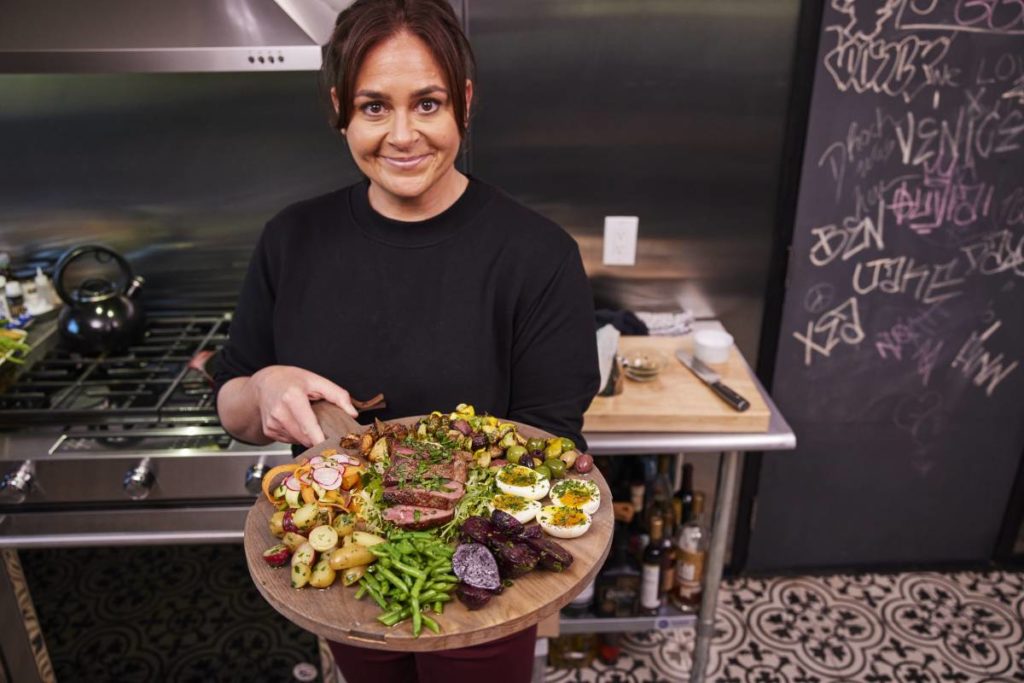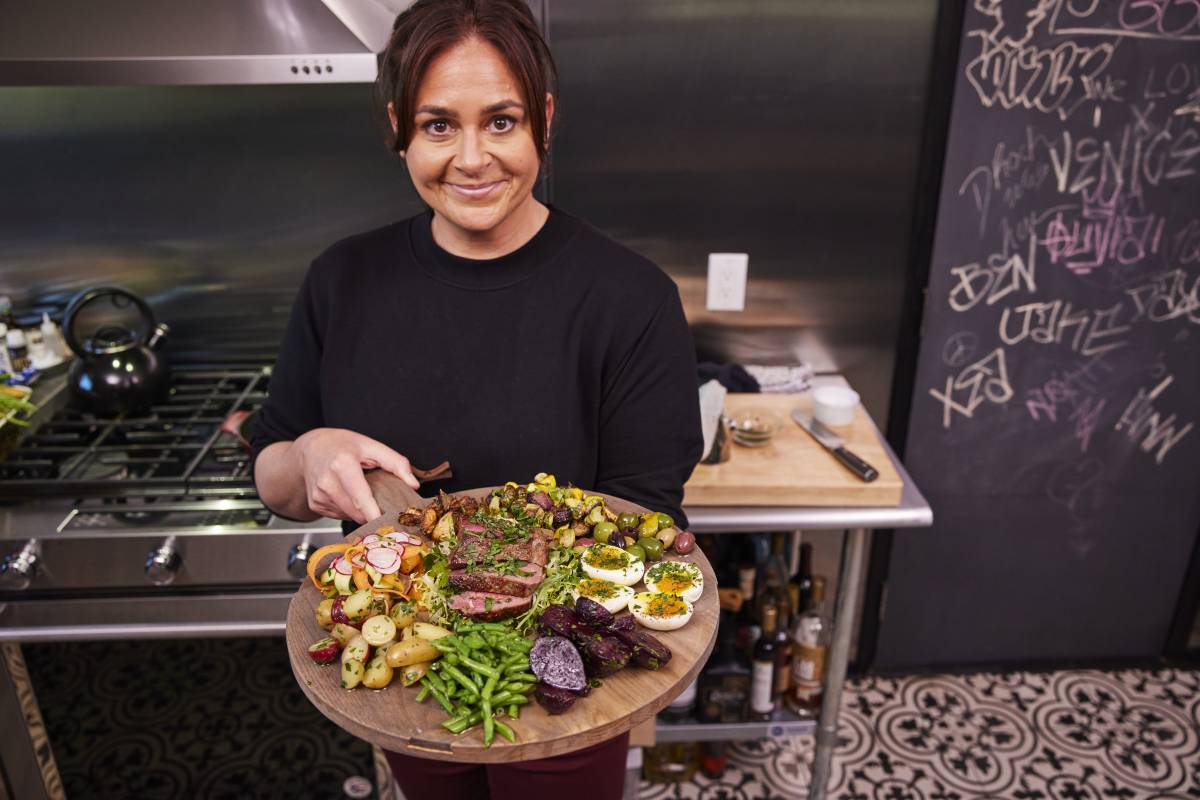 "I love cooking with her because it does two things: it's quality time and it's teaching her a skill," Antonia says. "It's a skill every child, every person should have."
It was this desire to teach and mentor others, coupled with years of first-hand experience as a full-time parent and full-time executive chef, that led to the 2012 release of Antonia's first cookbook, The Busy Mom's Cookbook: 100 Recipes for Quick, Delicious, Home-Cooked Meals.
A meaty take on a classic salad
Like the recipes she includes in her maiden cookbook, Antonia's steak salad is healthy, inventive, and accessible for home cooks of all skill levels. Known for her modern take on the classics, Antonia prepared this hearty entrée salad, a play on a traditional Niçoise salad, by swapping out seared tuna with seared Harry & David bourbon-peppercorn marinated steaks.
Her inspiration for this recipe comes from a sense of practicality and her desire to be in the moment with her guests. "You can actually do a good amount of prep the day before so you can enjoy the day," Antonia remarks.
The intricacy and thoughtful presentation of this warm steak and vegetable salad make this the perfect recipe to prepare with a sous chef. While one of you is cleaning, prepping, and cooking the bounty of fresh vegetables, the other can prep and sear the bourbon-peppercorn marinated steaks.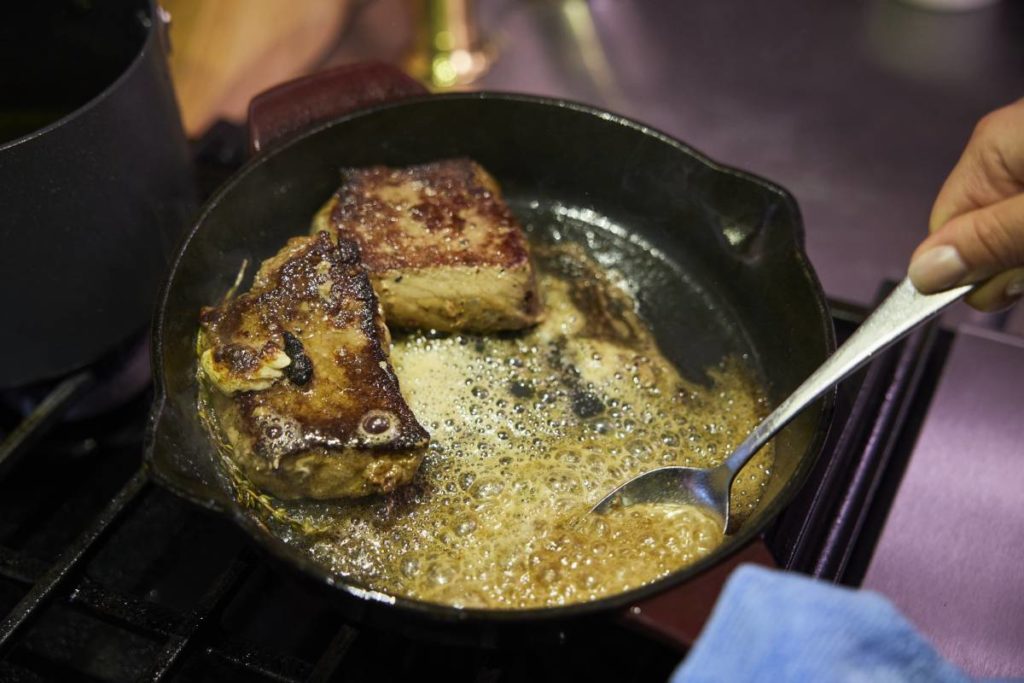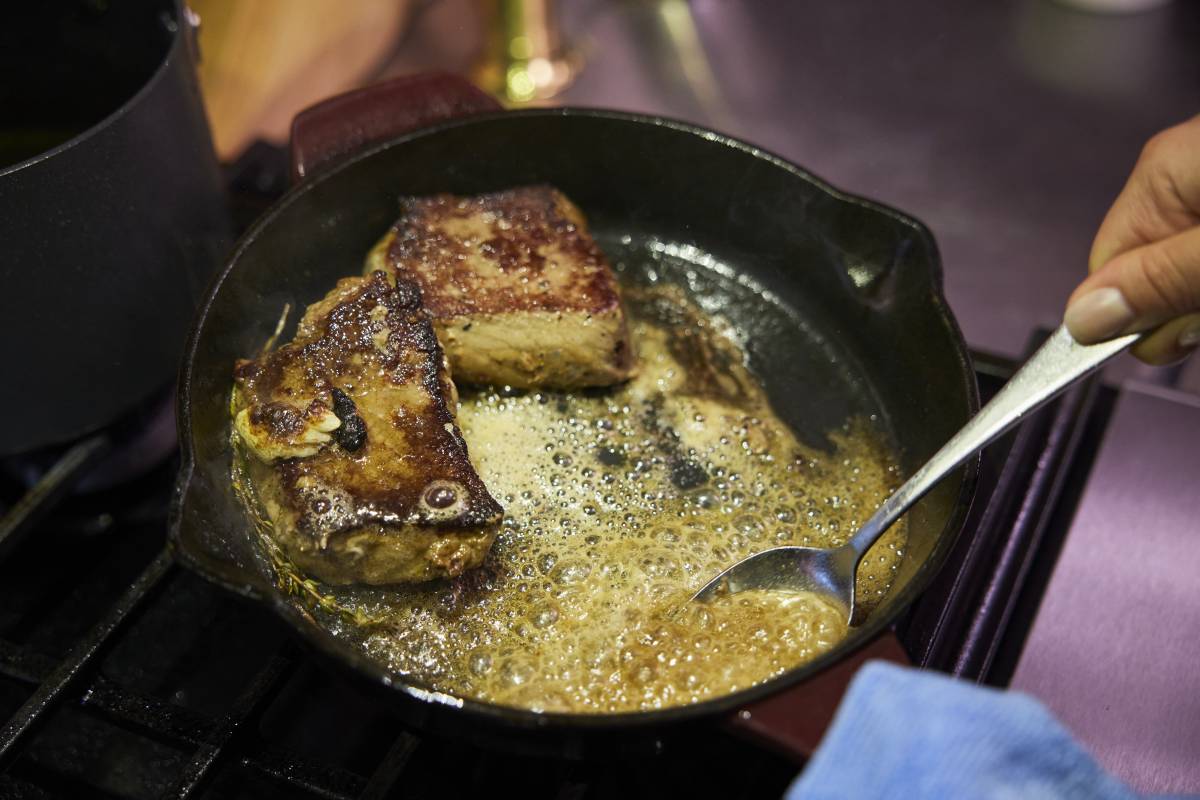 "The medley of cooking techniques leads to a medley of textures and flavors," Antonia notes. These techniques range from frying to roasting to blanching to searing. And when it comes to searing the steaks, the key to getting the most flavor-packed meat is achieving what Antonia describes as the 'Maillard reaction,' or caramelization, which is when the sugars and amino acids in the marinated steaks react to the high heat to create new flavor compounds.
Searing evenly on all sides will ensure your steaks are crispy on the outside and juicy on the inside. "You are in are charge of the steaks," jokes Antonia. "The steaks aren't in charge of you."
The beauty of this dish isn't just in its fresh, seasonal ingredients but also in its versatility. Think about serving this salad as an entrée for a midweek dinner or as part of a Sunday brunch spread. Better yet, "Take it on a picnic," Xea recommends.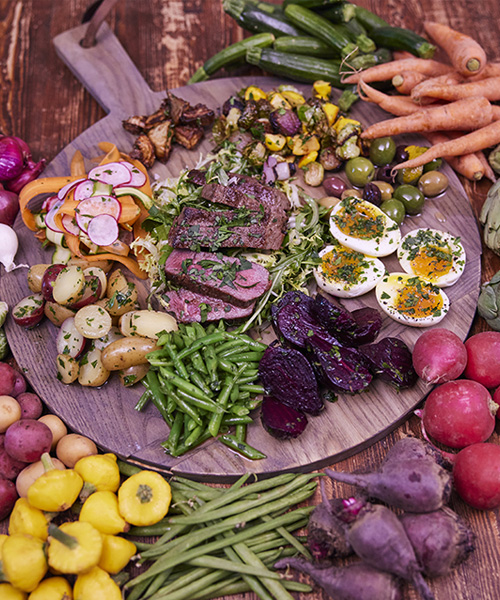 Bourbon-peppercorn Marinated Steak Salad with Soft-boiled Egg and Crispy Artichokes
Equipment:
Mandolin

Cast-iron enameled pot
Ingredients:
For the salad
4

artichokes

8

baby pattypan squashes

(clean and slice into quarters)

8

Brussels sprouts

(clean and slice into quarters)

10

pearl onions

(clean and peel, leave whole)

4

baby zucchinis

(slice thinly with a mandolin)

4

baby carrots

(slice thinly with a mandolin)

4

radishes

(slice thinly with a mandolin)

16

baby potatoes

(red or white)

30

haricots verts

(French-style green beans)

8

baby beets

(individually wrapped in foil)

1

teaspoon

lemon juice

(fresh )

2

tablespoons

unsalted butter

vegetable oil

(for frying)

4

eggs
Instructions:
For the steak
Heat a large, 14-inch sauté pan on high.

Season room-temperature steaks with salt and ground pepper lightly on both sides and add to hot pan. Sear for 3 to 4 minutes on each side to desired temperature.

Turn down heat to medium and add butter, herbs, and garlic to the pan and baste the steaks. Remove from pan and allow to rest for at least 5 minutes then slice. Set aside for salad assembly.
For the vegetables
Fill a deep cast-iron enameled pot with enough oil to almost cover artichokes. Heat to 350° F. While oil is heating, cut artichokes into quarters. Fry until golden brown, about 4 minutes. Transfer with a slotted spoon to paper towels to drain. Season lightly with salt.

Pre-heat oven to 425° F. Season pattypan squash and Brussels sprouts with salt and pepper and roast in shallow baking dish in oven for 12 minutes. Allow to cool. Set aside for assembly.

Lower oven temperature to 375° F. Place wrapped beats in roasting pan and cook for 50 minutes or until tender. Cool, peel, and slice beets into quarters. Season lightly with salt and a drizzle of olive oil. Set aside for assembly.

Place pearl onions in an oven-safe, 8-inch sauté pan with 2 tablespoons of unsalted butter; heat on high and season lightly with kosher salt and pepper; allow onions to slightly brown. Remove and place pan in oven alongside the pattypan squash and Brussels sprouts for about 7-8 minutes until tender. Allow to cool. Set aside for assembly.

Sprinkle sliced zucchini, carrots, and radishes lightly with salt and lemon juice. Set aside for assembly.

Clean and boil baby potatoes (skins on) in a pot of salted water for 12 minutes or until fork-tender. Cool and season with kosher salt and olive oil. Set aside for assembly.

Blanch haricots verts in the boiling water and cut in half on a diagonal. Cool and season with kosher salt and a drizzle of olive oil. Set aside for assembly.
For the soft-boiled eggs
Fill a saucepan about a quarter of the way with cold water. Gently place eggs in a single layer at the bottom of the saucepan. Add more water so that the eggs are covered by at least an inch or two of water.

Heat the water and eggs on high until water is boiling. Cover pan and turn off heat. Let eggs stand in the covered saucepan for 7 minutes. (If you prefer hardboiled eggs, increase standing time of eggs to 10 to 12 minutes.)

Remove eggs from saucepan and let cool. Peel and slice.
Notes:
The steak and many of the vegetables can be cooked a day ahead and stored in air-tight containers in the refrigerator until you're ready to assemble and serve the salad.