Get into the spirit of the season with some seasonal spirits! Lauren Grier, blogger of  The Curious Plate mixes sweet apple with dark bourbon in this perfectly-balanced apple butter cocktail recipe.
Fall cocktails are my jam.
As a bourbon-lover, I am always looking for different ways to incorporate this spirit into festive libations. One of my favorite ways to enjoy bourbon during the autumn months is with apples. Whether through a bourbon apple sangria, bourbon apple martini, or a bourbon apple old fashioned, there's no wrong way to enjoy this flavor combo.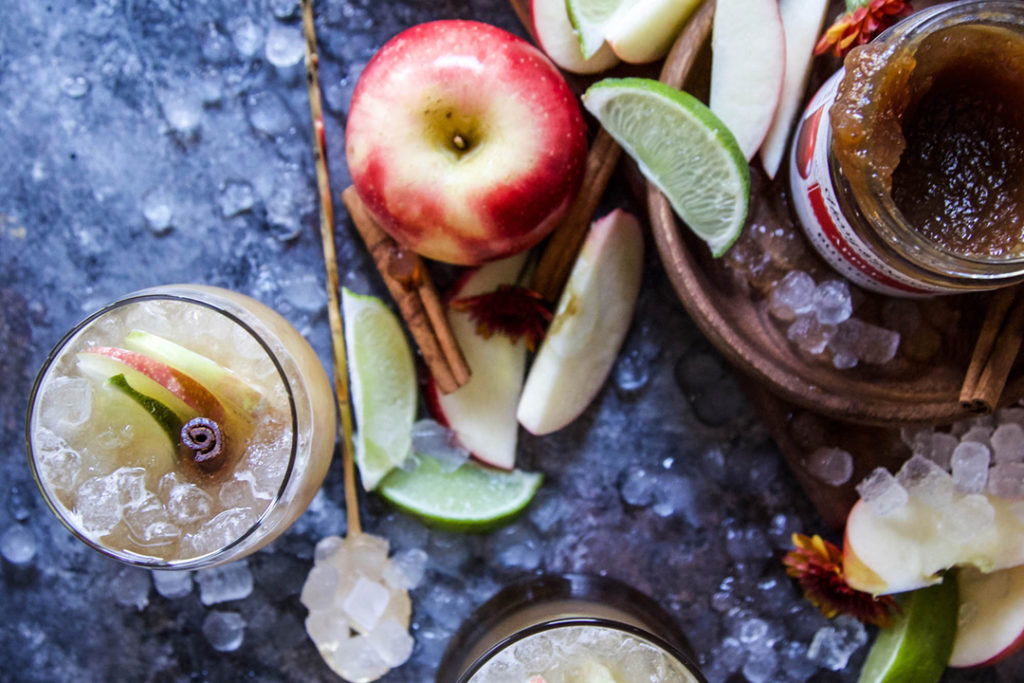 BUT! I will say I recently stumbled on a different way of using apples in a bourbon cocktail. Have you ever tried apple butter? While an apple butter cocktail might sound unique, I assure you it's a game changer! I particularly like Harry & David's apple butter because it's made with fresh apples from their orchards. With a mixture of brown sugar and pumpkin pie spices, it's the perfect alternative to using simple syrups.
In this Apple Butter Cocktail — Bourbon Mule-style — you'll find apple cider, bourbon, lime juice, apple butter, and ginger beer. The taste is similar to a traditional Moscow Mule, but with the apple butter it gives the drink a slightly spicy, yet sweet blend. Shake, shimmy, and stir your way into autumn bliss! Cheers!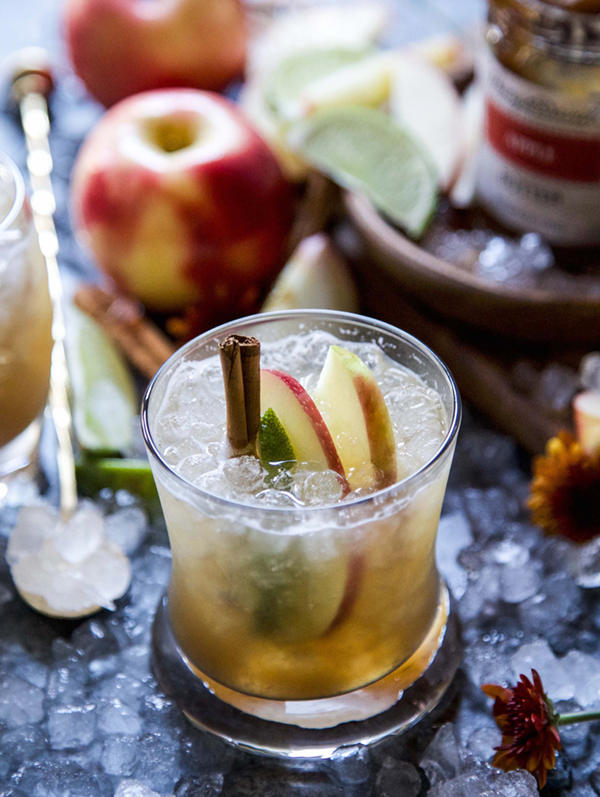 Apple Butter Cocktail – A Bourbon Mule
Ingredients:
⅓

cup

apple cider

2

tbsp

apple butter

4

ounces

bourbon

1

tbsp

lime juice

12

ounces

ginger beer

Cinnamon sticks

(for garnish)

Lime wedges

(for garnish)

Apple slices

(for garnish)
Instructions:
In a large cocktail shaker add the apple cider, apple butter, bourbon, and lime juice.

Shake until everything is well combined.

Fill two glasses with ice. Divide the apple butter mixture between two glasses filling halfway.

Next, pour the ginger beer in each glass to the rim.

Garnish with cinnamon sticks, lime wedges, and apple slices.

Cheers!