A bagel with cream cheese is a classic breakfast or brunch item and now you can offer your favorite bagel in a new way with a springtime bagel brunch board. There are so many occasions to break out this beauteous bagel board — Mother's Day, Easter Sunday, the day after a night out. Whenever and whomever you're hosting, this board may become your new weekend go-to.
My favorite bagels are from the Davidovich Bakery New York Bagel Assortment because you can truly taste the quality in each bite: a perfectly crunchy exterior, followed by an interior that is blissfully soft and chewy.
I selected a few standard spreads like chive and onion cream cheese and whipped butter. And since we're now in spring, I added a little seasonal zing to the board with some blood orange marmalade. A spoonful of this sweet, citrusy spread packs a flavorful punch that will heighten your bagel experience. To balance the sweet elements on the board with some acidity, but still stick with the "citrus" theme, I included orange and red grapefruit slices.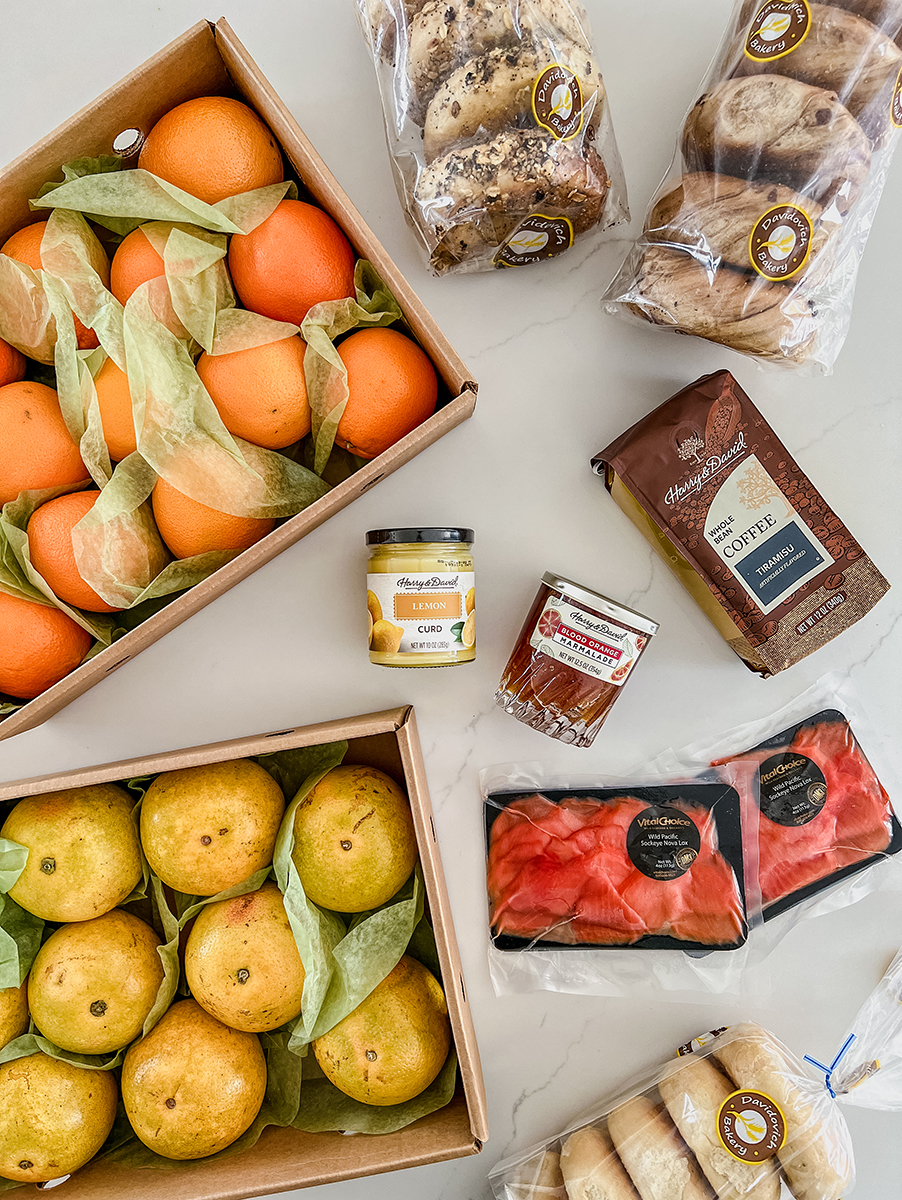 For my fellow lox lovers, I used Vital Choice Wild Sockeye Salmon Nova Lox. I love the lightly briny, smoky flavor paired with cream cheese and fresh dill.
Fill in the rest of the board with your favorite cheese (I used Gouda), roasted nuts, and grapes (or your favorite seasonal fruit). When it's time to assemble your bagel, pile it high with a schmear of cream cheese, lox, your favorite vegetables (like sliced cucumbers, onions, or tomatoes), capers, fresh dill. If you're looking for a new and somewhat untraditional topping, add a grated hard-boiled egg. It adds a fun texture and it's a pretty way to dress up your bagel.
Serve this delicious bagel board with tiramisu coffee, mimosas, or fresh squeezed juice to make it an uplifting springtime brunch.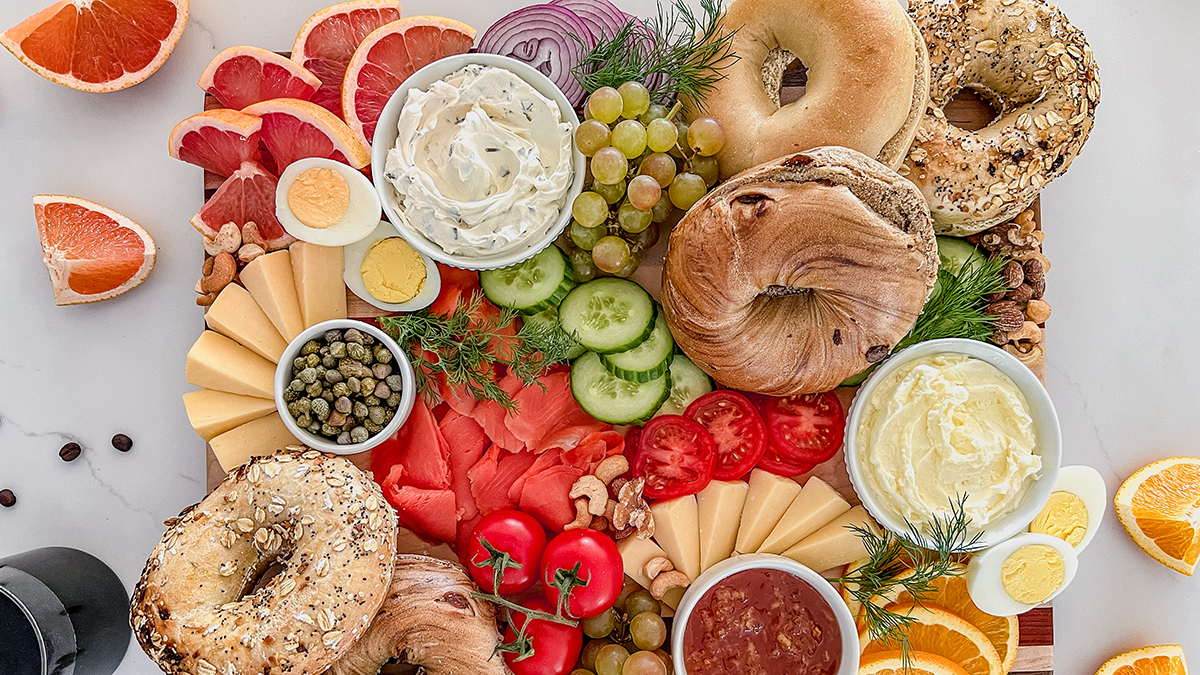 Bagel Board with Lox and Veggies
Ingredients:
2

hard-boiled eggs

(halved)

Chive & onion cream cheese

Whipped butter

orange marmalade

(blood orange marmalade preferred)

Capers

Grapes

1

English cucumber

(sliced)

1

red onion

(sliced)

Vine tomatoes

(sliced)

Gourmet cheese assortment

(Gouda)

Fresh dill
Instructions:
Place eggs in a pot. Fill with cold water, 1 inch above the eggs. Bring the water to a rapid boil on the stovetop over high heat. Once the water comes to a boil, cover the pan with a lid and remove from the heat. Set a timer for 10 minutes.

Halve and toast the bagels to preference.

While your eggs are hard-boiling, begin to fill in your board. Start with the ramekins of cream cheese, butter, marmalade, and capers. Add toasted bagels to the board. These will be the focal point of your board, so place them in opposite corners.

Add your larger fruits like grapes, oranges, and grapefruit slices.

When your eggs are finished, carefully remove them from the water. Peel and cut the eggs in half.

Place a small piece of parchment or baking paper on your board and layer in the lox. In remaining space on the board add your veggies, eggs, cheese, nuts, and garnish.
---