Many of us here at Harry & David are enthusiastic fans of cupcakes. So when we heard that Bakerella, well known for magnificent recipes and adorable designs for cake pops, was going to share a cupcake recipe using our own Moose Munch® Gourmet Popcorn, we could barely rein in our enthusiasm.
This recipe serves up a heady mix of perfectly moist chocolate cake, creamy caramel, decadent ganache, fabulous chocolate buttercream, and Moose Munch® Gourmet Popcorn. When prepared as described, these cupcakes are not just scrumptious; their appearance is quite elegant, making them the perfect dessert to serve at parties and receptions in addition to being irresistible everyday snacks.
So prepare your kitchen—you're in for some marvelous cupcakes.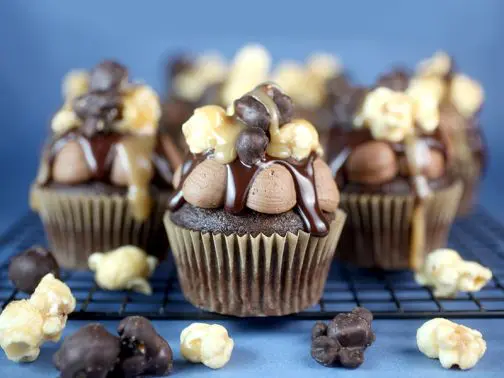 Moose Munch® Dark Chocolate Caramel Cupcakes.
That's more than a mouthful of sweet and salty living in harmony. These cupcakes are delicious and made even better with the added crunch of your favorite Moose Munch® Gourmet Popcorn.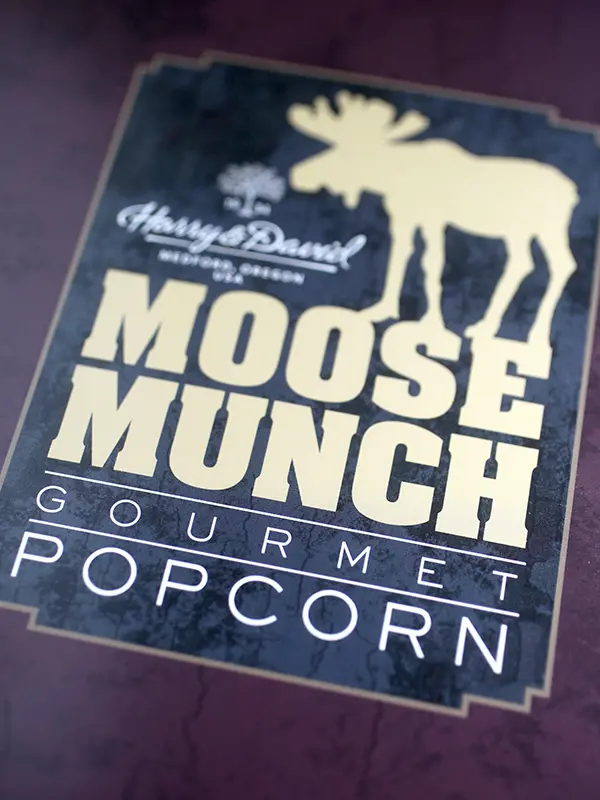 And as Harry & David celebrates its 80th anniversary (WOW!), I'm excited to share a glimpse of the new packaging for Moose Munch® Gourmet Popcorn.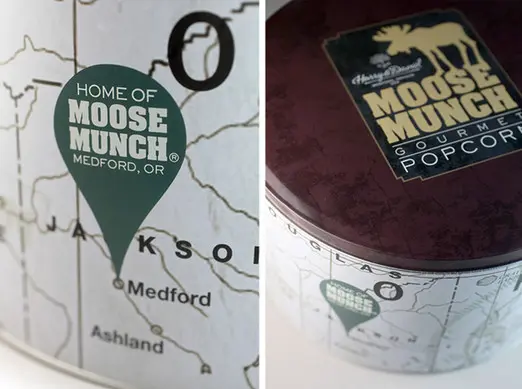 It showcases the Oregon Trail with a stop at the home of Moose Munch® Gourmet Popcorn in Medford, Oregon… which is absolutely beautiful, by the way. I visited a little over a year ago and was blown away by the landscape. Simply breathtaking.
Inside each tin are four separately packaged flavors: dark chocolate, milk chocolate, s'mores, and classic caramel. There's also a deluxe tin with two more flavors, milk chocolate-covered and dark chocolate-covered. And after enjoying the dark chocolate, I'm already in love with the idea of dark chocolate-covered.
Did you know that Moose Munch® Gourmet Popcorn can now be purchased as individual containers? In the past, they had to be purchased in packs. With 31 Moose Munch® Gourmet Popcorn flavors available throughout the year, that's enough to munch on for a while.
Okay, let's get to the cupcakes. Because I love chocolate-covered anything, I used the dark chocolate Moose Munch® Gourmet Popcorn as a topping for the chocolate caramel cupcakes I made for you today. But feel free to make these with the dark chocolate-covered variety, too. Because I totally want to.
Okay, after you bake the cupcakes, it's time to dig in. I used a cupcake corer to remove the centers, but you can also use a melon baller to scoop a well out for the caramel.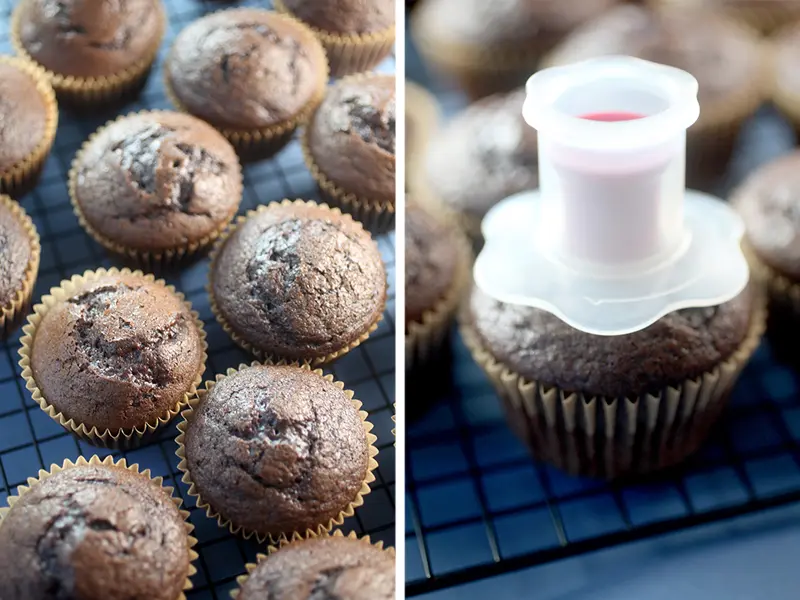 When the cupcake is all full, use the removed piece of cake to place right back on top. Or, if you want, fill them up more with caramel and enjoy the scraps.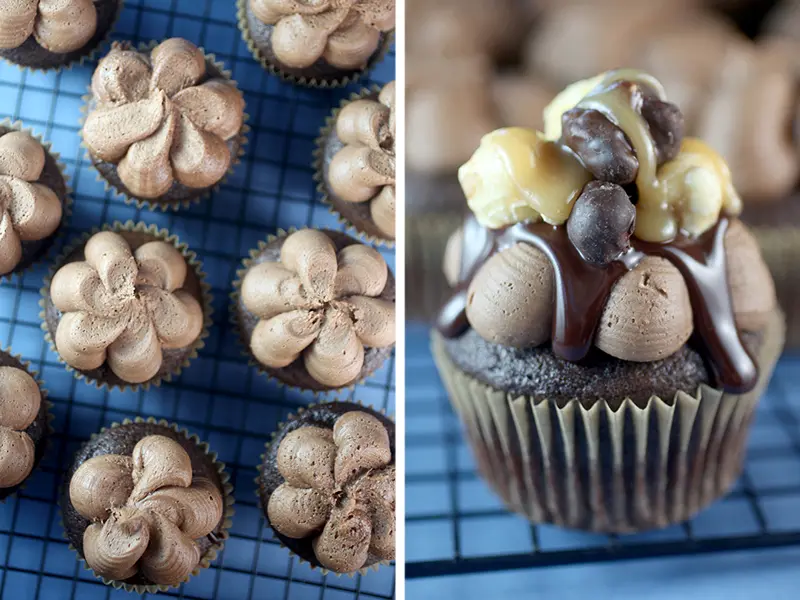 I piped five big dollops of frosting around the top of the cupcake, releasing toward the center so the ganache could drip in between the dollops.
Then all you have to do is top each cupcake with a few pieces of dark chocolate Moose Munch® Gourmet Popcorn and drizzle with a little more caramel.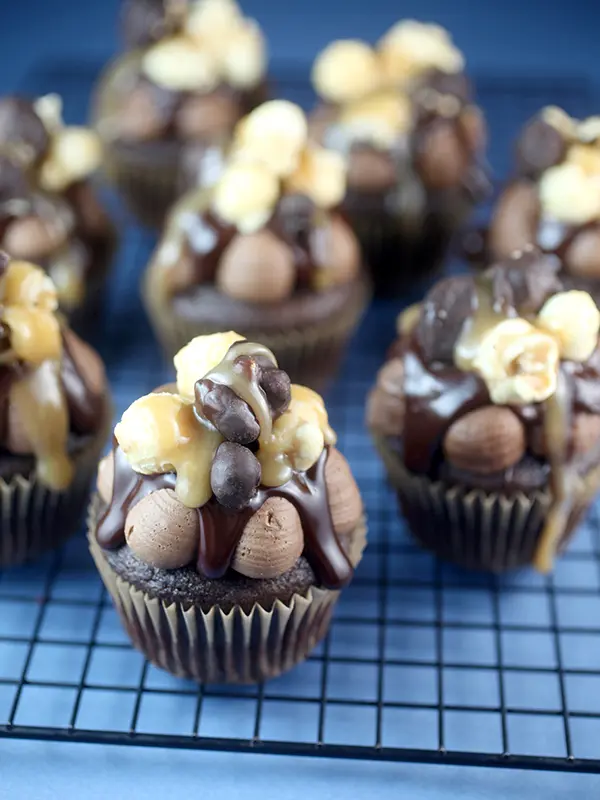 Just yum!
This recipe has four parts, but feel free to customize. You can top the cupcakes with just ganache or caramel, if you like, before adding the popcorn.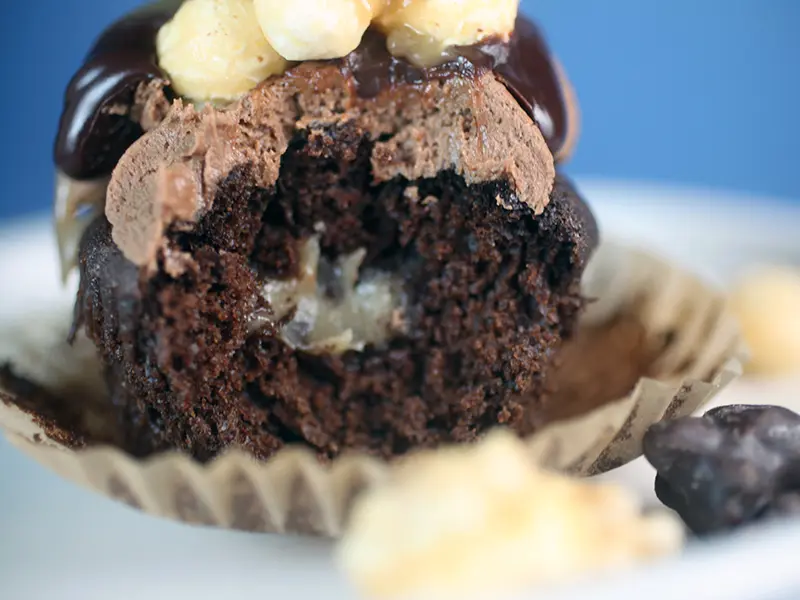 Moose Munch® Dark Chocolate Caramel Cupcakes Recipe
Ingredients:
For Cupcakes:
Harry & David® Moose Munch Gourmet Popcorn

1-2/3

cup

all-purpose flour

¾

cup

cocoa

1

cup

sugar

½

cup

brown sugar

1

tsp.

baking powder

¾

tsp.

baking soda

½

tsp.

salt

2

eggs

⅔

cup

Whole milk

⅓

cup

vegetable oil

1

tsp.

vanilla

½

cup

hot water
For Caramel:
½

cup

brown sugar

4

Tbsp.

unsalted butter

½

cup

heavy cream

¼

tsp.

salt

1

tsp.

vanilla
For Chocolate Ganache:
¾

cup

heavy cream

¼

cup

butter

1

cup

Dark chocolate morsels
For Chocolate Buttercream Frosting:
½

cup

unsalted butter

3-1/2

cups

confectioners' sugar

½

cup

cocoa

1

tsp.

vanilla

¼

tsp.

salt

1-3

tsp.

Milk
Instructions:
Cupcakes:
Preheat oven to 350 F and line cupcake tray with 18 liners.

Place dry ingredients in the bowl of a stand mixer. Sift ingredients together with a wire whisk until combined.

With mixer on low, add eggs one at a time, mixing until just combined.

Add milk, oil, and vanilla, mixing until combined.

Slowly add hot water and mix until combined.
Caramel:
Heat sugar, butter, cream, and salt in a pot over medium heat and cook for about 5 minutes, whisking gently.

Stir in vanilla, remove from heat, and let cool.
Ganache:
Heat cream and butter on medium-high in pot until just before boiling.

Remove from heat and pour over morsels.

Let sit for one minute and then stir together until completely incorporated and smooth.
Frosting:
Sift sugar and cocoa together in a medium bowl and set aside.

Using a mixer, cream the butter. Slowly add sugar in intervals on low speed, mixing until combined.

Add vanilla, salt, and 1 teaspoon of milk and beat 1-2 minutes. Add more milk, 1 teaspoon at a time, until creamy.
To assemble:
Core cooled cupcakes and fill center well with caramel filling. Replace removed cupcake section to cover opening.

Pipe chocolate buttercream frosting on top.

Top with chocolate ganache.

Place Moose Munch® Gourmet Popcorn on top of ganache and then drizzle with more caramel.

Note: If ganache or caramel started to thicken too much, simply heat slightly and stir to use.
Notes:
Hope you enjoy every last chocolaty, caramel-y, crunchy bite!
What To Do Next…
What do you think of the recipe? Please let us know in the comments. We'd love to hear from you.
Visit Bakerella's blog.
Order your Moose Munch® Gourmet Popcorn today.