In "Cooking Up Comfort," we're walking you through all the classics, whether you want to curl up with soup on a rainy afternoon or bake something delicious to celebrate the weekend. This slow cooker BBQ baked beans recipe from Lauren Grier of The Curious Plate will quickly become a fixture on your summer barbecue menu.
The familiar, comforting texture, brown sugar sweetness, and hint of tomatoey acidity make baked beans a beloved component of summer spreads. But their story began long before they appeared on our picnic table alongside grilled burgers, hot dogs, and crunchy coleslaw.
Hundreds of years ago, Native Americans flavored indigenous white beans with maple syrup and animal fat. They then buried the beans' cooking vessels in an earth oven pit to slowly cook, thus giving us the origin of this dish.
English colonists adopted the concept and began stewing the beans in a brown sugar and pork fat mixture. But, perhaps, the most memorable baked beans recipe passed down through the centuries is for classic Boston baked beans.
The flavor profile of Boston baked beans is the gold standard for all others that have followed. Navy beans are flavored with brown sugar, blackstrap molasses, a bit of tomato paste or ketchup, salt pork, apple cider vinegar, and mustard powder. They are baked "low and slow" to render a deliciously complex side dish that hits all the notes of creamy sweetness, balanced acidity, and salty pork. Technically, the beans "stew" in their sauce while cooking, but "baked beans" has an alliterative warmth that stuck.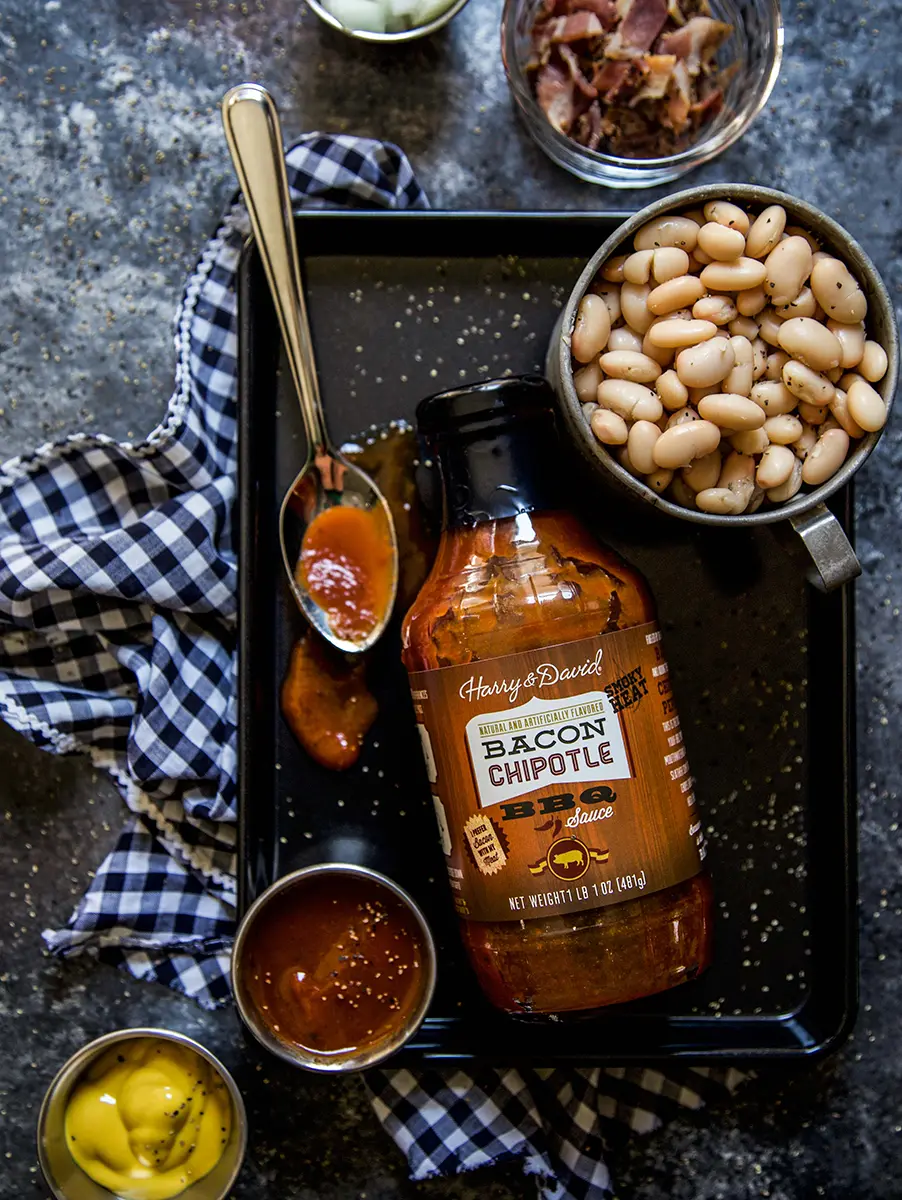 And while we're talking technicalities, the baked beans on store shelves aren't even baked — they undergo a steaming process. So there's that.
Here, we offer a slow cooker baked beans recipe that takes its cue from baked beans' low and slow origins. It delivers an edge of smoky, tangy chipotle pepper flavor from the addition of Harry & David Bacon Chipotle BBQ Sauce in lieu of traditional tomato. And since you're using a slow cooker, you don't have to stand in front of a hot burner stirring a pot of beans. Just set the slow cooker, take a dip in the pool, make yourself a drink, and voila! Side dish perfection.
These are so easy, you may never open up a store-bought can of "steamed beans" again.
Slow Cooker Bacon Chipotle BBQ Baked Beans
Ingredients:
3

15-ounce

northern beans

(cans, rinsed and drained)

5

slices

bacon

(roughly chopped)

1

cup

yellow onion

(chopped)

2

tablespoons

yellow mustard

1

tablespoon

apple cider vinegar

½

cup

water
Instructions:
In the slow cooker, add all the ingredients. Stir to combine.

Set the slow cooker on low for 4 hours or until the beans have softened.

Once cooked, stir, serve, and enjoy!