There's an Irish proverb that says, "A good friend is like a four-leaf clover: hard to find and lucky to have."
Without close friends, many of us would not be the person we are today. From our best buddy in grade school to our closest confidant as an adult, friendships have shaped us in a multitude of ways. And did you know they have many benefits to our health and well-being?! No wonder we feel better after having a heart-to-heart with our best friend.
Given how important these people are to us, it's no surprise that there are thousands of songs about friendship, from "With a Little Help From My Friends" by The Beatles to The White Stripes' "We Are Gonna Be Friends," and so many more. And the best ones have a lot in common with one another.
What makes a great friendship song?
The same components of any "good" song must be present in a song about friendship that strikes a chord, according to Eric Teel, program director at WFAE in Charlotte, North Carolina. The melody must be pleasing to the ear, the lyrics need to be authentic, with a build-up of tension and release in the chorus, and the performance has to engage the audience.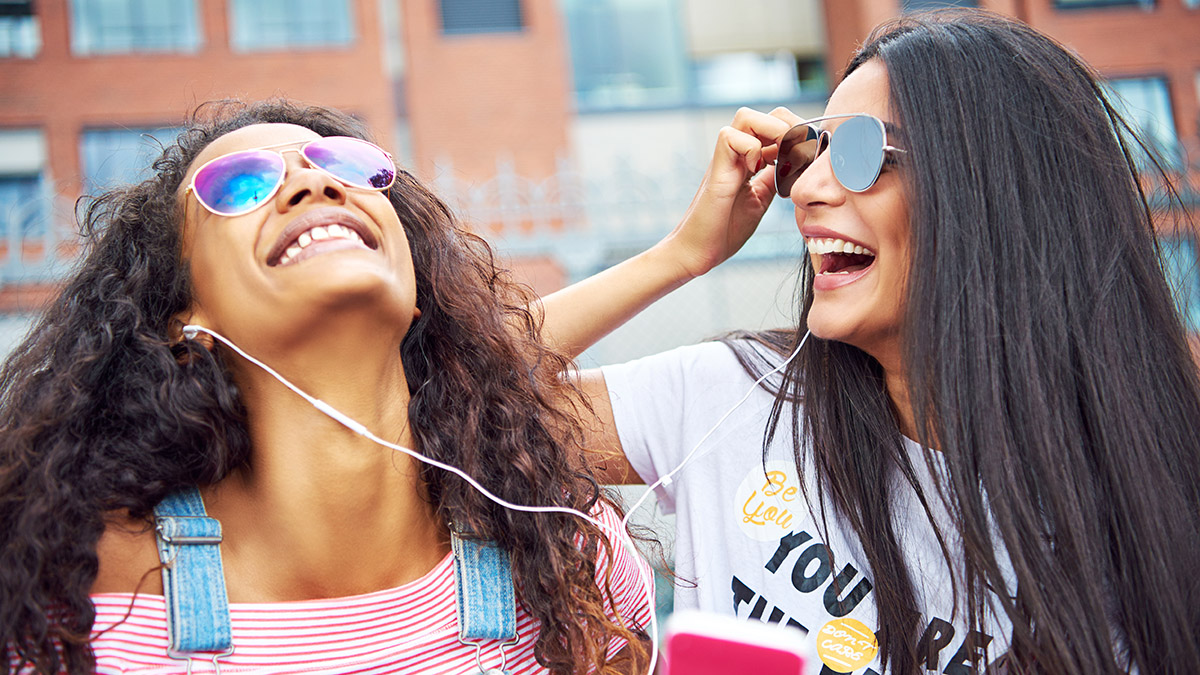 Although friendship songs and love songs are very similar, there is one key difference: The former leaves out the carnal passion and lust most associated with the latter.
"The core message for a platonic friendship that differs from a 'love' song is the feeling of reliability," Teel says. "That feeling that, no matter what, through thick and thin, this [friend] will have your back, will support you, will inspire you to be the best version of yourself."
Our favorite friendship songs
With Galentine's Day and Palentine's Day just around the corner (both are Feb. 13), we've compiled a list of friendship songs for you to play at your next gathering. Cheers to long-lasting friendship!
1. "Thank You for Being a Friend" by Andrew Gold
2. "A Friend Like You" by Andy Grammar
3. "Friendship" by Cole Porter (from "Anything Goes")
4. "My Best Friend" by Weezer
5. "Stand by Me" by Ben E. King
6. "Old Friends" by Ben Rector
7. "Friends" by Bette Midler
8. "Wind Beneath My Wings" by Bette Midler
9. "Lean on Me" by Bill Withers
10. "Count on Me" by Bruno Mars
11. "You've Got a Friend" by Carole King
12. "That's What Friends Are For" by Dionne Warwick, Elton John, Gladys Knight, and Stevie Wonder
13. "We Go Together" by Warren Casey and Jim Jacobs (from "Grease")
14. "Through the Years" by Kenny Rogers
15. "Ain't No Mountain High Enough" by Marvin Gaye and Tammi Terrell
16. "Friends Are Friends Forever" by Michael W. Smith
17. "Hello Again" by Neil Diamond
18. "Circle of Friends" by Point of Grace
19. "You're My Best Friend" by Queen
20. "You've Got a Friend in Me" by Randy Newman
21. "Here's to the Nights" by Ringo Starr
22. "Yo Sólo Quiero (Un Millón De Amigos)" by Robert Carlos
23. "Robin Hood and Lil' John" by Roger Miller
24. "Come to Me High" by Rumer
25. "Sleep Walk" by Santo & Johnny
26. "Bridge Over Troubled Water" by Simon & Garfunkel
27. "Bookends" by Simon & Garfunkel
28. "We Are Family" by Sister Sledge
29. "BFF" by Ethan Slater and Danny Skinner (from "SpongeBob SquarePants: The New Musical")
30. "In My Life" by The Beatles
31. "With a Little Help from My Friends" by The Beatles
32. "I'll Be There for You" by The Rembrandts
33. "What About Your Friends" by TLC
34. "For Good" by Stephen Schwartz (from "Wicked")
35. "You'll Never Walk Alone" by Rodgers & Hammerstein (from "Carousel")
36. "We're Going to Be Friends" by The White Stripes
37. "I've Got a Friend" by Maggie Rogers
38. "True Colors" by Cyndi Lauper
39. "Best Friend" by Brandy
40. "Glad to Have a Friend Like You" by Marlo Thomas
41. "Graduation (Friends Forever)" by Vitamin C
42. "I'm Only Me When I'm with You" by Taylor Swift
43. "I'll Remember" by Madonna
44. "Waiting on a Friend" by The Rolling Stones
45. "I'll Stand by You" by The Pretenders