Summer is here, making it the perfect time for an ice cream gift delivery.
Hailed by Time magazine as creating "the best ice cream in the world," McConnell's® Fine Ice Creams has been family-owned since 1949.
Creating artisanal ice cream from scratch in small batches, McConnell's uses a hybrid French pot method that gives each pint an unusually creamy texture. They're fiercely dedicated to their craft, and they seek out only ingredients of the highest quality, including R. R. Lochhead vanilla, Sri Lankan cinnamon, and Guittard chocolate—in addition to organic, locally sourced ingredients like milk and cream from McConnell's own grass-fed cows, and cage-free eggs.
We're proud to offer two collections of McConnell's ice cream:
The Favorites Assortment includes six of their most popular flavors: award-winning double peanut butter chip, Meyer lemon and Oregon marionberry, vanilla bean, dark chocolate paso brittle, salted caramel chip, and summer peach.
For those with more adventurous tastes, the Specialty Flavors Assortment includes delicious options like black coffee chip, sweet cream, Oaxacan chocolate, olive oil and salted almonds, salted caramel chip, and toasted coconut almond chip.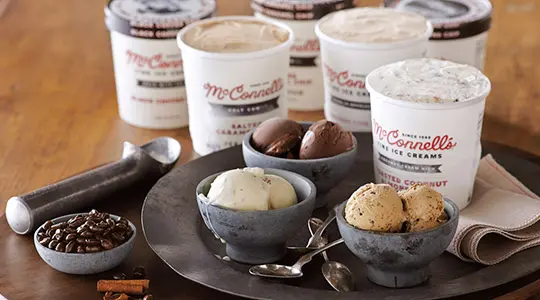 In addition to luxury ice cream from McConnell's, we also offer a Happy Birthday Ice Cream Assortment and a Get Well Ice Cream Assortment. Be sure to celebrate or wish someone well by making your next gourmet ice cream delivery an extra special one.
Please note: overnight shipping on ice cream gifts includes dry ice.
---
What To Do Next…
Tell us your what flavor of McConnell's Fine Ice Cream you want to try first.
Order your Favorites Assortment or Specialty Flavors Assortment gift today.