Our series "Chew on This" serves up the flavorful history of food and how it has shaped the way we cook and eat today. The bloody mary has a long and storied history, but its origins are a bit muddled.
The combination of vodka, tomato juice, and Worcestershire sauce may not sound as great as it tastes. Though for nearly a century, the bloody mary has been converting its opponents across the globe.
The savory potent potable, known as the liquid centerpiece of any great brunch, has also garnered the reputation of being a hangover cure. It helps when Jan. 1 — the day after the world's largest celebration — is National Bloody Mary Day.
Much more than just a post-party pain reliever, the bloody mary is a classic cocktail with connections to legendary authors and famous hotels that continues to thrive and evolve to this day. But one big question remains: Where did the bloody mary come from?
Parisian roots
Like much iconic food and drink (see Red Velvet cake), the origin of the bloody mary has long been a subject of debate, though most accounts begin with an adventurous French bartender named Fernand Petiot.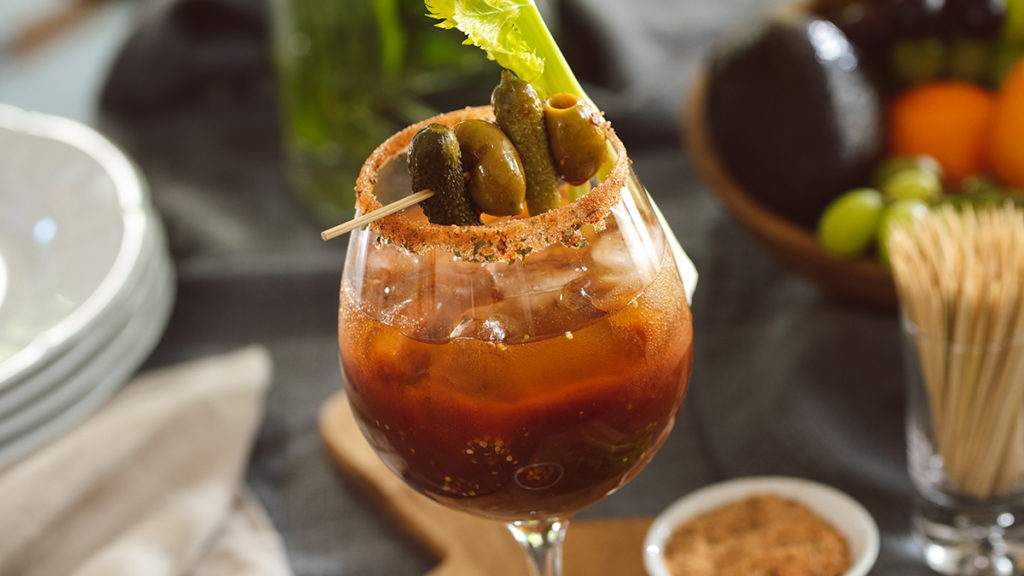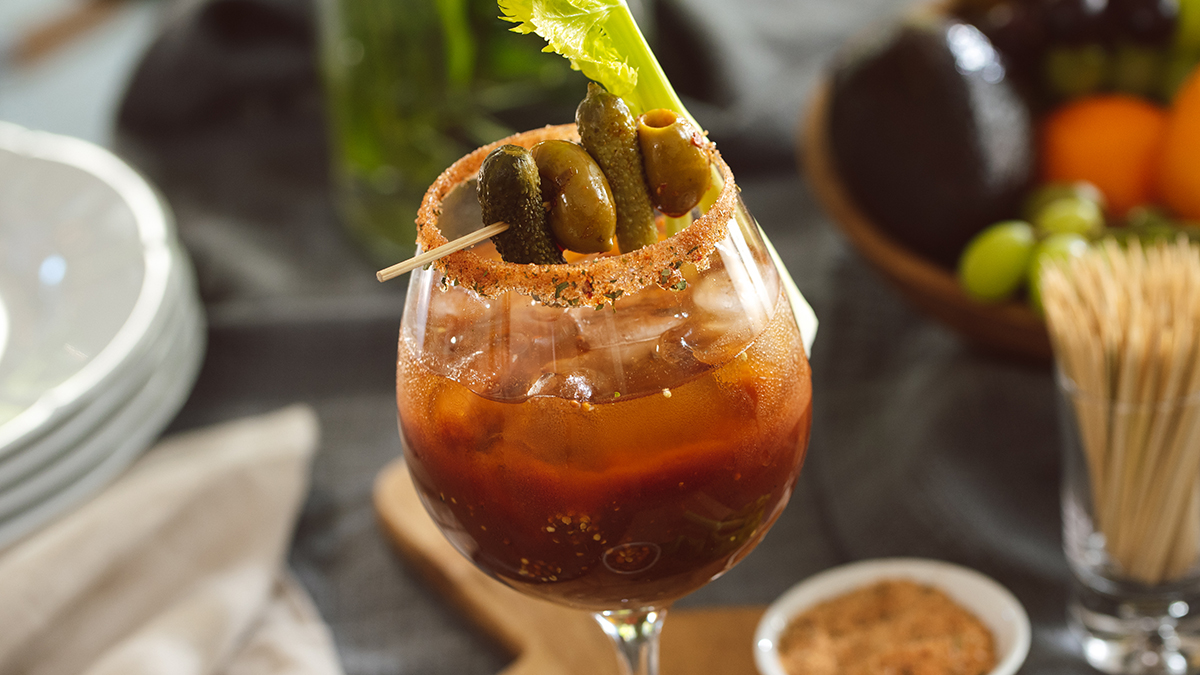 In 1921, Petiot was tending bar at Harry's, a storied Paris watering hole frequented by the likes of F. Scott Fitzgerald and Ernest Hemingway. Some say the drink was invented especially for the latter, who one morning on the way to meet a date, stopped by Harry's in search of a drink that wouldn't leave a strong scent of alcohol on his breath.
Franz-Arthur MacElhone, the great-grandson of Harry's founder Harry MacElhone, told The Associated Press, "It was just before Hemingway got married, and he had been dating somebody called Mary." She apparently wasn't a fan of his liberal alcohol consumption.
Petiot is said to have prescribed a vodka and tomato juice, the taste of which the author took to immediately. Frustrated by having to disguise his drinking, Hemingway, while drinking, "kept saying 'bloody mary,'" MacElhone says.
The inside story
A slightly less magical Harry's anecdote, told by patrons of the bar, tells of Petiot serving vodka, tomato juice, and spices for an American dancer named Mary who frequented the establishment — when she wasn't dancing in a Chicago bar called the Bucket of Blood.
Yet another Harry's barstool tale has Petiot regularly serving this concoction to guests, one of whom suggested the name bloody mary in reference to Queen Mary Tudor of England, who once executed hundreds for refusing to convert to Catholicism.
Dave Arnold, founder and president of New York's Museum of Food and Drink, doesn't doubt Petiot served the occasional vodka and tomato juice but contends that selling the drink regularly wouldn't have made sense in the 1920s.
"You would need to have a supply of tomato juice, which only became readily available between the late '20s and early '30s. Before that, you actually had to peel the tomatoes, and the average bar doesn't really have a use for the pounds and pounds of tomato pulp you'd end up with."
---

---
Cheers to good health
Meanwhile, in the western United States, a possible bloody mary relative was being consumed solely for nourishment. The oyster cocktail is a warm, nonalcoholic (and inexpensive) blend of tomato juice, Tabasco sauce, lemon juice, and oysters. It emerged in the 1890s.
Another curiously similar drink is the Prairie Oyster, a Wild West fever remedy consisting of vinegar or Worcestershire sauce, raw egg yolk, salt, pepper, and Tabasco. The addition of rye whiskey resulted in a drink called an Amber Moon.
Though never officially linked to the bloody mary (or Paris), both oyster drinks are known to have made their way east to New England by the turn of the 20th century.
The pride of St. Regis
Petiot moved to New York City when Prohibition ended in 1933, taking a job as head bartender at the St. Regis hotel — however, some say that the vodka and tomato juice preceded his arrival. Hard-drinking comedian George Jessel is said to have ordered the drink at the hotel throughout the mid-1920s. He claimed to have nicknamed the drink after his friend Mary.
Arnold questions Jessel's role in inventing the drink. "He claims to have asked for tomato juice and added a shot of vodka. If you believe that's a bloody mary, there you go. But is just vodka and tomato juice a bloody mary?"
All early details aside, it is commonly agreed among historians, Arnold included, that the version we know of — salt and pepper, Tabasco, Worcestershire sauce, lemon juice, vodka, and tomato juice, all mixed directly in the glass — was at least perfected at the St. Regis, by Petiott, and sold there officially under the name bloody mary.
Mary meets middle America
By the 1950s, the bloody mary had gained massive popularity as both a liquid brunch food and a hangover cure. Proponents claimed the drink's sodium could help restore electrolytes lost while drinking, the vegetable juice base eased any nausea, and its vodka helped morning-after headaches.
In 1960, the practice of garnishing the drink with celery is said to have begun at Chicago's Ambassador East Hotel, when a bar-goer who received a poorly mixed bloody mary snatched a stick from a relish tray to use as a stirrer. One crunch later, a tradition had begun. Later that year, the famous Mr. and Mrs. T's Bloody Mary mix was released, a supermarket special that brought the drink into homes across the U.S.
Bloody mary variations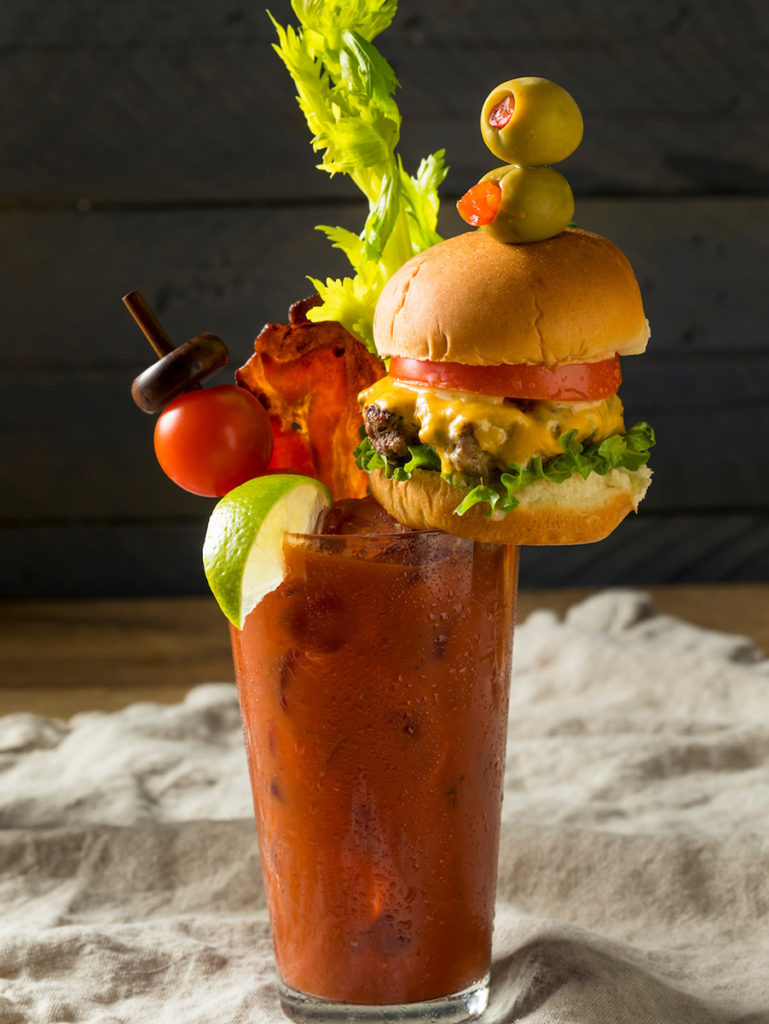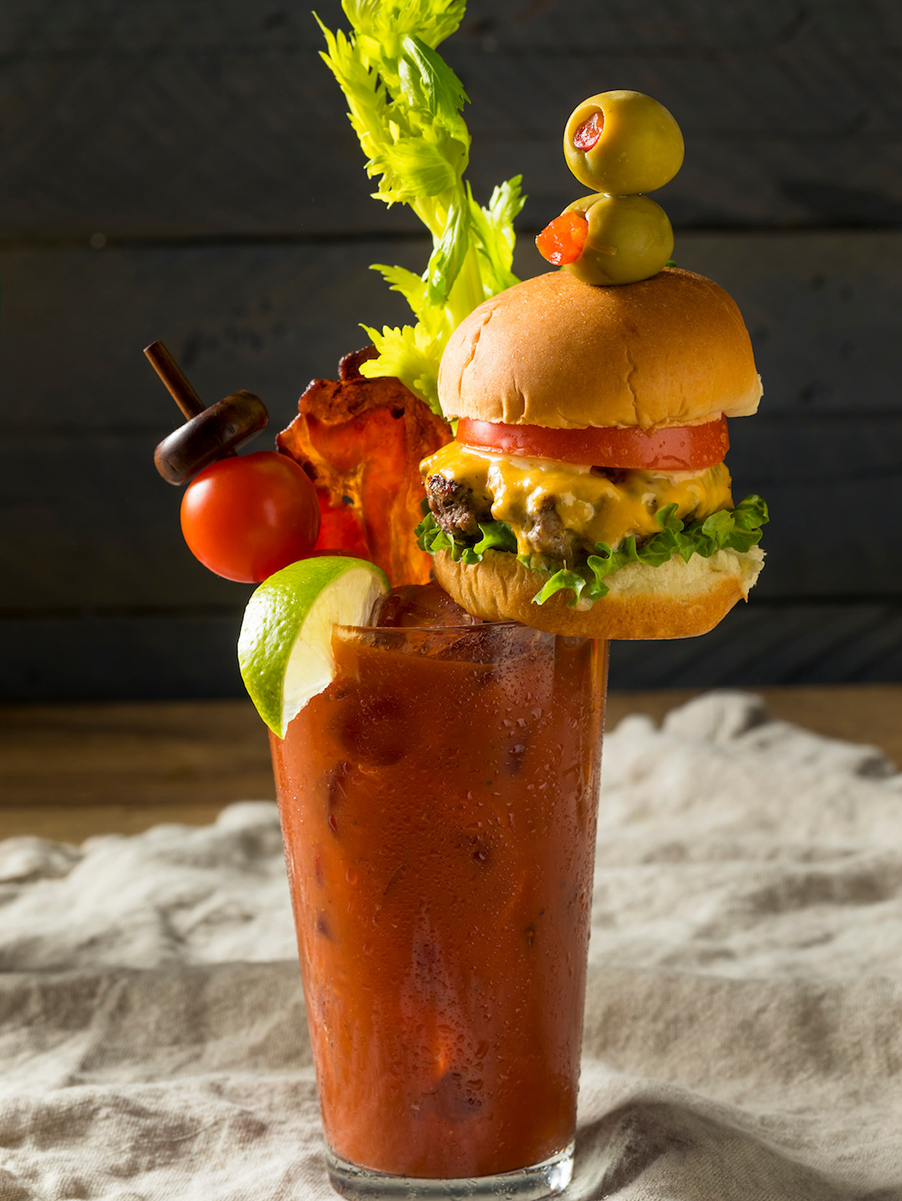 With the magic mix now widely available, twists on the traditional bloody mary began to pop up in bars and living rooms alike, most based upon basic liquor substitutions. The bloody maria swaps tequila for vodka, resulting in a drink with a stronger alcohol taste on the back-end, while a red snapper substitutes gin for vodka, giving the drink an aromatic, botanical character.
The michelada replaces vodka with a light Mexican brew, reduces mix elements (to only tomato juice, lime juice, and hot sauce), then adds a zesty glass-rim lining of Old Bay, chili powder, and celery salt. A refreshing, bubbly, and generally less intoxicating version of a bloody mary (beer has less alcohol content per volume than liquor), the michelada has become an outdoor-drinking, warm-weather favorite.
The modern-day bloody mary
The 21st century has seen the bloody mary evolve well beyond — and above — the cocktail glass. Some of the drink's absurd — albeit delicious — modern toppings are known to include donuts, crawfish, Brussels sprouts, and in the U.K., crushed sour cream and onion Pringles to line the glass rim.
One especially adventurous incarnation comes from Sobelman's Pub & Grill in Milwaukee, Wisconsin, whose 80-ounce "Chicken Fried Bloody Mary" is served with cheeseburger sliders, bacon-wrapped jalapeño cheese balls, and an entire four-pound bird, all perched on wooden skewers extending from the drink.
While an owner of the now-closed food-and-drink research lab Booker and Dax, Arnold recalls his team entering an over-the-top bloody mary contest, substituting Campbell's tomato soup for juice, then adding a grilled cheese sandwich on top. "It's a great idea, but it didn't win because it's not a bloody mary, and most people just want some crunchy veggies — a nourishing liquid salad that also has alcohol in it."
The bloody mary goes gourmet
For those who prefer taste and purity over pomp and spectacle, Harry & David craft Bloody Mary kits are unlike any others on the market. "After sampling about six other mixes, we really picked apart what we didn't like about them and came up with our own, including many traditional elements with some sort of epicurean twist," explains Brand Merchandise Manager Andrew Whitticar.
Built around a proprietary blend of tomato puree and seven vegetable juices, Harry & David mixes are free of all generic ingredients. Rather than incorporate any old hot sauce, Whitticar explains the Medford, Oregon-based company opted for a combination of dill, cucumbers, jalapeños, and cane sugar. "It's more accessible for those not looking for the heat, though you could always add some of your favorite hot sauce to up the Scoville level."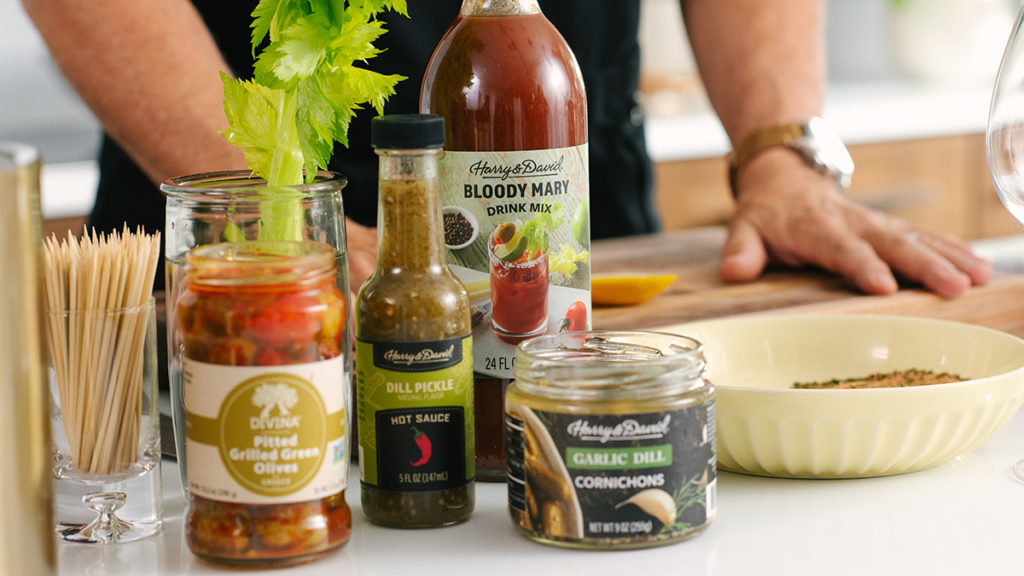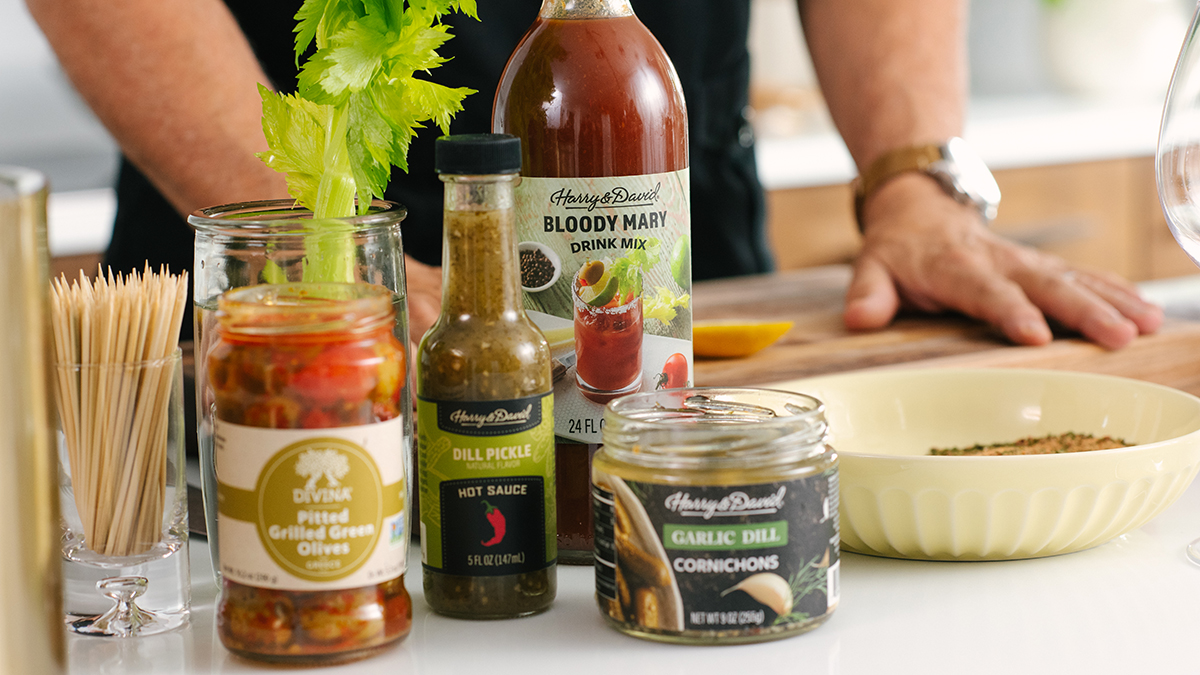 To rim the glass, this kit bypasses the simple sea salt approach for a house recipe chili-lime rub. "We don't just use your classic cocktail olives, we step it up with grilled green olives from Greece, marinated in sea salt, red peppers, and smoked paprika," Whittcar says. "This adds a smoky fruitiness to the cocktail."
To seal the deal, all cornichon pickles in this kit are fermented stateside by brand partners in Georgia. The pickles provide small-batch freshness and crunch that most pickles imported en masse lack. The result is a cocktail lounge-quality experience, to go.
So, where did the bloody mary come from?
It seems Petiot can accurately be called the drink's forefather, but one question remains: When and where was the first official bloody mary, name and all, served? Arnold credits the St. Regis, saying, "As far as I can tell, nobody called anything a bloody mary in France. That name is really only attested to in the '30s."
Using a famous Leonardo da Vinci sketch as a metaphor for Harry's, Arnold says "Anytime someone says to me that [he] invented the helicopter, I say, 'just because [da Vinci] drew something it was based on?' And I think a lot of people try and do the Leo helicopter thing with recipes — and that isn't the point. The question is: Who is it that caused us to drink it?"