Growing up, I remember my dad receiving great big Harry & David gift baskets from clients. I would get jazz-hands excited when he would stroll through the door carrying a basket, because I knew contained inside were some of the greatest foodie treasures.
My personal favorite: pears and chocolate truffles. I don't know how Harry & David does it, but their pears are absolute perfection. If you had any doubt they're kings of the pear trade, imagine yours truly jumping up and down, begging my father to peel the golden wrapper faster.
But! I also have a special sugary fondness for their truffles. Each one is decorated with beautiful colors, and let's not forget the sugar delight you receive from eating just one.
Even though truffles can be enjoyed just by their lonesome, I surprised myself when I was cooking the other day and decided some fluffy buttermilk pancakes needed a decadent sidekick. We all know that nothing beats a stack of flapjacks with warm maple syrup. But I think I may have the standard ol' stack beat.
I decided to melt some Harry & David truffles (GASP!) and turn them into a chocolaty syrup. I realize this may ruffle a few truffle purist feathers, but let me tell you: One bite of these golden pancakes drizzled with this decadent syrup, and you will never go back to your local house of pancakes again.
So, if you're looking to surprise your family and friends this holiday season with a treat, I recommend a box of chocolates or a gift basket filled with chocolate truffles, or a wine gift with a bottle of their dessert wine. Paired together, this Christmas gift is simply delightful. The giving and cooking possibilities are endless! You already know about the buttermilk pancakes…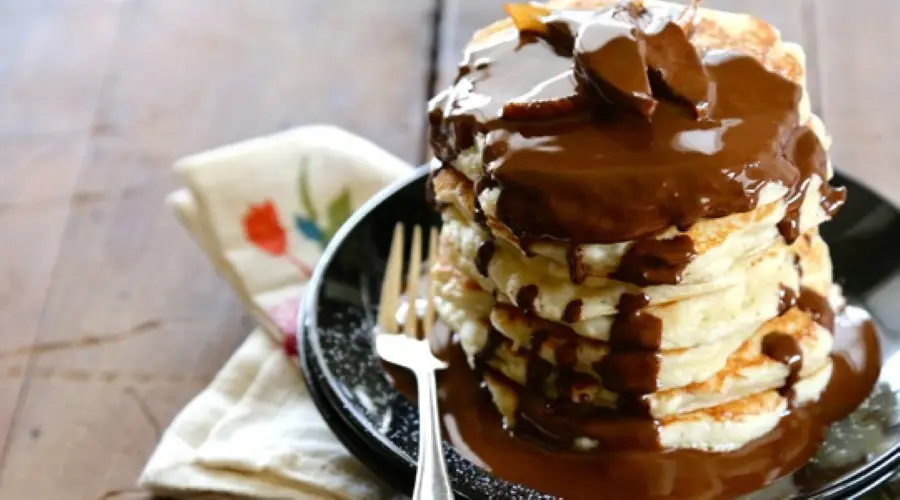 Buttermilk Pancakes with Chocolate Truffle Syrup & Candied Pears
Ingredients:
For the Buttermilk Pancakes:
2

cups

all-purpose flour

¼

cup

granulated sugar

2 ¼

teaspoons

baking powder

½

teaspoon

baking soda

2

eggs

(room temperature)

2

cups

buttermilk

(room temperature)

¼

cup

unsalted butter

(melted, cooled)

pinch

cinnamon
For Truffle Syrup:
Instructions:
Buttermilk Pancakes:
In a large bowl, whisk all eight ingredients together. Don't over mix the batter.

Preheat a skillet to medium-high heat. Spray the skillet with non-stick cooking spray.

Ladle about 1/3 cup of the batter into the skillet. Once little bubbles appear, flip the pancake. Cook for another minute or until golden brown.

Repeat the process until all the batter has been used. Drizzle your pancakes with the truffle syrup and garnish with the candied pears (see below).
Chocolate Truffle Sauce:
In a medium saucepan over medium heat, melt six chocolate truffles. Stir to make sure the chocolate doesn't burn. Remove from heat.
Candied Pears:
Preheat oven to 400° F. Spray a baking sheet with non-stick cooking spray.

Toss pears with brown sugar and place on the baking sheet.

Bake for about 20 minutes or until golden and caramelized.
Notes:
*Buttermilk pancakes adapted from Food Network