Almost everything we do around here has to do with either fruit or chocolate. It's kind of what keeps us going at the end of those long days and what gets us up bright and early in the morning. I decided to take a further look into the latter, our much loved secret chocolate blend. Our chocolatier, Charlie Douglass, gave me the scoop on what goes on behind those mysterious doors in our very own candy kitchen, a place I wouldn't mind spending a bit more time in. Maybe around lunch hour? Just a thought.
The air smells like warm brown sugar. Or rich dark chocolate. Or something equally as sweet and delicious that I just can't pinpoint. But I focus less on figuring out what the smell is and more on where it's coming from and if I can try whatever it is. Turns out Charlie is just whipping up a batch of our chocolate cherries, which happen to be my all time favorite.
A signature product, our chocolate cherries have been a favorite for years. Charlie dips our gourmet cherries in a chocolate blend from Guittard Chocolate, a top chocolate producer. Guittard uses all natural ingredients, like pure cane sugar, real vanilla beans and full cream milk in the case of milk chocolate. So I feel just a tad better about indulging in the treat.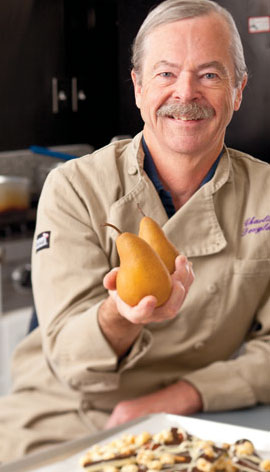 As a chocolatier, Charlie spends a lot of his time experimenting and taste testing new treats in the candy kitchen (um, where do I apply?) but the recipes for our legacy chocolate products like our chocolate truffles never change. And I understand why. When something is so good, why would you change it?
I learned that chocolate is pretty much genetic for Charlie. His family has a chocolate shop that's been around for over 90 years. He's apprenticed with a Swiss candy maker and attended a French pastry school. Bottom line is, Charlie knows his candy. Whether it's developing a new chocolate bark or making fruit filled chocolate treats, he's always got his hands full. Working on a recipe is almost like detective work, he says. You have to keep experimenting until you figure out what that missing ingredient is.
I think how most of us probably drooled over the idea of being a candy maker when we were kids. And around here, there's a general consensus that Charlie pretty much has the ultimate dream job.