As soon as you hear someone sing, hum, or just say the phrase "the twelve days of Christmas," it is officially, comfortably holiday season.
And the term means gifts. The folks at Harry & David, sort of the Santa's workshop for grown-ups, thought so, too, and decided — because inspiration is their oxygen — to add "cheese."
Don't even bother to ask "Why hadn't anyone else thought of that before?"…that's a mystery best left for the next life. All that matters is they did, and they put together a beautiful crate of 12 artisanal cheese snacks from 12 superb creameries, curated by a team of turophiles who sampled hundreds of different kinds to settle on their magnificent dozen.
The 12 Days of Cheese gift is a cornucopia of delectable fromages, and a lot of wonkiness went into deciding which cheeses to include — which is a good thing. Each one comes from a special, mostly small producer. (A laminated insert describes each selection and tells its particular story.)
There's a Truffle Hive cheese (Beehive Cheese Co.), a Balsamic (Sartori BellaVitano), a Dry Jack (Rumiano California), a Toma (Point Reyes Farmstead), a smoked cheddar (Fiscalini Farms), and an imported Manchego (Montevega). There's the Wood River Creamery cheddar Gruyère cheese with fenugreek, a Smokey Blue (Rogue Creamery), and a wondrous Rising Sun Farms pesto and sun-dried tomato cream cheese torta. And you've got a garlic and herb Jack cheese (Sierra Nevada), a two-year-old cheddar (Grafton Village), and another cheddar, from Face Rock Creamery, called Face2Face, which is, apparently, the most unique cheese in the assortment.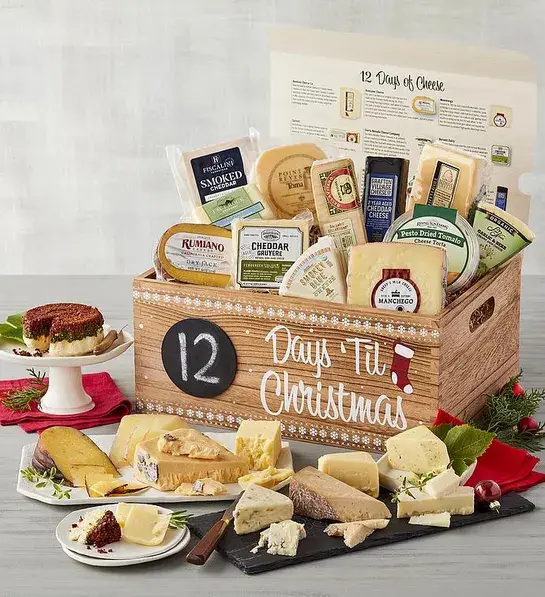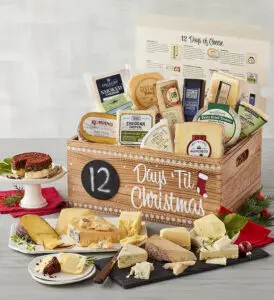 I love cheese snacks! But, despite the fact I eat 600 pounds of it annually (or is it monthly?), I'm not an expert on it, so I went and asked someone who is. That person is Tyson Danilson, one of the specialty foods brokers at Harry & David, and someone who has extraordinarily refined taste and manages the prospecting at the company. "We take a lot of care when it comes to any perishable products," says Danilson, encouragingly.
Explaining the meticulousness that goes into this curation, Danilson notes that it is all about picking the right farmers to deal with. "These guys typically work with three dairies, and every day the milk is collected, the cheese has to be made; it's not something you can do intermittently — these are continuously run family businesses, farmer's cooperatives who are interested in the heritage and traditions."
Wood River Creamery cheddar Gruyère cheese with fenugreek was "a limited run," says Danilson, who was able to secure some for this 12 Days gift. That cheese, from the Burnett Dairy Cooperative in rural Wisconsin, is crafted in only small batches, under a master cheesemaker's vigilant eye, and is a blend of cheddar and Gruyère cultures, flavored with fenugreek seeds, which give it a pleasantly nutty taste.
The most expensive cheese snack of the selection, if sold widely, is, according to Danilson, either the multi award-winning Beehive Cheese Co. Truffle Hive cheese or the Rogue Creamery Smokey Blue, which is cold-smoked over hazelnut shells. But he hastens to reaffirm that it's really a moot question since the cheeses Harry & David decides on are such small, bespoke productions that they are unlikely to make it to retail.
The Rumiano California Crafted Dry Jack cheese is a style from Northern California that dates back to the second World War, when Italian immigrants wanted to replicate traditional styles of cheese they were used to at home but were no longer available to them. The Rumiano family was one of two families that started to do this, and Rumiano has been going strong ever since.
Face2Face is the most unique blend in the crate. This piquant, creamy cheddar is made from sheep and cow's milk sourced from farms all within a 15-mile radius of the creamery in Bandon, a city on the Southern Oregon coast, an area famous for great cheesemaking since the late 1800s. A while, then…
The Rising Sun Farms pesto and sun-dried tomato cream cheese torta is three layers — a base of cream cheese blended with Parmesan and Romano cheeses, then a layer of basil pesto (without nuts, note) topped with sweet and tart dried tomatoes. "That's something that's made in the Rogue Valley and available there. I don't think it makes it outside of that part of Oregon," Danilson says. Rising Sun Farms have won an astonishing 42 awards for this cheese!
Rogue Creamery, the maker of the Smokey Blue, is in Southern Oregon, too, in Central Point. "They truly have world-class blue cheeses, even winning the world championships with one. They own the land, the cows, and manufacturing, (and) do the aging of the cheese," Danilson informs us.
The 12 Days of Cheese isn't skimpy either. This is not like some precious, after-dinner cheese tasting — this is like owning a boutique cheese store! In total, it contains over 5 pounds of cheese(!), and it's all packaged attractively in a Paulownia wood box — the wood coming from a particular tree (also known as the empress tree) that originates in China.
In putting together the selection, special consideration was given to the variety of styles of production, and the aesthetics, Danilson mentions. "So, if you were to serve all these cheeses in a big spread at once, it would make a harmonious assortment."
---

---
And here's our expert's simple but important tip when it comes to that big spread: Leave the cheese out for about an hour before serving, bringing it to room temperature.
You may not want to wait that long, though, to order the 12 Days of Cheese. Danilson says some cheeses, due to availability, will only be in this collection and not next year's.
You might say they're quite exclusive, with Danilson praising, "You're probably not going to find these cheeses at even a good cheese counter."