Shelly of Cookie and Cups had a decadent Harry & David cheesecake delivered and whipped up a blueberry mousse to top it off. She shared the recipe with us just in time for National Cheesecake Day, July 30.
I love cheesecake. It's basically my favorite food group.
There have been times that I have eaten cheesecake for breakfast, lunch and dinner until it's gone out of my house. I can't be trusted for sure. I am not proud.
The thing is, I am NOT an expert cheesecake maker. Nope, not by any means…especially a perfect, creamy, New York Style Cheesecake. Most of my attempts at cheesecake have been hiding all the imperfections with loads of candy, caramel drizzles or piles of fruit.
Luckily for me, I was fortunate enough to spend a few days out in Oregon last year with my friends at Harry & David…and you know what? They make a mean cheesecake. Not kidding.
Unfortunately I don't have a Harry & David store close to me…which, now that I think about it, is actually a blessing in disguise. My hips would never be the same, I'm afraid. BUT on the flip side, Harry & David ships beautiful cheesecakes right to your doorstep. Yep, order a cheesecake online and it will be in your hot little hands in days.
Evil genius I tell you!
And all that brings me to today. I just got a cheesecake delivery. What to do? What to do?
I could eat it plain…I mean look at the graham cracker crust!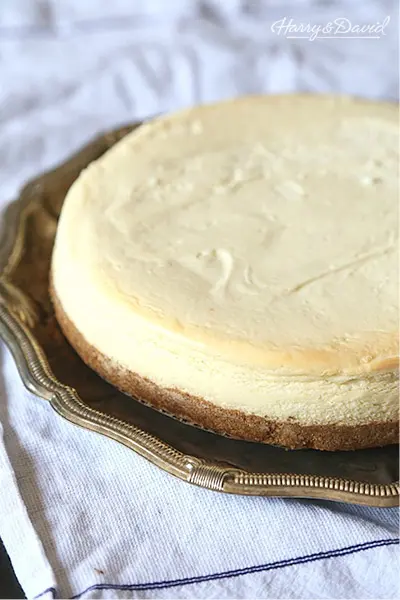 Yes, absolutely I could eat it plain and it would be fantastic!
ORRRRR.
I could grab out some hot fudge and pile a load of Harry & David Signature Truffles on top!
Oh my word, can you even imagine how gorgeous that would be?
But today I realized I had a container of beautiful blueberries sitting on my counter.
So why not put them to use to turn my gorgeous cheesecake into something extra special!?
I simply mixed some cream cheese and sugar with a homemade blueberry puree and folded in some whipped cream to make it light and fluffy…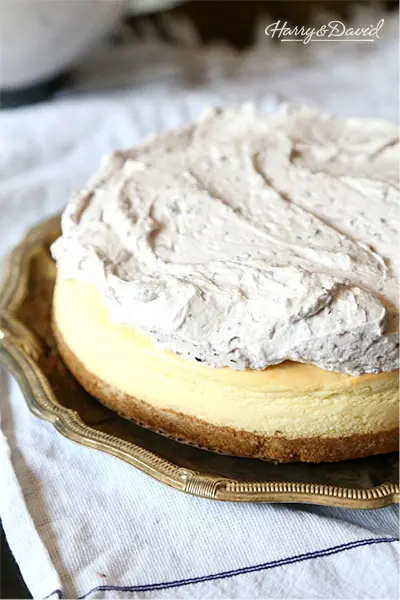 I spread it all over my cheesecake and then piled up some more blueberries!
Isn't it gorgeous?
The creamy cheesecake with the sweet blueberries on top make this a show stopper!
Blueberry Mousse Cheesecake
Ingredients:
1

cup

heavy cream

2

Tbsp

powdered sugar

½

cup

blueberries

1

Tbsp

granulated sugar

8

oz

cream cheese

(room temperature)

⅓

cup

powdered sugar

½

cup

extra blueberries for garnish
Instructions:
In bowl of stand mixer, fitted with whisk attachment beat heavy cream and 2 Tbsp of powdered sugar together until stiff peaks form. Set aside.

In small food processor or blender create a blueberry puree by blending blueberries and 1 Tbsp granulated sugar until it becomes a liquid. Set this aside.

In clean bowl of your stand mixer fitted with paddle attachment beat cream cheese and 1/3 cup powdered sugar together until smooth.

Add in the blueberry puree and continue beating until completely incorporated and smooth, scraping sides as necessary.

Finally fold in your whipped cream into the blueberry cream cheese mixture until evenly mixed in.

Spread the Blueberry mousse on top of cheesecake and garnish with more blueberries, if desired.