Anita Lo has become one of the most established and respected chefs in the country by embracing the adage "you only live once." Her guiding principle of wringing the most out of every day has taken her far. First female guest chef to cook a state dinner at the White House. Top Chef Master. Michelin-starred chef.
"I find inspiration everywhere," Anita says. "I read a lot. I travel. I can get inspiration from trying a new food I haven't had before, or just by hearing about an interesting technique that I want to try making my own."

Anita's worldview has propelled her career and taken her around the world. Indeed, her quest for new flavors, cultures, and experiences — from fishing in Alaska to culinary trips to Senegal — has helped her become one of the leading voices in the modern culinary movement.
What a long, delicious trip it's been
The love of food — and embracing new adventures — instilled in her by her early family life helped launch Anita on a journey of flavors and experiences that continues even today.
A first-generation Chinese American, Anita was always a foodie, sampling a variety of foods from an early age. She grew up in Birmingham, Michigan — a tiny suburb 30 minutes north of Detroit — in a family where she fostered her lifelong love of unique and unexpected flavors. It started with her Malaysian mom, who was an "excellent cook." She was always prepping one food or another, Anita says, whether it was different Asian cuisines or even fried chicken. Anita also grew up with several nannies from different cultures: one such nanny was a Hungarian woman who regularly cooked paprika-laced dishes. "I feel fortunate to have had such a multicultural culinary upbringing," she says.
Anita's relationship with food has changed over the years. "I've been peppering my diet with some of the things that I've loved," she explains. "I used to make my mother's chicken curry quite often when I was in college, and then I just stopped. Recently I've been making it quite often."
Along with food, travel was a huge part of Anita's childhood. There were family trips to the Canadian border, sampling "anything Asian" along the way, treks to Cape Cod in the summer ("I remember every year I'd ask for the same meal for my birthday," she recalls with a laugh — "lobster, steamers, and corn"), and regular vacations to Europe.
When Anita was in college, majoring in French at Columbia University, she decided to study abroad in Paris, and that trip changed her life. She enrolled in a cooking class at a local culinary school — one class led to several and suddenly her passion for cooking exploded. She decided she wanted to be a chef, so she quit college and enrolled at École Ritz Escoffier, a famed culinary institution in Paris, and she graduated with honors.
After mastering French techniques as an intern for a who's who of Parisian cuisine (Guy Savoy and Michel Rostang, among others), Anita returned to New York, where she worked for more star chefs, including David Bouley. Always hungry for change and adventure, she next decided to work for herself and opened a string of critically acclaimed restaurants, from a dumpling bar to an Asian barbecue joint to the contemporary American Annisa ("women" in Arabic), which earned the coveted Michelin star.
Anita reveled in the experience of creating each location and its distinct menu. "It was an amazing time," she recalls. "It was wonderful to create my little restaurant family and sit down with my staff every day and have dinner. It was so fulfilling working with everybody, teaching them, and seeing them succeed — knowing they were becoming better cooks. The whole process was very rewarding."
Feeding her motivation
Anita appreciates how different — and perhaps unconventional — situations can change the way she thinks about food and also challenge her cooking skills in surprising ways. Both of those boxes were checked when Anita competed against the best chefs on television, first defeating Mario Batali on Iron Chef America, then coming in fourth out of 24 world-class contestants on Top Chef Masters.
A different cooking challenge put her in the history books, though. In 2015 Anita became the first female guest chef to cook for a state dinner at the White House, when she prepared a four-course meal for the Obamas and visiting Chinese president Xi Jinping and his wife, Peng Liyuan.
For that dinner, Anita worked alongside White House executive chef Cristeta Comerford and White House pastry chef Susan Morrison. She whipped up wild mushroom soup with black truffle; butter-poached Maine lobster served with spinach, shiitakes, and leek rice-noodle rolls; and grilled Colorado lamb garnished with garlic fried milk and baby broccoli. For dessert, she made a poppy-seed bread-and-butter pudding with Meyer lemon curd and lychee sorbet.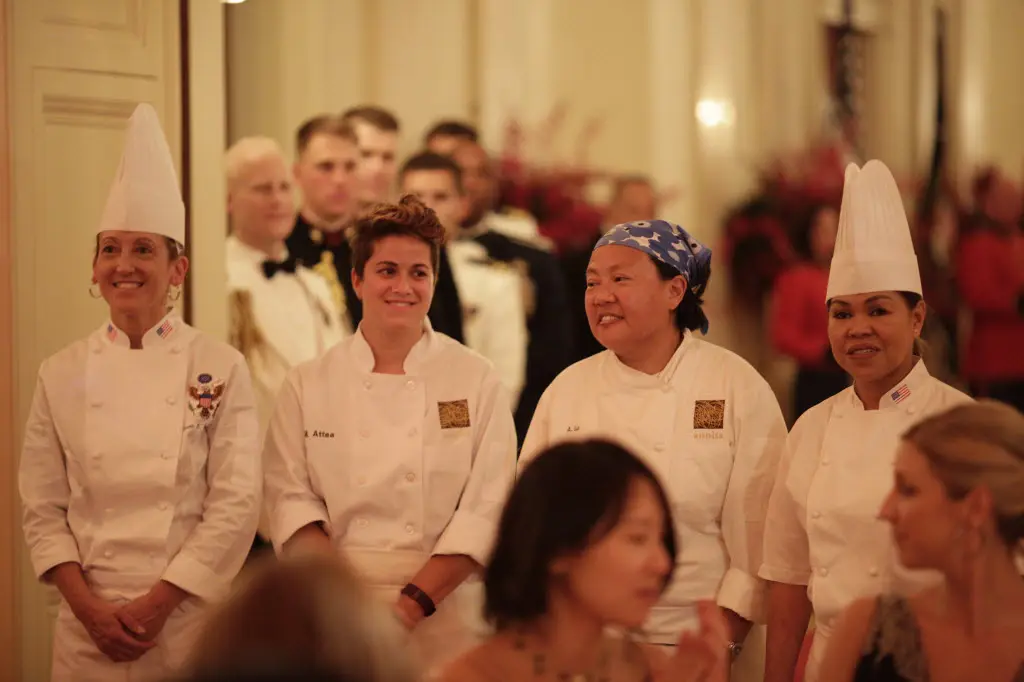 Among numerous career highlights, Anita says becoming a vocal advocate and supporter of emerging LGBTQ chefs is one of the steps along her journey that she's most proud of.
"When I was growing up, there were no gay people on television," she says. "It can be really hard to be gay sometimes. There are still lots of pockets of the United States where it's not OK being gay. Representation matters. I'm fortunate and thankful that I have a platform and that I get to use it to help and inspire other people."
Roads not yet taken
As for future plans, before the COVID-19 pandemic hit, Anita had begun working with Tour de Forks, a high-end, boutique culinary travel company that helps travelers discover unique destinations through the lenses of history, culture, and cuisine.
"Leading these culinary tours around the planet and doing the research beforehand and teaching classes during the trip combines so many of the things I enjoy," she says. "I'm hoping we can start doing them again in the fall."
She's also looking for her next restaurant project, and maybe writing another cookbook when the time feels right. She's already written two: Solo and Cooking Without Borders. Until then, she is perfectly happy just to be in her own kitchen, tinkering with techniques and trying new dishes as the mood hits.
"In the end, my love of cooking is what really keeps me going," she says.