We're now entering that phase of winter where I'm pretty much over the cold, snow, and general fear of the flu. Needless to say, I'm looking forward to the first peek of green popping through the ground, but those days feel a long way off, no matter what a groundhog says. So instead, I just sit by a fire, cuddle under some blankets, and cradle a large mug of this wholesome chicken noodle soup.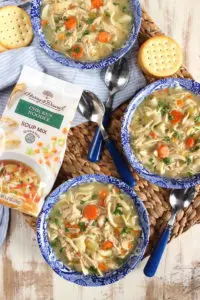 I always keep soup mixes on hand for quick dinners that are rich, hearty, and ready in a flash. Seriously, who has the time to spend hours in the kitchen? Each soup mix comes with everything you need to create a soup with a "from scratch" flavor that even your grandmother will think you slaved in the kitchen. Little does she know, this recipe can be whipped up in about 20 minutes with the help of one of those aforementioned mixes — the Chicken Noodle Soup Mix, of course — and your handy, dandy multicooker.
This Chicken Noodle Soup recipe will become a winter staple in your family's meal plan. It's a great option for a busy weeknight dinner and a must-have remedy for cold season.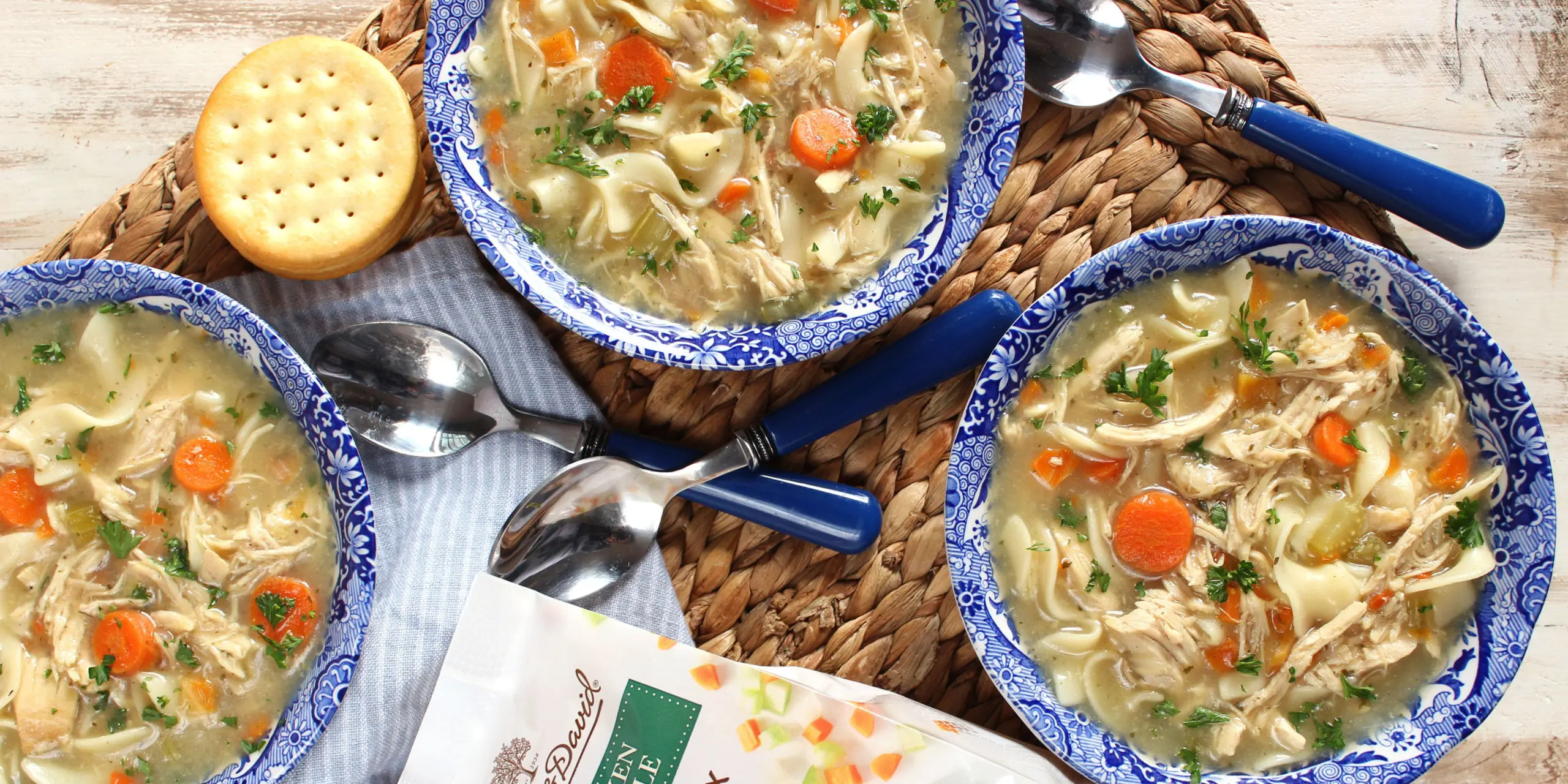 Multicooker Chicken Noodle Soup
Ingredients:
1

tablespoon

olive oil

1

cup

diced onion

1

large

celery stalk

(diced)

1

carrot

(thinly sliced)

1

garlic clove

(minced)

1

pound

boneless skinless chicken breasts

1

package

Harry & David Chicken Noodle Soup Mix

9

cups

water
Instructions:
Add the olive oil to a multicooker and set to sauté mode. Heat the olive oil until shimmering, approximately 3 minutes.

Add the onion, celery, and carrot to the pot and cook until softened. Stir in the garlic and cook for 1 minute longer.

Add water, the vegetable packet, and broth from the soup mix to the pot and stir.

Place the chicken in the pot and put the lid on. Lock the lid in place and cook at high pressure for 10 minutes.

Turn off the heat and manually release the steam.

Carefully remove the lid from the pot and transfer the chicken to a cutting board.

Using two forks, shred the chicken into bite-sized pieces and return to the pot.

Turn the multicooker back to sauté mode and bring the soup to a boil.

Add the noodles to the soup and cook for 8 minutes or until the noodles are tender.

Season with salt and pepper, to taste. Serve immediately.
---