There is just something about a produce box delivered straight to my door that excites me. I think it's the combination of the contents, the convenience, and the seasonality that I find so thrilling. The second I tear the box open, my creative culinary wheels start turning. I am a firm believer in cooking with produce that is in season. Not only is it less expensive, but it also means that my dishes come out more flavorful, as the fruits and vegetables are at peak ripeness and freshness. Recently, when a spring farm box and some gorgeous Waygu steaks arrived on my doorstep, I may have jumped with happiness because I knew exactly what to make: kebabs!
Now that temperatures are warming up, I'm dusting off my gas grill and getting ready to continue my love affair with outdoor cooking. I grill everything, from pizza to fruit, meats, veggies, and even breads. I even throw my cast iron pan on there for desserts, such as blueberry and peach pie. This cooking method is a total win in my book: It involves minimal cleanup and gives me a chance to gather and eat outdoors with friends and family, all while preparing amazing meals.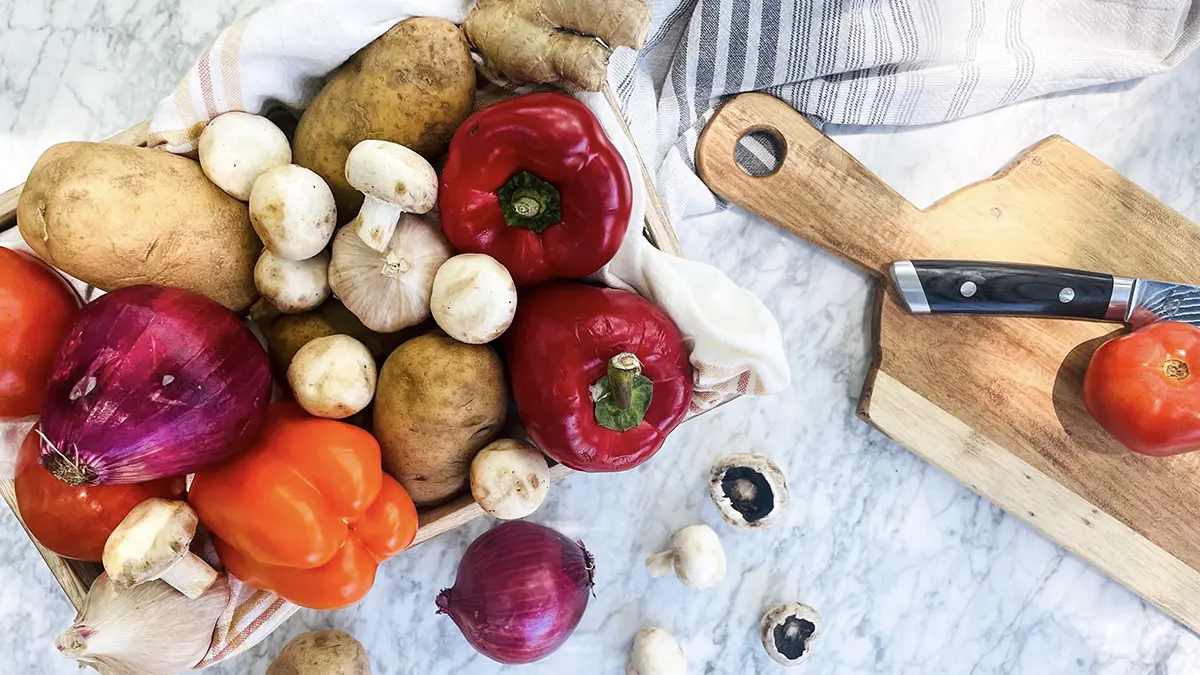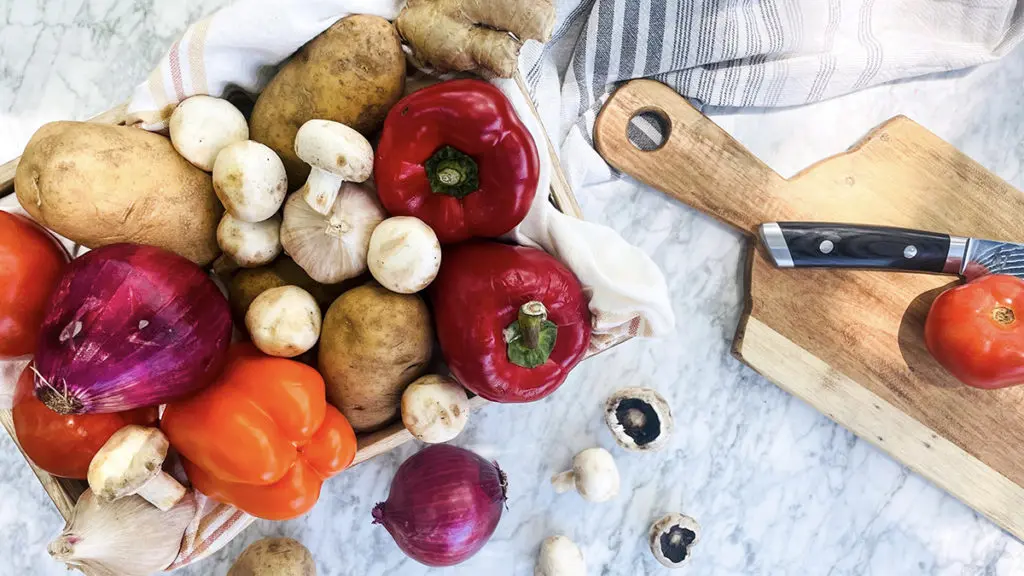 A regular in our repertoire are kebabs. Juicy and tender marinated steak and chicken layered with beautiful seasonal produce are a cinch to prepare and are perfect for an easy, flavorful dinner.
Using Waygu beef for these kebabs is a great choice, as its high amount of intramuscular fat guarantees an incredible amount of flavor and decadence. The marbling is nothing short of beautiful.
And I love using whatever seasonal produce I have on hand or can find at my local farmer's market. It was my lucky day when I tore open the farm box to discover fresh and seasonal peppers, tomatoes, mushrooms, and onions. These are all perfect for layering with steak and chicken. Feel free to experiment with other in-season produce, such as summer squashes, corn, and pineapple, and proteins like shrimp and pork.
Chicken & Steak Kebabs With Seasonal Vegetables
Kebabs are ideal for prepping ahead of time: Mix the marinade, add the steak and chicken, and let them hang in the refrigerator as you go about your day. Cut the veggies and set them aside, and then it's just a quick assembly to layer them on skewers, toss them on the grill for less than 15 minutes, and — voila! — dinner is on the table. Serve alongside hasselback potatoes, maybe a simple green salad, or my favorite: a tomato, cucumber, basil salad drizzled with olive oil and red wine vinegar. Simple, delicious, and just right for spring and summer.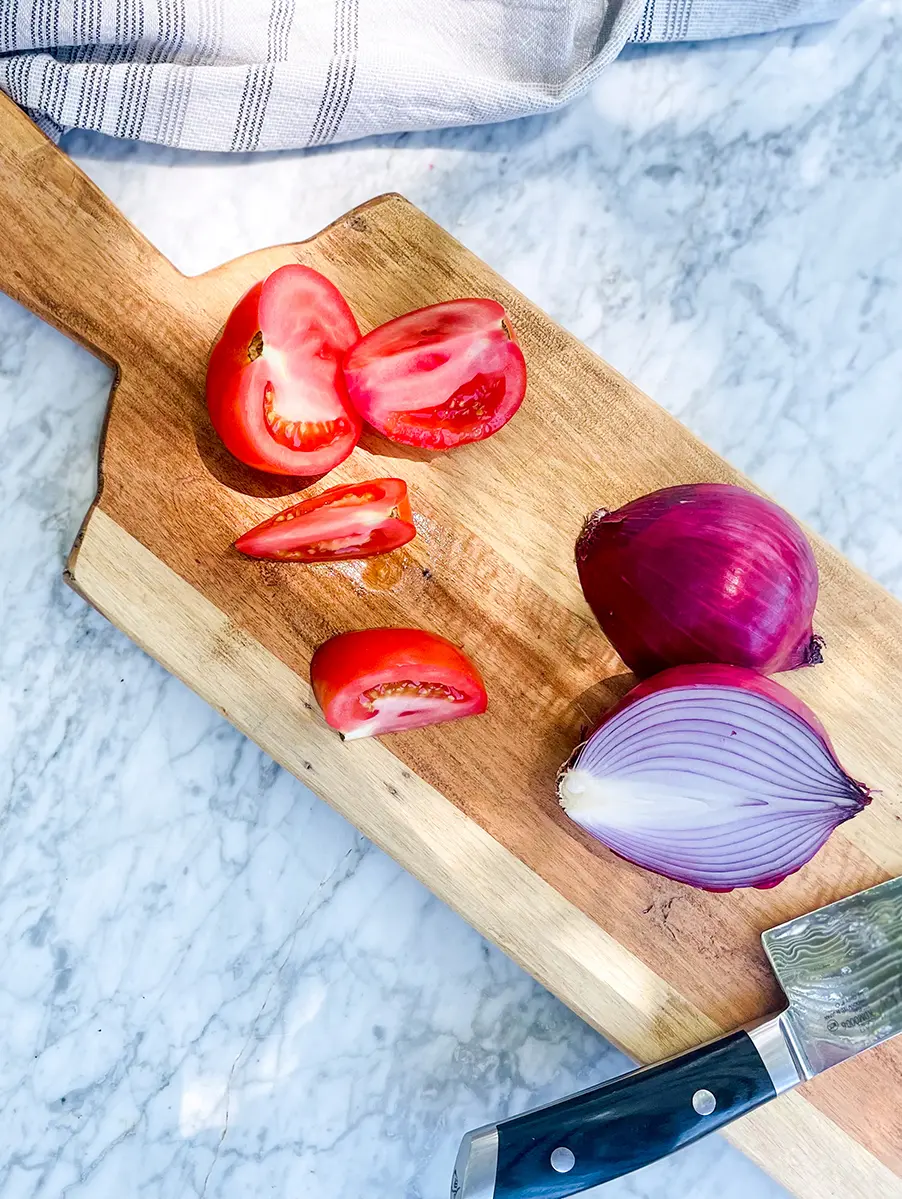 Meet me at the grill, and let's have some fun!
Pro tip: When choosing a cut of meat for the kebabs, I like to stick with top sirloin or New York strip. These are leaner cuts of meat that are easy to cube into uniform chunks. Marinating beforehand, and properly cooking the kebabs, yields super flavorful and tender meat.
Cook the chicken and steak kebabs on separate skewers because their cooking times vary. Steak generally cooks faster and can become tough if overcooked; aim for an internal temperature of around 140° F. Chicken, however, must be cooked to 165° F, so this can hang a bit longer on the grill while the steak kebabs rest.
Note on produce boxes: Each box may vary in variety according to your geographic location, availability, and the season. You also may not receive the same produce each time you order, or even the produce mentioned here. Use your creativity to decide how to use each ingredient that arrives and supplement with local ingredients if needed. Plan your weekly meals around the produce. This will help you to cook more sustainably and seasonally.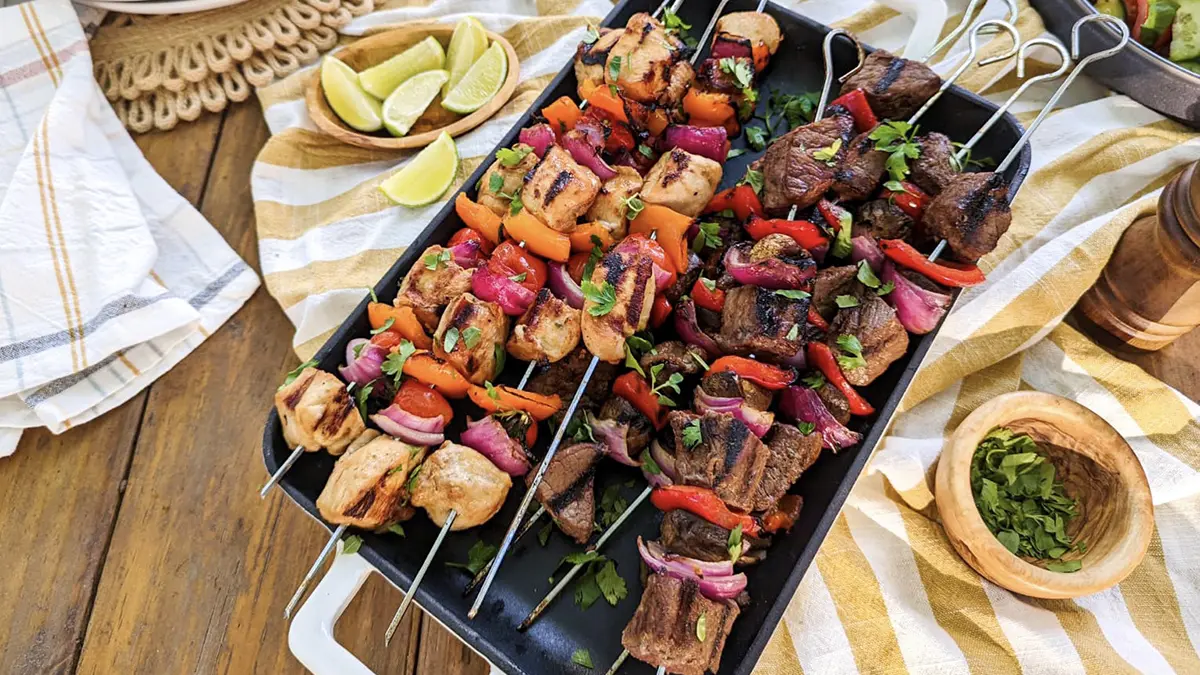 Chicken & Steak Kebabs With Seasonal Vegetables
Equipment:
Metal skewers

(wooden work too, just soak in water for at least 30 minutes before grilling)
Ingredients:
For the marinade
⅔

cup

extra-virgin olive oil

¼

cup

soy sauce

3

tablespoons

tamarind sauce

¼

cup

rice wine vinegar

2

tablespoons

Worcestershire sauce

2

tablespoons

lime juice

(about 1 lime)

4

garlic cloves

(grated)

2

teaspoons

fresh ginger

(grated)

2

tablespoons

brown sugar

1 ½

teaspoons

fresh oregano

(chopped finely)
For the kebabs
1 ¾

pounds

Waygu sirloin steaks

(cut into 1-inch cubes)

1 ¾

pound

boneless skinless chicken breasts

(cut into 1-inch cubes)

2

large

Red onions

(diced into large chunks)

3

bell peppers

(red, yellow, or green, cut into 1 ¼-inch pieces)

1

pint

cherry tomatoes

(or grape tomatoes)

8

ounces

button mushrooms

(stems removed)

Kosher salt and black pepper

1

tablespoon

Olive oil

( for brushing grill grates)
Instructions:
In a large glass measuring cup, whisk together all the ingredients for the marinade.

Place the steak into a zip-top bag and pour half the marinade over. Seal tightly. In a separate bag, repeat with the chicken and remaining marinade. Chill in the refrigerator at least 3 hours or up to 8 hours.

In a medium bowl, combine about half the onions, peppers, and tomatoes with 2 tablespoons of olive oil, and salt and pepper to taste.

In a separate bowl, combine the other half of the onions and mushrooms, and season with salt, pepper, and 1 tablespoon of olive oil.

Assemble the steak, layering with the mushrooms and onions. On separate skewers, layer the chicken with the peppers, onions, and tomatoes.

Preheat the grill to medium-high heat, about 425° F. Brush the grill grates lightly with olive oil.

Place the skewers on the grill, cooking the steak, rotating occasionally, until it registers 140° F, about 7-8 minutes. Cook the chicken until it registers 165°, about 10-12 minutes, again rotating occasionally.

Use tongs to remove the kebabs from the grill and let rest for 5 minutes before serving.