Elevate your get-together with the best chips and salsa as well as an exciting new Cinco de Mayo recipe from Executive Chef Tim Keller. Experience a unique take on Mexican mole with Mango and Mole Chocolate-Covered Chips.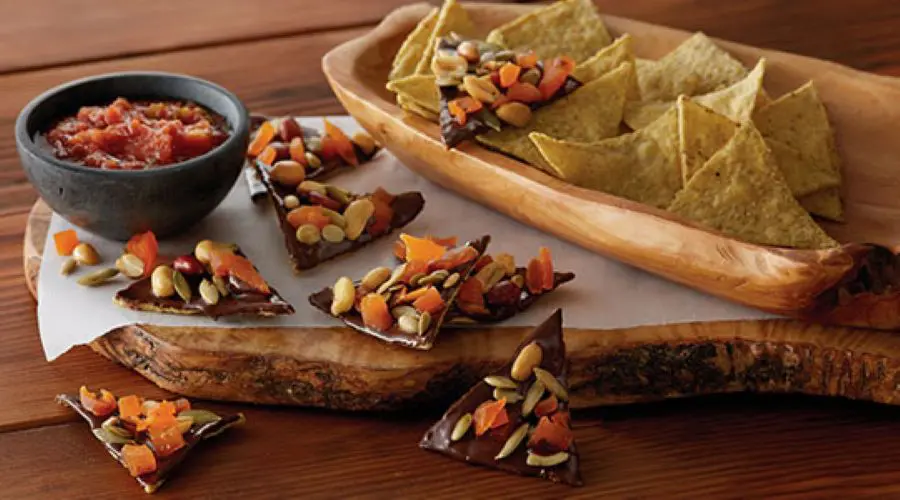 Mango and Mole Chocolate-Covered Chips
Ingredients:
1

Harry & David® Sweet Mango Dried Fruit

1

package

Harry & David® Mesa Verde Trail Mix

1

package

Harry & David® Dark Chocolate Truffles

1

package

Harry & David® Sesame Garlic Tortilla Chips

10

oz

mild salsa

2

Tbsp.

chili powder

2

Tbsp.

cinnamon

1

Tbsp.

cumin
Instructions:
Chop dried mango into small pieces, roughly the size of a sunflower seed.

Using back of a clean pan or a small bowl, crush trail mix to size of mangos, then mix mangos and trail mix together.

Melt truffles, being careful not to scorch. Add chili powder, cinnamon, and cumin to melted truffles and stir until smooth.

Using a pastry brush, brush one side of each tortilla chip with chocolate mixture and lay flat.

While the chocolate is still liquefied, sprinkle roughly 1½ tablespoons of mango mixture on top of each chip.

Let cool and serve with salsa.

To store, wait until chocolate has dried enough to cover, then wrap tightly. Keeps for 1–2 days.
Notes:
Variation:
Melt chocolate and dip chips in the melted chocolate and eat, similar to typical chips and salsa.
Makes approximately 140 chips
---
Have a festive and fun celebration! We'd love to hear which Cinco de Mayo recipes you'll be using this year!