The recipes in our series "Homemade Gourmet" take the thought and time out of cooking without sacrificing their flavor or gourmet appeal. This chocolate-covered strawberry chocolate mousse recipe combines two iconic desserts into one decadent treat. Created by Jessica from How Sweet Eats, this gorgeous chocolate mousse is topped with a Shari's Berries chocolate-covered strawberry, making it perfect for sharing with the one you love.
One of my earliest food memories includes a chocolate-covered strawberry. My mom and I had one at the candy counter at the mall (when those still existed!) after a long day of shopping. I didn't even want to try it, but she insisted. And to this day, it remains as one of the best things I've ever tasted.
This chocolate mousse is not only inspired by a chocolate-covered strawberry — it's topped with one. The mousse is silky smooth and sprinkled with crushed freeze-dried strawberries. The whole thing is finished with a huge, juicy, fantastic chocolate-covered strawberry. It's absolutely mouthwatering!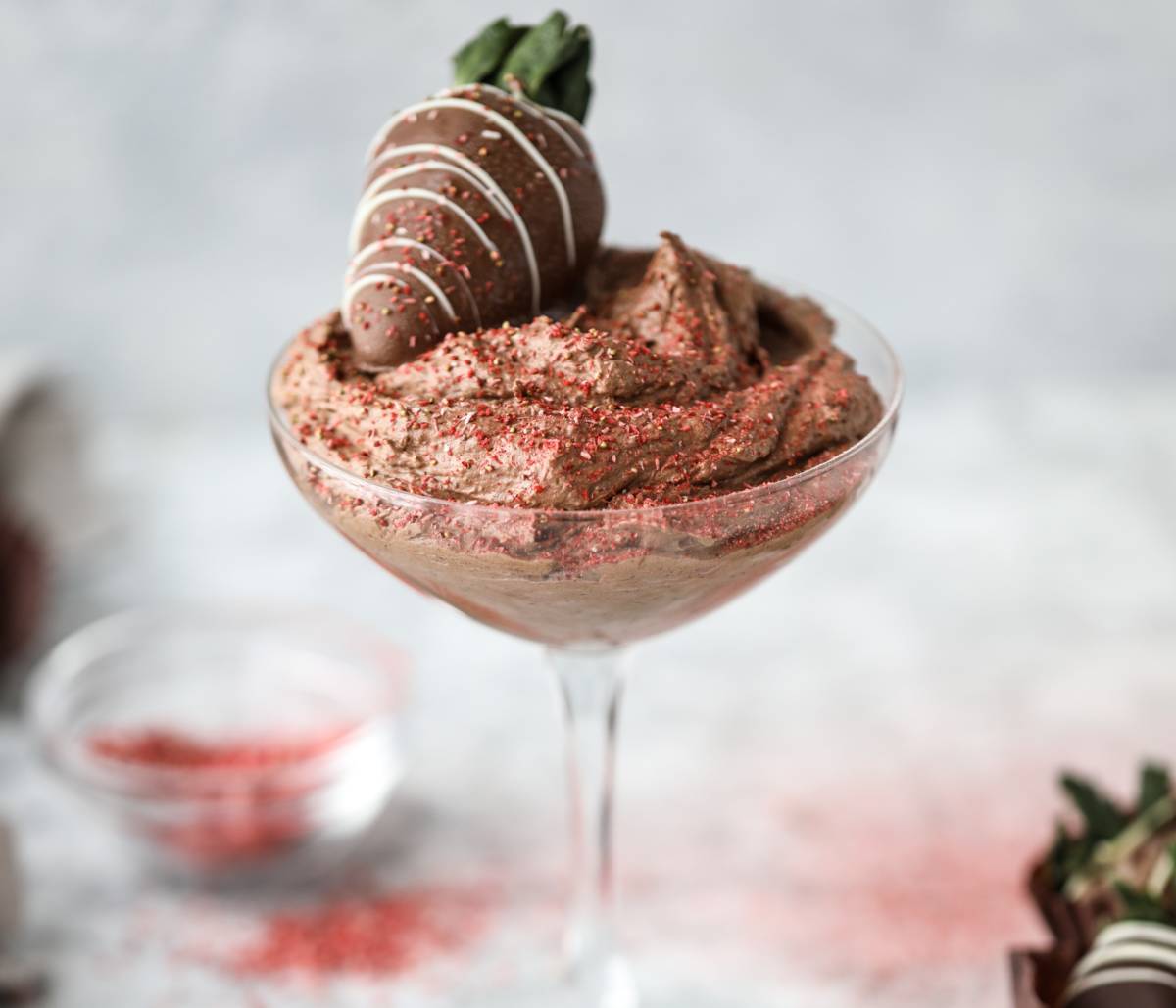 Chocolate Mousse With Chocolate Strawberries
Ingredients:
4

egg yolks

⅓

cup

sugar

1

cup

heavy cream

1

cup

Chopped dark chocolate

1

cup

cold heavy cream

½

cup

freeze dried strawberries

1

Shari's Berries chocolate covered strawberries
Instructions:
Place the egg yolks and sugar in the bowl of an electric mixer and beat until pale yellow and smooth, about 5 minutes.

Heat the heavy cream in a saucepan until warm.

With the mixer on medium speed, slowly drizzle in half the warm cream and beat with the yolks until combined. Transfer the mixture to the saucepan and stir for 5 minutes, until thickened. Turn off the heat and stir in the chocolate. Chill the mixture in the refrigerator for 1 to 2 hours, stirring often.

Remove the mixture from the fridge and beat on medium high until soft peaks form and it resembles whipped cream. Fold the chocolate into the whipped cream until it is a smooth chocolate mousse. Spoon it into 4 bowls.

Crush the freeze-dried strawberries in a food processor or in a zipper storage bag until they are in powder form. Place them in a sifter and gently sift the strawberry powder onto the chocolate mousse.

Top with a chocolate-covered strawberry and serve!