In "A Season of Sharing," we talk about how to spread the holiday spirit through more than just gift-giving. Exploring old traditions, creating new ones with family and friends, and learning how to express holiday greetings in different languages can help us all share a little more this year. Speaking of this year, we've compiled a list of our favorite Christmas quotes to include in your holiday cards this season.
Christmas and holiday cards can cheer up any grinch during the holiday season. But did you ever wonder when and why we started sending Christmas cards?
The tradition of sending Christmas cards dates back to the 1840s in Victorian England. The story goes that a man named Henry Cole, a distinguished member of high society, was overwhelmed one year by the number of holiday letters he received. As it was considered rude to not reply to mail, Cole commissioned an illustration that depicted friends and family enjoying food and company during the holidays. Cole then sent the picture to the local printer, who printed the art on pieces of stiff cardboard 5 1/8 inches long and 3 1/4 inches wide. Each card had a blank space at the top where Cole could write the name of the receiver and a holiday greeting. Thus, the Christmas card was born.
Nearly 200 years later, the Christmas card is thriving, with approximately 1.3 billion cards sent annually — in the United States alone!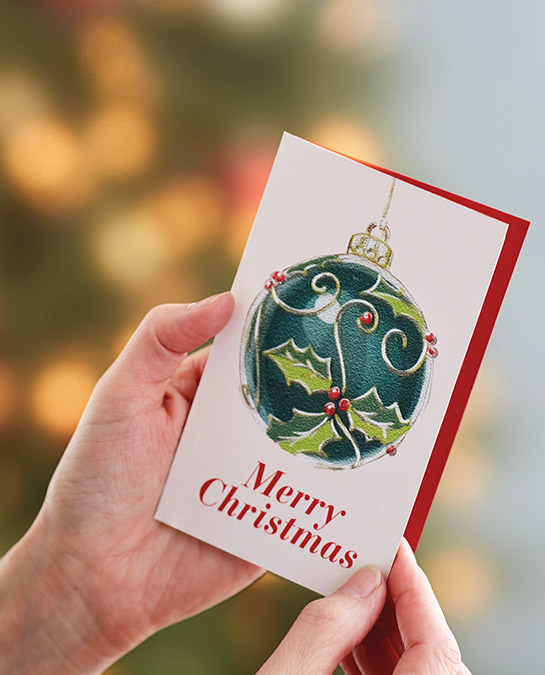 With so many cards being exchanged at this time of year, we're all trying to find the perfect message or quote to accompany the family photo that took hours to capture. (Just let little Timmy wear what he wants!) But don't fret: We've compiled a list of Christmas quotes that will make friends and family near and far feel your love during the holidays.
Merry Christmas wishes
'Tis the season to wish one another joy, love, and peace. Merry Christmas.
The gift of love. The gift of peace. The gift of happiness. May all these be yours at Christmas.
May Santa Claus bring everything you wished for. Merry Christmas!
Here's to a year of blessings and beyond. Have a Merry Christmas!
Merry Christmas! I hope you receive one blessing after another this coming year.
New Year? Yes, please! Here's to better times ahead for us all! Wishing you a very happy Christmas and a safe and healthy 2022.
From our home to yours, we wish you a very Merry Christmas and a happy holiday season! Stay safe and take care.
Jolly holly-days to you and yours!
Merry Christmas to someone who's always on Santa's "nice" list!
Merry Christmas with all the trimmings!
Happy holiday messages
Best wishes for happy holidays and a wonderful New Year.
Warmest greetings of this festive season and best wishes for happiness this New Year.
Wishing you a magical and blissful holiday!
All the best to everyone this holiday season!
Sending you peace, love, and joy this holiday season.
Happy holidays from our family to yours.
May your family have a holiday season that is full of wonderful surprises, treats, and nonstop laughter.
From our home to yours, we hope you have a happy holiday season and a prosperous New Year!
HO! HO! HOpe your holidays are filled with fun!
Spiritual Christmas card greetings
May the true spirit of Christmas shine in your heart and light your path.
A silent night, a star above, a blessed gift of hope and love. A Merry Christmas to you and your whole family.
Christmas quotes for family
There is no greater gift this festive season than spending time with family all around the Christmas tree.
You're all so important to us. Stay safe and happy this holiday season!
Grateful to be blessed with such a wonderful family. Merry Christmas!
The holidays are a time for family (and great food!) Wishing you all the best of both this season.
Christmas messages for friends
For your Christmas time, I wish you many blessings, much happiness, and even more love.
Christmas is a feeling true friends share with laughter and love to show that they care.
I hope you're all making this a Christmas to remember!
It's friends like you that make this season so special and magical.
Wishing you peace, joy, and all the best this wonderful holiday has to offer. May this incredible time of giving and spending time with family bring you joy that lasts throughout the year.
Cheers to the New Year! Wishing you lots of love, happiness, and Champagne.
Fa La La La La…whatever, you get it. Merry Christmas.
Here's to good friends who always bring wine to the Christmas party!
For faraway friends and family
We may not be together on Christmas morning, but you're always in my heart.
We may not be able to rock around the Christmas tree together, but I'll deck the halls in your honor.
Wish we could send you some of Grandma's famous pumpkin pie, but this card will have to do! Merry Christmas from all of us.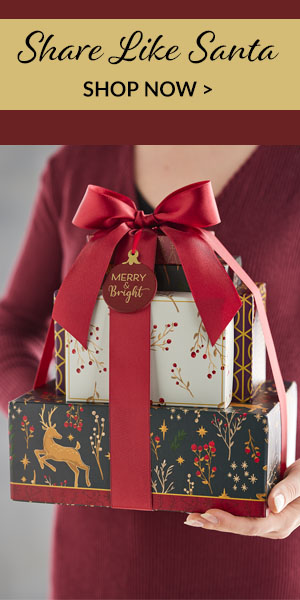 Christmas messages for teachers
May this holiday season be full of surprises and cheers, simply because you deserve the best.
Season's greetings from the family! Hope you all end the year on a bright note.
Have a cheerful, holly, jolly, and very Merry Christmas and happy New Year.
Thank you so much for all that you've done this year. Merry Christmas and a happy New Year!
Company Christmas card messages
We hope your holidays will be filled with joy and laughter through the New Year. Merry Christmas!
Warmest wishes for a happy holiday season.
In this loveliest and happiest of seasons, may you find many reasons to celebrate. Have a wonderful Christmas!
Wishing you a festive holiday season and a very happy new year.
Cute Christmas quotes
Fuzzy socks and candy cane pops, everyone knows that Christmas rocks.
If kisses were snowflakes, I'd send you a blizzard.
Merry Christmas! You're the best gift I could ask for.
Hope this season finds you all wrapped up in happy!
Sentimental Christmas messages
May the holiday season bring you special moments and happy memories.
Keeping you in our hearts this holiday season, and always!
Our holidays are more joyous knowing you're part of our world.
Inspirational Christmas quotes
This Christmas, may your presents be many, your worries few, and your joy endless.
You have a permanent place on my nice list (and I don't even have to check twice).
I hope the love of your family keeps you warm on these cold December nights. Merry Christmas and Happy New Year to you and yours.
May the spirit of Christmas swirl around you like snowflakes dancing on the wind.
Enjoy the presents under your Christmas tree, but, more importantly, enjoy the people around it.
Remember: You're never too old to search the skies on Christmas Eve.
May your Christmas sparkle and your New Year shine.
A little more sparkle, a little less stress. This Christmas, I wish you the very best.
For hard holidays
Wishing you love and light in this challenging season.
I know it's been a hard year for you and your family. I hope this new year brings better days.
Sending you hugs this Christmas season. Take some time to care for yourself.
I hope the holidays bring a chance to rest and recharge.
Warmest wishes during these uncertain times.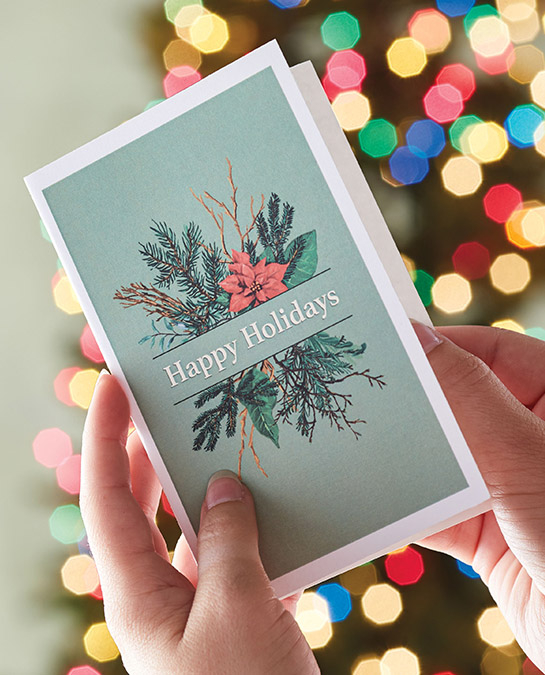 Funny Christmas wishes and messages
I hope Santa leaves you plenty of presents, but I hope the reindeer do not leave behind any "presents" on your lawn! Merry Christmas!
For some, the best part of Christmas happens…when it's all over! Wishing you a stress-free Christmas season!
May you have plenty of mistletoe on hand this Christmas…and lots of good kisses too!
Christmas is the only time of year when I buy nuts, and it's the only time of year I feel like I may go nuts. May you keep your sanity this holiday season!
Happy holidays! May your eggnog contain enough rum to get you through the Christmas season!
Happy holidays! May you have plenty of coffee and caffeinated drinks to get you through the Christmas season!
Merry Xmas! May you be surrounded by jolly elves — and not nasty grinches — this holiday season!
My Christmas wish for you this year is simple: With all you are going to consume over the holidays, I hope your digestive system can handle it like a champ.
Merry Christmas! May you not lose any packages in the mail this holiday season. (And may they be delivered on time too!)
I hope you get as lit as a tree this year.
It's all fun and games until Santa checks his naughty list.
Merry Christmas! May your happiness be large and your bills be small.
This holiday season, let's make it a point to cherish what's truly important in our lives: cookies.
This Christmas, may your family be functional and all your batteries be included.
'Tis the season for leftovers and stretchy pants. Best wishes during this delicious time. Happy holidays!
Let's make this a December to remember.
May all your sweaters be ugly and bright!
I can't brie-lieve how cheesy this Christmas card is. As always, spreading love and cheer!
"All is calm, all is bright." Whoever wrote "Silent Night" clearly hasn't been to our house on Christmas Eve. Wishing you joy (and peace!) this holiday.
Holiday movie quotes
"Dad, you taught me everything I know about exterior illumination." — National Lampoon's Christmas Vacation
"No matter how different a Who may appear, he will always be welcomed with holiday cheer." — How the Grinch Stole Christmas by Dr. Seuss
"Merry Christmas, ya filthy animal!" — Home Alone 2: Lost in New York
"Come out to the coast, we'll get together, have a few laughs…" — Die Hard
"The best way to spread Christmas cheer is singing loud for all to hear." — Elf
Holiday music lyrics
"Although it's been said many times, many ways, Merry Christmas to you." — "The Christmas Song" by Bob Wells and Mel Tormé
"It's the most wonderful time of the year." — Edward Pola and George Wyle
"All I want for Christmas is you." — Mariah Carey
"The mood is right, the spirits up. We're here tonight and that's enough. Simply having a wonderful Christmas time." — Paul McCartney
"Holidays are joyful, there's always something new. But ev'ryday's a holiday, when I'm near to you." — "Merry Christmas, Darling" by Frank Pooler
Holiday and Christmas quotes
"A lovely thing about Christmas is that it's compulsory, like a thunderstorm, and we all go through it together." — Garrison Keillor
"I prefer the retro chic of spending Christmas just like Joseph and Mary did — traveling arduously back to the place of your birth to be counted, with no guarantee of a bed when you get there." — Tina Fey
"I am not 100% certain what a sugarplum is, but for a few weeks every year I've got visions of them dancing in my head anyway." — Jane Green
"We make a living by what we get, but we make a life by what we give." — Winston Churchill
"I will honor Christmas in my heart, and try to keep it all the year." — Charles Dickens
"Christmas is not a date. It is a state of mind." — Mary Ellen Chase
"I'm dreaming of a white Christmas; with every Christmas card I write. May your days be merry and bright, and may all your Christmases be white." — Irving Berlin
"Christmas waves a magic wand over this world, and behold, everything is softer and more beautiful." — Norman Vincent Peale
"Christmas is the season of kindling the fire of hospitality in the hall, the genial flame of charity in the heart." — Washington Irving
"At Christmas, all roads lead home." — Marjorie Holmes
"I wish we could put up some of the Christmas spirit in jars and open a jar of it every month." — Harlan Miller