Add a Little Festive Flare To Your Favorite Treat
Even if you're not quite a master chef, you can still make cupcakes look professional-quality and appropriate for the season. With a little help from these printable decorations, you can make use of the cupcake decorating ideas below and whip up a batch of holiday cupcakes that will delight guests and family members alike.
Simply print out the decorations here and add a little extra holiday flair to your favorite treat. Harry & David Cupcakes can be re-wrapped and decorated with these printables, and it's just as fun when baking your own.
Print-Out Cupcake Wrappers
These easy printable cupcake wrappers feature two different patterns styled after our own packaging designs. You might recognize familiar patterns from our holiday gift boxes and towers. Just wait for your cupcakes to cool, cut out the wrappers, put them around the base of your cupcakes, and enjoy!
Printable Cupcake Toppers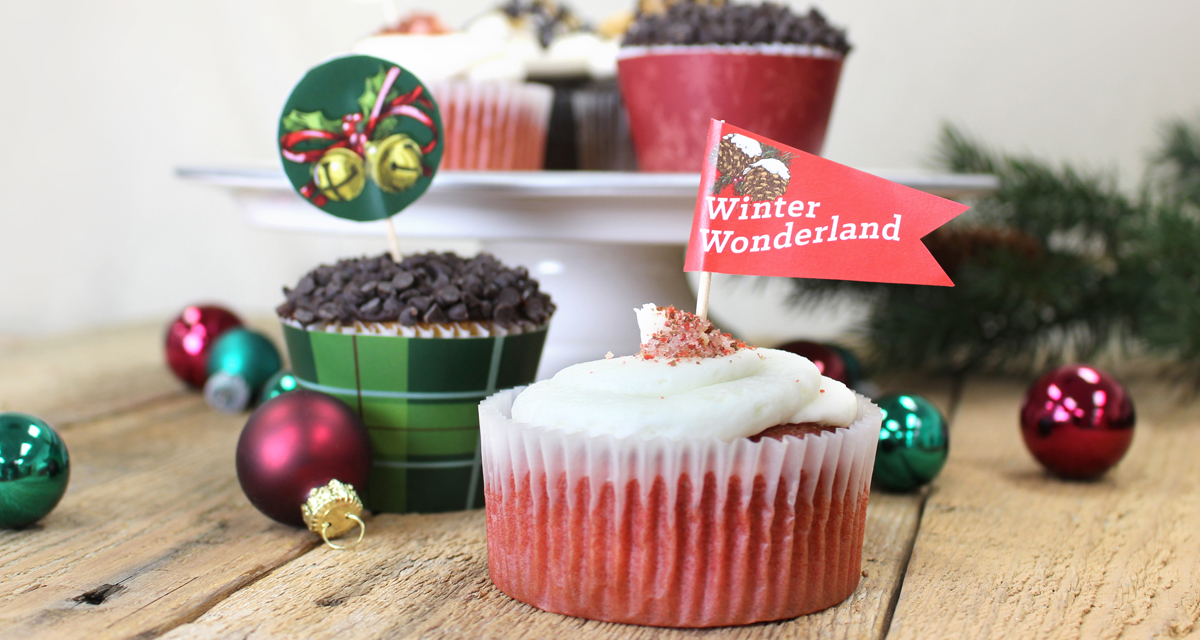 For even more holiday fun, get yourself some toothpicks and press them into the top of each cupcake. Print out this sheet of printable cupcake toppers, and affix them to your toothpicks. The cupcake buttons display pictures of Santa Claus, reindeer, sleigh bells, and pinecones, backed with seasonal colors. To accompany them, the cupcake flags feature complimentary colors and holiday greetings.
You can make cupcake decorating more festive by cutting them out individually, mixing-and-matching so that no two cupcakes are alike.
If you want to truly get into the holiday season, check out our other paper crafts and printable holiday coloring pages. Our Nordic series features polar bears, mittens, and mistletoe, while the Blue series has simple, elegant snowflake-patterns and blue, grey, and gold decor. Our Holiday collection features similar designs to this cupcake decorating kit, and can help you make your home holiday-ready with printable gift tags and paper chain decorations.