When I think of things that represent Easter, my favorite spring flower, the tulip, comes to mind. Then there's the Easter bunny's favorite food, carrots. And what would Easter be without Easter eggs??? Put them all together and what do you get? A fresh, fun, and creative cocktail, centerpiece, and sweet treat that are perfect for an Easter brunch.
Signature seasonal cocktail
A signature craft cocktail is always on my holiday entertainment menu. This beverage incorporates the fresh vegetables and flavors of the season, making it perfect for your Easter gathering. And with nearly a full day's serving of carrot juice in each glass, it's not only delicious but is packed with vitamins and minerals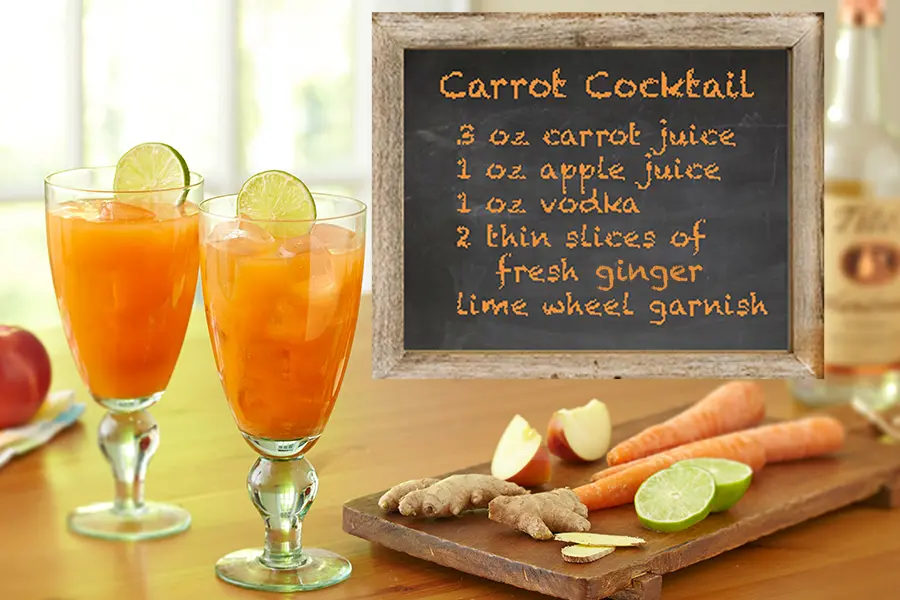 Carrot and Ginger Cocktail
Ingredients:
2

fresh ginger

(thinly sliced)

3

ounces

carrot juice

1

ounce

apple juice

1

ounce

vodka

lime wheel

(for garnish)
Instructions:
Muddle the ginger slices in the bottom of a cocktail shaker.

Add the carrot juice, apple juice, and vodka.

Shake well for about 10 seconds.

Pour over ice.

Garnish with a lime wedge.
Notes:
You can make fresh carrot and apple juice or buy organic prepared juices.
Fresh spring centerpiece
Incorporating seasonal fruits and vegetables into your tablescapes and floral designs takes them from pretty to pretty spectacular! A great starting point is the Baby Vegetable Gift Box or Baby Vegetables Crate. Brimming with the finest seasonal produce available, either one is the perfect gift for the vegetable connoisseur in your life. And if that person is you, get it for yourself!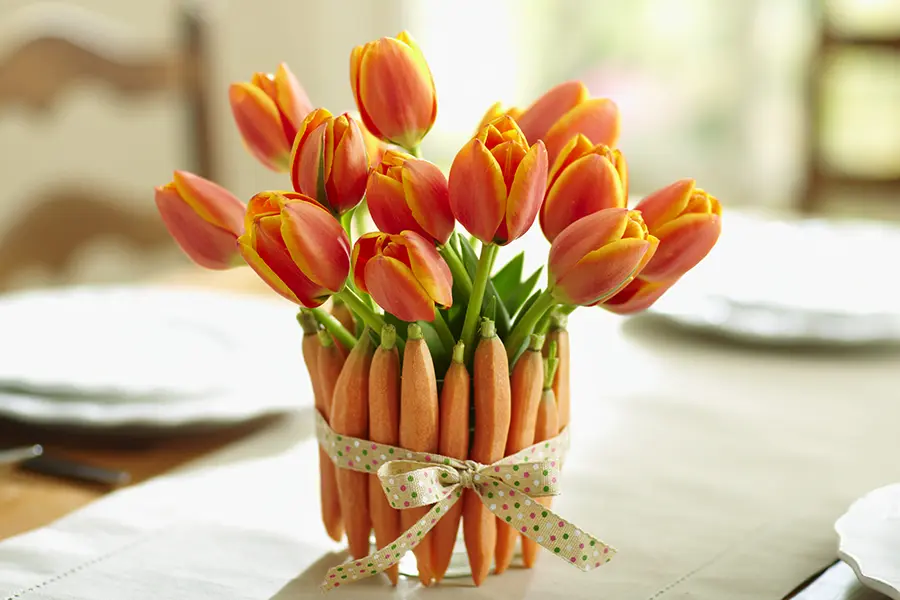 There's something about miniatures that gets me every time, and these carrots are no exception. They're the perfect size to fit around a lowball glass to create one-of-a-kind arrangements. Simply put a rubber band around the glass and insert the carrots between the glass and the rubber band, and continue until the glass is completely covered.
Tie a coordinating ribbon around the vase to cover the rubber band. You can also use a piece of fabric, raffia, or twine.
Creating asparagus vases using this same technique is one of my go-tos in the springtime.
Everyone is always so impressed with the final arrangement, and they're even more impressed when they see how easy it is to make.
Even if you're pressed for time, you should always have flowers on your table when entertaining. And there is no easier arrangement to make than filling a favorite vase with beautiful, fresh-cut tulips. It's so easy, it's almost like the tulips arrange themselves!
Sweet Easter carrot-themed treats
I love carrot cake! It's the first thing that comes to mind when I think of carrots for dessert. It's so decadent, with that delicious cream cheese frosting. But there are many more carrot-themed desserts available this time of year from the 1-800 Flowers family of brands, including Buttercream Frosted Carrot Cake Cookies, Foil Wrapped Chocolate Carrots, and Hoppy Easter Dipped Strawberries.
If you have the time and want to make your own chocolate-dipped strawberries, follow my instructions below. Just don't expect them to turn out as good as the ones from Shari's Berries! They've been perfecting the art of dipping strawberries into melted candy for over 30 years! Still, it is a fun project to do at home.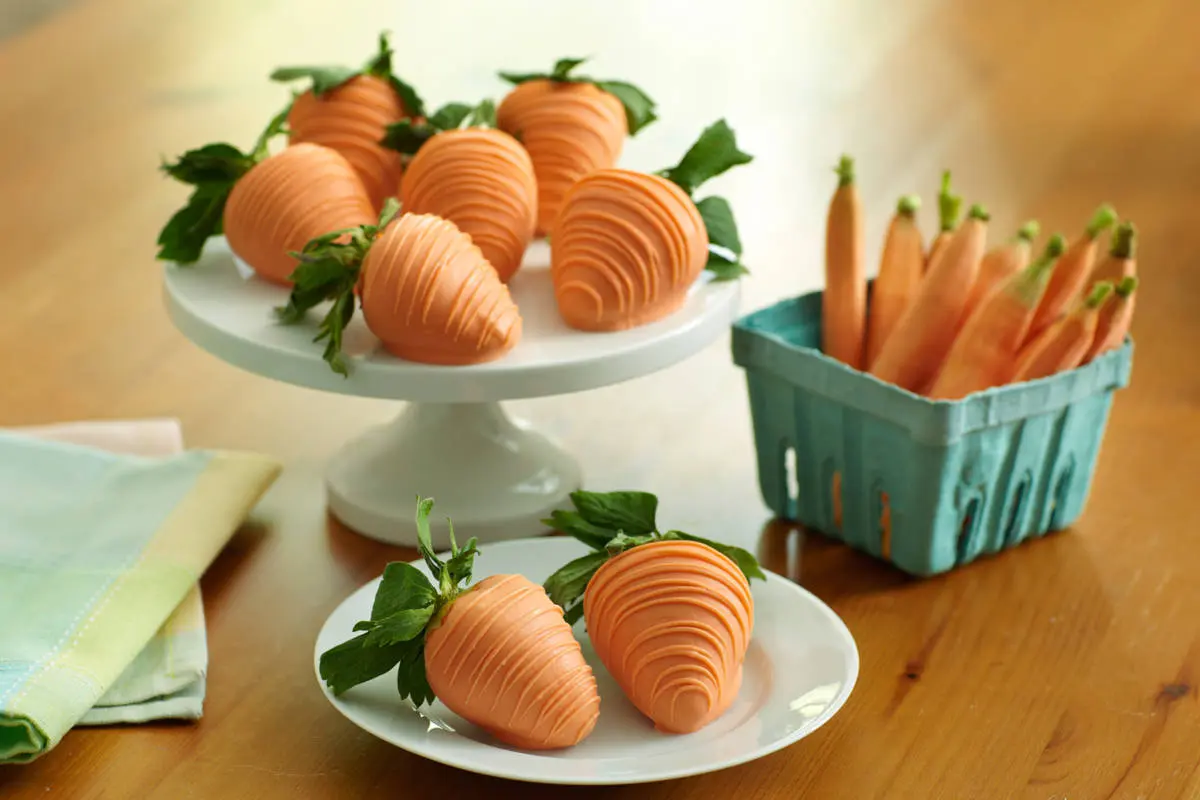 'Carrot' Strawberries
Equipment:
Double boiler

Skewers

Candy melting machine

(optional)
Ingredients:
24

strawberries

(medium to large)

12

ounce

orange candy melts

(1 bag)
Instructions:
Prepare the strawberries for dipping by rinsing and thoroughly drying them. Lay the strawberries out on a paper towel and place another towel over them and gently press. Let them lie out for a bit before dipping, as it is important that they are completely dry.

While the strawberries are drying, melt the chocolate in a double boiler, microwave, or candy melting machine.

Start with about a cup of melts, stirring constantly until melted. Turn down or remove from heat and add more candy melts as needed, stirring them in until they are melted. Doing it this way helps to keep your candy from overheating, and prevent it breaking down and taking on a thick, chalky consistency.

Remove the stems before dipping. Insert a wood skewer into each strawberry, dip the strawberry in the melted candy, and place it on a piece of parchment paper to cool and set. (Note: If you are not adding the faux leaves, you do not need the skewers. Leave the stems on the berries and use them to hold onto as you dip the strawberries in the melted chocolate with your hands.)

Take a stem of faux greenery that has multiple stems/leaf clusters and use clippers or wire cutter to cut small sprigs.

Once the candy is completely cool, remove the wood skewer and insert a sprig of greenery into the strawberry.

Continue doing this until all the strawberries have a "carrot top."
---