As a dad of three, chef Geoffrey Zakarian knows there's nothing more appealing to a kid's taste buds than a grilled cheese paired with tomato soup. This classic combo is comforting, oozy, toasty, and you can dunk or dip your crusts in the soup for added fun. He takes this classic kid-friendly lunch to new heights using some of his favorite tips and tricks for great texture and flavor for both soup and sandwich.
The first thing you need for a grilled cheese is really good bread. Zakarian uses Wolferman's San Francisco Sourdough English muffin bread for a thick, yet perfectly light bread to encase the cheese. The grilled bread will turn buttery golden brown. Next, Zakarian says, "It's really important to have two [kinds] of cheeses." A blended mix of cheeses that melt quickly, such as sharp cheddar and a mild pepper jack, creates a balanced flavor profile.
More importantly, Harry & David's Chief Culinary Ambassador advises shredding the cheese, rather than stacking slices. "They melt way more evenly, and you get a nice cheese pull!" he says.
Also, when you're assembling the sandwich, make sure you place a heaping mound of shredded cheese in the center for optimum ooze. "You want a lot of cheese!" he says.
Zakarian also suggests slathering a generous, even layer of softened butter on the bread when preparing the sandwich. That will ensure a golden crust once it cooks in the cast iron skillet. Zakarian quotes a chef friend when he says, "Crust to crust is a must!"
But you can't have a grilled cheese on its own. That's why Zakarian pairs his with a roasted tomato soup. For his version, Zakarian recommends San Marzano tomatoes since they are known for their rich flavor and mild acidity. By roasting them on a low heat until they are a deep scarlet color, you'll concentrate their flavor, leaving a complex, rich tomato taste. This dynamic duo appeals to kids and grown-ups alike!
---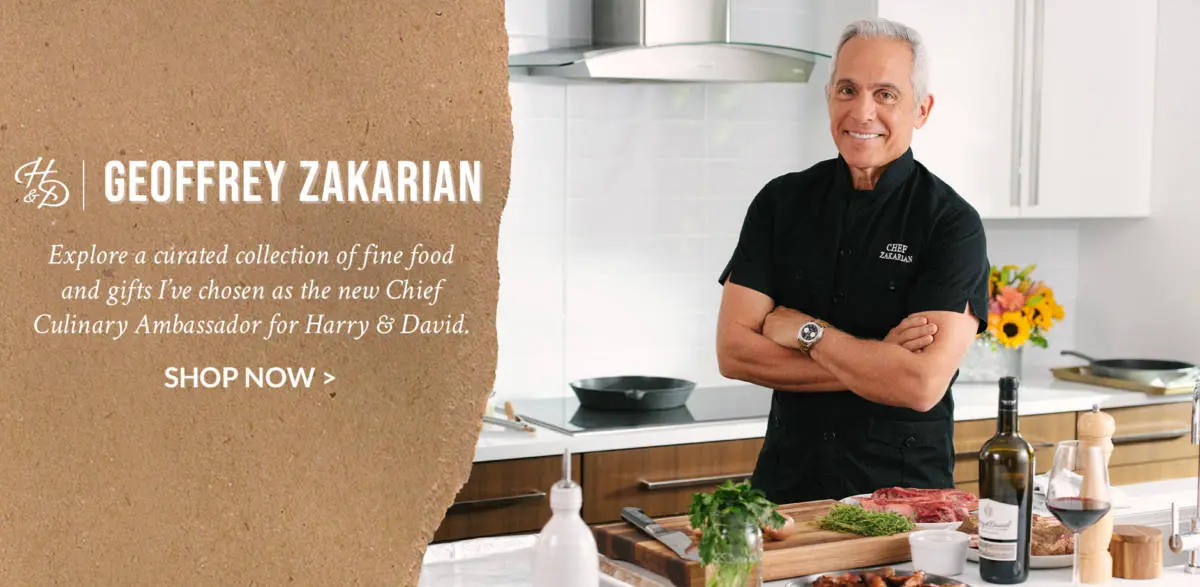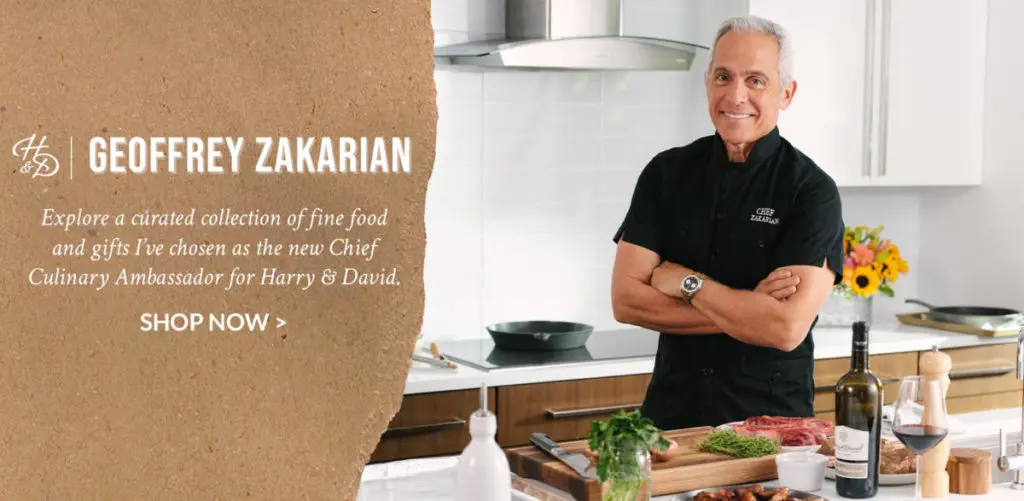 ---
Cast Iron Grilled Cheese
Chef Zakarian recommends using a cast iron skillet as your go-to tool for grilled cheese because it's such a great conductor of heat. Once you have your bread in the pan (with the bottom slice fully slathered with butter), top off your second slice with more butter — remember "crust to crust." But don't press down. "You just let it hang out and cook. It takes about five minutes a side, and then the cheese is going to slowly melt," he says. And, before serving, use a serrated knife to cut your sandwich. "Because if you don't, you push it [and] the cheese will come out the side. You want to saw," he says.
Equipment:
10-inch cast iron skillet
Ingredients:
1

stick

softened butter

(divided, or more as needed)

4

ounces

sharp white cheddar cheese

(shredded, divided)

4

ounces

pepper jack cheese

(shredded, divided)
Instructions:
Heat a large cast iron skillet over medium-low heat.

Evenly spread one side of the bread from crust to crust with a generous amount of butter.

Place four slices of bread in the pan, butter-side down, and top each with a generous mound of shredded cheese. Top with the other slices of bread, and butter that them too, from crust to crust. (Work in batches if your pan only fits two pieces of bread.)

Cook the sandwiches for a few minutes, until the bottom is golden brown, 4-5 minutes. Flip the sandwiches and cook for a few more minutes, until the other side is also golden brown, and the cheese is melted. Cut in half with a serrated knife and serve.
---


---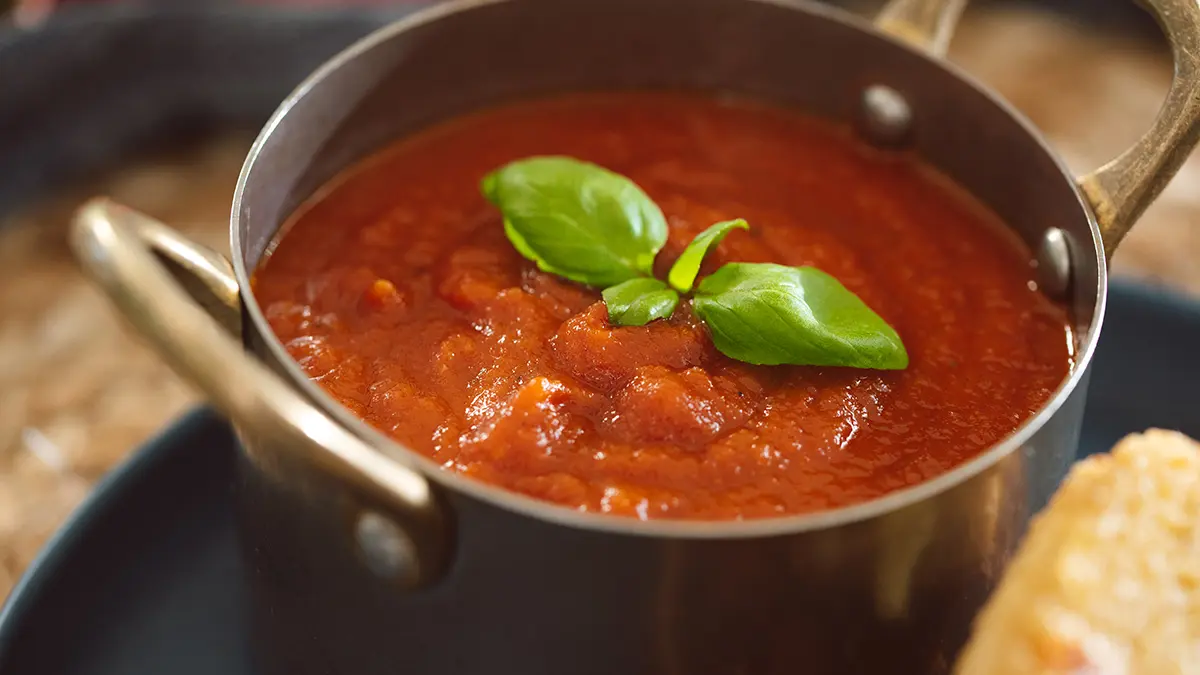 Oven Roasted Tomato Soup
Fresh basil and a drizzle of extra-virgin olive oil offer more aroma and let you know this classic kid lunch isn't "kidding around!"
Ingredients:
2

cans

whole tomatoes in juice

(28-ounce, preferably San Marzano)

½

cup

extra-virgin olive oil

(divided, plus more for drizzling)

1

yellow onion

(finely diced)

2

carrots

(peeled and finely diced)

2

celery stalks

(peeled and finely diced)

2

tablespoons

sugar

2

tablespoons

garlic salt

2

teaspoons

crushed red pepper flakes

1

teaspoon

celery salt

2

bay leaves

¼

cup

fresh basil leaves

(thinly sliced, for garnish)
Instructions:
Preheat the oven to 300° F. Drain the tomatoes, saving the juice. Place the tomatoes on a foil-lined sheet pan and drizzle with olive oil. Roast for 2 hours, turning occasionally, until deep scarlet red in color.

In a Dutch oven or large soup pot, heat 1⁄4 cup of the olive oil over medium heat. Add the onion, carrots, and celery, and sauté until softened, about 10 minutes.

Add the roasted tomatoes, reserved tomato juice, remaining 1⁄4 cup olive oil, sugar, garlic salt, pepper flakes, celery salt, and bay leaves. Simmer for about 30 minutes to thicken, stirring occasionally. Let cool for about 5 minutes. Remove and discard the bay leaves. Puree the soup in the pot with an immersion blender until smooth, or transfer to a regular blender and puree.

Serve with an additional drizzle of olive oil and fresh basil leaves.
---
Chef Geoffrey Zakarian has teamed up with Harry & David to share his passion for fine food, entertaining, and healthy living. The Iron Chef known for his award-winning restaurants, TV appearances, and podcasts will wear another type of toque: Chief Culinary Ambassador for Harry & David. In this role, Zakarian will curate a collection of Harry & David products that reflect his philosophy and approach to cooking and entertaining. He will also share his insights and advice in Harry & David's digital magazine, The Table, and host in-person and virtual events.