I love bbq snacks that feature a hint of spice, and one of my favorite ingredients to use to kick things up a notch is Harry & David's Original Oregon Trail Barbecue Sauce. Made with molasses, turmeric, mustard seed, paprika, and horseradish, this sauce packs a lot of flavor.
One of the best things about using barbecue sauce is that you don't need to season your dishes with anything else — the sauce brings all the sweet, savory, and smoky flavor you need. And with the summer months always being so busy at my house, these three delicious bbq snacks are perfect for when I need a meal on the go.
BBQ Roasted Chickpeas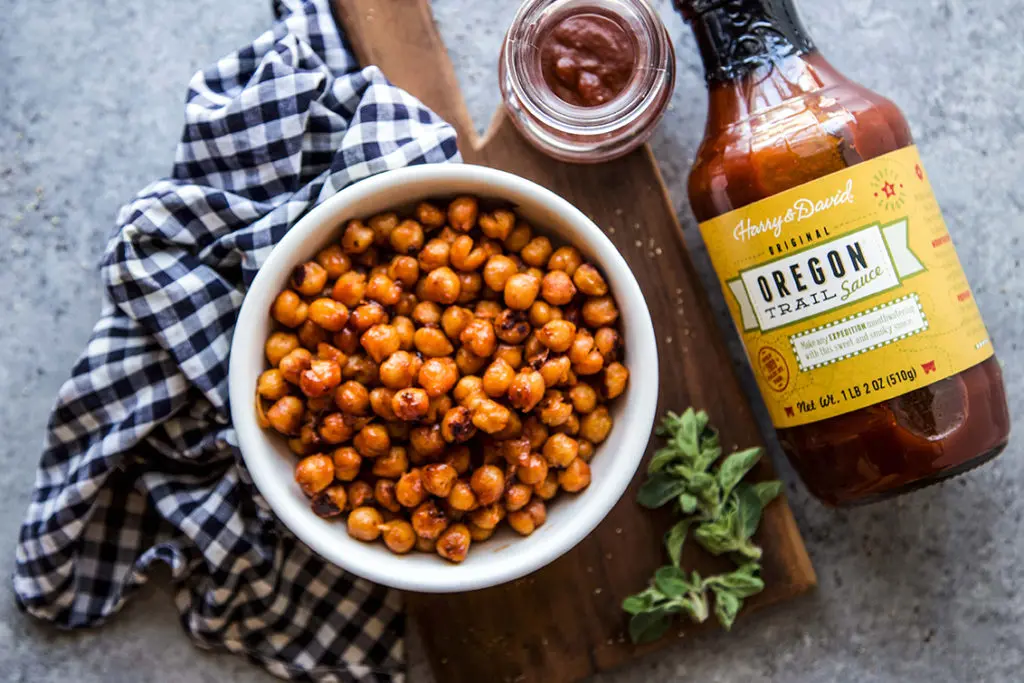 These roasted chickpeas are a simple, high-protein snack that comes together quickly. They're great on their own (I eat them by the handful) and are also a tasty option to put on top of salads.
Chickpeas go great with barbecue sauce because they absorb all the flavor of the condiment when you roast them in the oven. Pro tip: If you want a super crispy chickpea, remove the casing beforehand. It's not a must, but it will definitely add more crunch. This snack is also very versatile. Since it only requires a couple of ingredients (a can or two of chickpeas and a few tablespoons of barbecue sauce), and has a short cooking time (15 minutes in the oven), these can be quickly made for an after-school snack, make-ahead appetizer, or side dish for your next backyard party or summer road trip.
BBQ Cheese Dip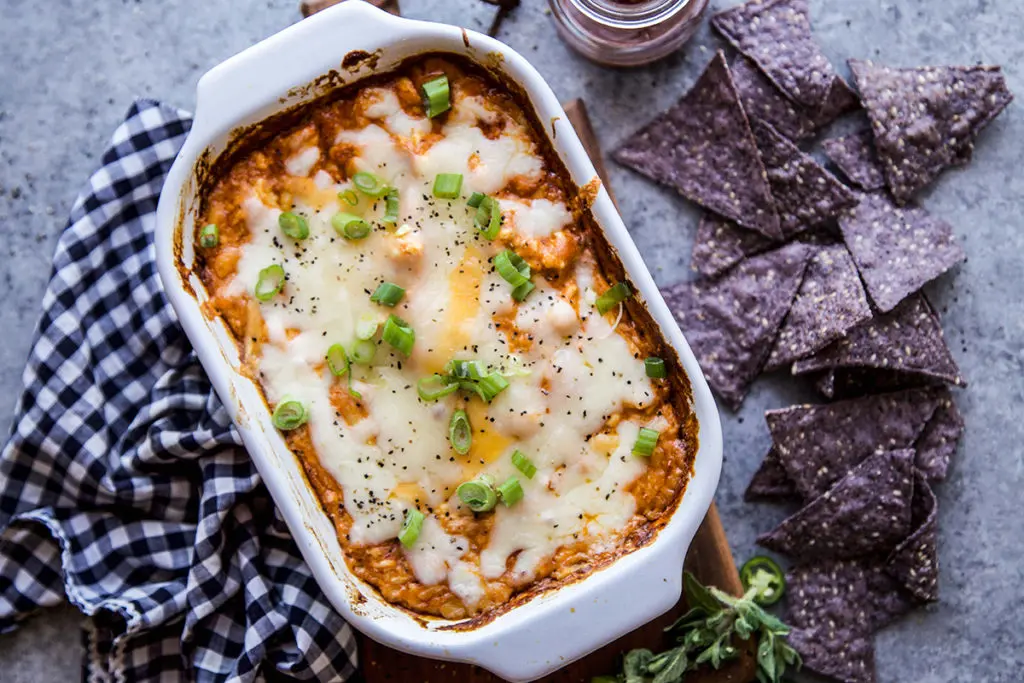 Cheese dip is a no-brainer for anyone who loves cheese or craves a delicious dipping sauce for chips at their next Taco Tuesday. A good dip is always a crowd-pleaser, particularly if you have kids that need a snack and need it fast. The best part is you can make it in the same bowl that you serve it in, so the cleanup afterwards is minimal.
After baking until it's golden and bubbly, the dip is ready to serve with chips, celery sticks, carrots, peppers, or whatever your favorite food is for dipping. You can even make the dip ahead of time, and if you have leftovers (I normally don't!) you can easily reheat it in the microwave or oven.
BBQ Chicken, Celery, & Blue Cheese Skewers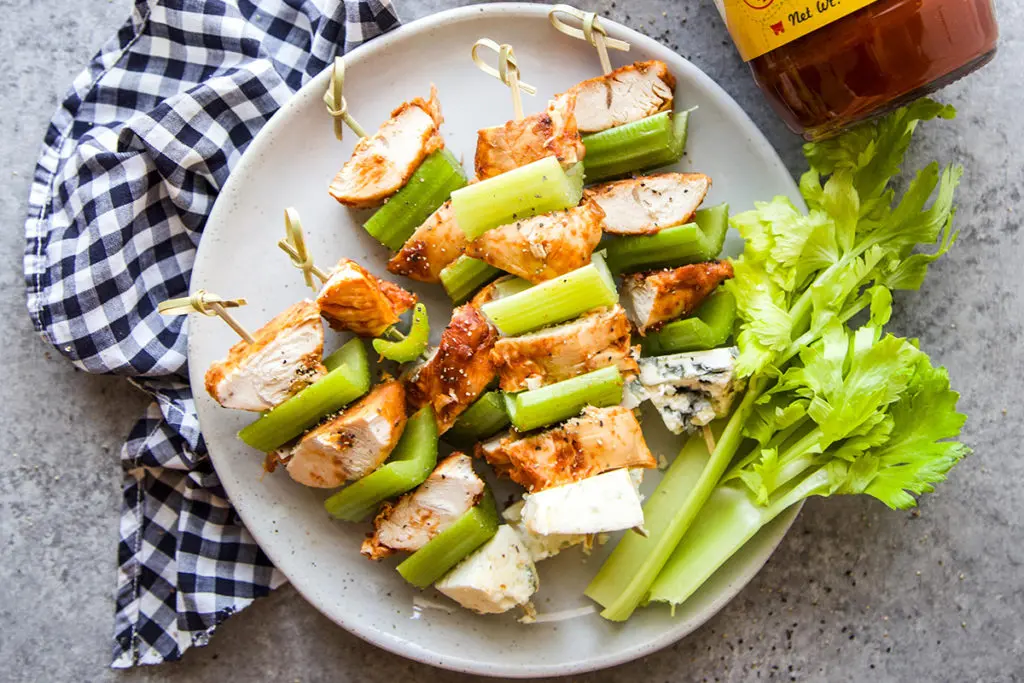 These skewers are a fun twist on classic barbecue chicken wings that still hold all those tried-and-true flavors. You'll make these with baked chicken tenders — covered in barbecue sauce, of course — but they're meant to be eaten cold. The richness of the sauce combined with the crunch of the celery and the creaminess of the blue cheese makes for an out-of-this-world mix of tastes and textures. It's also a creative way to repurpose BBQ chicken leftovers. These hold up in the fridge, too, which means they're meal prep-friendly and a great make-ahead dish for your next backyard barbecue.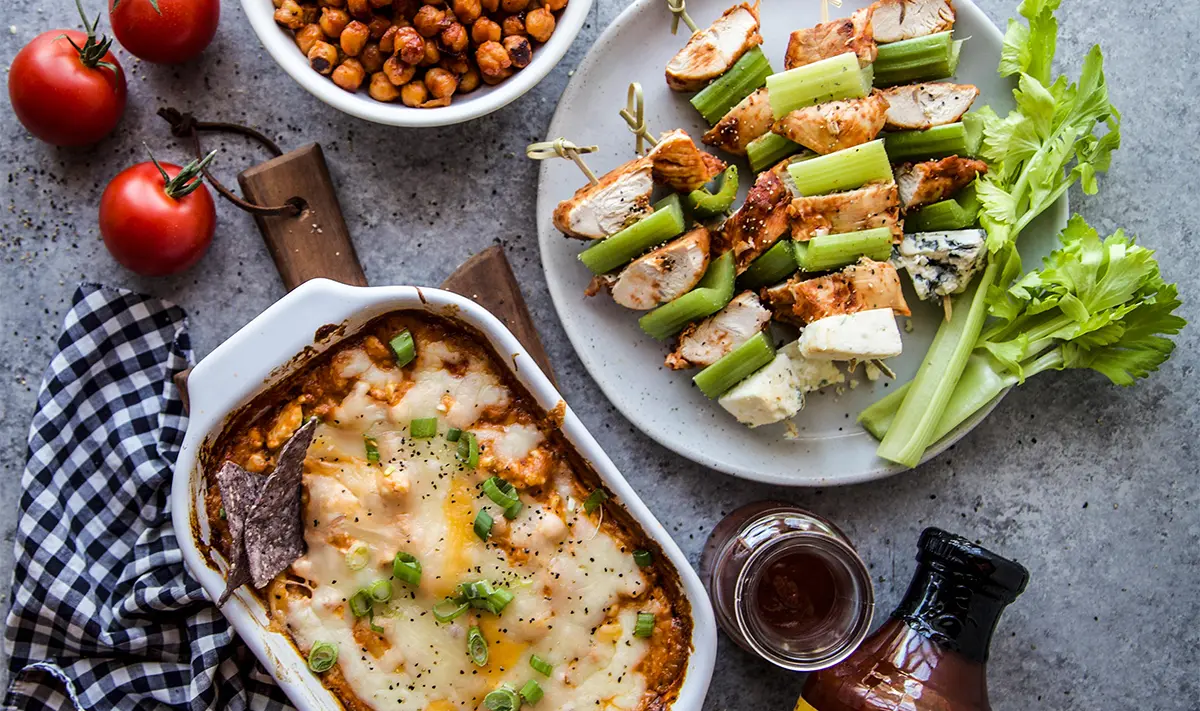 BBQ Snacks
Ingredients:
For the BBQ Roasted Chickpeas:
For the BBQ Cheese Dip:
1 8-

ounce

cream cheese

(room temperature)

½

cup

ranch dressing

2

cups

shredded Colby jack cheese

½

cup

shredded mozzarella

Green onions sliced

(for garnish)
For the BBQ Chicken, Celery, & Blue Cheese Skewers:
Instructions:
For the BBQ Roasted Chickpeas:
Preheat oven to 400° F. Spray a baking sheet with non-stick cooking spray.

Spread the chickpeas out onto a towel and gently pat dry.

Place the chickpeas on the baking sheet and spread into an even layer. Roast them for about 10 minutes.

Remove the chickpeas from the oven, toss with olive oil and barbecue sauce, then return the baking sheet to the oven and continue to roast chickpeas for another 10 to 12 minutes, gently shaking the pan halfway.

Remove the chickpeas from the oven and let them cool before serving.
For the BBQ Cheese Dip:
Preheat your oven to 350° F.

In a mixing bowl, combine the cream cheese, barbecue sauce, ranch dressing, and Colby jack cheese.

Coat a small casserole dish with non-stick cooking spray. Spread the mixture into the dish.

Bake for 20 to 25 minutes. Remove and top with mozzarella. Continue to cook for about 5 more minutes or until golden brown on top. Garnish with green onions.
For the BBQ Chicken, Celery, & Blue Cheese Skewers:
Preheat oven to 400° F. Line a baking sheet with foil and spray with non-stick cooking spray.

Place the chicken tenders in a large mixing bowl and add the barbecue sauce. Toss until the chicken is evenly coated.

Place the sauce-covered chicken on a baking sheet and then into the oven to cook for 15 to 20 minutes. Remove chicken from the oven and cool completely before slicing into one-inch cubes.

Take a piece of chicken and thread it onto the skewer, followed by a piece of celery. Repeat two more times.

Top the skewer with a chunk of blue cheese.

Repeat until all skewers have been completed.
---