In "Cooking up Comfort" we're walking you through all the classics, whether you want to curl up with soup on a rainy afternoon or bake something delicious to celebrate the weekend. This Overnight Eggs Benedict Casserole comes from Lauren Grier of The Curious Plate. It's hard to go wrong with Wolferman's sourdough English muffins enveloping delicious egg custard and Canadian bacon.
Take a warm, toasted, crunchy canvas, such as Wolferman's Signature Sourdough English Muffins, and layer it with slivers of lean, sweet Canadian bacon. Next, perch a perfectly oozing poached egg on top of each half and bathe them in a rich, hollandaise sauce. Now that's what we call a comforting, irresistible, and eggs-travagant breakfast (or brunch). We also call it eggs Benedict!
The origins of this classic eggs Benedict preparation harken back to Delmonico's in New York City. Established in 1837, Delmonico's is widely regarded as America's first fine dining restaurant. Fun fact: This Manhattan institution also may have "invented" the New York strip steak. And it was also the first restaurant to allow unaccompanied women to dine at it, as well as the first to print paper menus! Ah, paper menus. Those were the days. But I digress.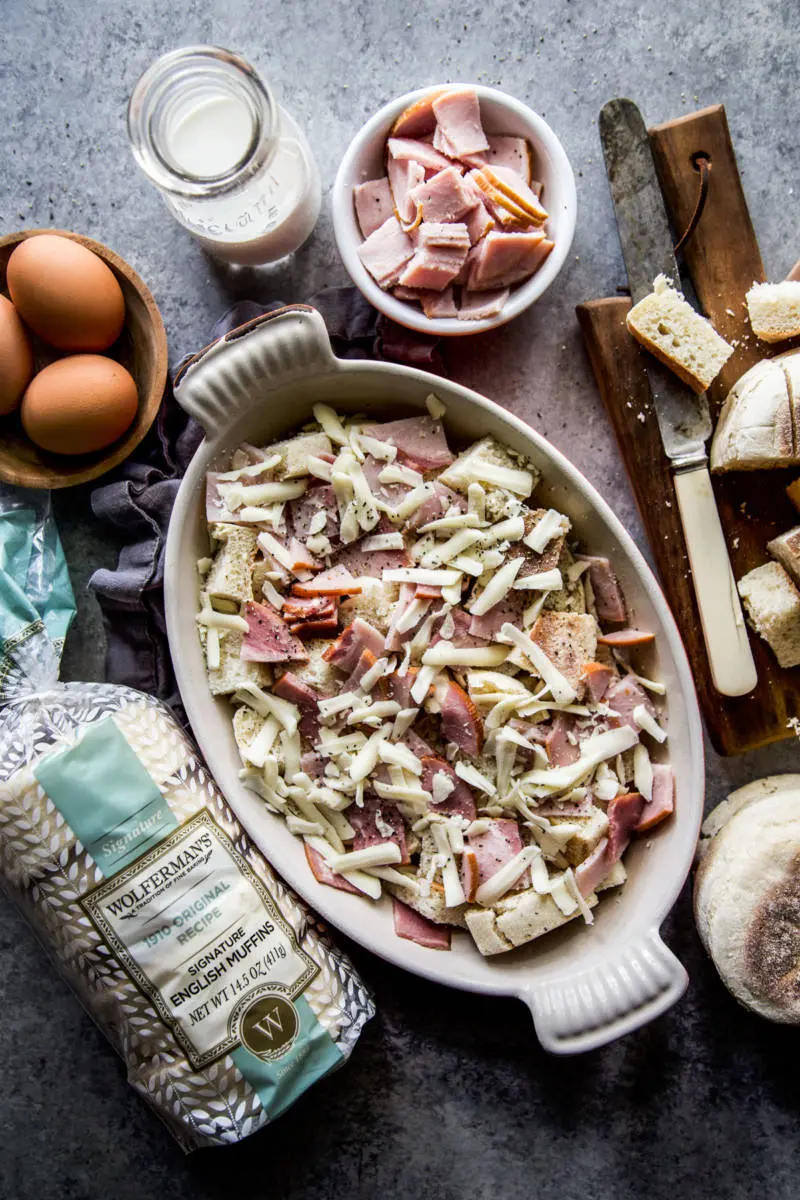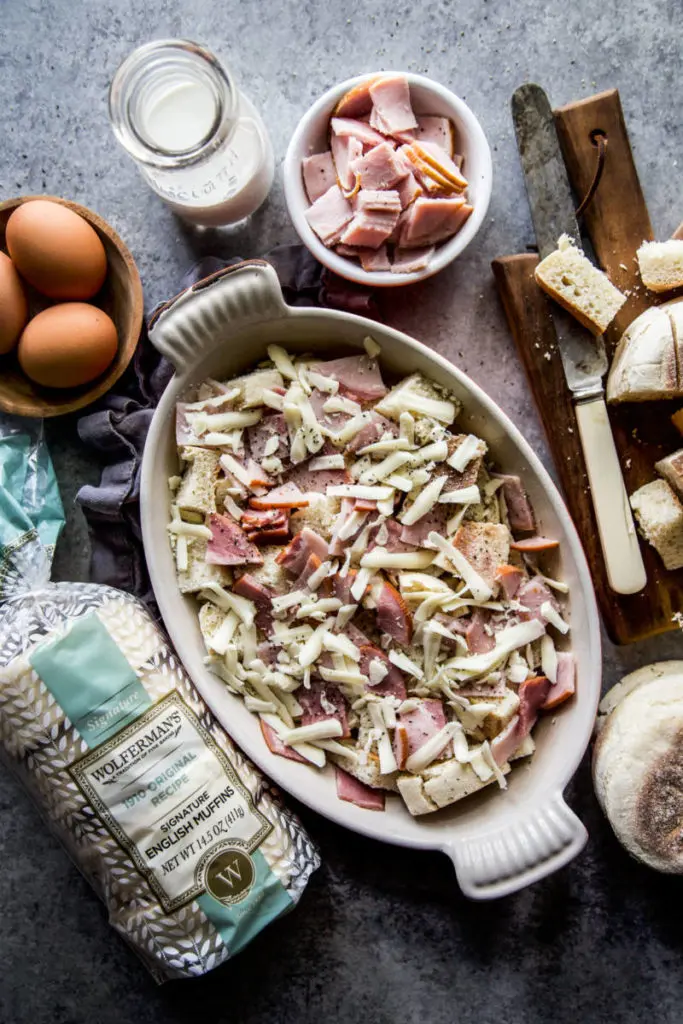 In addition, Delmonico's claims to be the first to offer this favorite, year-round brunch classic. The story goes that, some time during the 1860s, Mrs. LeGrand Benedict, a regular guest of the restaurant, had grown tired of the menu offerings and requested its chef, Charles Ranhofer, create for her a new dish, and voila! Eggs a la Benedick was born. Later, Ranhofer's recipe for Eggs a la Benedick was published in 1894 in The Epicurean, the master chef's encyclopedia of the culinary arts and recipes.
With this eggs Benedict casserole, we've kept the classic crave but eliminated the labor so you don't feel like a short order cook. You can compose this luscious overnight casserole the day before and bake it the following day to please a weekend brunch crowd, or create a special breakfast get-together.
Wolferman's sourdough English muffins are key, their thick, fluffy texture beautifully absorbing all that delectable egg custard flavor. And for an even better custard, I suggest using half-and-half. You can use regular milk, but I would supplement it with extra whipping cream, as the extra fat will help the custard set.
Sauce for 'daise
To simplify this recipe, use a packet of Wolferman's hollandaise sauce. If you can't get your hands on one, you can make your own sauce using a blender. Simply pulse together four egg yolks, a half cup of heavy cream, 2 tablespoons of fresh lemon juice, and 2 teaspoons of Dijon mustard, and then add a half cup of melted butter in a steady stream until the hollandaise sauce thickens. Pour the sauce into a saucepan and keep over low heat (not too hot or it will separate), stirring occasionally, until ready to serve. When you're ready to eat, pair the casserole with assorted pastries, fresh fruit, and a big carafe of coffee.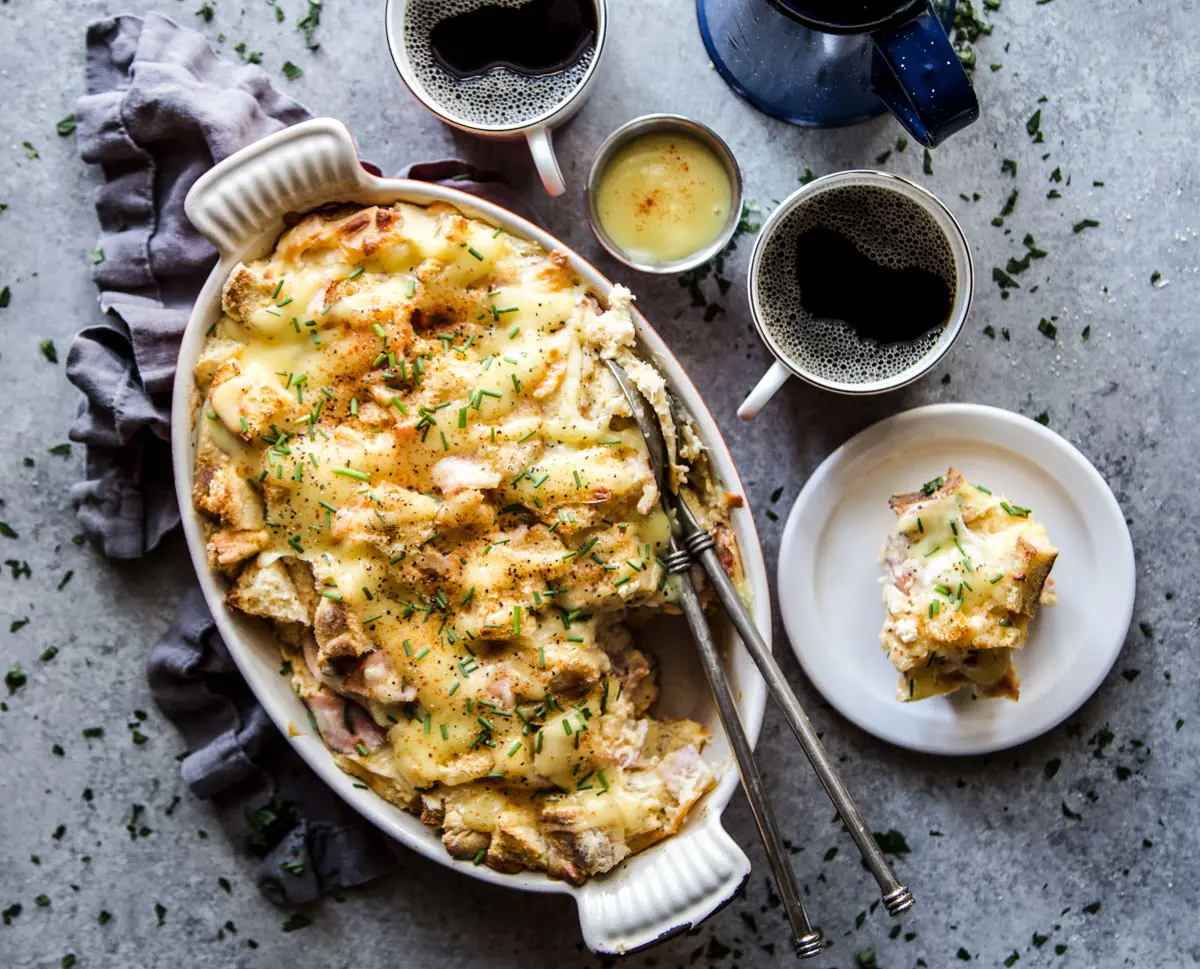 Overnight Eggs Benedict Casserole
Ingredients:
6

Sourdough Wolferman's English Muffins

(cut into 1-inch cubes)

12

ounces

Canadian bacon

(diced)

2

cups

shredded white cheddar cheese

(divided)

8

large eggs

2

cups

half-n-half

1

teaspoon

ground mustard

½

teaspoon

garlic powder

½

teaspoon

onion powder

¼

teaspoon

dried thyme

1

teaspoon

ground pepper

1

teaspoon

kosher salt

2

tablespoon

unsalted butter

1

packet

Wolferman's Hollandaise Sauce mix

⅔

cup

water

paprika

(for garnish)

fresh chives

(chopped, for garnish)
Instructions:
Turn on your broiler.

Spray a 9×13 baking dish with non-stick cooking spray.

Place the cubed English muffins on a baking sheet and set under the broiler for a few minutes to get nice and toasty.

Take half of the toasted English muffin cubes and place them into the baking dish. Top with half of the Canadian bacon and 1 cup of shredded cheese. Repeat process, ending with the cheese.

In a medium mixing bowl, whisk together the eggs, half-n-half, salt, pepper, mustard, garlic powder, thyme, salt, and pepper. Pour the egg mixture over the cheese in the baking dish. Using a spatula, gently press down to make sure everything is well coated. Cover with plastic wrap and chill overnight.

When you're ready to bake preheat your oven to 375° F. Remove the casserole from the fridge at least 15 minutes prior to baking. Remove the plastic wrap and cover with foil. Bake covered for about 30 minutes, then uncovered for an additional 15 to 20 minutes, or until golden on top and a knife inserted into the center comes out clean.

While the casserole is in the oven, go take a sneak peek the parade, then go make the hollandaise sauce. In medium saucepan melt the butter over medium heat. Pour in the hollandaise packet mix and stir. Gently pour the 2/3 cup of water into the saucepan and keep whisking until the hollandaise sauce has thickened about 3 to 5 minutes. Set aside.

Remove the casserole from the oven and drizzle the hollandaise sauce. Garnish with paprika and fresh chives.
Notes:
If you have time and real estate in your fridge, you can make this casserole at least 2 days in advance.
---