Many sommeliers, including myself, say fall is their favorite season for food and wine pairings. That's partly because of the comforting and nostalgic flavors they bring to mind, but also because autumn has the most diverse range of food, gatherings, and ingredients to pair with wine. Here are four of my favorite food-and-wine pairings for the fall.
Harry & David Royal Crest Blend
The Royal Crest, Harry & David's version of a red Bordeaux blend, features a complex but still well-balanced flavor profile. The wine presents juicy red and dark fruit flavors — ranging from raspberry to dark cherry and blackberry — that sit nicely over the subtle spice and vanilla from the oak barrels in which the wine was aged.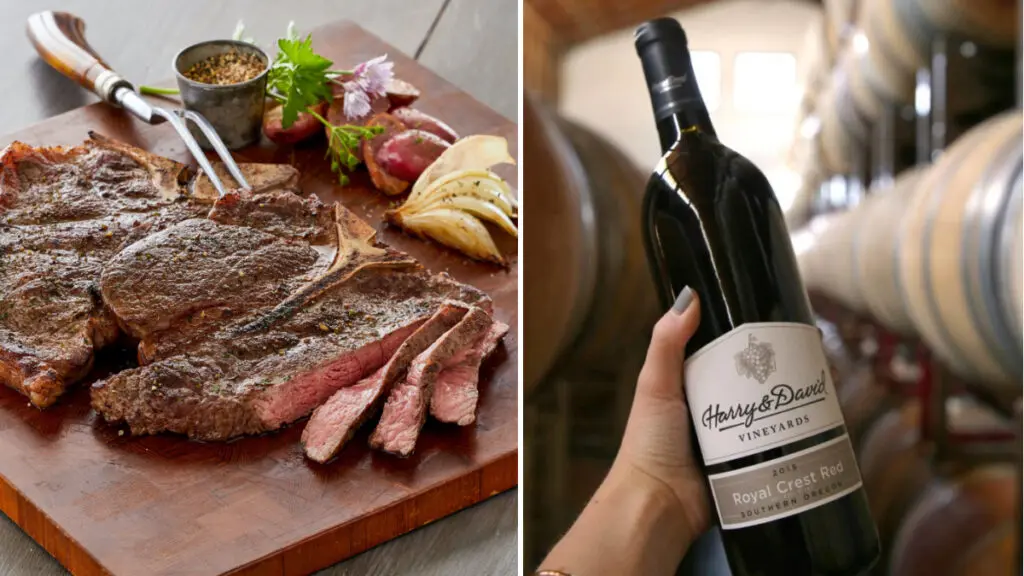 Bordeaux red wines generally pair well with lamb, but this slightly riper version from Southern Oregon worked better than a number of my French standbys with two of my favorite lamb preparations: a rosemary, thyme, and garlic roasted rack of lamb and a simple grilled lamb porterhouse. The aromatics from the herbs and garlic integrate seamlessly with the flavor profile of the Royal Crest, while the lamb's gaminess and the juiciness from the fruit play off each other nicely.
The porterhouse can be seasoned with just olive oil, salt, and pepper before it's put on the grill. Or get creative and try an initial pan-seared pepper crust or a flash sear with that same thyme, rosemary, and garlic combo from the rack before throwing it on the grill. I also recommend chilling this wine for 15 to 20 minutes before drinking. Yes, that's right — it's OK to chill red wine.
Harry & David Cabernet Sauvignon/Cabernet Sauvignon Reserve
These two wines are a great example how the same grape can yield different results with slight changes in the winemaking process. The base-level cabernet (not the reserve) has all the dark fruit and plush texture you expect from this varietal but presented in an easy-drinking, approachable style.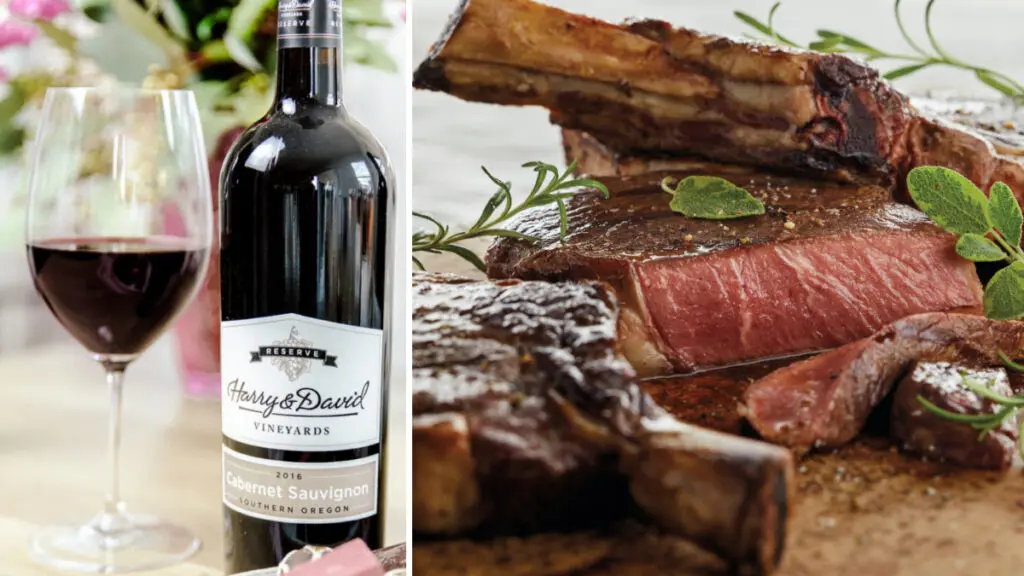 The reserve brings a whole lot more to the table in terms of bold flavor, with ripe blackberry and currant fruits and a full-bodied texture. Extra oak aging helps bring more vanilla, spice, and cedar to the party.
In terms of pairing, the base-level cabernet is a great choice for leaner cuts like tenderloin tips or a barrel-cut filet mignon, because these are more about texture than flavor. This version of the cabernet doesn't overpower the subtle flavors while adding little bursts of fruity goodness with each sip between bites.
---
---
For the reserve, try a fattier cut like a porterhouse, or Chicago-cut bone-in ribeye. These pair better with a full-bodied wine that has more concentrated fruit flavors and more tannin (the stuff in red wine that makes your tongue dry). Obviously, no steak dinner is complete without a proper baked potato, and the Supreme and Signature Twice Baked Potatoes pair perfectly with both of these wines.
Harry & David Pinot Noir
I don't often eat duck, but when I do, it's with a pinot noir. These two are a great pair because the earthiness of the wine tempers the gamy flavors from the duck, while the fruit and acidity refresh your palate between bites.
This time I went with a hickory-smoked Peking duck that you can do a lot of different things with, in terms of style and how to serve — you could go classic Chinese and get some thin Mandarin pancakes to wrap it up in, or go south of the border and make deliciously smoky duck tacos or quesadillas. I went with a traditional French preparation, making a quick red wine reduction with the pinot noir and roasting up some white asparagus. Put a slight chill on the wine, too — 20 minutes in the fridge is all it needs.
Harry & David Pinot Gris
A good fall white wine should start with a medium to full body and bold secondary flavors (not fruit). This pinot gris checks both of those boxes and more with its foundation of bright acidity and spicy, slightly savory finish. While many sommeliers like to pair Oregon pinot noir with salmon (especially during the early fall salmon season), this Oregon pinot gris works just as well. The wine's full body is a great match for the richness of the salmon, and the clean, slightly spicy finish plays back and forth with subtle flavor from the fish on your palate for longer than expected after each bite.