The holidays are all about family, and nothing brings all the generations together like food! In "Homespun Holidays" we explore recipes perfect for new family traditions, shareable plates for your next holiday get-together, and small-batch desserts and sides for more intimate gatherings. In this article, chef Jennifer Iserloh shares her recipe for flourless chocolate cake. It's rich and decadent, and since it's sans flour also, it's Passover-friendly.

Passover desserts cannot have any leavening agents, to symbolize the Israelites' exodus out of Egypt, leaving with bread that did not have time to rise. Because of this, Passover desserts — we're looking at you, coconut macaroons — have a reputation for being extremely dry. When speaking of this holiday's treats, it's rare to even utter "delicious" and "Passover-friendly" in the same sentence.
This flourless chocolate cake is so sinfully rich and thick and decadent it should be one of the Ten Commandments: Thou shalt eat this for Passover… and year-round.
And it's as easy to make as your standard brownie recipe. To grease the pan, you can use the remaining butter clinging to the butter's paper wrapper — a thrifty tip my grandmother taught me — or stick to good old nonstick spray. You can choose to cut this cake into eight wedges to satisfy the serious chocoholics or 10 to create more elegant, slender slices.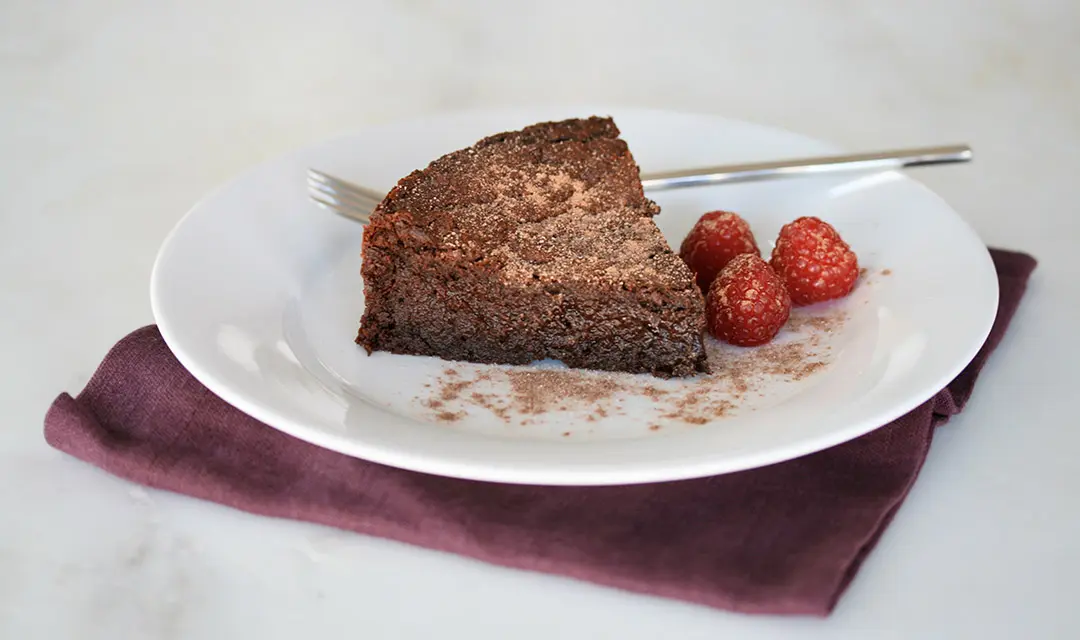 Flourless Chocolate Cake
Chef Jennifer Iserloh shares her recipe for flourless chocolate cake. It's rich and decadent, and since it's sans flour, it's also Passover-friendly.
Ingredients:
1

cup

semisweet chocolate chips

1 ½

sticks

unsalted butter

(12 tablespoons)

½

cup

granulated sugar

¼

cup

packed dark brown sugar

1

teaspoon

vanilla extract

¼

teaspoon

salt

3

large

eggs

(beaten)

⅔

cup

Cocoa powder

(unsweetened)

1

tablespoon

Harry & David® Double Dark Chocolate Cocoa Mix

(or unsweetened cocoa)
Instructions:
Preheat the oven to 325° F. Grease an 8-inch springform pan with nonstick spray or butter and set on top of a baking sheet.

Place the chocolate chips and butter in a large glass bowl. Microwave on medium for 1 to 2 minutes, checking periodically until the butter is fully melted and the morsels are soft. Do not overcook or the chocolate can scorch. Alternatively, place the chocolate chips and butter in a small saucepan and melt over very low heat, stirring often, 4 to 5 minutes, until completely melted. Transfer to a large bowl.

To the bowl with the chocolate, add the granulated sugar, dark brown sugar, vanilla extract, and salt. Whisk until well combined or use an electric one on low speed and beat about 30 seconds until well combined.

Add the eggs and whisk or beat until just combined and a thick batter forms. Using a fine mesh strainer, sift the cocoa powder into the bowl. Stir the cocoa powder into the batter until just combined, about 10 turns, and a very thick brownie-like batter forms.

Pour the batter into the prepared springform pan. Transfer the pan on the baking sheet to the oven. Bake for 30 to 35 minutes, until the edges are firm but the center is still soft to the touch. The center should crumble when touched, moist underneath and slightly underdone. Since this isn't like standard cakes, sticking a toothpick or knife in won't come out clean even when it's done.

Cool the cake completely on the baking sheet. Use a butter knife and run it along the inside edge of the pan to loosen the sides of the cake. Cut into 8 to 10 wedges and sprinkle with the remaining tablespoon of cocoa powder. Serve.
Notes:
For a thicker, more fudge-like cake, chill 30 minutes after slicing and before serving.