Creating that perfect pairing of wine and food can be as rewarding as it is frustrating. So much information is available on the topic that something as simple as researching a specific wine or dish can quickly become overwhelming. While some wines, such as a sparkling wine, can pair well with a wide variety of dishes, others, like a reserve cabernet sauvignon, require more careful attention when deciding what to pair them with.
To help make things easier, we created the definitive wine infographic for the entire lineup of Harry & David wines and sparkling juices, complete with tasting notes, specific pairing suggestions, and general pairing advice for each wine. Let us serve as your matchmaker as you journey through the wonderful — and often confusing — world of food and wine.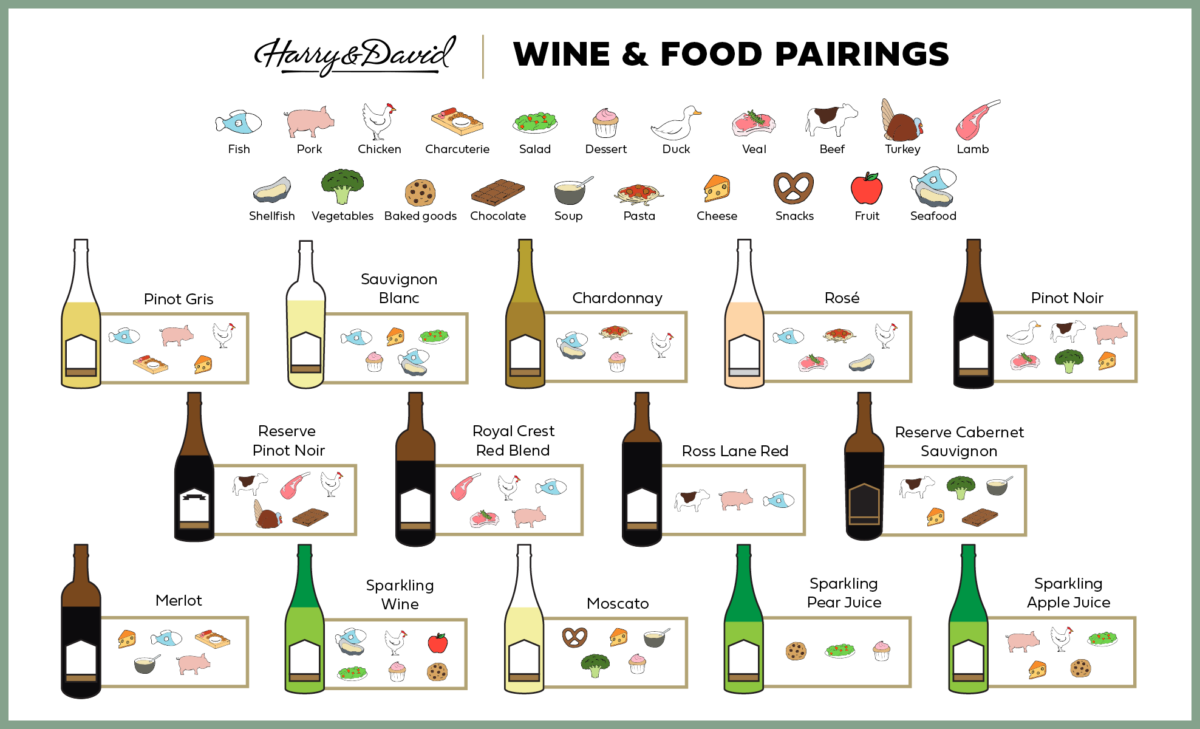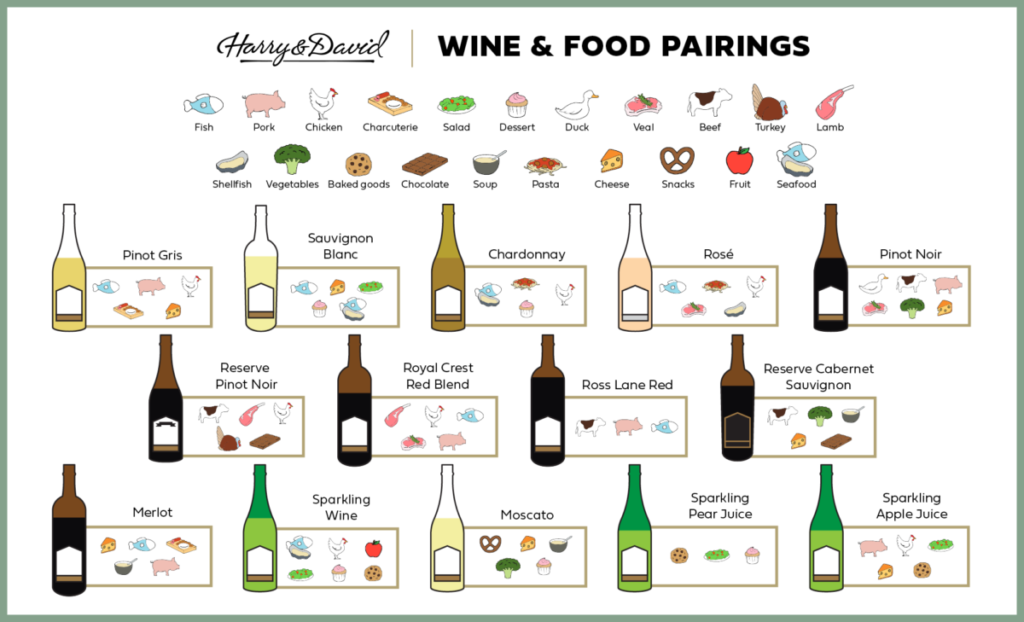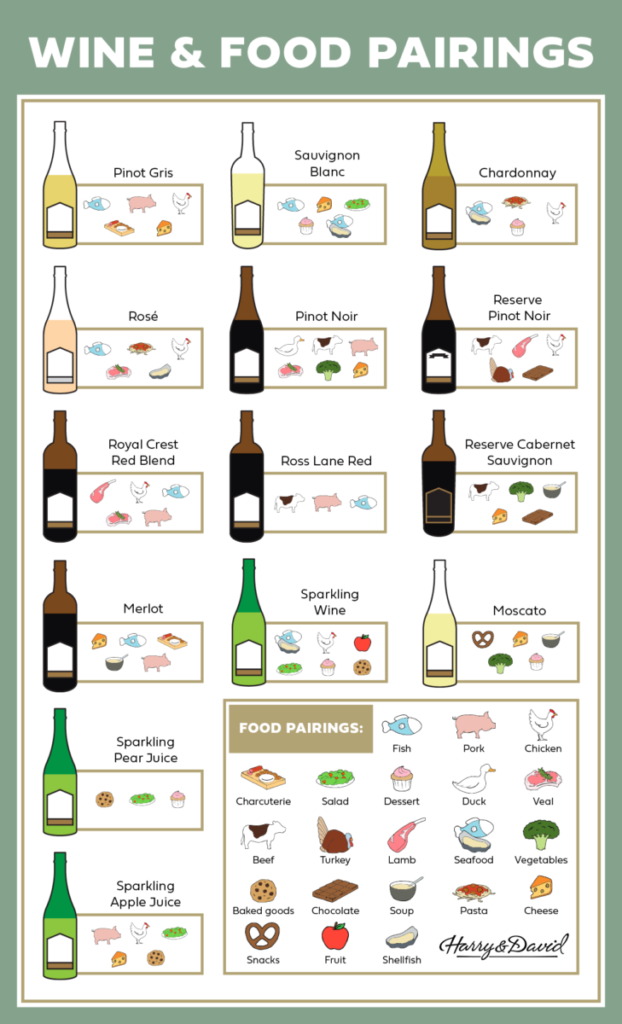 Pinot Gris
This medium-bodied, well-balanced white wine with a clean and crisp finish is aged exclusively in stainless steel tanks.
Tasting notes: A complex nose of white peach, lemon zest, apricot, and hints of honey develops into Meyer lemon, ripe pear, and golden apple on the palate.
Food pairings: Antipasto, whitefish, pork, chicken, canned fish
Pinot gris is a natural pairing for antipasto because the high acidity in the wine counterbalances the saltiness and creaminess of many cured meats and cheeses. The wine's generous fruit profile helps temper the heat on spicy salamis like soppressata and freshens up salty cured meats and sharp cheeses. It also pairs well with lean whitefish (halibut, cod) and other lean proteins (pork, chicken), as well as canned fish (sardines, anchovies).
Sauvignon Blanc
Harry & David Sauvignon Blanc delivers an array of tropical fruit flavors not typically found in other bottles of this varietal due to the unique climate of its growing region.
Tasting notes: This light-bodied white wine has bold aromas of citrus fruits and hints of white and yellow flowers. On the palate, tropical fruit flavors, such as pineapple, mango, ripe melon, and hints of mandarin orange emerge.
Food pairings: Fatty fish, seafood, soft cheeses, salads, desserts
This sav blanc pairs well with fatty fish, such as Chilean sea bass or sablefish, with the ripe fruit from the wine hooking up with the sweeter flavors from the fish. It also pairs well with crab cakes and creamy cheeses like brie, as the wine acts like a chutney or fruit topping on both. Tropical sauvignon blancs such as this one can also liven up a crisp green salad and cut through the richness of cheesecake, crème brûlée, and cupcakes.
Chardonnay
After aging in both oak and stainless steel, this dry white develops a medium body with a light, toasty oak aroma.
Tasting notes: The mouthfeel is lush, with soft notes of vanilla, golden apple, and pear playing off the oaky foundation.
Food pairings: Seafood, pasta, chicken, fruit desserts
Pop this one open anytime you have shellfish, lobster tails, shrimp with garlic sauce, shrimp, or crab cocktail. The wine's plush mouthfeel makes it a natural pair for cheesy dishes, pot pies, and pastas like chicken Alfredo and rich risottos; roasted chicken or chicken breast with a creamy lemon herb sauce. It also pairs well with apple and pear desserts, such as tarts, pies, and crumbles, due to their similar fruit flavor profiles.
Rosé
Made from grapes harvested early in the season, this rosé benefits from a cool fermentation process that maximizes the acidity and brings out the array of bright red fruit flavors.
Tasting notes: Dry and delightful, with aromas and flavors of fresh strawberry, raspberry, and white cherry.
Food pairings: Salmon, tuna, risotto, chicken, veal, mussels
Almost everything on a charcuterie plate, including stuffed olives, pickled vegetables, spicy mustards, and jams, pairs well with this wine. This rosé provides a palate-cleansing freshness to rich fish like smoked salmon, fresh salmon, and arctic char and tuna, and brings an element of fresh flavors to an earthy mushroom risotto or a chicken or veal marsala. It can also stand up to the spice in a bowl of curry mussels and the char on a chicken or veggie kebab.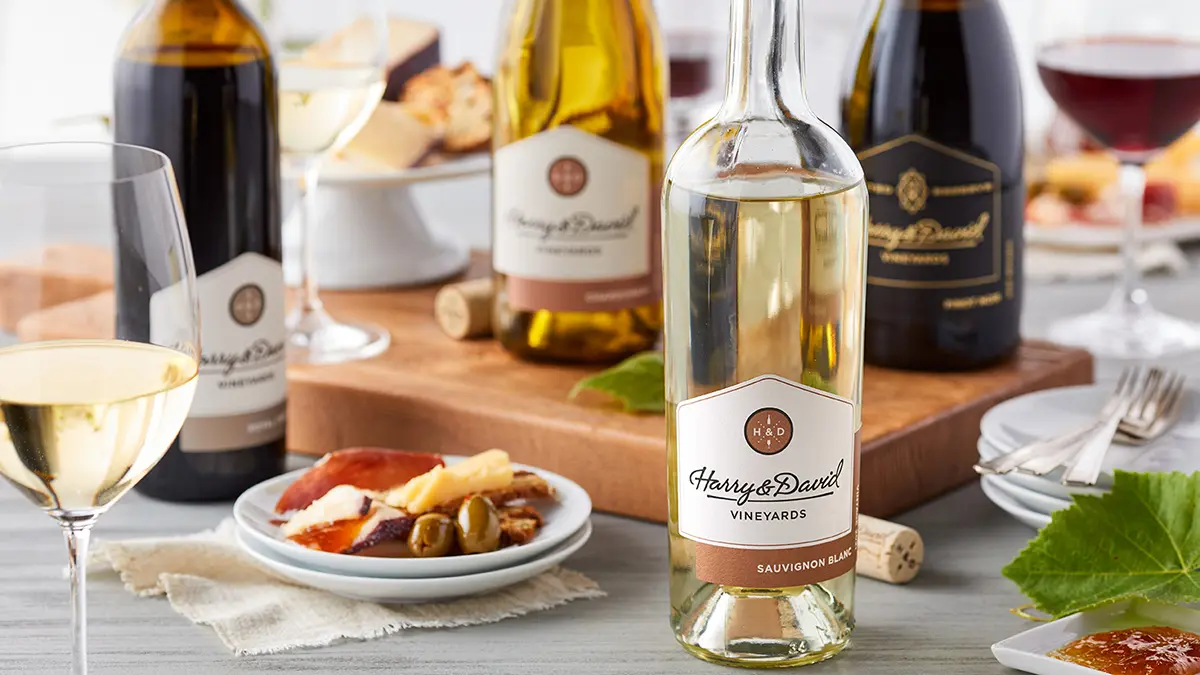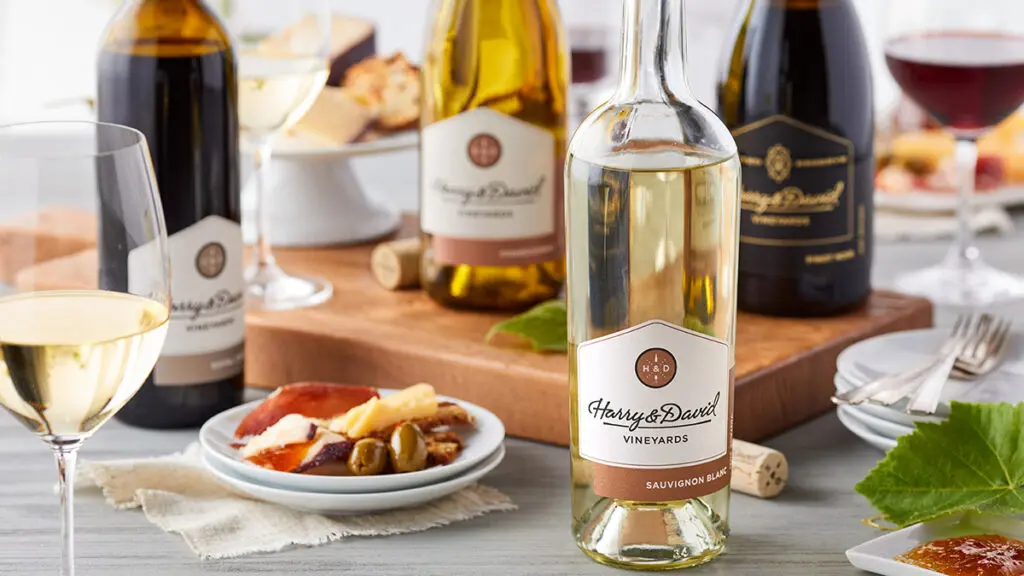 Pinot Noir
This classic Oregonian pinot noir is made from select barrels of grapes grown in vineyards spanning multiple terroirs.
Tasting notes: After some brief aging in French oak, this pinot emerges as a medium-bodied wine with dusty notes of ripe strawberry and raspberry playing off a slightly earthy foundation of mushrooms and forest floor that is a calling card of the region's terroir.
Food pairings: Game birds, spicy dishes, Asian cuisine, lean meats, mushrooms, sharp cheeses, vegetables
Pinot noir and duck is a classic pairing because of the sweet and earthy flavors found in both. This wine works great with grilled or a la plancha salmon, as well as spicy dishes and pastas, such as chicken scarpariello or fra diavolo. This is one of the rare red wines you can drink with sushi and other spicy Asian dishes like ramen, as well as leaner cuts of meat, such as flank steak, sirloin, veal, and pork. (Try it with my personal favorite, pulled pork sandwiches.) It's great with chilis, tacos, or burgers, any dish with mushrooms, truffles, or a mushroom-based sauce, and stuffed mushrooms. It's also perfect with sharp-aged cheeses, such as cheddar and gruyere, cured meats, and roasted vegetables.
Reserve Pinot Noir
Cool Oregon nights allow this wine to develop a crisp, natural acidity that plays nicely with the its silky tannins and smooth berry-laced finish.
Tasting notes: This slightly more sophisticated pinot noir has seen longer aging in oak barrels, resulting in more rounded fruit flavors, such as black raspberry and Bing cherry, with more of the oak influence noticed on the nose and the finish and prominent notes of vanilla and baking spice.
Food pairings: Beef, lamb, chicken, turkey, hero sandwiches, chocolate, Asian cuisine
Because this wine is so well balanced, it has a wide range of potential food pairings. Filet mignon with green peppercorn sauce and rosemary lamb chops pair with the herbaceous nose and finish of the wine. It's also great with herb roasted chicken and roast turkey; sandwiches, such as an Italian sub, turkey club, or corned beef/pastrami Rueben; tonkotsu ramen, General Tso's chicken, and beef with broccoli. Even dark chocolate!
Royal Crest Red Blend
Aged in both French and American oak, this red blend is Oregon's interpretation of the best Bordeaux-style wines made from Southern Oregon grapes and terroir.
Tasting notes: Dark fruits like plum and blackberry give way to subtle spice, vanilla, and cedar notes on the finish.
Food pairings: Lamb, chicken, swordfish, veal, pork, vegetables
Among the foods this wine pairs with are lamb kebabs, blackened swordfish, veal chops, BBQ pork buns, pork belly bao, roasted vegetables (cauliflower, Brussels sprouts, carrots), and dishes with complex sauces, such as coq au vin, chicken mole, teriyaki sirloin, and steak with chimichurri.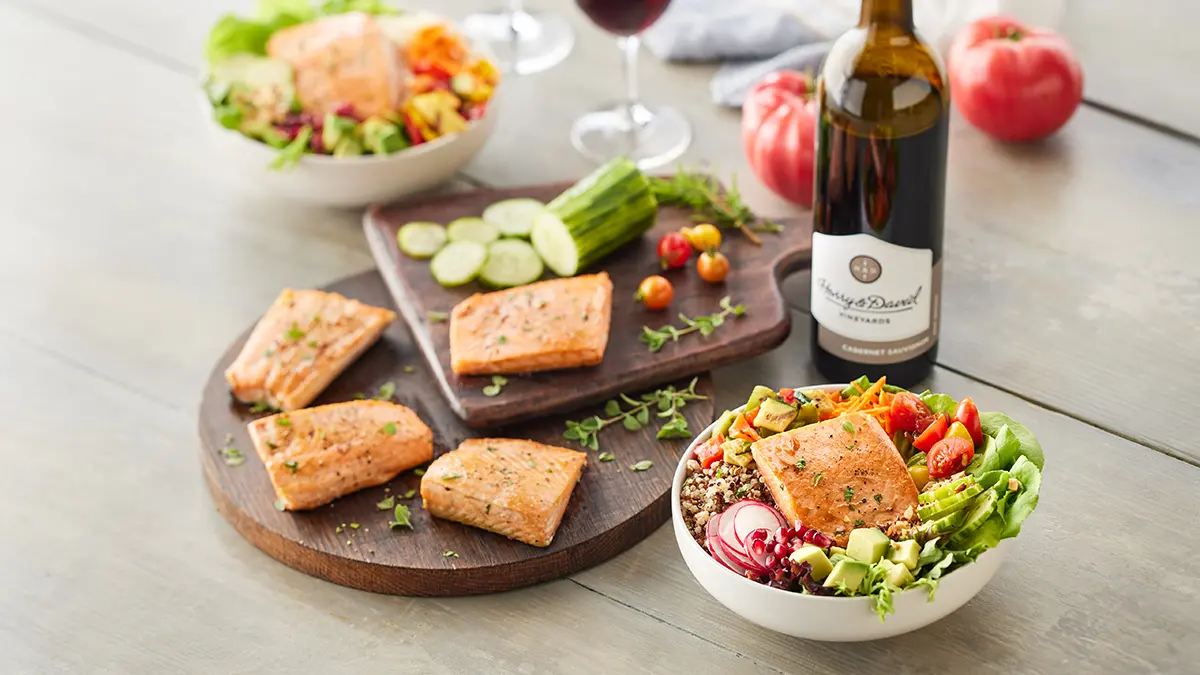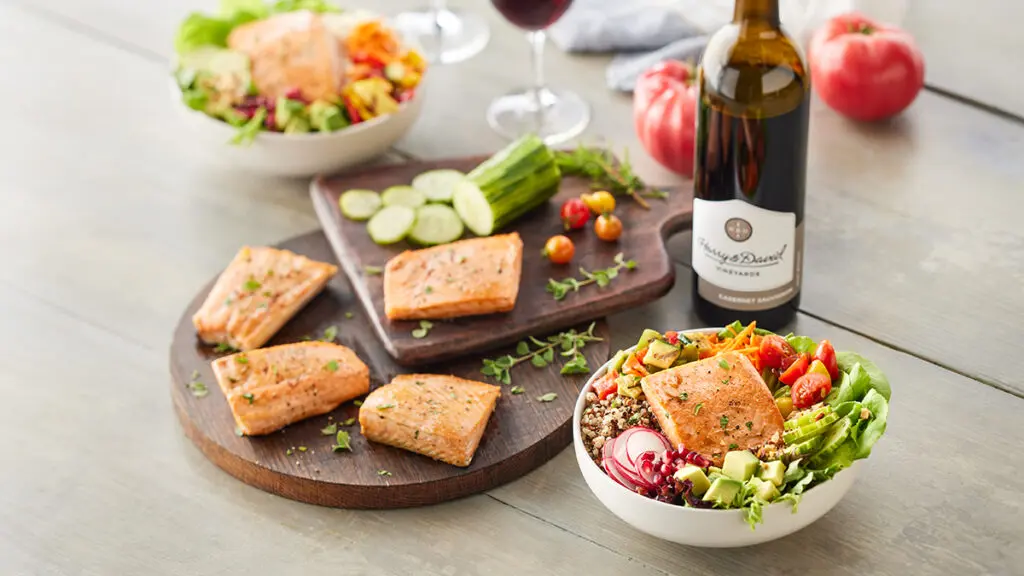 Ross Lane Red
This non-vintage blend from several different vineyards in Southern Oregon is a diverse food-friendly wine known for its easy drinking style, a product of it spending less time in oak and its lower alcohol levels.
Tasting notes: With aromas of blackberry, lavender, and rosemary, this exceptional red blend is somehow approachable and bold, with balanced complexity, silky tannins, and subtle notes of dusty earth.
Food pairings: BBQ, steak, sausage, burgers, tuna
Pairs extra primo good with braised short ribs, BBQ ribs and chicken, a Cajun ribeye steak, carne asada, grilled sausage and peppers, a juicy burger, and seared sesame crusted tuna.
Reserve Cabernet Sauvignon
Everything a cab lover could want is present in this bottle, from the dusty dark fruits to the firm tannins and a surprisingly clean finish for a wine with this much complexity.
Tasting notes: This cabernet sauvignon is exceptionally smooth and complex, with an array of dark fruits and earthy, herbaceous undertones. With extensive aging in both French and American oak, this is a full-bodied wine with rich tannins, lush fruit flavors, and appealing secondary spice characteristics.
Food pairings: Large cuts of meat, vegetables, stews, cheese, chocolate
A wine this complex needs to be consumed while indulging on big cuts of meat (tomahawk porterhouse), dry-aged meats (ribeye, strip), large roasts (crown pork, London broil, prime rib), hearty stews (beef, venison), grilled vegetables, funky cheeses, and dense chocolate desserts, in addition to chocolate-covered berries and chocolate truffles.
Merlot
Finally, a merlot that is more approachable and food friendly than many of the heavily oaked, high-alcohol bottles you often encounter on the market.
Tasting notes: This plush, approachable merlot starts out with juicy notes of ripe plum and blueberry on the nose, turning more toward dark red fruits on the palate, with subtle hints of oak and vanilla on the finish.
Food pairings: Cheese, fish, charcuterie, soup, ham
Pour a glass of this merlot and fix yourself up a plate of mild cheeses (young cheddar, Gouda), grilled tuna steaks, miso salmon, cured meats (salamis flavored with whiskey or fennel), hearty soups, and hams (spiral and honey).
---

---
Sparkling Wine
Bright and refreshing, this exquisite sparkling wine is perfect for celebrations and special occasions.
Tasting notes: Light citrus aromas of lemon and orange give way to notes of crisp apple and pear, with hints of fresh stone fruit popping up before its smooth, clean finish.
Food pairings: Baked goods, seafood, fried chicken, fruit, caviar, salads, desserts
The pairing options with this wine are endless and vast: Buttery Dungeness crab; lobster tails; shrimp scampi; caviar; fried chicken; caviar on fried chicken (yup!); light, crunchy salads; almond croissants; blueberry English muffins with raspberry jam; any baked pastry appetizer; chocolate-covered fruit; fruit and whipped cream; birthday cake; and fruit tarts.
Moscato
Lively, light-bodied moscatos are just as suitable for an aperitif as they are for dessert.
Tasting notes: With nuances of apricot, nectarine, and grapefruit, this slightly sweet yet still refreshing and well-balanced wine finishes with a flair of honeydew and mandarin orange.
Food pairings: Salty snacks, cheese, soup, vegetables, dessert
This wine offers a sweet counterpoint to salty snacks like nuts and popcorn, as well as fresh cheeses, such as goat cheese, mozzarella (tomatoes and mozz), and burrata. The crisp acidity helps the wine integrate nicely with more complex flavors like blue cheese and smoked or spicy cheeses, as well as cold or spicy soups, fresh vegetables, and crudité with dips. This moscato has the texture and sweetness to pair with a wide variety of desserts, from birthday cake to many varieties of cheesecake and baklava, and is great with vanilla ice cream/sorbet/frozen yogurt and strawberries.
Sparkling Pear Juice
Made from the finest pears in Oregon, this sparkling pear juice is a fit for any occasion.
Food pairings: Breakfast pastries (cheese Danish, coffee cake), fruit salads, muffins and biscuits with fruit spread, ham and cheese croissant, fruit-based desserts (pies, pear tarts, crisps)
Sparkling Apple Juice
This crisp and refreshing sparkling apple juice comes from 100% Oregonian apples. (It's no surprise that the state with the best apples would also make the best apple juice.)
Food pairings: Pork chops and apple sauce, honey hot fried chicken, fresh salads, creamy cheeses, ceviche, quiche Lorraine, cinnamon swirl cake, apple streusel, baklava, lemon strawberry cheesecake