The hamburger is one of the most classic American foods, and during summer a gourmet burger becomes the Great American indulgence. The number of ways to dress your burger are endless: cheddar cheese, raw onion, bacon, relish. Heck, some folks even put avocado on theirs. Some put all the aforementioned accoutrements atop their burger, too! But what about the bread? A brioche is quintessential, but Harry & David culinary ambassador Geoffrey Zakarian thinks outside the traditional bun.
The award-winning chef likes to envelop his burgers with English muffins. And not just any English muffins – Wolferman's English muffins. It turns out our relationship with him is kismet. Wolferman's English muffins have been his go-to burger buns for over 30 years (!), having used them in one of his early restaurants, at 44 at the Royalton Hotel in New York City way back in 1987. "I didn't know who Wolferman's was. I just knew it was the best!" Zakarian exclaims. And he's been using them ever since.
Zakarian's English muffin gourmet burger is made in a cast-iron skillet, and topped with a secret sauce. Don't worry, we'll tell you what's in it. And while you're at it, why not use grass-fed burgers, too. Keep scrolling to learn to grill your burger to perfection.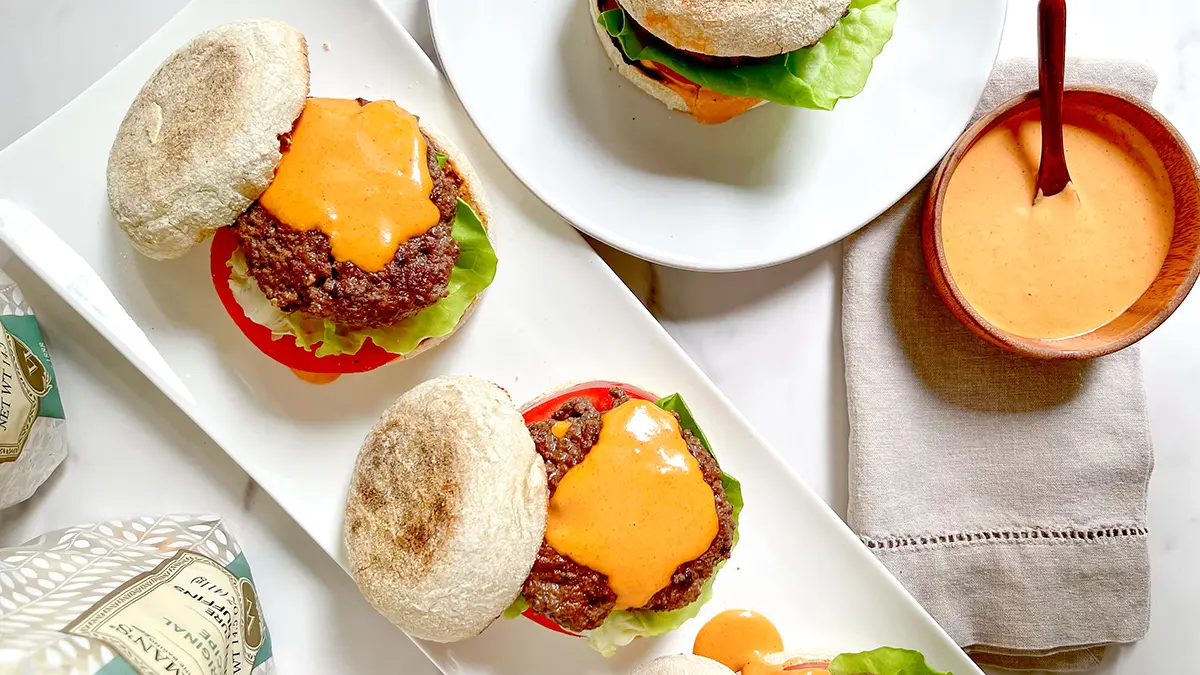 Geoffrey Zakarian's Wolferman's English Muffin Burger
Ingredients:
For the secret sauce
2

tablespoons

barbecue sauce

2

tablespoons

Dijon mustard

2

tablespoons

prepared horseradish

(drained)

2

tablespoons

ketchup

2

tablespoons

mayonnaise

Freshly ground black pepper
For the burgers
6

grass-fed beef patties

(or 2¼ pounds ground beef chuck, medium grind)

Kosher salt

Freshly ground black pepper

Canola oil

(for the pan)

6

Wolferman's English Muffins

(split, toasted, and lightly buttered)

1

large

ripe beefsteak tomato

(cut into 6 slices)

Bibb lettuce

(optional)
Instructions:
To make the secret sauce: In a small bowl, stir together the BBQ sauce, mustard, horseradish, ketchup, and mayonnaise. Season with pepper and then cover and chill until ready to use.

To make the burgers: Season the outsides liberally with salt and pepper. If using ground meat, gently form the chuck into 6 patties, about 1 inch thick.

Set a cast-iron skillet over medium-high heat and let heat for 1 minute. Add a drizzle of oil. As soon as the oil begins to smoke, add the burgers. Let cook undisturbed until well charred, 3-4 minutes. Flip and char the other sides, about 7 minutes total for medium-rare burgers.

To serve: Place the burgers on the English muffin bottoms and top each with some of the sauce and a tomato slice. Add the muffin tops and serve immediately.
---


---
Chef Geoffrey Zakarian has teamed up with Harry & David to share his passion for fine food, entertaining, and healthy living. The Iron Chef known for his award-winning restaurants, TV appearances, and podcasts will wear another type of toque: Chief Culinary Ambassador for Harry & David. In this role, Zakarian will curate a collection of Harry & David products that reflect his philosophy and approach to cooking and entertaining. He will also share his insights and advice in Harry & David's digital magazine, The Table, and host in-person and virtual events.