Written by our Founder and CEO, our Celebrations Pulse Sunday Letters aim to engage with our community. From sharing stories to welcoming your ideas, we want to help you to express, connect, and celebrate the important people in your life.
Graduation season is upon us. Students are receiving diplomas that mark not only the completion of their studies but also the beginning of new life adventures. The ceremonies are a great opportunity to celebrate everything our grads have achieved and the promise of what is to come.
Commencement is also a time to look back, not just at the effort that was expended by the student but also by parents, friends, relatives, loved ones, and teachers. It truly took, and will always take, a village to make a graduate.
Anyone who has graduated from high school or college will remember how special commencement ceremonies are. It's not just the speeches, the music, or even the gathering of friends and family. It's the realization that a lot of hard work has finally paid off and a new life is about to unfold before our eyes.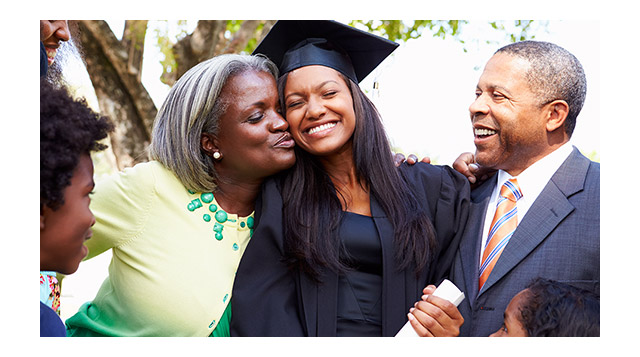 Jim's advice to grads
This week, Jim delivered a commencement address at Manhattan College in New York and used the opportunity to remind everyone of the power of connection and the important role that relationships play in our lives. No matter the circumstances, he said, there's always an opportunity for connection and appreciation, particularly for the people involved in the years devoted to study and learning.
Whoever those people are for you, I want you to take a moment and think about them. Because even though it might feel awkward or uncomfortable to get in touch with those emotions, people will always appreciate feeling appreciated. Feeling loved. I've been around for a while, and never once have I heard someone say that they have too much love in their life. We're all here together right now and there's no better time than right now, to let people know.

-Jim
Use your power this graduation season
As graduates let's remember we each have a special power to make someone's day simply by reaching out and connecting with someone else. Acknowledging people and expressing appreciation are life skills that are just as important as what was learned in the classroom. It's just a matter of keeping your antennae up. So, when you're endlessly scrolling online, and you see an article that you think a friend would be into, send it. They'll be grateful. If you see a dog that reminds you of someone's childhood pet, snap a picture and send it to them. They'll be grateful. Anything at all that you think someone close to you would appreciate… Do it. Send that text. Make that call…connection is the glue to all our relationships.

-Jim
Watch all of Jim's commencement address:
Make a relationship plan
Talk with your graduates this spring about the importance of keeping in touch and using their power to show gratitude and stay connected to all those who played a part in their studies. This could be parents, professors, school advisers, siblings, friends, and study buddies. And, while you're at it, track down one of your old teachers and reach out to them. They'll be happy to hear from you and really appreciate you taking the time to think about them.
Congratulations to the Class of 2022 and everyone who helped them along the way!

All the best,
Chris and Jim
---