As the unofficial pink drink of summer, rosé is the perfect choice for anyone looking for the light body of a white wine with the flavors of a red wine. But don't let its moniker fool you — rosé is a versatile wine that can be enjoyed all year round.
Why is rosé wine pink?
The signature pink color of rosé comes from red grape skins coming in contact with the juice for a shorter amount of time than with a typical red wine. For instance, some red wines ferment on their skins for a few weeks or more, whereas a typical rosé will only have skin contact for a few hours or less before the winemaker removes them. This gives the wine its light pink color and infuses the subtle flavors from those skins into the juice.
Where does rosé wine come from?
Technically, rosé can be produced anywhere red grapes are grown. That means it's made all over the world, from California to Italy to Spain to Tanzania. However, France produces the most rosé in the world, with the Provence region alone being responsible for over 40% of the world's production. The wines from this region tend to be light bodied, dry, and crisp, with flavors of strawberry, raspberry, and hints of citrus, and usually contain some combination of grenache, mourvèdre, carignan, and cinsault grapes.
In California and Oregon, pinot noir is typically the rosé grape of choice (and my personal favorite). Because of its warmer climate, this region is known for producing wines with a bit more body and texture than those from Provence. The best examples, such as the Harry & David 2021, which won silver at the 2022 Oregon Wine Competition, can smell like a bouquet of red flowers and have ripe flavors of cranberry, cherry, and watermelon, with a touch of minerality on the finish.
Should you want to jazz up your rosé, I recommend this very refreshing lemonade cocktail or a strawberry one. If you thought rosé was the official drink of summer before, wait until you take a few sips of these.
Now, on to the fun part!
5 questions about rosé with chef Geoffrey Zakarian
Harry & David brand ambassador Geoffrey Zakarian knows a thing or two — or thousands, actually — about wine. One of his favorites is rosé so we had to ask him about it. The world-renowned restaurateur and TV personality and author (the man does it all!) dishes on what foods he pairs with rosé and puts an end to the debate of whether it's for summertime only.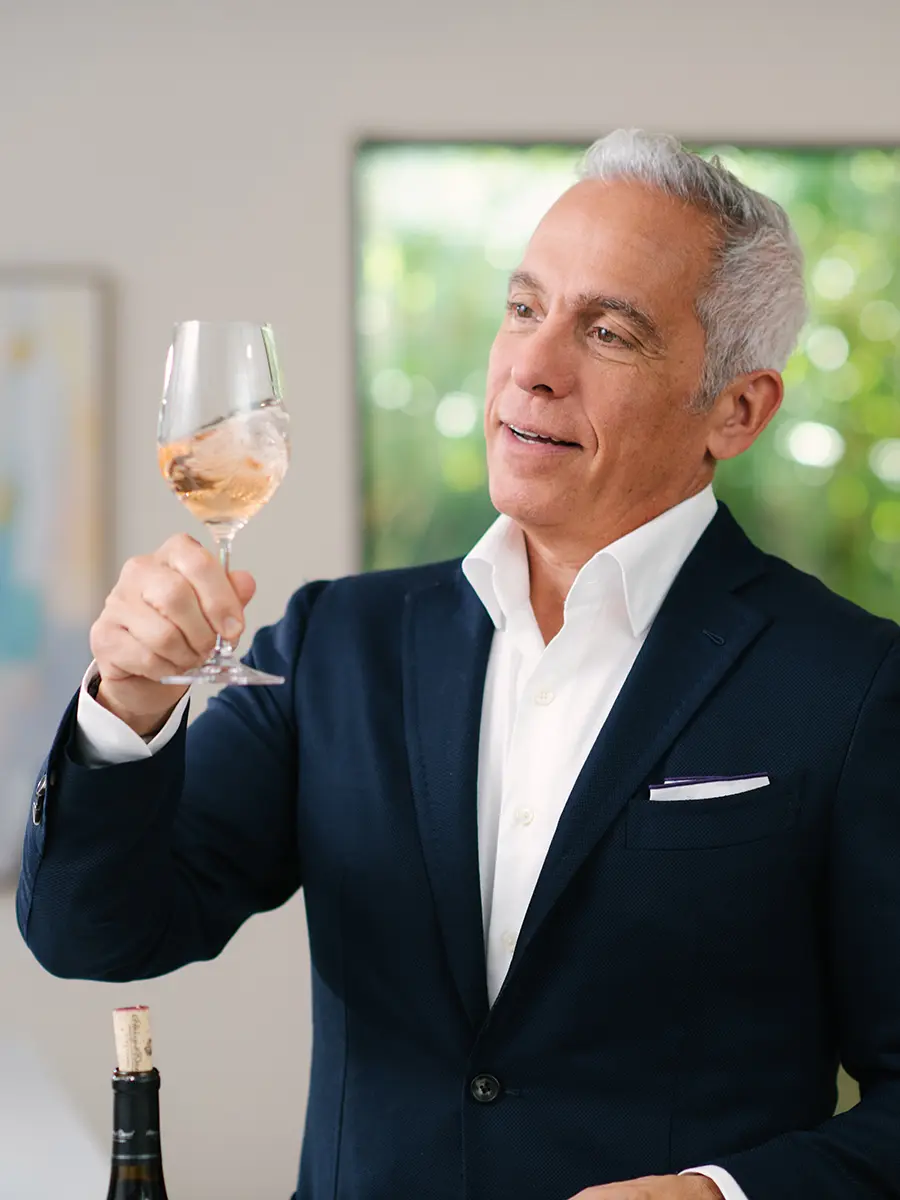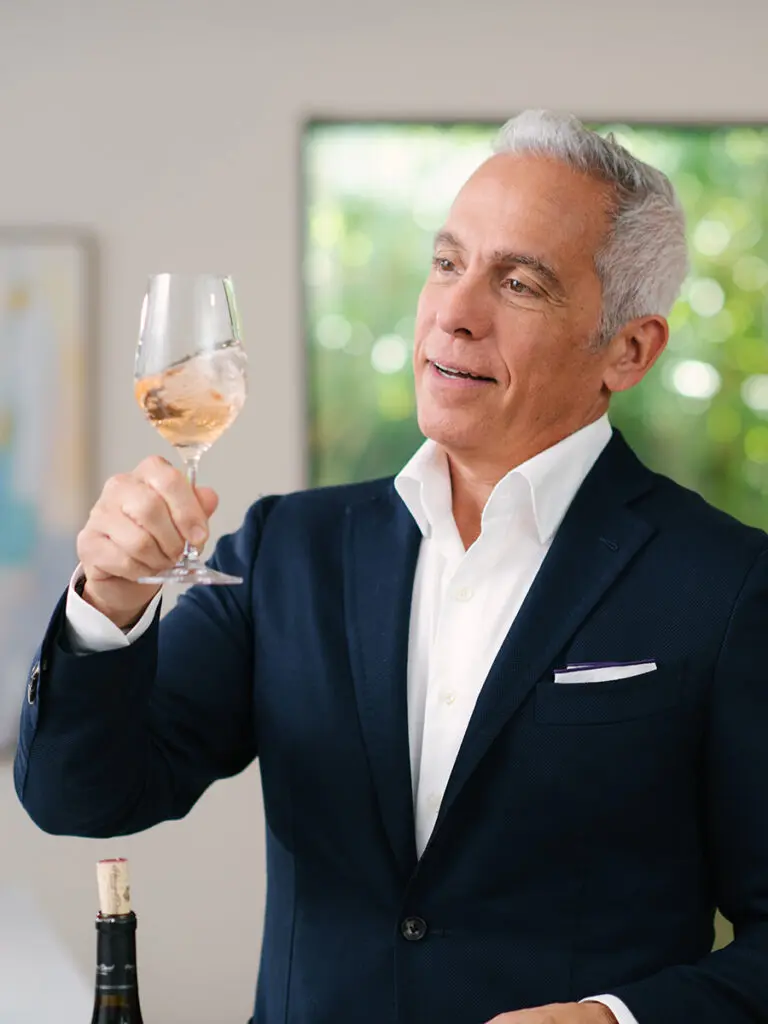 What do you like most about rosé wine?
It's a fresh, young wine — you're drinking it about a year after it's produced. This is why rosé is always a light and refreshing choice.
What are your thoughts on rosé wine being a summer-only wine vs. a year-round wine?
When it comes to rosé, I am in the year-round camp. It's a great substitute for white wine and really works well for any occasion and climate.
What foods do you like pairing with it?
Lighter dishes like shrimp, grilled fish, any chicken dish or salade Nicoise.
What temperature should we chill it at?
45 degrees Fahrenheit, supremely cold.
Best type of glass?
An all-purpose wine glass.
What foods pair best with rosé wine?
Rosé, along with Champagne, is one of the most versatile food pairing wines in the world, so, for me, it's less about "What does it pair well with?" and more about "What does it pair best with?"
For starters, rosé is delicious with crab and shrimp. Think crab meat salad, a simply steamed Dungeness crab with butter, or spot prawn skewers on the grill, which imparts a bit of char and smoke to the fruit-dominant flavor profile, making for a nice play on contrasts for your palate.
Another rosé food pairing made in heaven is with salmon. Besides the fact they look fabulous next to each other on the plate and in the glass, the fresh acidity in the wine and its floral fruity aroma are a wonderful complement for just about any salmon preparation. My favorites are simply baked wild Alaskan sockeye with lemon and herbs, a grilled blackened king salmon to bring some spice to the party, and, of course, at brunch on an English muffin with your favorite jam, or Nova lox on a toasted bagel with the proper fixings.
If you're in the mood for something heartier, try pairing rosé with some charcuterie board favorites. The fruitiness of the wine complements the salty and savory flavors of cured meats, such as Iberico or Serrano ham and salami. As for cheeses, I have yet to find one that doesn't pair well with rosé, so feel free to break out a wide variety of jams, cheeses, and crackers, and have fun discovering which combinations you and your guests enjoy the most with the wine.
And let's not forget about dessert. Rosé is an easy pair with chocolate-covered berries, a peach and raspberry pie, or a raspberry cheesecake, as the fruit flavors complement each other while not overpowering the subtle secondary flavors of chocolate or pie crust.
---

---
Guide to Wine
Learn about different wine varietals with our easy to follow guides.