Over the past 80 years, Harry & David has grown and evolved as a company and as a brand. Along the way, we've changed how we present ourselves, being careful to remain contemporary in the ever-growing market and to satisfy our customers, all while keeping many traditional elements that we feel are woven into our identity.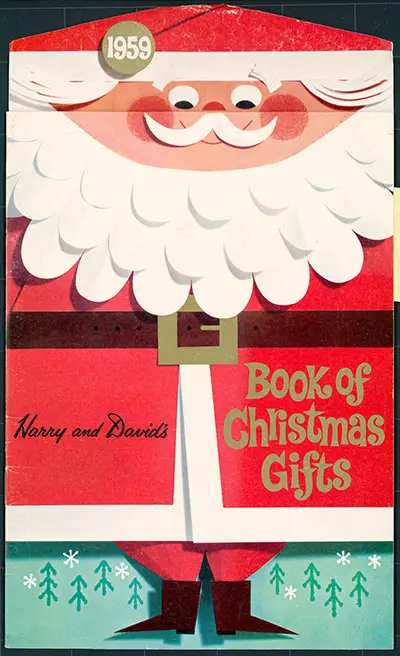 The above image is from one of our catalogs in 1959. As you can see, the image is true vintage art of the style popular through the late 1950s. The art focused on two primary properties: creating an identity and being adorable.
Compare the 1959 image to that on the cover of our "Christmas 2014" catalog. This image represents a change in the way our customers have shopped over the years; it has a sophisticated and elegant style, and its emphasis is primarily on the quality of the product. The texture and design of the truffles are the focus of the image, while the overall artistry in the photo is represented in the layout and the image quality itself rather than illustration as it was in the past. However, note the tower in the background and the sliced pears in the middle. These two cover elements again represent parts of the Harry & David identity: the pears for which we've become so well known and our commitment to the spirit of giving.
We'd be remiss if we didn't take this opportunity to highlight our old friend "Cubby," the Harry & David bear mascot from 1937 to 1972. Featured in various catalogs during this time, his cap identified Bear Creek, a name by which our company has been known (which was also a callout to the beautiful valley where our pears grew and many of our products were—and still are—created). The packaging, reading "Fruit of the Month Club," represented one of our most enduring gifts—so well recognized that a simple parcel with a title and envelope was enough to identify what was inside.
We love going back through our old archives and finding interesting bits of information, seeing vintage artwork, and examining how we've changed, for our own sake and for the interest of our customers. Is there anything you'd like to see from the long history of Harry & David? Let us know in the comments below.