As the winter chill sets in and the holiday season approaches, many people begin to look forward to spending time with family and friends and enjoying festive gatherings. One of the highlights of any holiday party is often the drinks: hot cocoa, apple cider, eggnog, and, of course, seasonal cocktails. The handcrafted cocktails I created are soooo gorgeous, they need their time in the sun. A drink station is that ray of light.
But if you're hosting a holiday party, you may be wondering how to create a drink station that will not only add a touch of cheer to your event, but also leave a lasting impression on your guests. Here are some tips and ideas for creating a holiday drink station that will be the talk of your gathering. Maybe even the town.
Setting up the holiday drink station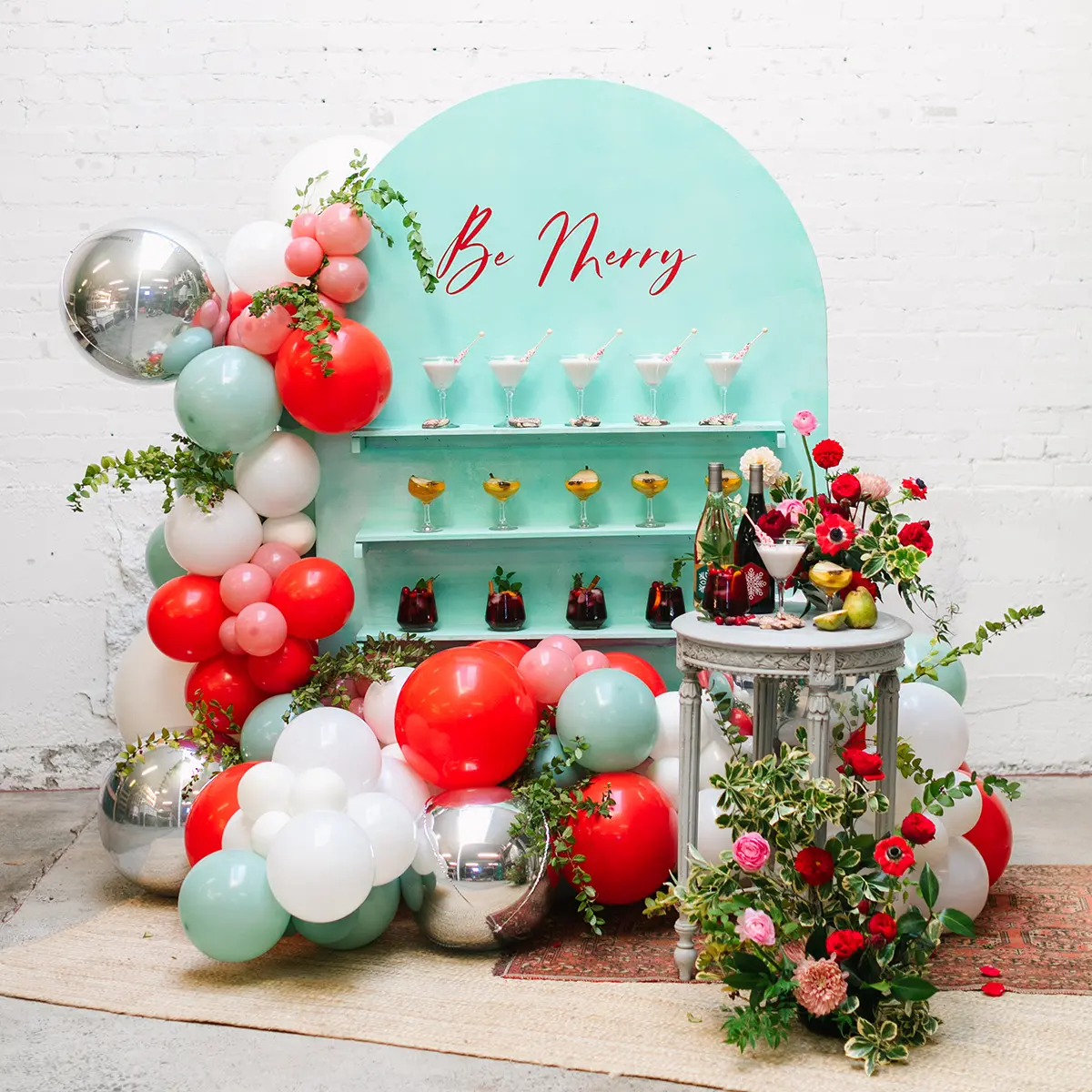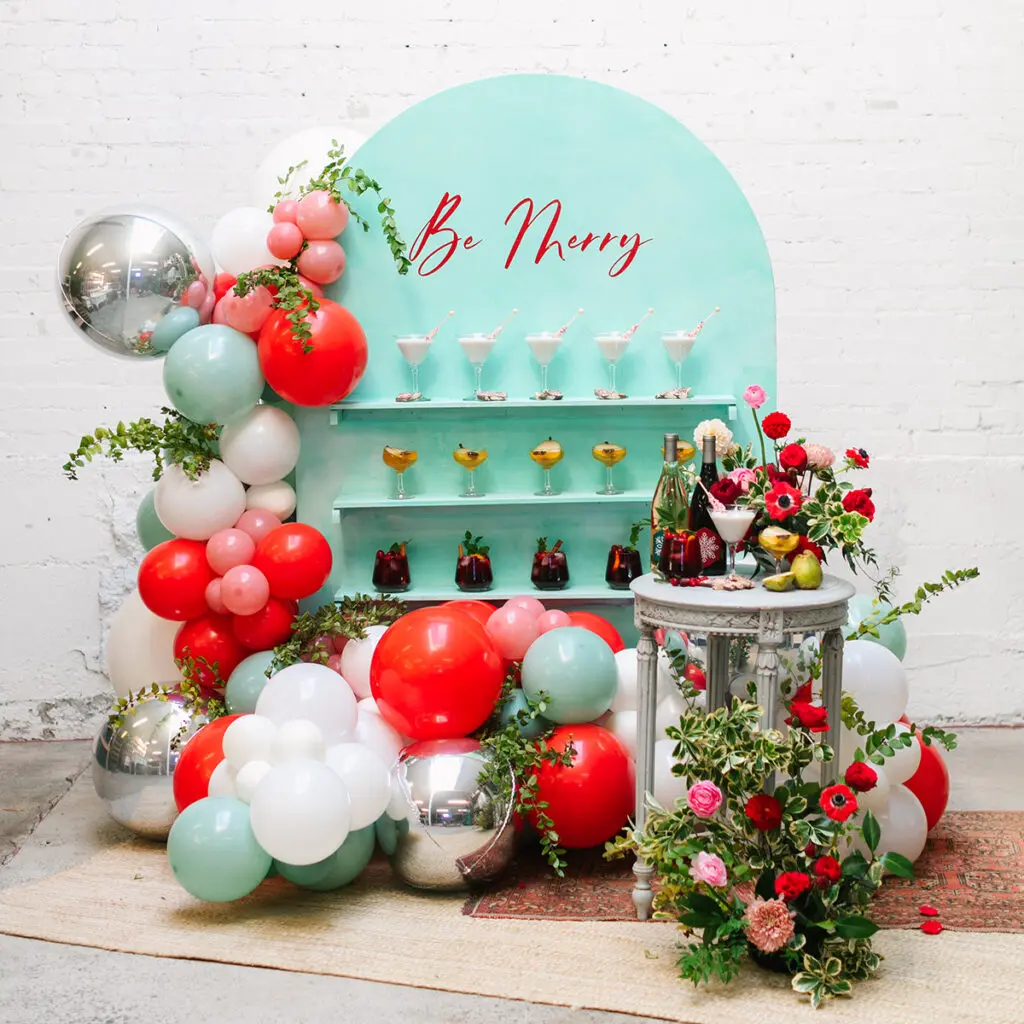 When it comes to creating a holiday drink station, one of the most important things to consider is where you'll set it up. Ideally, you'll want to choose a central location in your space, but try something new this year with a cocktail wall instead of the traditional bar or kitchen island. It's an elegant way to display and serve holiday beverages; it also makes for a great photo-op. You can rent a wall for the drink station, which most party planners or balloon vendors will know where to look.
While the drinks will keep your guests coming back for another round, the décor is what really makes the drink station pop. To match with the festive season, I painted my cocktail wall a fun mint green and added a "Be Merry" decal designed by a calligrapher. I added some beautiful holiday balloons around the wall along with floral arrangements from a local florist.
Holiday cocktail recipes
Now that the drink station is setup, it's time to focus on the cocktails. It's good to offer more than one cocktail so everyone's palette is satisfied. We've created three simple holiday cocktail recipes that are as beautiful as they are delicious. Guests can choose from a holiday sangria, sparkling pear cocktail, and a peppermint vodka cocktail. You can make the holiday sangria in advance, but the other two cocktails require a la minute mixing.
Holiday Sangria
Instructions:
Add all the ingredients except the garnishes into a large pitcher and stir. Place the pitcher in the fridge and let sit overnight for all the flavors to meld.

Serve each cocktail with cinnamon sticks, cranberries, and fresh greenery.
Sparkling Pear Cocktail
Ingredients:
½

ounce

ginger liqueur

½

ounce

pear juice

2-3

ounces

Champagne or sparkling wine of your choice

1-2

Harry & David Royal Riviera Pears

(sliced)

Star anise

(for garnish)

Rosemary or thyme

(for garnish)
Instructions:
Pour the ginger liqueur and pear juice in a glass, then top it off with Champagne. Add sliced pears, star anise, and rosemary or thyme for garnish.
Peppermint Vodka Cocktail
Equipment:
Cocktail shaker

Martini glasses
Ingredients:
6

ounces

vodka

1

cup

peppermint schnapps

½

cup

half & half

2-3

candy canes

(crushed)

Harry & David Peppermint Bark

(for garnish)

1

peppermint swizzle stick

(for garnish)
Instructions:
In a cocktail shaker add the vodka, peppermint schnapps, half & half, and crushed candy canes. Shake until combined then pour into martini glasses.

Serve each cocktail with a piece of peppermint bark and a peppermint swizzle stick.
---