Granola is one of those foods I love eating for breakfast. But since granola can be mild in flavor, and so that it doesn't get boring or repetitive, I like to mix up the finishing touches using either pantry items or fresh fruit, or making some quick-cooked toppings.
I season my granola with a mix of maple syrup, olive oil, and egg whites, which gives it a golden hue, and include pumpkin seeds and almonds for extra crunch. You can swap in whatever variety of nut you prefer.
Keep in mind that if you mix in any dried fruit to the granola, wait until after the batch comes out of the oven and while it's cooling on the pan, or the fruit will burn.
I think of this recipe as an uncluttered granola; it's not full of a ton of ingredients, so you can finish off the bowl each time you eat it. If you're serving this for a crowd, set out an array of different bases and toppings: think yogurt, milk — even oatmeal works! — along with honey, sliced fresh fruit, or dried fruit.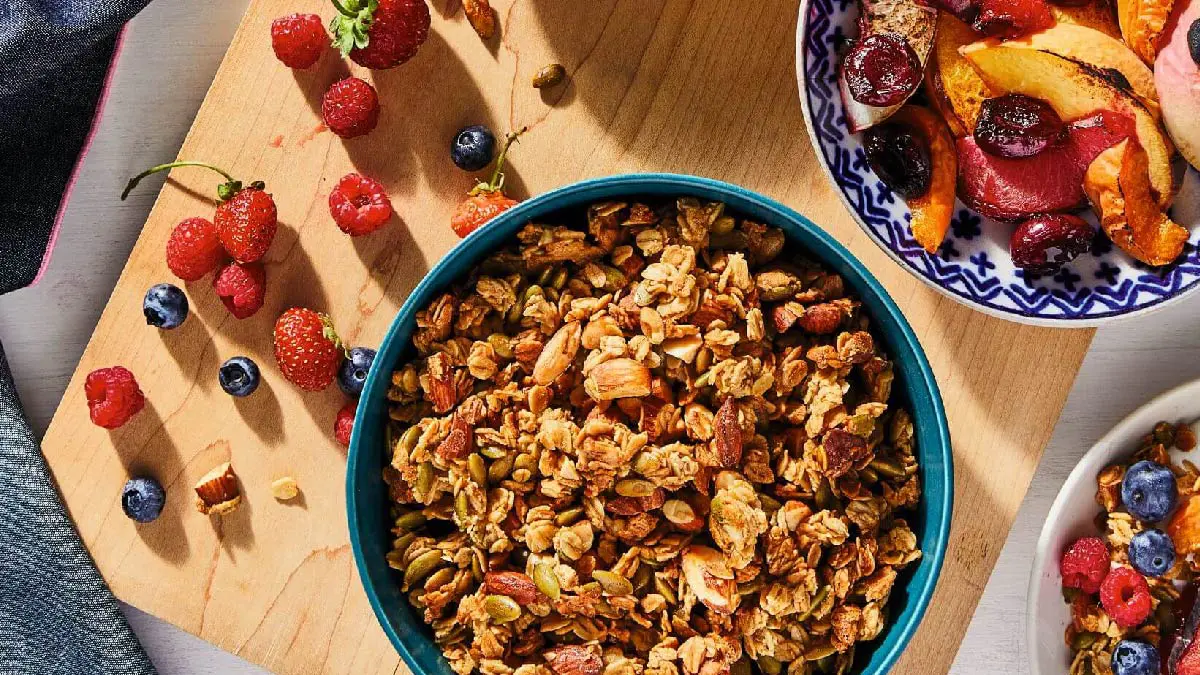 Homemade Granola Board
Ingredients:
2

small

egg whites

¼

cup

maple syrup

¼

cup

Olive oil

½

teaspoon

salt

2

cups

old-fashioned rolled oats

½

cup

raw pumpkin seeds

(unsalted)

½

cup

raw almonds

(unsalted, roughly chopped)

Broiled fruit

(recipe follows)

caramelized bananas

Yogurt or milk

4 to 5

stone fruits

(peaches, plums, nectarines, cherries cut into ¾-inch wedges)

3

Harry & David® Oranges

(grapefruit, or other citrus)

1

pineapple

(cubed)
Instructions:
Heat the oven to 325° F. and set a rack in the center. Line a baking sheet with parchment paper, if desired.

In a large mixing bowl, whisk the egg whites until frothy and bubbly. Whisk in the maple syrup, olive oil, and salt. Add the oats, pumpkin seeds, and almonds, and use a wooden spoon or rubber spatula to toss until everything is coated in the syrup mixture.

Spread the granola in an even layer on the sheet pan. Bake until the granola is deep golden brown, stirring every 10 to 15 minutes to ensure even browning, 30 to 40 minutes total. Set aside to cool; the granola will continue to crisp as it cools.

Transfer the granola to a bowl to serve on a board or large platter. Serve the broiled fruit, caramelized bananas, and yogurt in small bowls around the board as desired.

Heat the broiler to high with a rack 6 inches from the heat source. If using citrus fruits, halve each one and trim the bottom of each half by about ¼ inch so that they can sit flat.

Place the fruit on the sheet pan (for stone fruit, the flesh should be facing up). Broil until the fruit is softened and slightly charred, 4 to 5 minutes for stone fruit, 6 to 7 minutes for citrus, or 7 to 8 minutes for pineapple, depending on your broiler strength.

Transfer the fruit to the board and let cool slightly before eating. It will keep for up to three days in an airtight container.
Notes:
Larger wedges of fruit will remain firm, while smaller ones will break down and become jammy.
Recipe reprinted with permission from Boards & Spreads. Copyright © 2022 by Yasmin Fahr. Photographs copyright © 2022 by Julia Gartland. Published by Clarkson Potter/Publishers, an imprint of Penguin Random House.
---