In "Board Games," learn to level up your Sunday brunch, create a holiday board with all your favorite cookies, or style a cheese board for a night in. This breakfast board comes from Jessica Merchant of How Sweet Eats. Gather the family and get ready to enjoy a weekend brunch spread full of pancakes, seasonal fruit, scones, and more!
A breakfast board is a fantastic and easy way to enjoy brunch with your loved ones on a weekend morning or afternoon — or any time, really. The rules of brunch are real loosey-goosey.
Delicious pancakes and scones are the heart and soul of this brunch board and pair perfectly with a delicious array of toppings, from syrup and fresh whipped cream, to honey, jam, and peanut butter; add blueberries or chocolate chips to the batter for a personal touch. The Harry & David Old Fashioned Scone Mix makes the perfect base for classic scones topped with peach or raspberry preserves or any of the aforementioned toppings.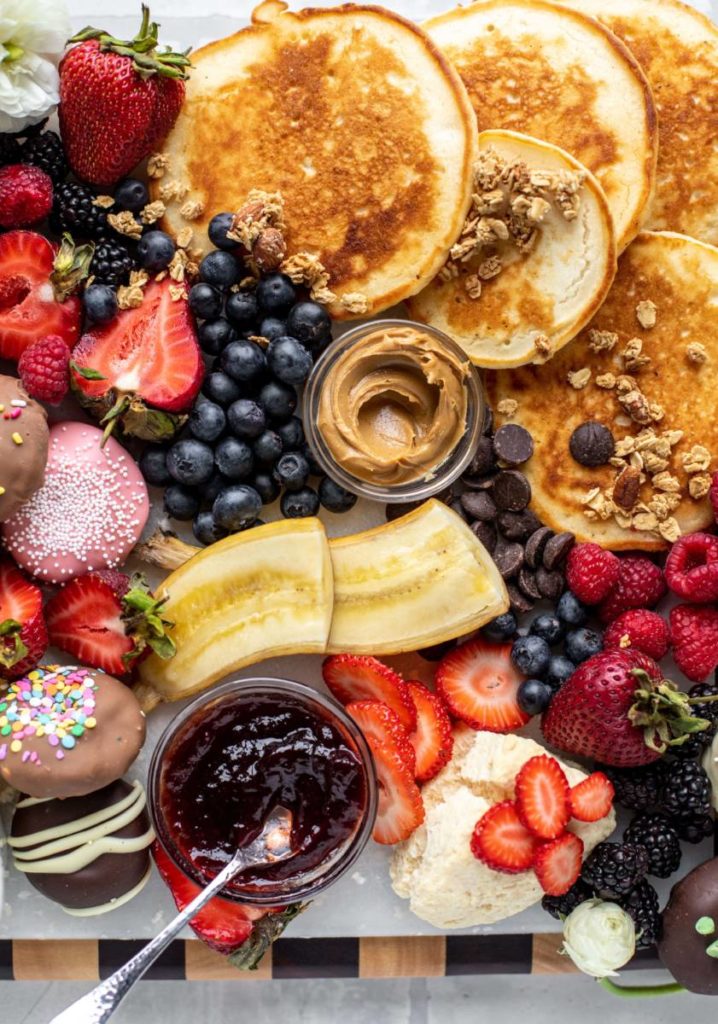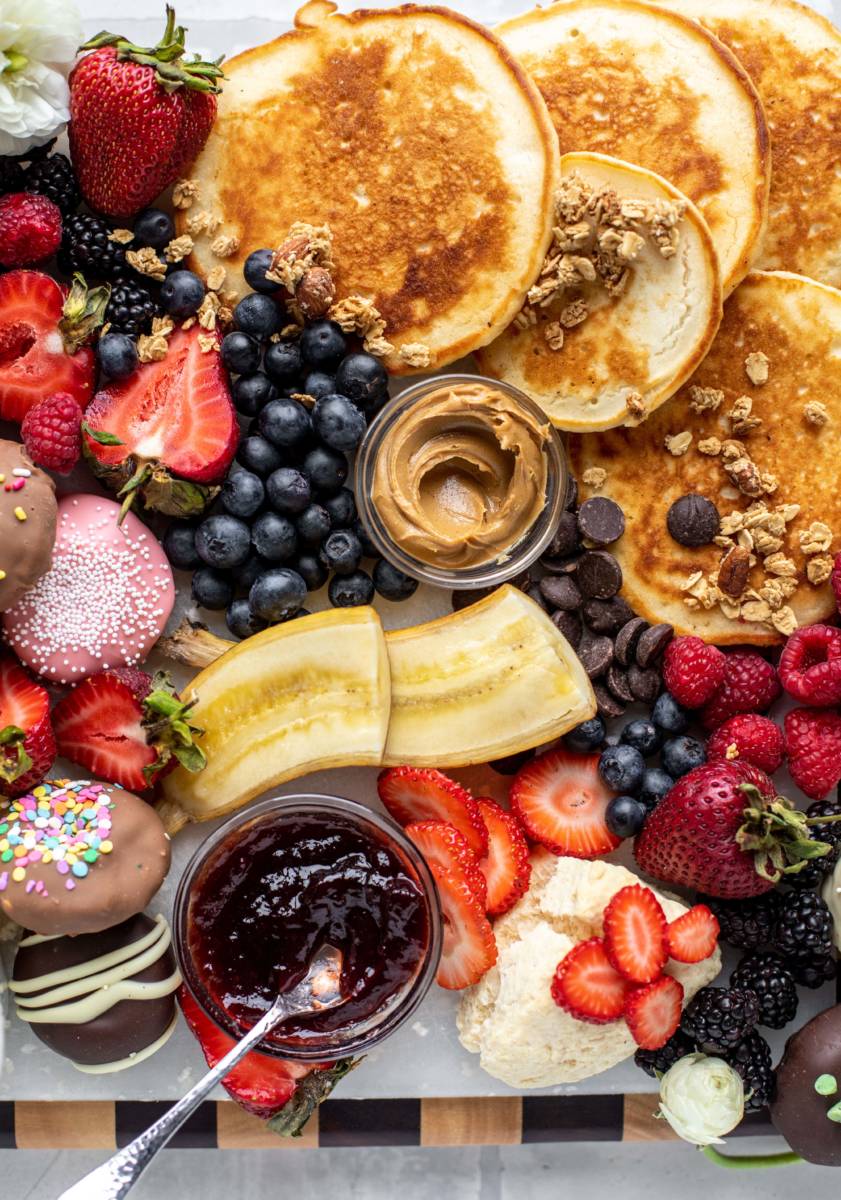 The board's ancillary accoutrements — yogurt, fresh fruit, and mini donuts — add texture, delicious flavors, and beautiful colors, while the Crater Lake Crunch trail mix and the fresh fruit also make tasty mixers for the yogurt.
Serve this delicious brunch board with your favorite coffee or paired with a mimosa for a fun brunch.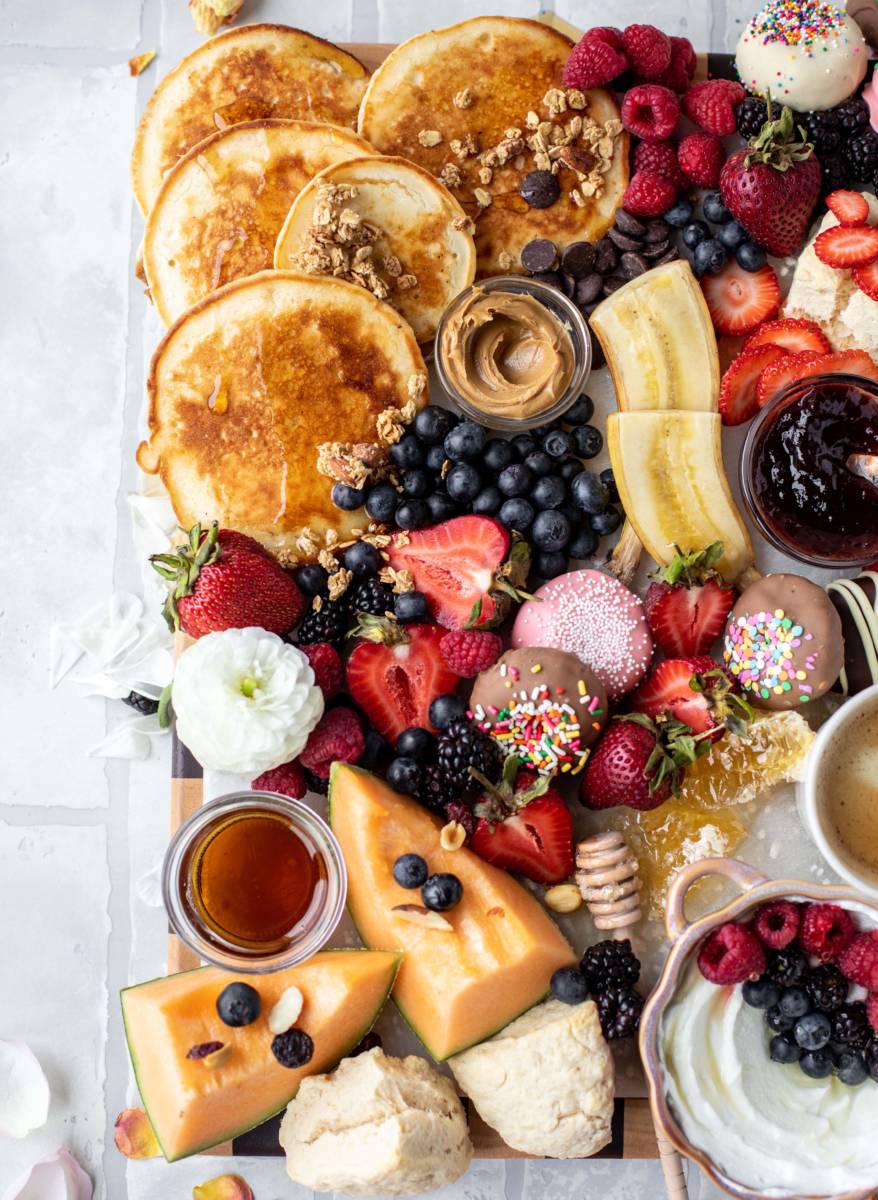 Breakfast Board
Ingredients:
Greek yogurt

fruit

(An assortment of your favorite's such as berries, cantaloupe, and banana)
Instructions:
Prepare the scones and pancakes according to the directions on the boxes. These will be the focal point of your board, so place them in opposite corners.

Pour the yogurt in a serving bowl, and add the preserves and trail mix to several smaller bowls. Mix up your serving bowls in different sizes, shapes, and colors for visual interest. Set them on the board.

Add your fruit last so it stays fresh. Scatter your berries and fruit around the board to fill empty spaces.

Pour the maple syrup in a jar or small pitcher for serving.
---