This guide to how to make a charcuterie board will make sure you're ready with all the best snacks for your next party or holiday gathering. Learn how to assemble a charcuterie platter with a variety of meats, cheeses, and snacks for a little bit of something for everyone.
How to Make a Charcuterie Board in a Few Easy Steps
The key to the best party? The best snacks, of course! Everyone knows the snack situation can make or break a party, so if you're the host, it's best to go in with a good plan. Luckily, charcuterie boards make for an easy solution, with a little bit of something that everyone will love.
Preparing the Charcuterie Board

The right snack assortment is the first step to creating the perfect charcuterie board. You'll want a variety of sliced meats and cheeses, plus plenty of crackers or slices of bread to stack them with. A selection of smaller snacks and dips will round out the collection of flavors. Think olives, nuts, and dried apricots for the smaller food items, to add texture and color to your board. Dips like artichoke lemon pesto can add some brightness and acidity, while fig jam adds sweetness. There's no wrong answers, so have fun experimenting with flavors!
When you start the prep work, try cutting the meats and cheeses in different shapes for a special touch. Prosciutto-type meats like Serrano Paleta can curl into pretty rosettes, versus hard salamis' simple round slices. You can cut Spanish Manchego into wedges, while preparing Swiss Lionza in rectangles. Besides helping distinguish the different types of food on the board, this gives the final presentation extra texture and flair.

The next step is organizing everything on a serving tray. Don't put all of the similar items next to each other–spread everything out. This will give the presentation a more balanced feel, and encourage guests to mix and match. Once you've placed the bigger items like the meat and cheese, you can fill the empty spaces with the smaller items like nuts, olives, and bowls of the different dips.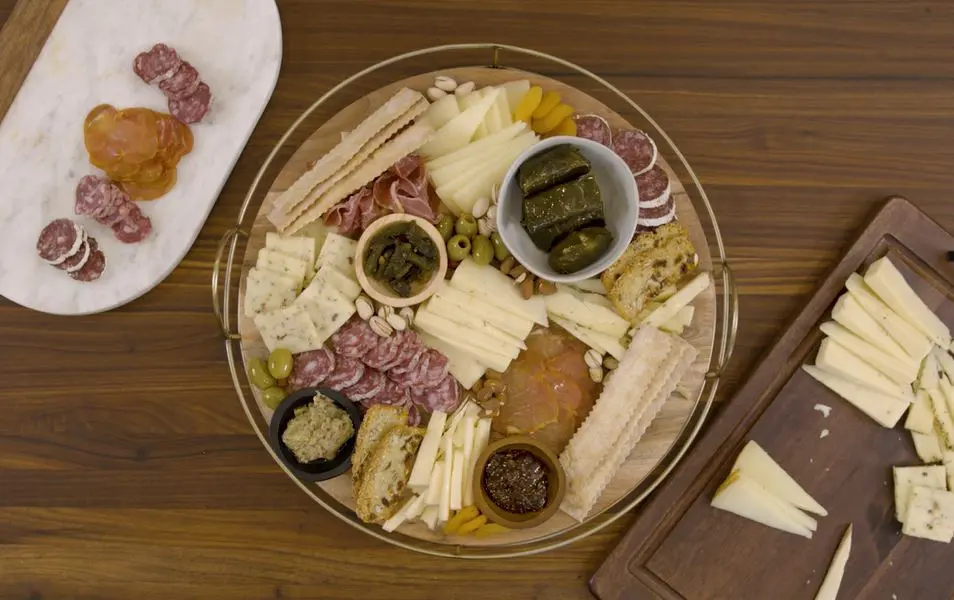 And just like that, your charcuterie board is ready to serve! You can even open a couple bottles of wine for your guests to experiment with different wine and cheese pairings. Happy snacking!