Planning a beach picnic involves more than throwing on a bathing suit and flip-flops, packing towels, and filling a cooler with deli sandwiches and adult beverages. Sure, there's nothing wrong with going that route… but you can use this checklist for supplies and prepare my special menu of delicious seafood salad sandwiches and caprese kebabs to make your beach picnic shine!
Beach picnic checklist: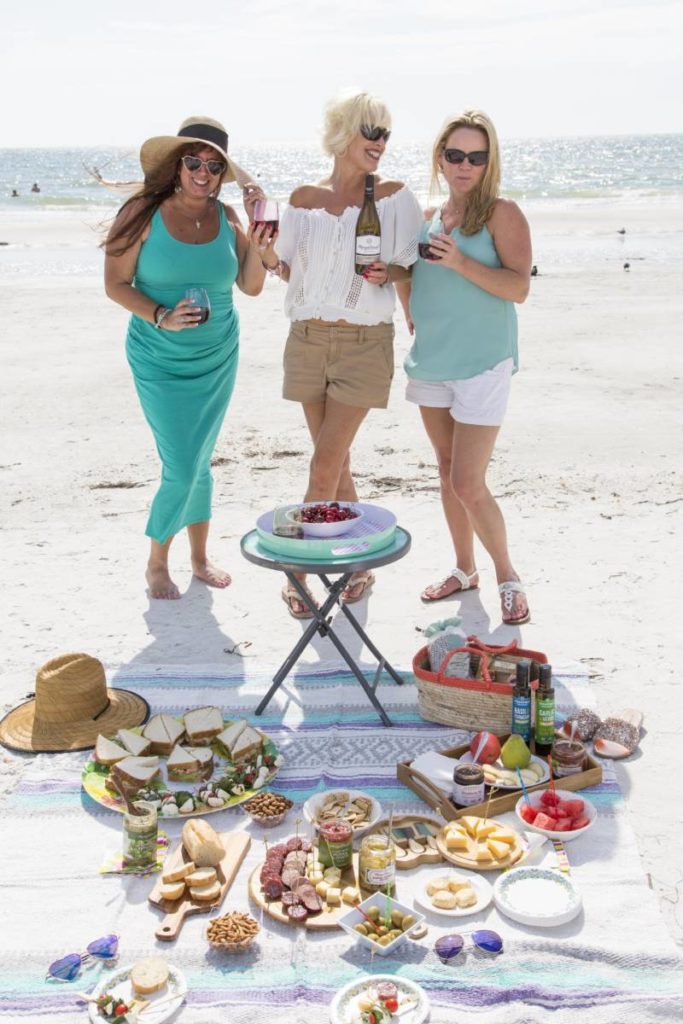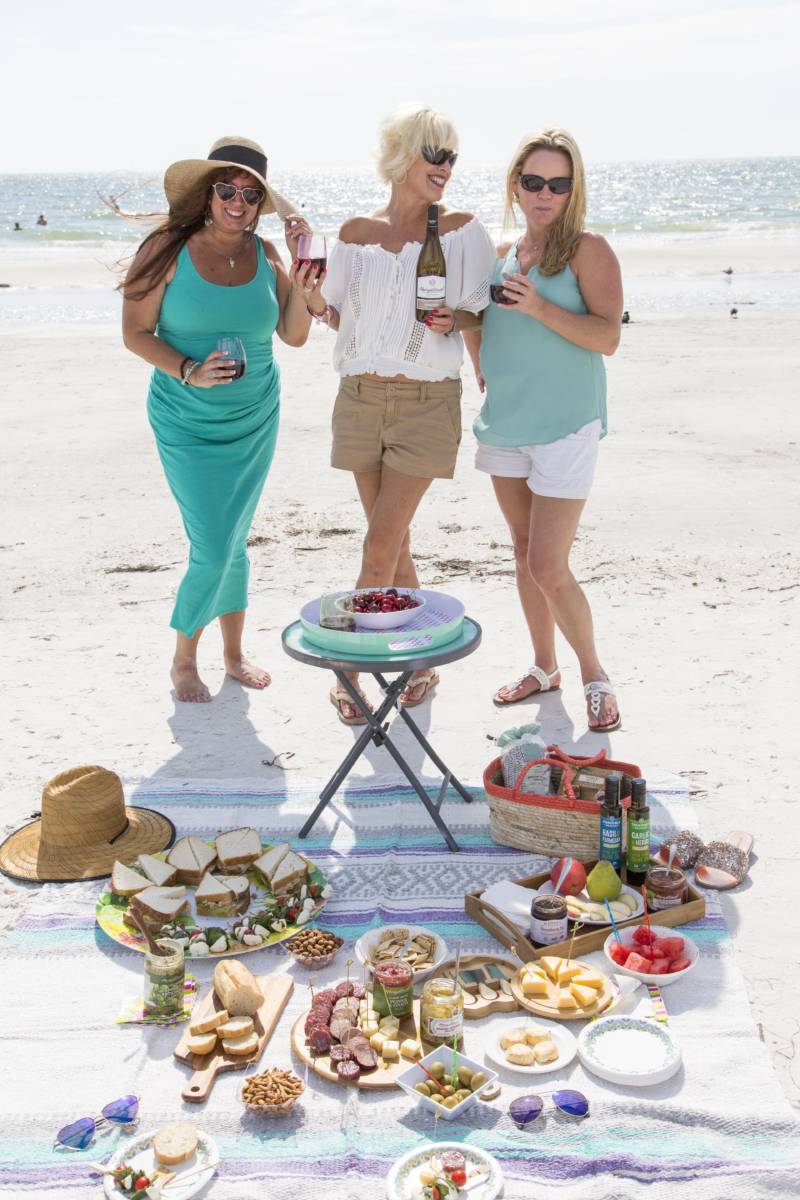 Picnic basket or market tote
Large beach blanket and towels
Cooler filled with ice, bottled water, soda, beer, perhaps a hard seltzer or two, and wine
Portable speaker (make sure it's charged) and beach tune playlists
Beach umbrella and/or tent
Beach chairs
A variety of finger foods, like cheese, fruit, crackers, jams, dips/spreads, honey, baguettes, nuts, olives, cookies, snack mix, bruschetta
Plates, napkins, glasses, cutlery, a few cutting boards, platters, and small bowls
Volleyball and net, paddle ball, football, Frisbee
Beach hats, sunglasses, sunscreen, bug spray
Portable grill and charcoal, grilling tools
Hand wipes, trash bags, recycling bags, paper towels, hand sanitizer, first aid kit
Swim hard, eat light
I love supplementing a beach picnic with lighter fare such as wine and cheese, charcuterie, fresh fruit and vegetables, nuts, crackers, dips and spreads, and a baguette, all served on platters and boards. This is an easy way to serve a group of people chilling at the beach. Plus, no cooking is required — more time to swim, relax, and have fun! Just throw down a huge beach blanket, serve the food, uncork the wine, and get this party started!
Two of my favorite recipes to make for a beach picnic are seafood salad sandwiches and caprese kebabs. They're both super delicious, super easy to make (and pack!), and great to display on a platter for a crowd.
---

---
Seafood salad sandwiches
The seafood salad is made with wild-caught jumbo shrimp sautéed in garlic & herbs extra-virgin olive oil and mixed with fresh lump crabmeat, all tossed together in a light, creamy dressing. They're served on Wolferman's 1910 Original English muffin bread — it's thick, so it's perfect for making sandwiches that will hold up in the picnic basket or cooler at the beach.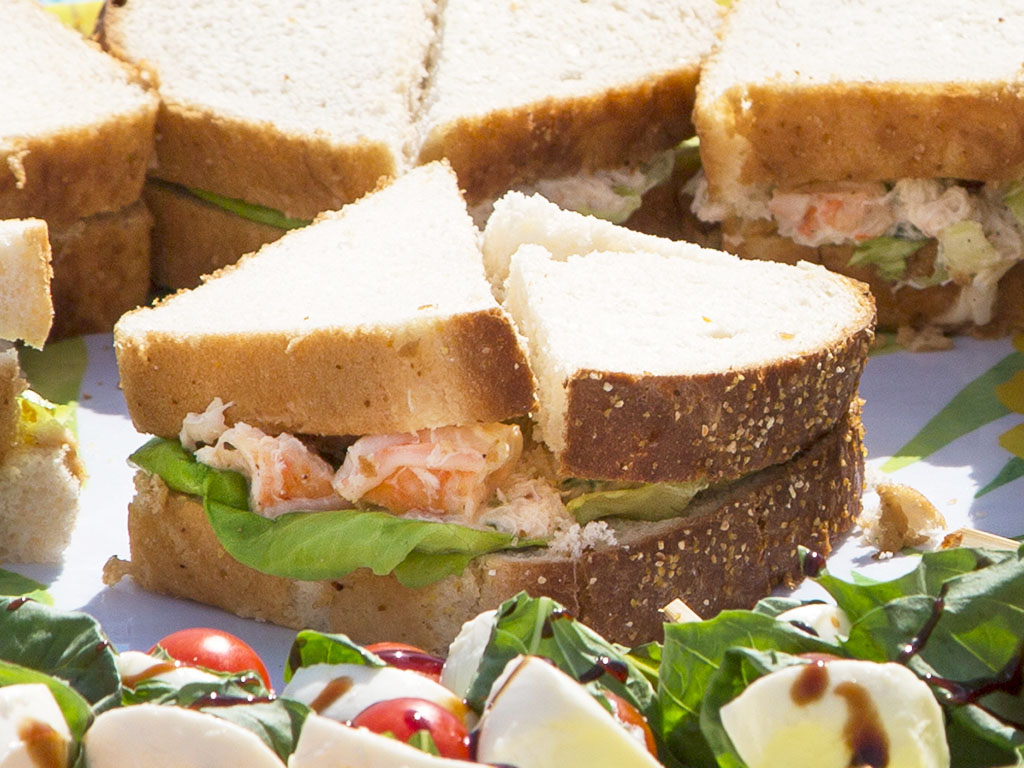 Seafood Salad Sandwiches
Instructions:
Heat oil in a large skillet over medium heat. Add the shrimp and season with seasoned salt and pepper to taste. Cook shrimp until bright pink and opaque, about 2 minutes. Raise heat to medium-high and add lemon juice. Continue cooking for another minute or two, remove from heat, and set aside to cool.

Once cooled, coarsely chop the cooked shrimp into pieces and place in a large mixing bowl with the lump crabmeat.

Add the scallions, celery, mayonnaise, Dijon mustard, hot sauce, seasoned salt, and additional black pepper to taste. Stir together to combine.

Place a lettuce leaf on the bottom of the muffin bread and top with ½ cup seafood salad and another slice of bread. Slice sandwiches in half to serve on a platter.
Caprese kebabs
These caprese kebabs are delicious and easy to prepare, and a light and healthy snack, too. The main ingredients are fresh basil leaves, bocconcini (fresh mozzarella balls), and cherry tomatoes, which are threaded onto small wood skewers, drizzled with balsamic glaze and Harry & David basil and parmesan extra-virgin olive oil, and sprinkled with sea salt and freshly cracked black pepper to finish.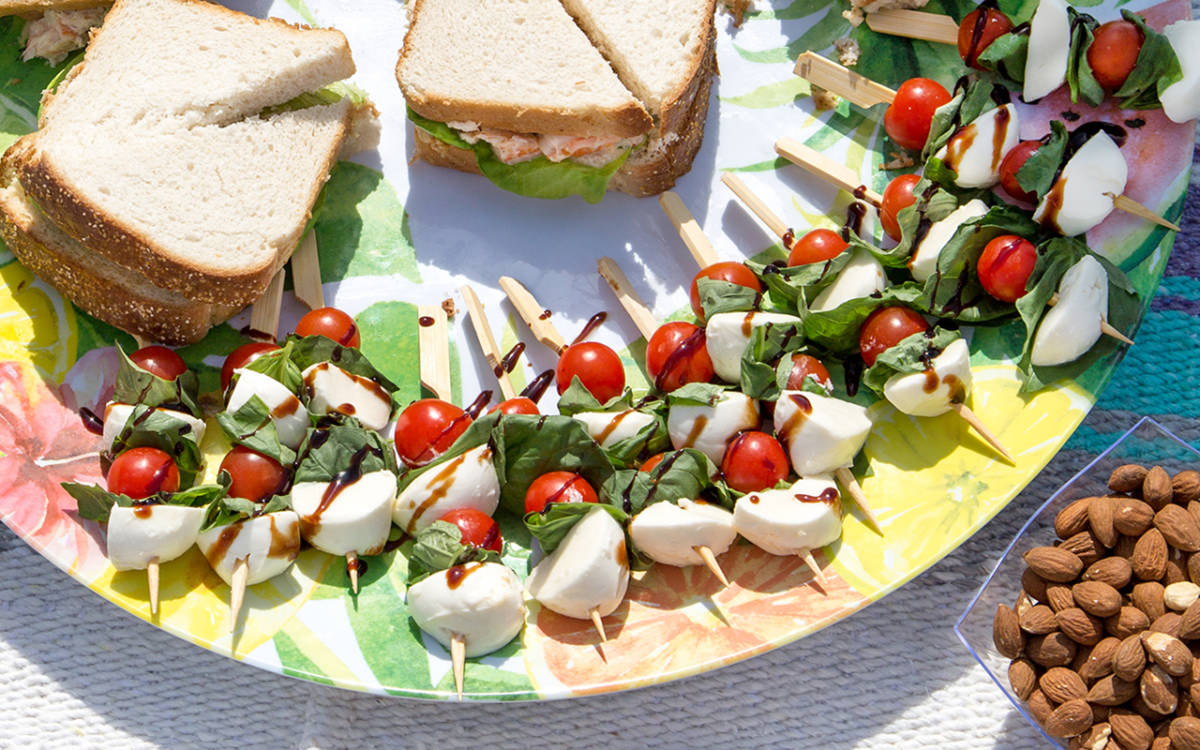 Caprese Kebabs
Equipment:
12 appetizer wooden skewers
Ingredients:
24

cherry tomatoes

(grape tomatoes)

24

fresh mozzarella cheese balls

24

fresh basil leaves

2

tablespoons

Harry & David Basil & Parmesan Olive Oil

2

tablespoons

balsamic glaze

Sea salt

Freshly cracked black pepper
Instructions:
On each of the appetizer skewers, alternately thread tomatoes, mozzarella cheese balls, and fresh basil leaves.

Place skewers on a platter and drizzle with olive oil and balsamic glaze. Season with sea salt and pepper to taste.