The classic Irish coffee is no longer reserved just for St. Patrick's Day. You are allowed to drink it any day of the week. In fact, it's best served when the weather turns cold and you need a little pick-me-up after a long, hard day — or as the ultimate morning wake-up.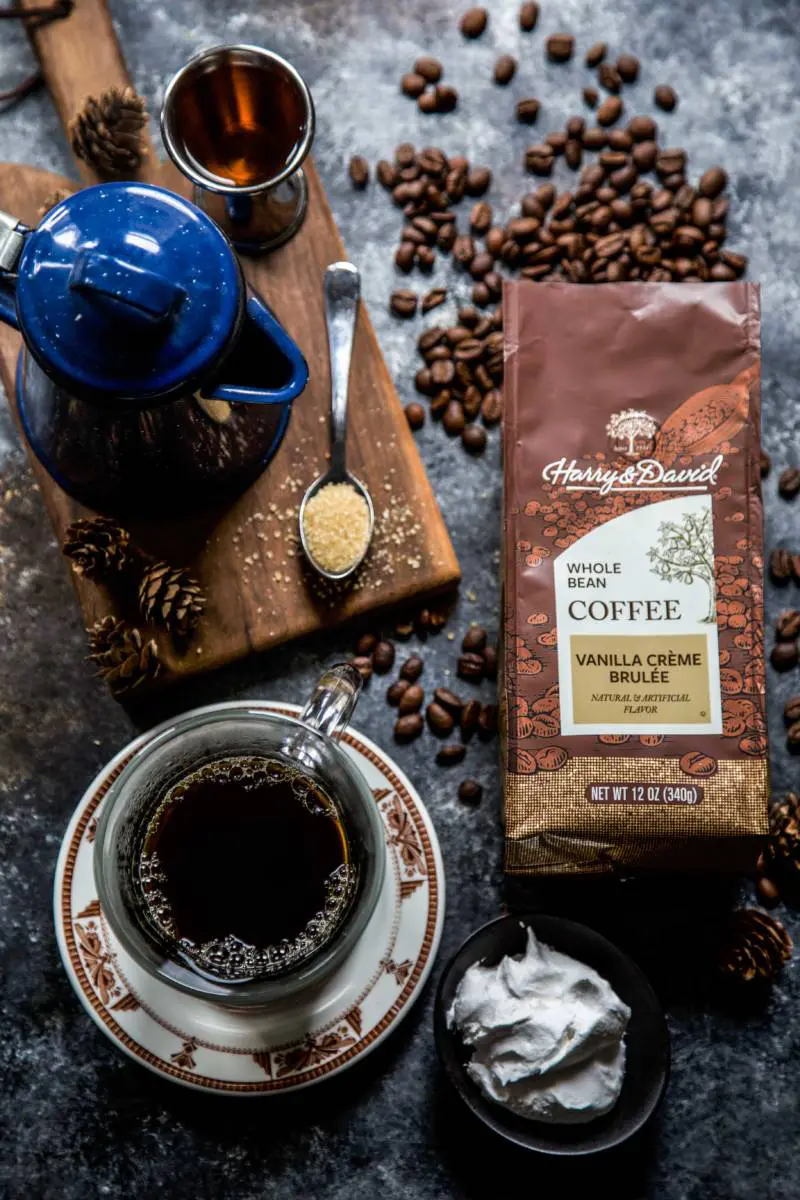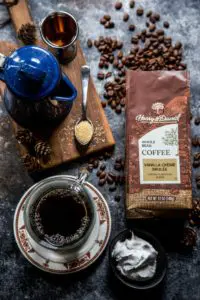 An iconic cocktail, Irish coffee was created by chef/bartender Joe Sheridan in 1943. While working at a bar inside Foynes Airport in Limerick, Ireland, Sheridan poured some warm drinks for passengers who were forced to return the terminal due to bad weather. He did so by making them a special coffee, one mixed with Irish whiskey and topped with cream. The story goes that passengers asked Sheridan if he used Brazilian coffee. Sheridan's response (we assume with a smirk): "No, it was Irish coffee."
Making Irish coffee is rather simple, but we have a couple of tricks for you to ensure the coffee is superb (read: sweet, creamy, and boozy) every time.
Use turbinado sugar instead of regular sugar to help balance out the sweetness. Turbinado sugar is also minimally processed and refined.
For the whiskey, choose an Irish one (obviously!) that's smooth, sweet, and has just a touch of spice.
What makes this coffee really shine is a brewed cup of Harry & David Vanilla Crème Brûlée Coffee. It's like dessert in a glass. Mix this vanilla-flavored coffee with turbinado sugar, Irish whiskey, and a dollop of whipped cream, and you'll have the perfect cold weather drink every time.
Irish Coffee
Ingredients:
2

teaspoon

demerara sugar

3

ounces

Irish whiskey

Freshly whipped cream

Ground cinnamon

(for garnish)
Instructions:
Fill two coffee mugs each with 6 ounces of coffee.

Add 1 teaspoon of turbinado sugar to each mug and stir until fully dissolved.

Add 1 1/2 ounces of whiskey to each mug and stir to combine.

Top each coffee with the whipped cream and garnish with ground cinnamon.
---